EagleTac 16340 750mAh (Black)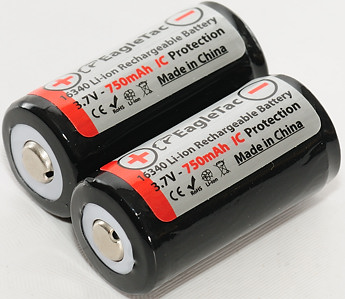 Official specifications:
750mAh IC PROTECTED Rechargeable Cell (4.2V hot off charger)
Measures only 34.4mm in height (+/-0.1mm) and 16.7mm in width
IC protected for a) over-charge, b) over-discharge, c) short circuit, d) current overflow of 3A+
True protrude top design, fits all flashlights
High discharge rate 3A+
Nominal voltage: 3.7V, charge up to 4.2V, use CC/CV charger to charge
Reinforced steel plate bottom, highly efficient protective PCB design
Packaged in individual box and anti-static bag



These 16340 batteries are short for protected batteries, i.e. they are very close to 34 mm long (Same size as CR123 batteries). This battery can only replace a CR123 battery in equipment designed for LiIon, because it has higher voltage than a CR123 battery.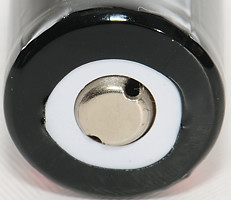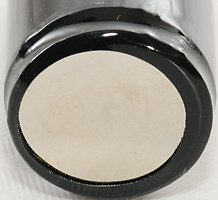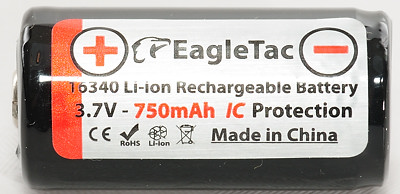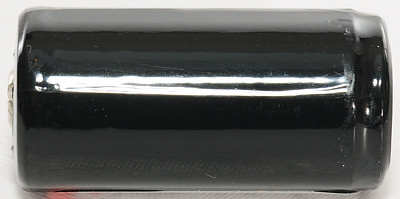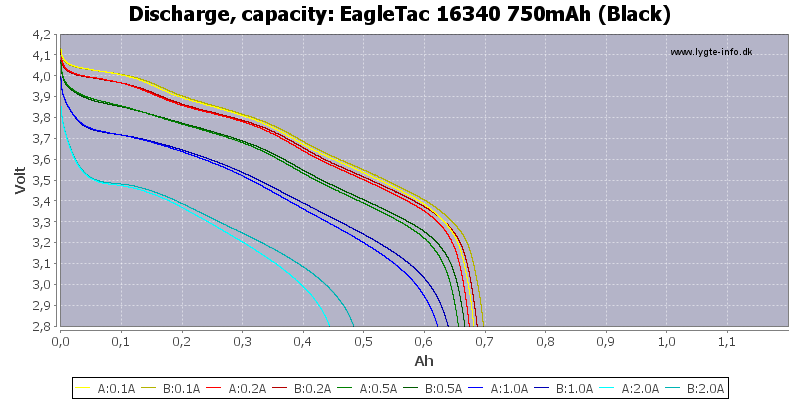 The capacity is slightly below rated value, but that is very common for 16340 batteries. The batteries do not track perfectly.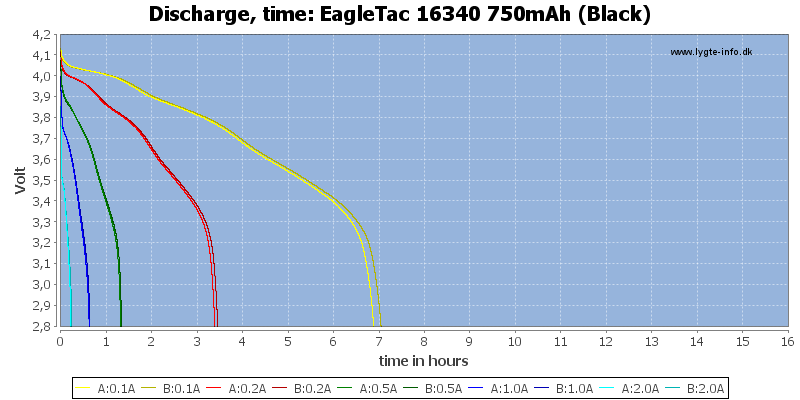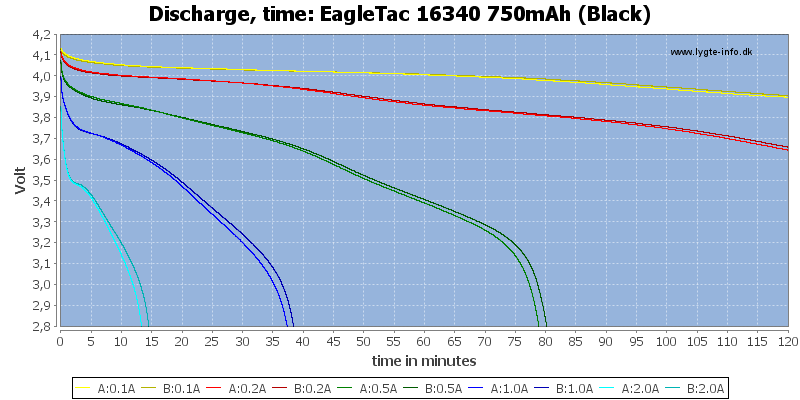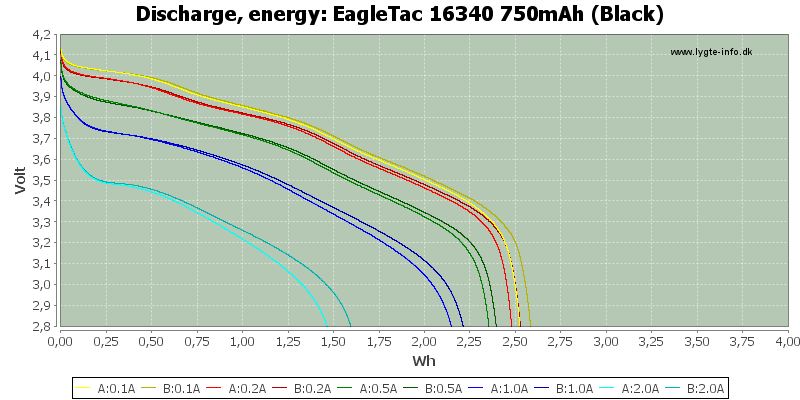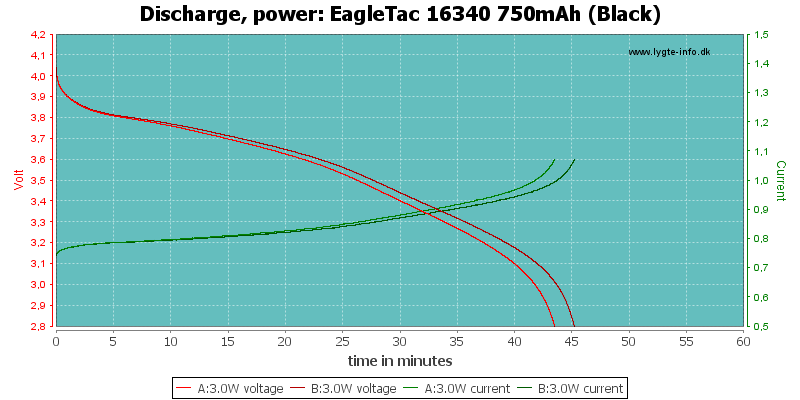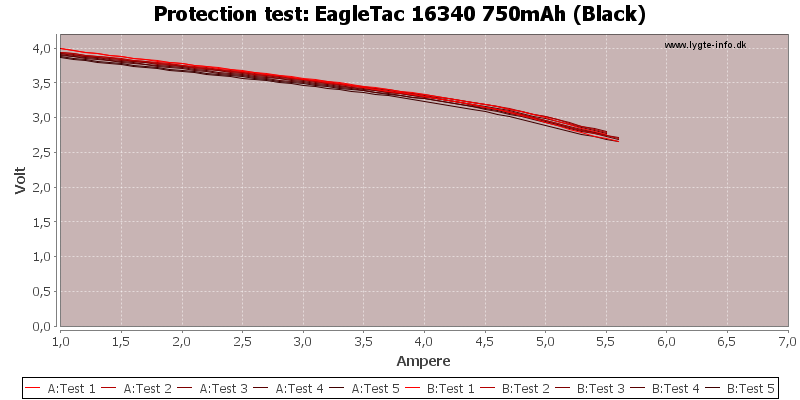 The protection is at 5.6 ampere, this is a bit high in my opinion.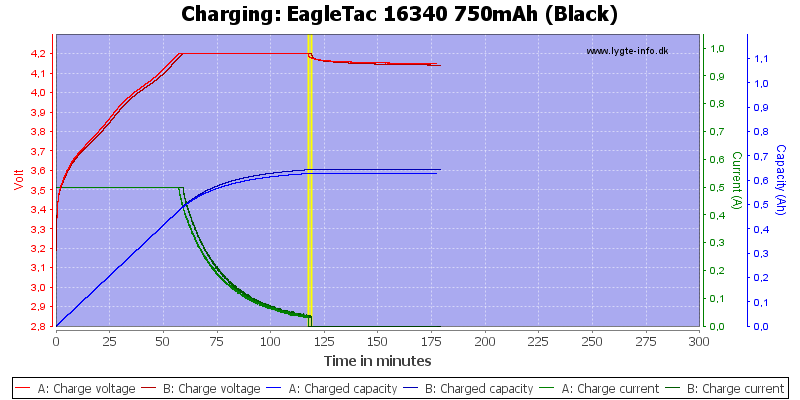 Conclusion



This battery has a size very close to CR123 batteries and a construction with a metal plate at the bottom, both are good details. But that the battery uses a cell from an unspecified supplier is a minus and I would also have liked the discharge curves being closer.
I will call this battery acceptable.





Notes and links



The batteries was supplied by IlluminationGear.com for review.

How is the test done and how to read the charts
How is a protected LiIon battery constructed
More about button top and flat top batteries
Comparison to other LiIon batteries