Efest 18650 3400mAh bt (Black) 2014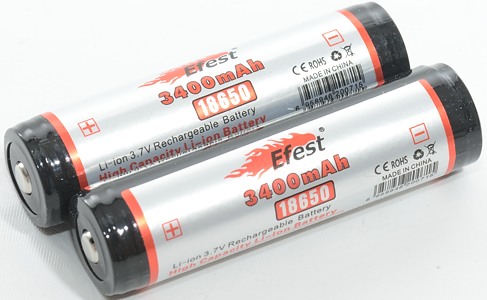 Official specifications:
Number: 18650 3400mAh
Specifications:3400mAh 3.4Ah
Nominal Capacity: 3400mAh (0.2C, 2.50V discharge)
Minimum Capacity: 3250mAh(0.2C, 2.50V discharge)
Charging Voltage: 4.2 ±0.05 V
Nominal Voltage: 3.6V
Charging Method: CC-CV (constant voltage with limited current)
Charging Current: Standard charge: 170mA, Rapid charge : 3400mA
Charging Time: Standard charge : 3hours, Rapid charge : 2.5hours
Max. Charge Current: 3400mA(ambient temperature 25°C),
Max. Discharge Current: 6800mA(ambient temperature 25°C)
Discharge Cut-off Voltage: 2.50V
Cell Weight: 55g max
Cell Dimension: Height : 69.75mm max, Diameter : 18.57mm max
Operating Temperature: Charge : 0 to 45°C, Discharge: -20 to 60°C


As usual with this type of cell I do not test the full capacity, because I stop at 2.8 volt, not the allowed minimum of 2.5 volt.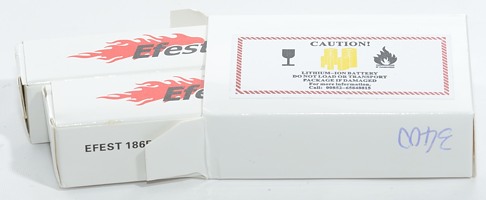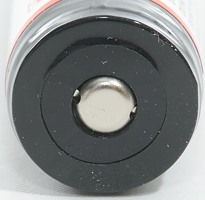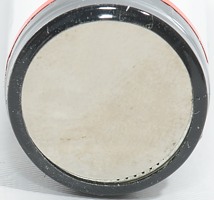 Very nice discharge curves. Due to the protection circuit the 5A curve is a bit low and one of the batteries stops before it is fully discharge.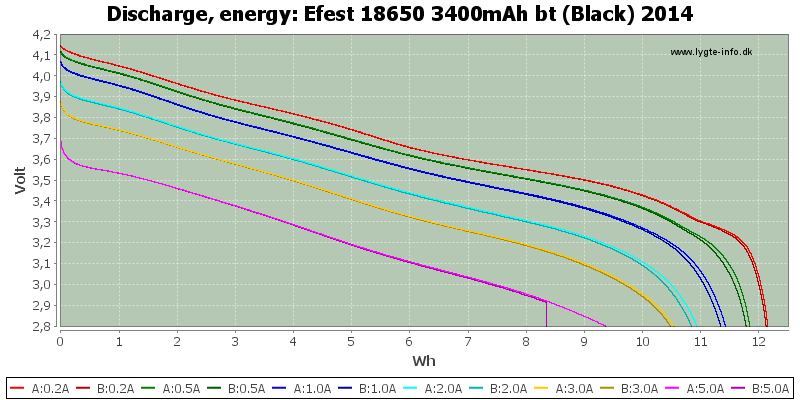 The protection trips at 6A, but, of course, the limit is lower for continuous draw.








Conclusion



This is a very good battery.
The protection circuit limits the maximum continuous draw to 5A.





Notes and links



How is the test done and how to read the charts
How is a protected LiIon battery constructed
More about button top and flat top batteries