Efest IMR18500 1000mAh (Purple) bt 2014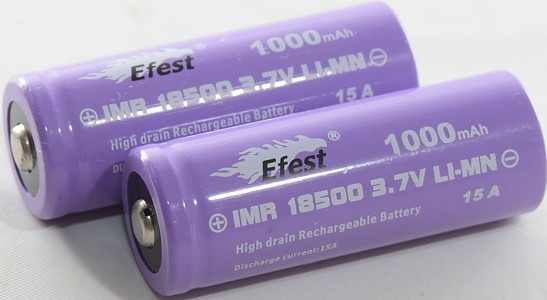 Official specifications:
Typical Capacity: 1000mAh
Min capacity: 900mAh
Continuous Max. Discharging Current: 15A
Continuous Max. Charge Current: 2.15A
Cycle life: 300 times
Battery WH: 125WH\Kg
Discharge cut-off voltage 3.0V
Voltage: 3.7V
Weight: 45g
Length: 49.9mm
Diamter: 18.21 mm
Top: Nipple
Bottom: non-protected
Full Charge voltage: 4.2V
Temperature: discharge temperature range:-10°C—60°C, charge temperature range: 0°C—40°C
Storage: 1 year:-20°C—25°C, 3 months:-20°C—45°C, 1 month:-20°C—60°C



A 18500 cell with a very high maximum current, the rating is higher than for many 18650 cells. This means the cell has a fairly low capacity.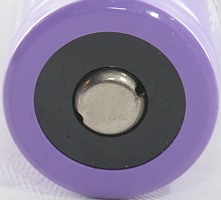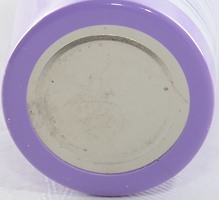 They batteries has very impressive high current handling with nearly constant capacity. There is a slight difference in the internal resistance between the two cells, this may be due to my connection or due to the button top.








Conclusion



These battery has very good high current performance, but the size limits the capacity (If you have 15mm more length, you can get more than twice the capacity). The cells has slight lower performance then their flat top counterpart.
With the performance of these cells, I will call it a good battery.





Notes and links



The batteries was supplied by Efest for review.

How is the test done and how to read the charts
How is a protected LiIon battery constructed
More about button top and flat top batteries
Compare to 18650 and other batteries