Enercig EC-18500HP 1100mAh (Gray)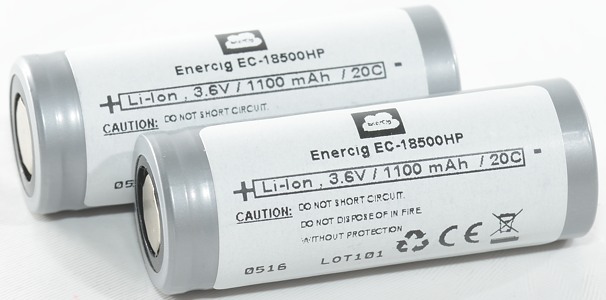 Official specifications:
Typical capacity: 1130mAh
Minimum capacity: 1100mAh
Nominal voltage: 3.7V
Standard charge: CC/CC, 0.2C, 4.2V
Standard discharge: CC, 0.2C, 3.0V
End-of-charge voltage: 4.20V +/-0.05V
End-of-charge current: 0.01A
End-of-discharge voltage: 3.00V
Quick charge current: 1100mA (1C)
Quick discharge current: 11000mA (10C)
Maximal discharge current: 22000mA (20C)
Initial impedance: <=18mOhm
Weight: 32g +/-2g
Operating temperature: Charging: 0°C ~ 45°C, Discharging: -20°C ~ 60°C
Storage temperature: -5°C ~ 35°C


A very high current 18500 cell.






The cells are good at high current, but the capacity is not matched.




The temperature raises fast at 20A, but stays at a safe value.








Conclusion



These cells are good at high current, but due to the capacity difference they are best not to use in series.
As is usual the case with high current cells, the capacity is not in top.





Notes and links



The batteries was supplied by ENERDan for review.

How is the test done and how to read the charts
How is a protected LiIon battery constructed
More about button top and flat top batteries
Compare to 18650 and other batteries