Enercig EC-26500HP 2000mAh (Blue)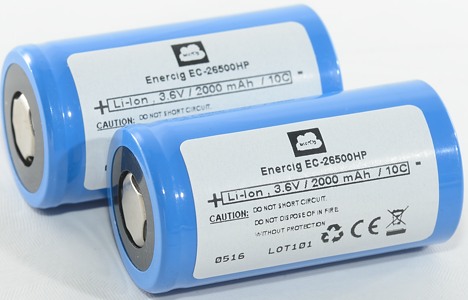 Official specifications:
Typical capacity: 2030mAh
Minimum capacity: 2000mAh
Nominal voltage: 3.7V
Standard charge: 0.2C (400mA) to 4.2V CC/CV
Standard discharge: 0.2C (400mA) to 3V
End-of-charge voltage: 4.20V +/- 0.05V
End-of-charge current: 0.02C (40mA)
End-of-discharge voltage: 3.00V
Quick charge current: 20000mA (10C)
Cycle life: 300 cycles at 0.5C to 80%
Initial impedance: Max.20mOhm
Operating temperature: charging: 0°C ~ 45°C, discharging: -20°C ~ 60°C
Storage temperature: -5°C ~ 35°C


This high current battery has a slightly uncommon size. The data above do not match the tested battery (Capacity is wrong).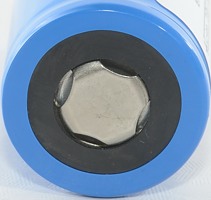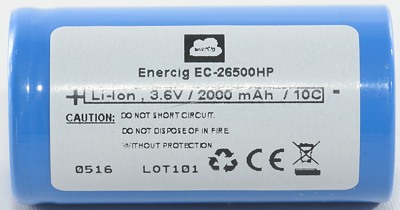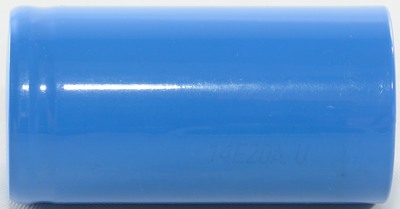 The two batteries tracks fairly well in voltage while discharging, but there is some capacity difference.
The cells can handle 20A discharge current.




The battery gets warm at 20A, but not too hot.








Conclusion



This battery is good at high current, but the difference in capacity means it cannot be used in series.
The marking on the battery and the datasheet do not match the capacity of the tested battery.





Notes and links



The batteries was supplied by ENERDan for review.

How is the test done and how to read the charts
How is a protected LiIon battery constructed
More about button top and flat top batteries
Compare to 18650 and other batteries