Energizer AA 2000mAh (Silver) (NH15-2000)


Official specifications:
Chemical System: Nickel-Metal Hydride (NiMH)
Designation: ANSI-1.2H2
Nominal Voltage: 1.2 Volts
Rated Capacity: 2000 mAh at 21°C (70°F)
Typical Weight: 30.0 grams (1.1 oz.)
Typical Volume: 8.3 cubic centimeters (0.5 cubic inch)
Terminals: Flat Contact
Jacket: Plastic
Temperature: Charge: 0°C to 40°C, Discharge: 0°C to 50°C, Storage: -20°C to 30°C


Maximum temperature raise at different discharge currents: 1A:+1,3°C, 2A:+3,5°C, 3A:+6,1°C, 5A:+12,1°C, 7A:+17,6°C, 10A:+21,8°C

Medium capacity NiMH from Energizer, there was no LSD specifications for the cell, i.e. they will have to be recharged before use.

I got the batteries with a charger.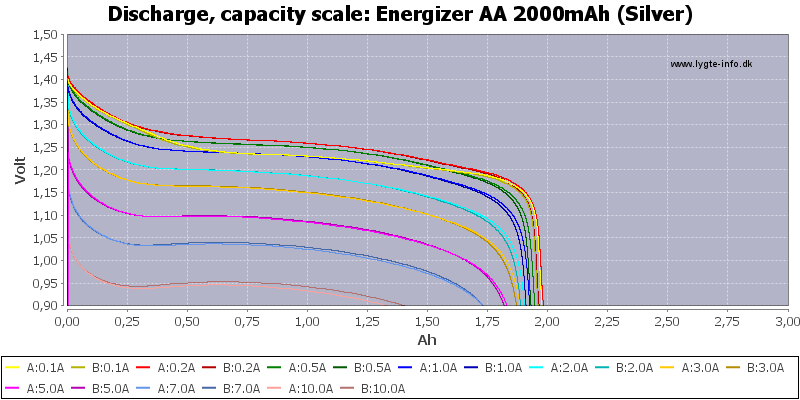 The traces for the two cells tracks very fine and capacity at low load is about 2000mAh as specified








Conclusion



The cells has good performance, but I would get some LSD rated cell instead.





Notes and links



How is the test done and how to read the charts
Compare to other AA/AAA batteries: Alkaline/NiMH/Lithium