Fenix 14500 800mAh ARB-L14 (Orange-Black)


Official specifications:
Nominal capacity: 800mAh
Minimum capacity: 770mAh
Nominal voltage: 3,7V
Charge profile: CC-CV
Charge voltage: 4,2V ±0,05
Charge current: 400mA (Max. 800mA).
Discharge termination: 2,75V
Max. discharge current: 2C = 1,6A
Chemistry: LiCoAlO2 (ICR)
Over current protection PCB: above 2A
Diameter: 14,00mm ± 0,2
Height: 52,00mm ± 0,3
Weight: 20g ± 1


A AA sized LiIon battery from Fenix with protection at the plus pole.




There is a significant capacity difference between the cells, this is not very good. The cells can deliver about 2A. this is fine for a 1.6A rated cell.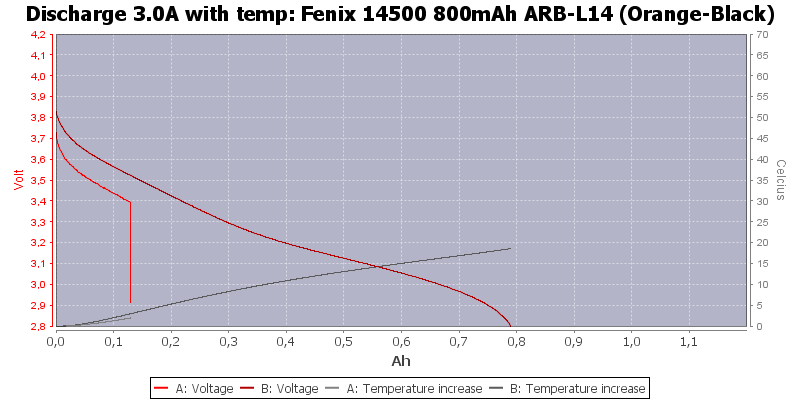 This is a huge difference in over current protection, one trips around 3.5A the other at 5A.








Conclusion



Both the cells has very good capacity and can deliver the rated current, but I do not like the difference between them.





Notes and links



How is the test done and how to read the charts
How is a protected LiIon battery constructed
More about button top and flat top batteries
Comparison to other LiIon batteries