Keeppower IMR18650 1600mAh (Black) 2014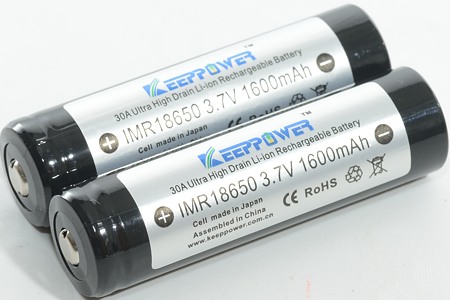 Official specifications:
Brand Name: KeepPower
Type: Li-Ion
Cell: Made in Japan
Maximum Constant Discharge Current: 30A
KeepPower IMR 18650 3.6V/3.7V 1600mAh High Drain Li-ion Rechargeable Battery
Min Capacity: 1500mAh
Typical Capacity: 1600mAh
4.2 volts max voltage and 3.6-3.7 volts nominal voltage
Button top: Yes
Dimension: (D)18.50mm*(H)66.50mm
Weight: Max. 48.0g


This is a high current cell with fairly low capacity like all high current cells.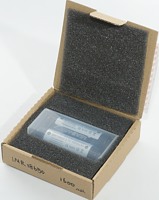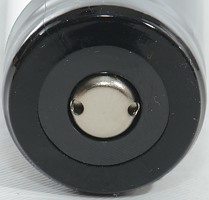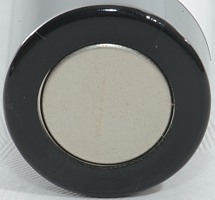 This cell is not really interesting for application with 1A or 5A current draw, even at 10A it is not that interesting, but above 10A this cell will still deliver current.
And as can be seen the ouput between the two cells has a very good match, even at 30A.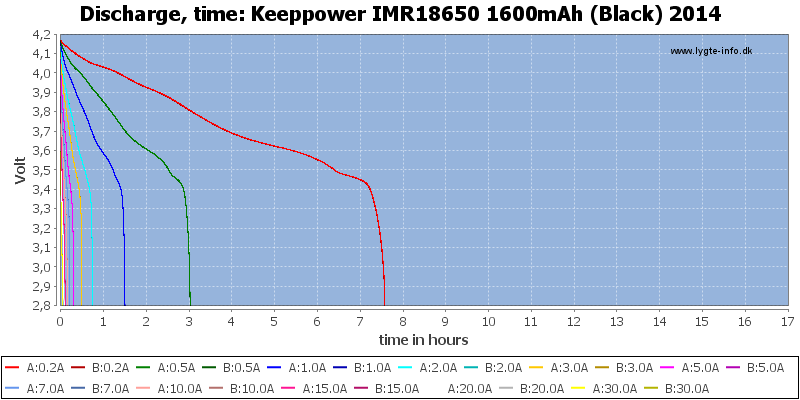 This cell can be safely drained in about 3 minutes. That is safe for the cell, it might not be safe for the load or connections (30A is a lot of current).








Conclusion



This is a very good cell, but only for special applications, i.e. where the current is in the two digits range.





Notes and links



How is the test done and how to read the charts
How is a protected LiIon battery constructed
More about button top and flat top batteries