Vapcell INR21700 5000mAh P2150A (Black-purple) 2021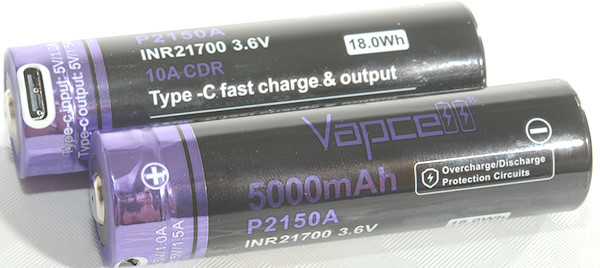 Official specifications:
Model: INR21700 5000mah 10A
Size: 21.1*70.5mm
Typical Capacity: 5000mAh (0.2C discharge)
Min capacity: 4800mAh (0.2C discharge)
Nominal voltage: 3.60V
Max Continuous Discharge Current: 10A
End-of-charge voltage: 4.20V
End-of-discharge Voltage: 2.5V
Weight: 76g ( Appr)
Internal resistance: 28mOhm ( Appr) AC 1kHz?
Standard Charge: 1500mA,CCCV 100mA cut-off
USB charge model : CC CV
USB input power : 5.0v ,>1.0A
USB end-of-charge voltage : 4.20V
USB CC mode charge current: 1000mA
USB CV mode charge current :100mA
USB output : 5.0v ,max 1.5A
Over charge protection voltage: 4.25+0.1/-0v
Over discharge protection voltage 2.50+0/-0.1V
Over current protection current: 12A ~ 18A



This is a high capacity 21700 LiIon battery with USB-C charging input and the USB-C connector can also supply 5V output, i.e. it can work as a power bank.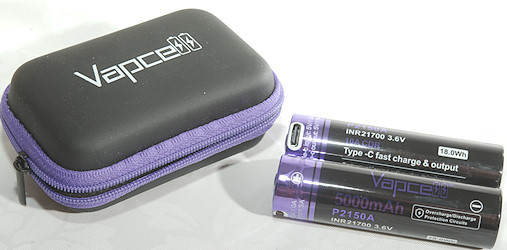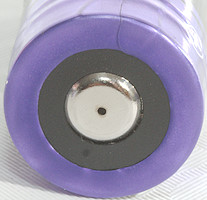 There is a multicolored led behind the hole in the plus pole, it is used for charging and power bank functions.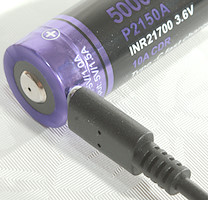 The two cells tracks nicely and can deliver the rated 10A.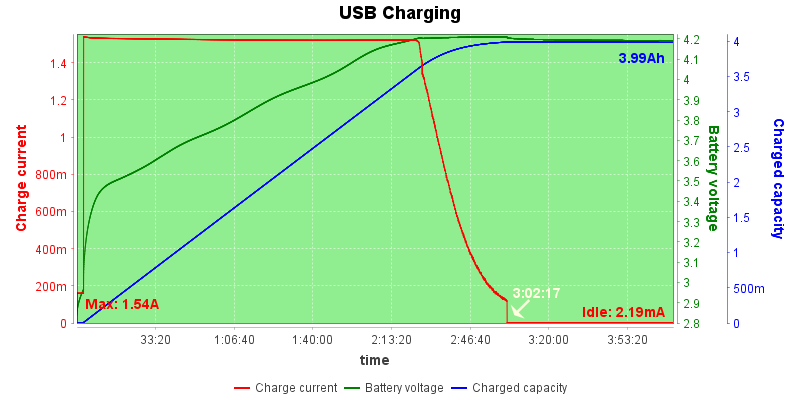 The battery only increase temperature with about 10°C during USB charging, but the rated 1A charge input current is not correct, it is 1.5A
The USB-C input uses resistor coding to decide between charging and power bank, but it ignores any current rating on the USB-C port.


Power bank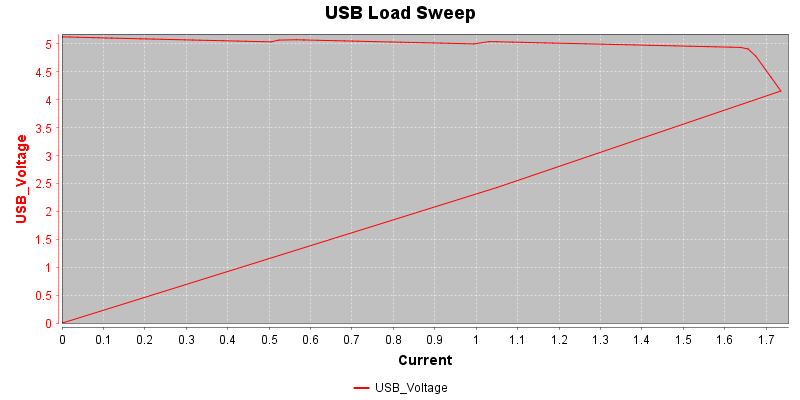 USB-C output is rated at 1.5A and can deliver a bit above 1.6A, that is fine.




At 0.5A load it can deliver above 3Ah, i.e.more than 6 hours of power. It turns output off when battery is down to about 2.9V.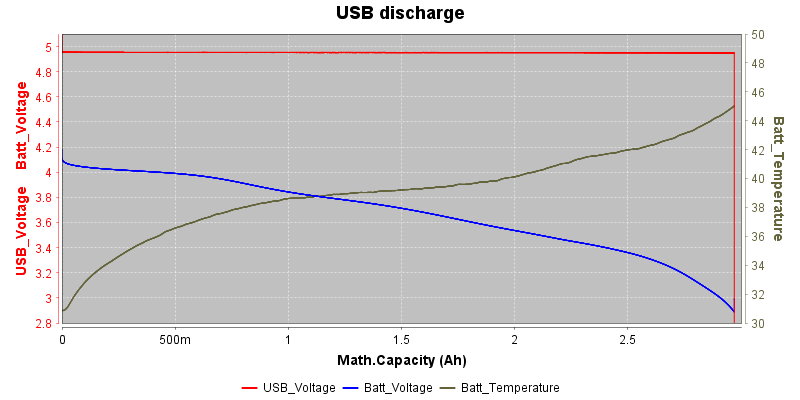 At 1.5A load it can deliver nearly 3Ah, i.e. about 2 hours of power. I did check the temperature during discharge and it was not more than a 14°C increase at the front of the battery (i.e. the boost converter).





Noise is 62mVpp and 8mV rms at 0.5A




Noise is 62mVpp and 8mV rms at 1A





Conclusion



This battery works fine, both as a battery and as a power bank.

I am not sure that building a power bank into a LiIon battery is a good idea, it would at least require plastic cap to place on the plus pole of the battery when used as a power bank, to prevent any shorts from the plus pole.





Notes and links



The batteries was supplied by Vapcell for review.

How is the test done and how to read the charts
How is a protected LiIon battery constructed
More about button top and flat top batteries
Graphical comparison to 18650 and other batteries
Table with all tested LiIon batteries