Charger Keeppower L2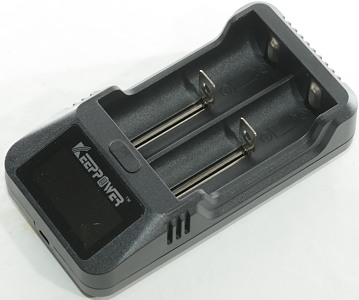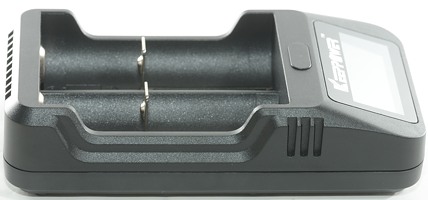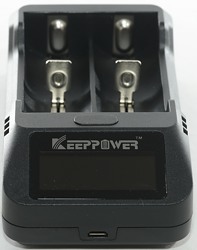 Keeppower is known for its LiIon batteries, but now they have also made some chargers. The one I am looking on here is a dual cell LiIon charger with two currents and can handle sizes up to 26650, the charger is powered from usb.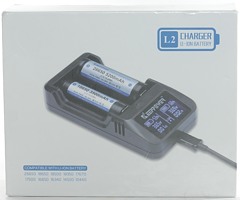 I got the charger in a cardboard retail box with fairly limited printing on.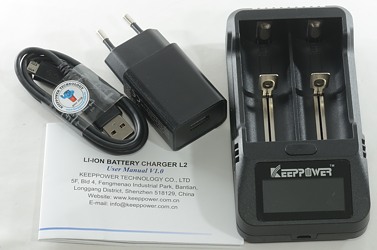 The box contained the charger, a usb charger/power supply, usb cable and a instruction sheet.




The micro usb connector for power input is placed on the front, just below the display.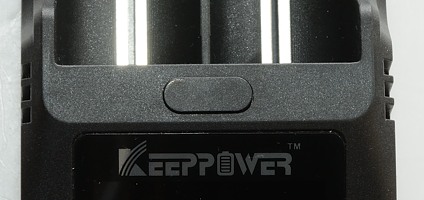 The user interface is a display and a single button.
A press on the button will change between 500mA and 1000mA charge current, but only when there is a battery in the charger.
Holding the button down will turn off the display and disable the current change function, the charger will continue to charge with selected current. To turn display on again the button must be held down again.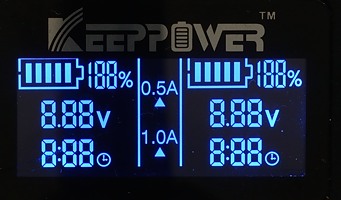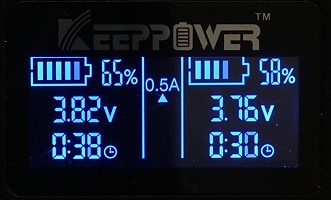 The display has an animated battery icon, charge percent, voltage and selected current for each channel.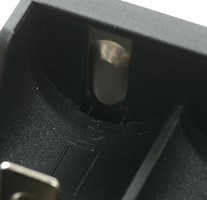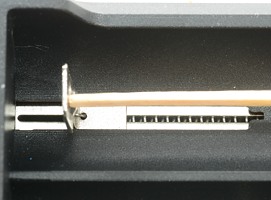 The charge uses the typical slider construction with a metal rail and it works smoothly from about 29.7mm to 70.9mm, i.e. the charger can handle nearly any 18650 and 26650 cells both protected and unprotected.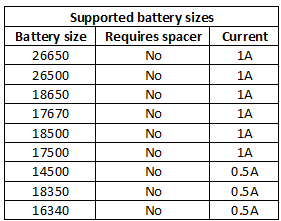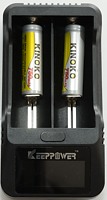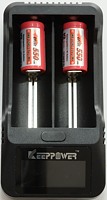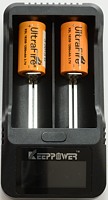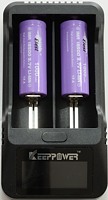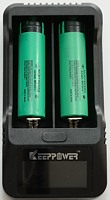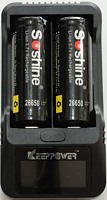 The charger can handle 70.9 mm long batteries, including flat top cells.





Measurements



Batteries will be discharged with 0.05mA when power is off.
Charges batteries with 0.3mA when connected to power.
Voltmeter works from 2.20 volt.
Voltmeter is within 0.05 volt.
Voltmeter stops updating when charging is finished.
Below 1 volt the charger will show "err" on the display.
Between 1V and 3V the charge will charge with 150mA to 180mA with 0.5A selected and 280mA with 1A selected.
Above 3 volt it will use full charge current.
Charger will not restart if battery voltage drops.
Charger will restart charging after power loss, or battery insertion.
Usb current when idle is about 24mA


The charge curve do not look exactly like a CC/CV curve, but the final result is acceptable. The termination current is a bit low, this means the charge time will be a bit long.




Here it is difficult to see any termination.




On this cell there is a nice termination at 100mA.




I did select 1A charge current, but the current is somewhere between 0.5A and 1A.




On this older cell the charge current is reduced very fast and this means a long charge time.




This cell is charged fine, but a real CC/CV alorithm would have been a bit faster.




Same here.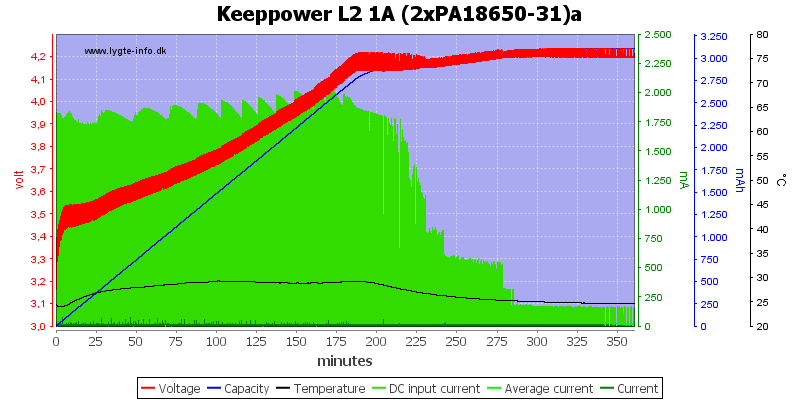 When charging two cells the charger uses about 2A from the usb power supply.




Same curve as above, with the usb current removed.




Simulated a long cable or weak charger did increase the charge time significantly, but the charger did charge the cells.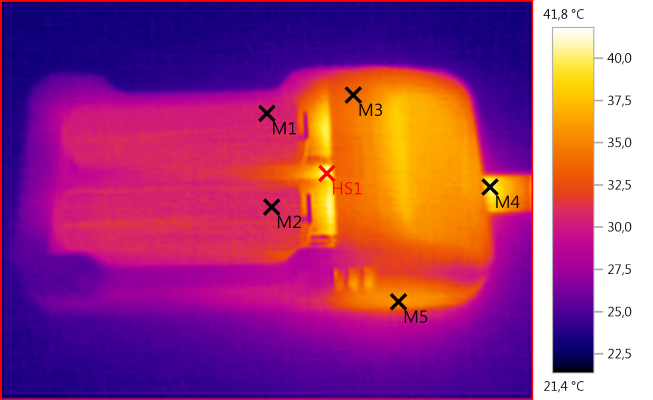 M1: 30,4°C, M2: 30,6°C, M3: 33,9°C, M4: 40,1°C, M5: 35,6°C, HS1: 41,8°C
The cells are very cool during charge.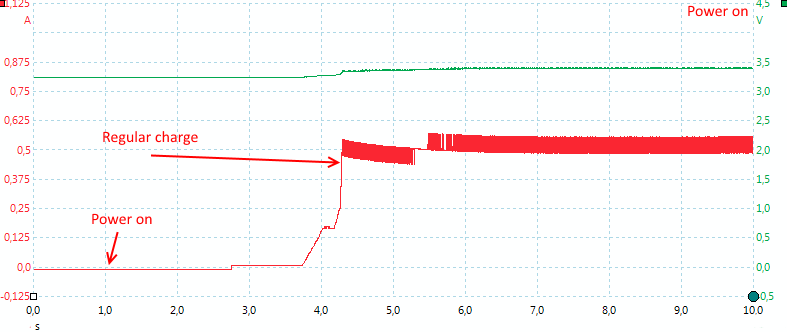 The charger needs about 3 second to start.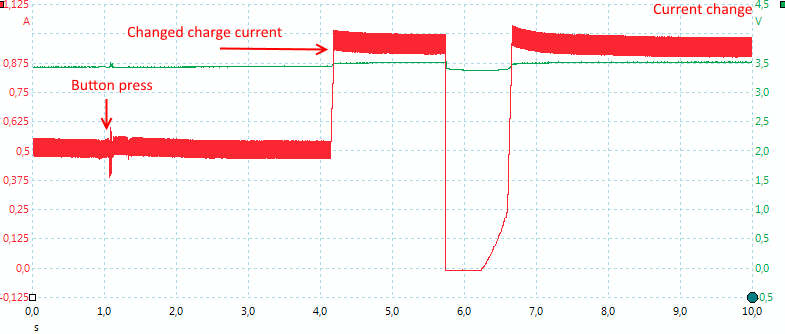 Current change is fairly slow at 3 seconds.




The charger turns off current at regular intervals to measure the cell voltage, but the calibration of the voltmeter is not good enough to really benefit from this.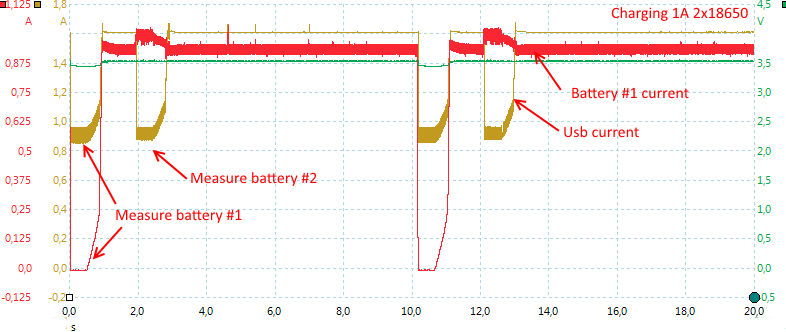 Here I have added a usb current measurement, this shows that the measurements pauses on the two slots are performed at different times (This is a good idea).





USB charger



I also did a fast check on the supplied usb power supply.
The output is coded as usb charger (DCP) and power consupmtion when idle (Not connected to charger) is 0.06 watt.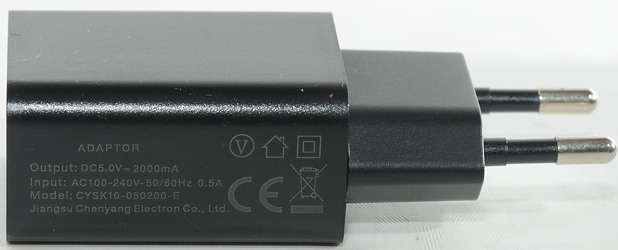 Overload protection a bit above 2.1A (Very nice). The output voltage is fairly high.




No problem delivering full power for one hour.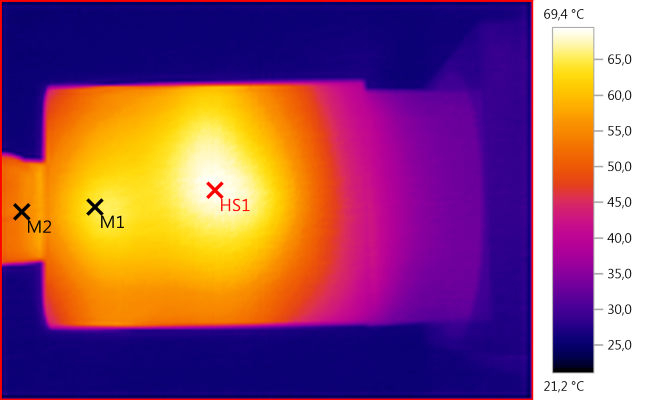 M1: 64,6°C, M2: 53,5°C, HS1: 69,4°C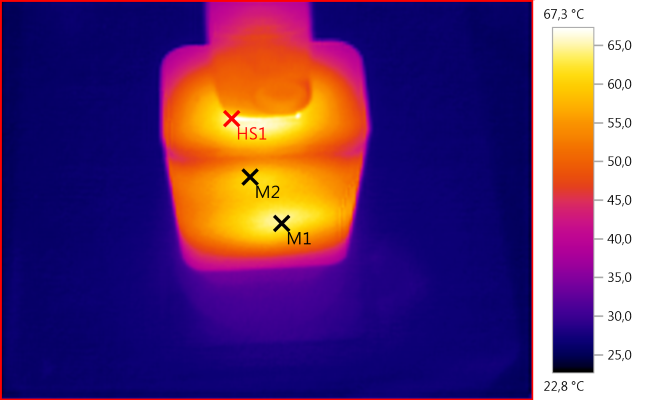 M1: 64,2°C, M2: 60,5°C, HS1: 67,3°C


Testing with 2500 volt and 5000 volt between mains and low volt side, did not show any safety problems.





Conclusion



The charger works as expected, it chargers LiIon batteries and terminates when they are full, without any overcharge. Due to the charge profile the charge speed is slower than necessary.

I will have to call the charger good, even with that charge profile.





Notes



Here is an explanation on how I did the above charge curves: How do I test a charger