DMM Aneng AN82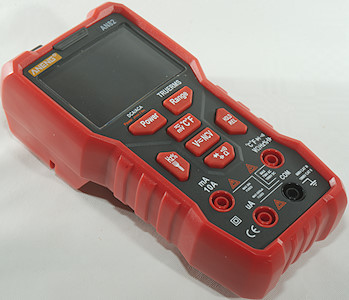 Another Aneng meter, this time without a range switch, but with buttons.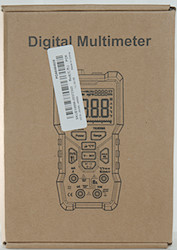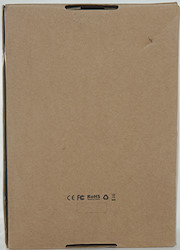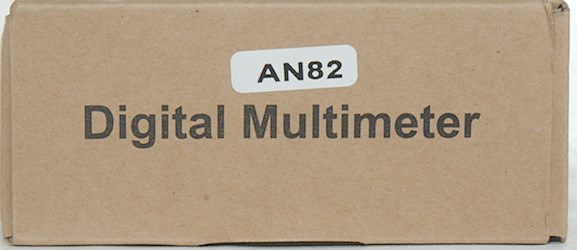 I got the meter in a unbranded brown cardboard box with a drawing of the meter.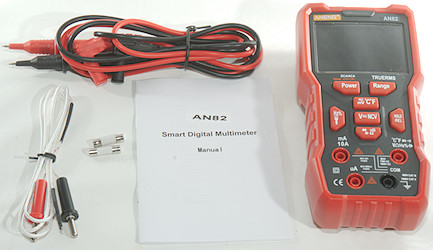 It included the DMM, a pair of probes, a thermocoupler, spare fuses and a manual.







The probes has removable tip covers, the tip and tip cover has the usual CAT markings.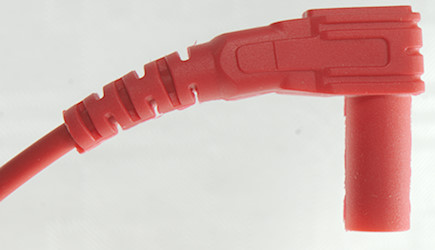 The shrouded plug is the slightly short variety.






The thermocoupler is the standard cheap type with banana plugs.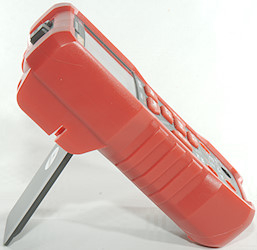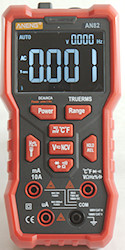 The meter uses buttons instead of a range switch, this means it is always possible to select range with one hand (It may be necessary to hold some fingers behind the meter).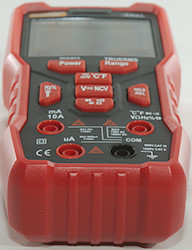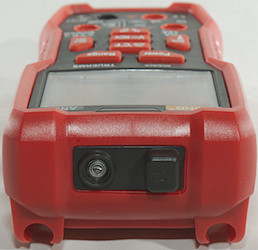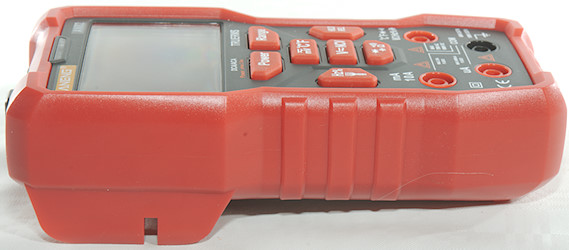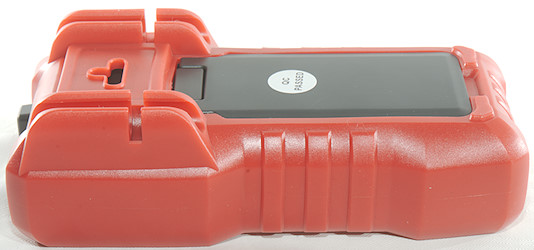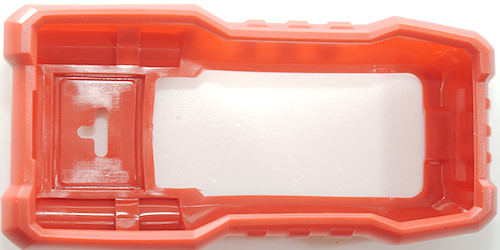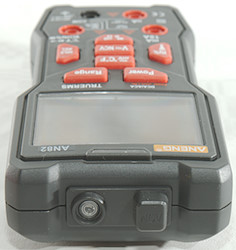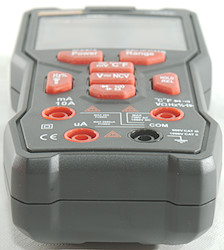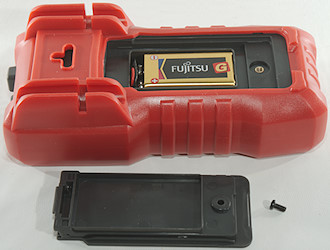 Display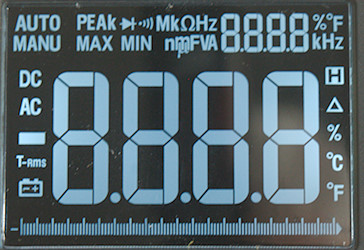 The above picture shows all the segments on the display, not all are used by this meter.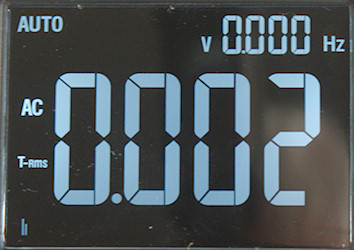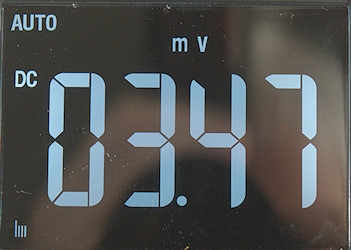 Typical display during usage, in AC the small display will show the frequency or duty-cycle.
In temperature mode the large display shows Celsius and the small display shows Fahrenheit.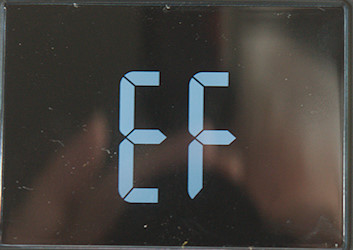 The NCV is the usual bars and the buzzer and also includes a red led above the display.





Functions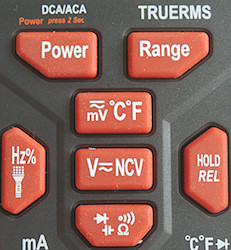 Buttons:
Power: Hold down to turn meter on/off. When a lead is connected to uA or A a short press will select between AC and DC
Range: First press will switch to manual ranging, press more to select range. Hold down to return to auto ranging.
mV C F: Select mVAC, mVDC, Celsius & Fahrenheit
H %: In AC modes this will move frequency to main display and show duty-cycle on small display. Hold down to turn flashlight on.
V NCV: Select VAC, VDC, NCV
Hold Rel: A short press will freeze the current reading, holding down will switch to relative readings.
: Select Capacity, Diode, Continuity, ohm (Not the usually sequence).
Input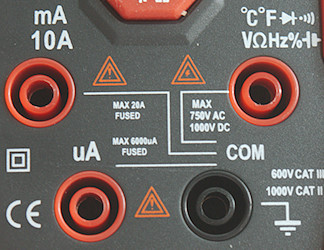 10A: High current. Manual specifies a 15 second max. but that is not marked on the meter.
uA: The uA ranges, the meter do not have a mA range.
COM: The common terminal for all ranges.
xxx: All other ranges.
Measurements
Volt and frequency

Meter defaults to AC voltage, moving between mV & V will change to AC.
At 100mVrms input frequency range is from 1.1Hz to 6MHz (Using mV range).
At 2Vrms input frequency range can be stretched to 10MHz (Using mV range).
1 VAC is 5% down at 2kHz (RMS will not work at the frequency).
Frequency counter and duty cycle can only be selected in AC ranges.
Frequency input requires a zero crossing.
Duty cycle works from 2% to above 99% at 100kHz with 1Vpp, precision is within 0.9.
Input impedance is 10..11Mohm on VDC & VAC.
mV range is high impedance for DC up to around 1.5 volt where it drops to a few kOhm. AC is similar, but capped at 10Mohm

Current

Meter defaults to AC current, moving between uA & A will change to AC.
Meter will automatic change to current ranges
Meter slowly beeps when in current ranges.
Meter beeps fast when a current range is overloaded
Meter reading changes at 10A current, I saw a shift from 9.2A to 9.9A in about a minute (Manual specify maximum measuring time above 5A as 15 seconds, but it is not marked on the meter).
Frequency counter and duty cycle can only be selected in AC ranges.
uA current is protected by a 0.2A/250V 5x20mm fuse.
20A current is protected by a 10A/250V 5x20mm fuse.

Ohm, Continuity, diode and capacitance

Ohm needs about 2.7s to measure 100ohm
Ohm is 1.1V open and 0.36mA shorted
Continuity is very fast (below 10ms).
Continuity beeps when resistance is below 50ohm.
Continuity is 1.1V open and 0.36mA shorted
Diode range uses 3.2V, max. display is 3.000V at 0.12mA, max. current is 1.5mA shorted
10uF takes about 4.3 seconds to measure.
70000uF takes about 9 seconds to measure.
Overload protection is rated at 250C AC/DC

Miscellaneous

Current consumption of meter is around 27mA depending on range (45mA with flashlight)
Meter works down to 2.6V where it turns off, battery symbol show at 2.8V.
Battery symbol will also show occasionally with a full battery.
Reading will start to change at about 5V, change is only a few % before the meter is off.
At low battery voltage (3V), meter may have problems with ranges, I have seen 816V on the meter with 10V input.
Backlight will start to fade at 5V, display is readable below 3V when ambient light is low.
Flashlight brightness follows backlight in voltage sensitivity.
The meter usual need a couple of display update to reach the final value.
Viewing angle is good, except from the top.
Display updates around 3 times/sec
Flashlight will automatic turn off in about 15 seconds.
Will automatic turn power off in about 15 minutes.
Standard probes cannot be pushed fully down.
Weight is 290g without accessories, but with rubber sleeve and batteries.
Size is 160 x 78 x 47mm with rubber sleeve.

Probes

Probe resistance 60mOhm for one.
Probe wire is soft and 91cm long.



A look at the capacitance measurement waveform.




mVDC input resistance depends on input voltage. The mVAC is limited at 10Mohm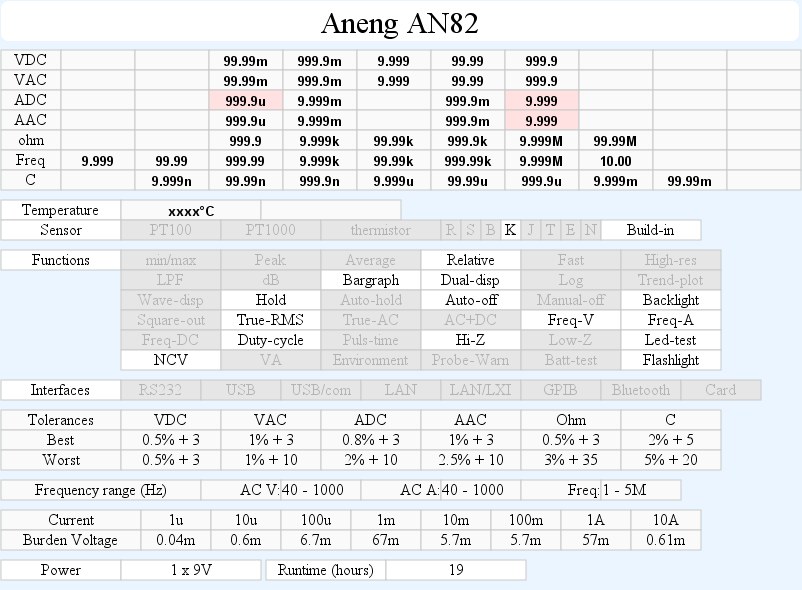 The meter cannot be used at 10A, the reading will drift.
The lowest uA range is 0.6uA (6 count) out at 1uA, rating says 3 count.
High DC voltage can block AC readings.





Tear down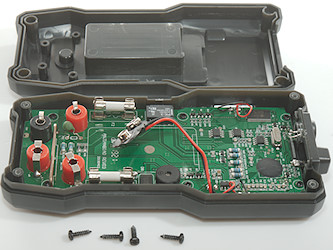 There where four screws holding the back cover on.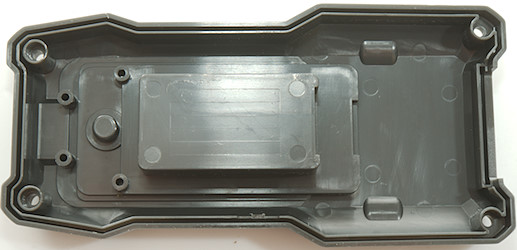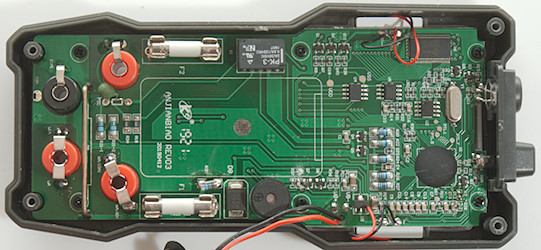 A fairly simple design with one relay instead of the range switch.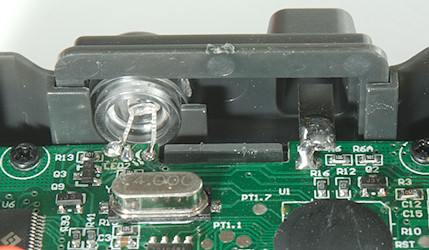 Flashlight and NCV antenna poke out from the top.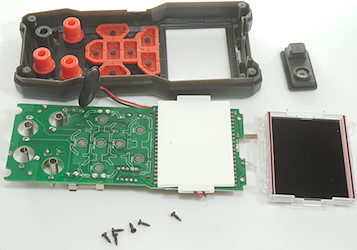 6 more screws to get the circuit board out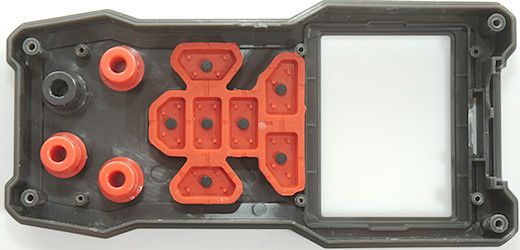 The 10A input has a large shunt (R8) and a long copper track from shunt to fuse, both are used as sense resistor (The copper track is the reason for the bad high current performance). The uA shunt is R35 with a diode across. Both current terminals are split types and this is used to sense when a plug is inserted, these goes to R37 & R25.
Voltage input splits into 3 paths: High impedance (R21-1 & R21-2: 2x5MOhm), medium impedance (R18 & R34: 2x499kOhm) and low impedance (PTC+Relay). The low impedance path is protected by a transistor pair (Q4 & Q5).

The chips are a reference (U5: LM385), a EEPROM (U2: T24C08). a LCD controller (HY2313B), a multimeter chip (U1), a unmarked chip (U4) and a voltage regulator (U3: 7130-1).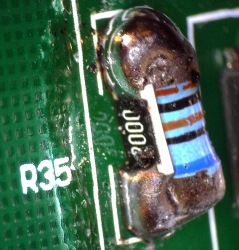 Closeup of uA shunt, it is two resistors.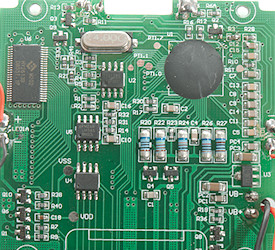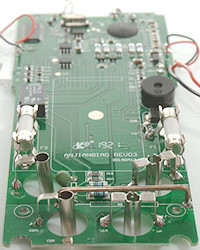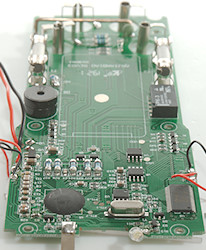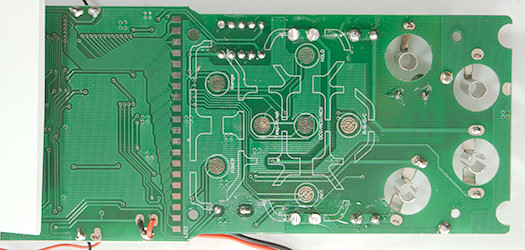 This side has the pads for all the switches and the indicator led for NCV.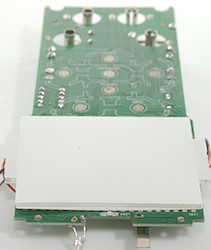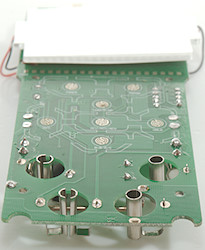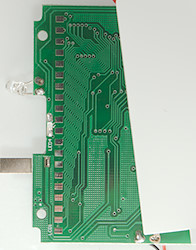 Conclusion



As usual the CAT rating is very doubtful, with 250VAC rated fuses.
Using buttons and a relay instead of a rotary switch works, but is not easier to use.
The reverse LCD means higher power consumption and with a very badly implemented battery empty detector and a fairly low capacity battery, it is not ideal.

The meter works fine enough.





Notes



The multimeter was supplied by Banggood for review.

How do I review a DMM
More DMM reviews