DMM Aneng AN8203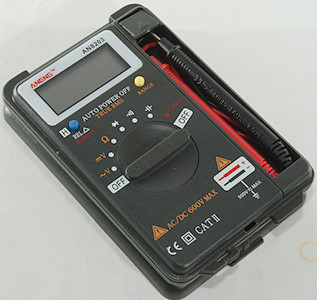 This is a fairly cheap pocket DMM with most functions except current.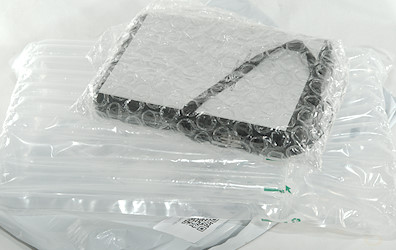 The dmm arrive in a envelope protected by bubble wrap.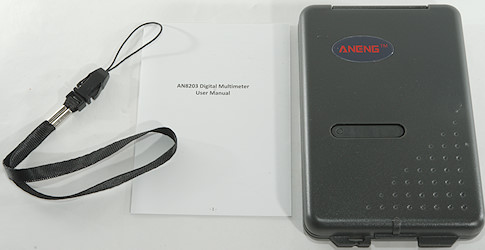 There was the meter, a lanyard and a instruction sheet.





The probes are fairly small at rated for CAT III 250V, not 600V like the meter. This is a big fail when the probes are non-replaceable.
Note: The probes may be 600V for CAT II, but they do not say specify it.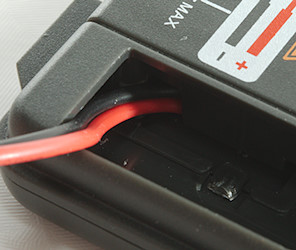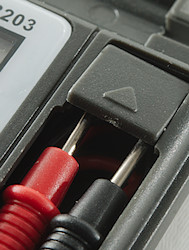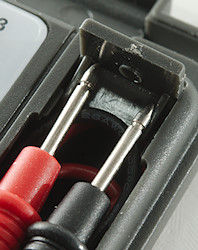 The probes are stored in the meter.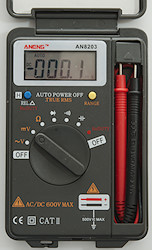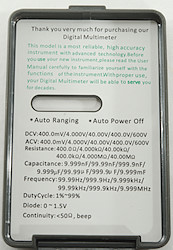 The range switch is fairly firm, this means it snaps between detents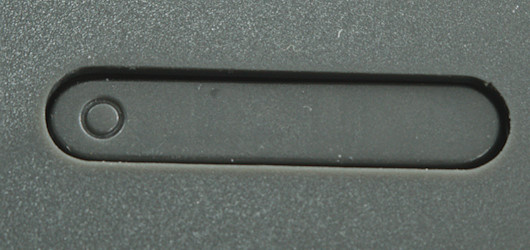 The lid has a slot in it that matches one of the off positions on the range switch, it is possible to close the lid if the range switch is in other positions.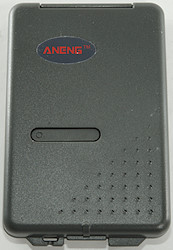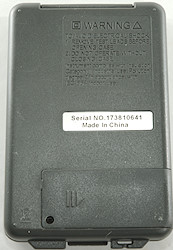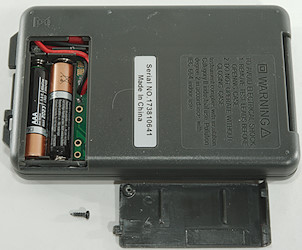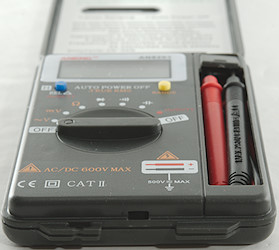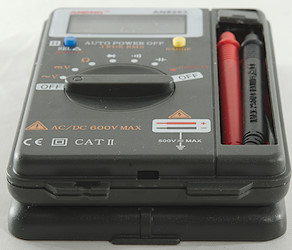 The lid can be folded under the meter.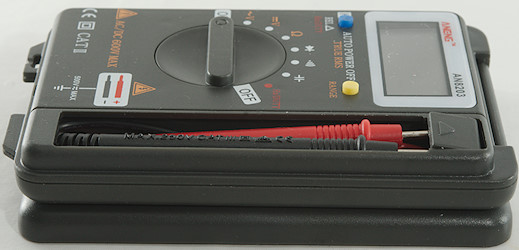 Display



All segments on the display, not all are used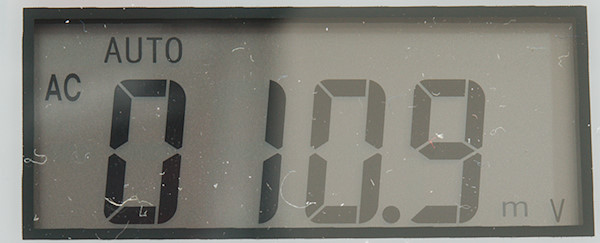 Typical display during usage, it will show the number and selected measurement.





Functions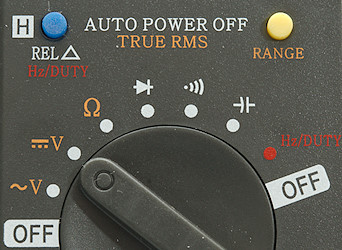 Buttons:
H REL Hz/Duty (Blue): Mostly this is a hold switch, but in capacitance it is a relative and in Hz/Duty it select between Frequency and duty cycle.
Range (Yellow): Manual range, hold down for returning to auto.
Rotary switch:
Off: Meter is turned off
VAC: AC voltage ranges.
VDC: DC voltage ranges.
: Resistance.
: Diode.
: Continuity.
: capacitance.
Hz/Duty: Frequency and duty cycle, use the blue button to select.
Off: Another position that will turn the meter off
Input

Red: The positive terminal for all ranges.
Black: The negative terminal for all ranges.
Measurements
Volt and frequency

At 0.1Vrms frequency input range is from 1Hz to 6MHz
At 1Vrms frequency input range is from 1Hz to 36MHz
Frequency input requires a zero crossing.
Duty cycle works from 2% to above 99% at 100kHz with 1Vpp, precision is within 0.2.
1V AC volt readings drops 5% at about 2.1kHz
Input impedance is 10Mohm to 11Mohm including mV range
Frequency input is above 2Mohm below 2V, then it drops to 2kOhm
Rated voltage is 600V

Current

Meter do not have current ranges.

Ohm, continuity, diode and capacitance

Ohm needs about 2.8s to measure 100ohm
Ohm voltage is 1V open and current is 0.4mA shorted.
Continuity is fast (About 15ms).
Continuity beeps when resistance is below 50ohm.
Continuity is 1V open and 0.4mA shorted
Diode range uses 3.2V, max. display is 3.000V at 0.13mA, max. current is 1.7mA shorted
10uF takes about 4.5 seconds to measure.
70000uF takes about 10 seconds to measure.

Miscellaneous

Current consumption of meter is 1.6mA to 2.3mA
Meter turns off at 2.2V, battery symbol shows at 2.4V.
Readings is stable within 2 count until the meter turns off.
Viewing angle is good
Display updates around 3 times/sec
Will turn automatic off after about 15 minutes.
The meter usual gets the correct value in first or second display update.
Weight is 130.4g without accessories, but with batteries.
Size is 124 x 80 x 20mm

Probes

Probe wire is fairly soft and thin, they are 43cm long.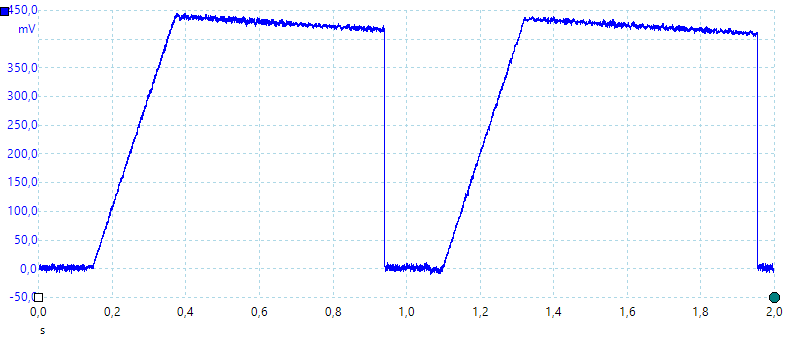 Waveform when measuring a 1uF capacitor.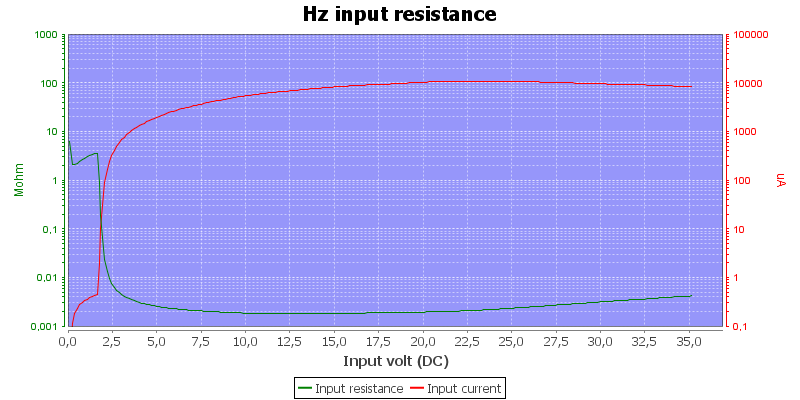 Input impedance in frequency mode.


Tear down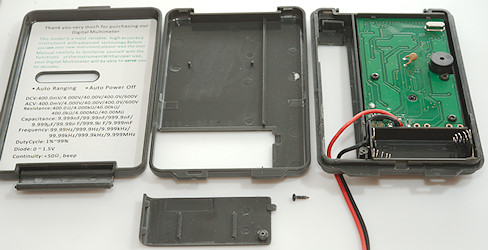 The meter only has one screw and that is the one for the battery compartment, there are a few clips to hold it together.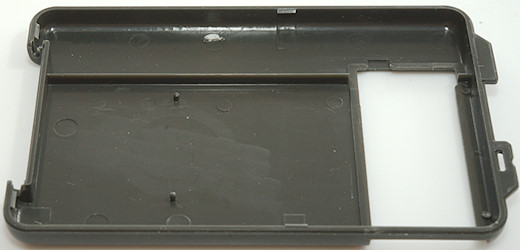 The clips can be seen here.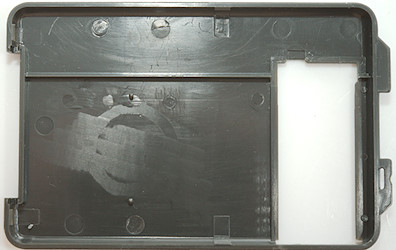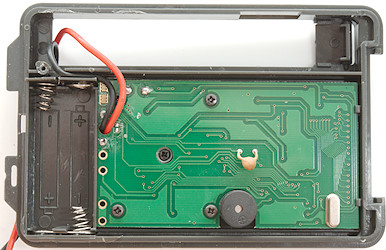 The circuit board is a rectangle.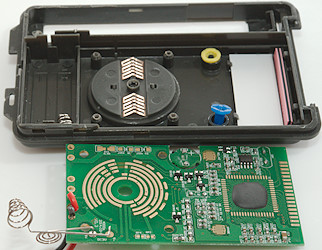 I had to remove four screws around the range switch to remove the board, the lcd connection is held in place by two tabs.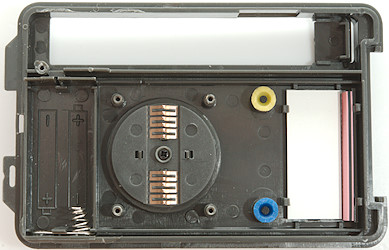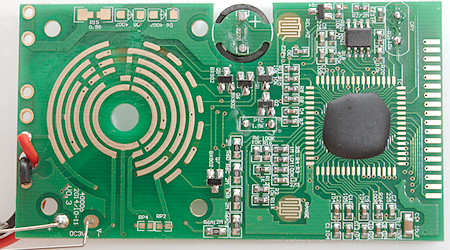 As is typical for cheap meters there is no transient protection on the input. The voltage input has the usual 10M ohm resistor (R6A, R6A2, R6B, R6C, R6D: 5x2Mohm).
For the ohm range the output is trough the PTC with a transistor pair (Q1 & Q2) as protection and input is through a about 900k resistor (R8: 910kOhm).
The meter must also exist in a version with a mA current range, the circuit board has space for a shunt (R15: 0.99ohm), a fuse and two protection diodes (D5 & D6).
The multimeter IC (IC) is a COB and has an external function/calibration EEPROM (P24C02A).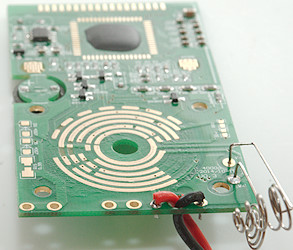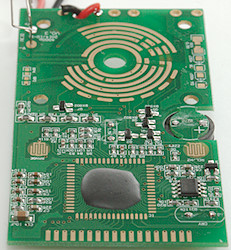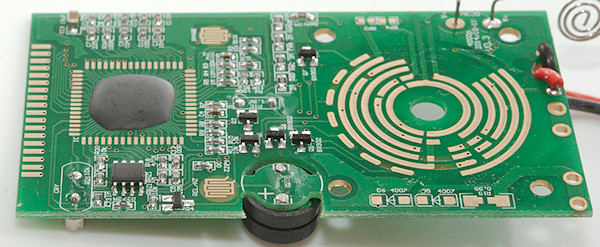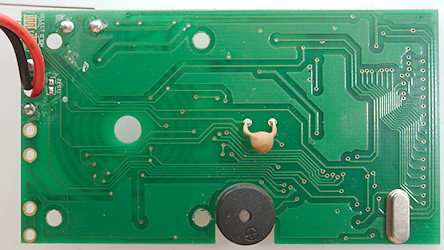 On this side of the circuit board is the high parts like the PTC, the buzzer and the crystal.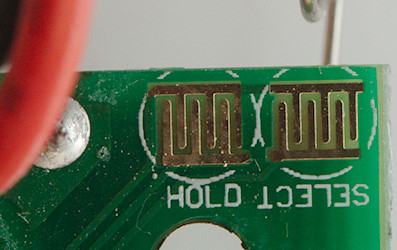 There is also pads for two extra switches, probably to activate a calibration mode in the multimeter.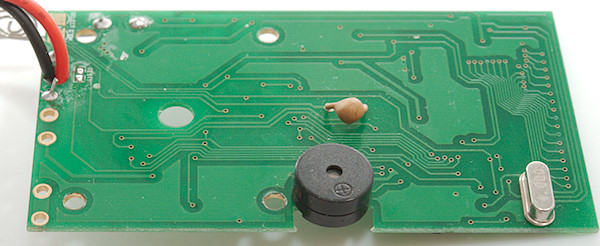 Conclusion



As usual for cheap meters the CAT rating is wrong.
The meter has a good set of ranges for a pocket meter and the missing current range improves safety a bit. It uses separate selections for all ranges, instead of a select button. The inclusion of a manual range switch is a nice feature, sometimes it is nice to lock the range. The secondary off position is bad design, because it do not match the slot in the box.




Notes



This meter probably exist with many different names on it and small variations in functions.

How do I review a DMM
More DMM reviews