DMM Aneng Mini 180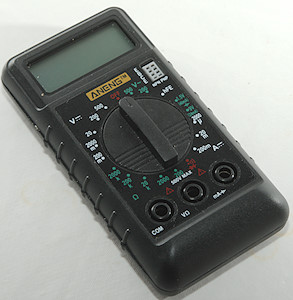 This is a really cheap DMM with manual ranges and a minimum of functions, it is very small.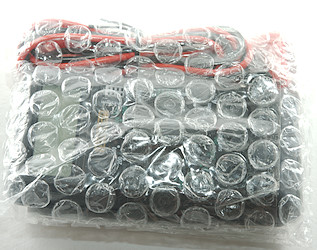 There was no box included with the DMM.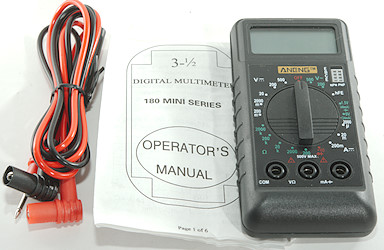 It included the DMM, a pair of probes and a instruction sheet.





The standard probes are rather tiny.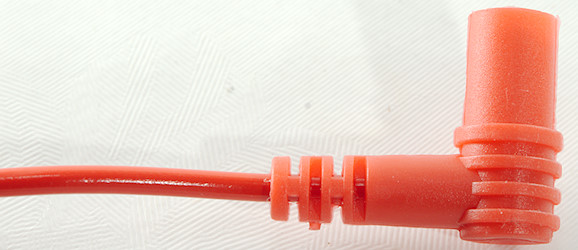 They use 4mm shrouded plugs, but they are very short (shroud about 10mm, normal is 20mm).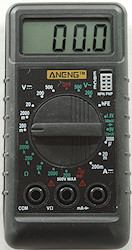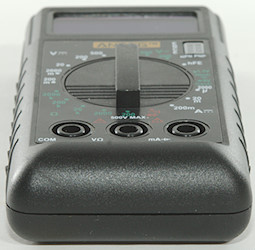 The battery is a small 12V type (23A).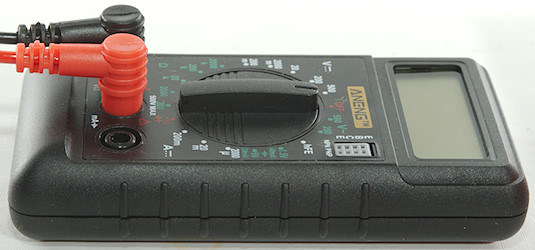 The small probes looks large on this meter.





Display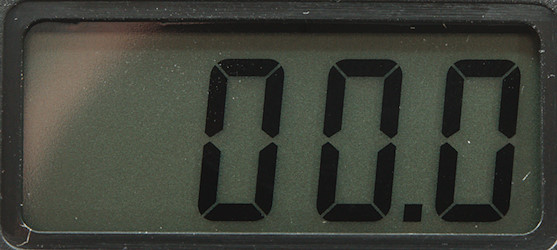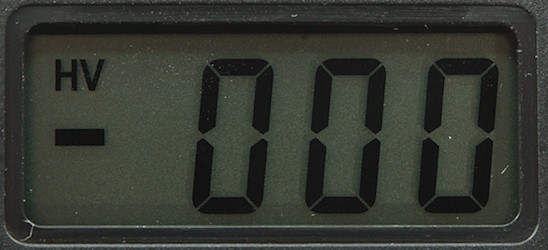 Typical display during usage, it will only show the number.
The HV symbol is only shown in the 500V ranges.





Functions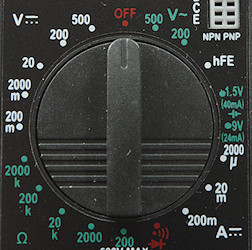 Rotary switch:
Off: Meter is turned off
VAC: 500 & 200: AC voltage ranges.
hfe: NPN & PNP: Transistor tester
Battery test: 1.5V & 9V: They use the current input and shows current.
ADC: 200u, 2m, 20m, 200m: DC current range
: Continuity and also announced as diode, but it is not.
Ohm: 200, 2K, 20k, 200k, 2M
VDC: 200m, 2, 20, 200, 500: DC voltage range.
Input

COM: The common terminal for all ranges.
Vohm: Voltage, resistance and Continuity input.
mA: Current and battery test input.
Measurements
Volt and frequency

5V AC volt readings drops 5% at about 10kHz, this do not include the 5 count error due to rectification.
Input impedance is 1Mohm on DC
Input impedance is 6Mohm on AC
AC range uses a single diode, i.e. DC will show a (wrong) voltage if it has the correct polarity.
Rated voltage 500V DC or peak AC on DC and 500V AC on AC.

Current

uA and mA range is unfused (Back of meter says there is a fuse).

Ohm, continuity, diode and capacitance

Ohm needs about 1s to measure 100ohm (Manual range helps a lot).
Ohm voltage is 0.3V open in 20k and above ranges and 25uA shorted in 20k range down to 0.3uA in 2M range
Ohm voltage is 2.6V open in 2k and 200ohm ranges and 2.1mA shorted in 200ohm range and 1.2mA in 2k range
Continuity is slow (About 500ms).
Continuity beeps when resistance is below 56ohm.
Continuity is 2.9V open and 1.4mA shorted
Diode range is same as continuity and it will show ohm
Rated overvoltage protection is 250V AC/DC for up to 10 seconds.

Miscellaneous

1.5V battery range uses a 37ohm resistor as load. Display shows current, not voltage, 40 is about 1.5V.
9V battery range uses a 360kohm resistor as load. Display shows current, not voltage, 25 is about 9V.
Current consumption of meter is 0.58mA except 2k, 200ohm and Continuity where it is 3mA
Meter displays values down to 2.8V where it turns off, battery symbol show at 6.6V.
Readings will increase significantly in value below 6.2V (Shows about double voltage at 2.9V).
Viewing angle is good
Display updates around 2 times/sec
Will not automatic turn power off
Standard probes cannot be used, but banana plugs will work.
Distance between terminals are non-standard.
The meter usual need a couple of display update to reach the final value.
Weight is 52.5g without accessories, but with batteries.
Size is 100 x 51 x 23mm

Probes

Probe resistance 80mOhm for one.
Probe wire is fairly soft and thin, the are 60cm long.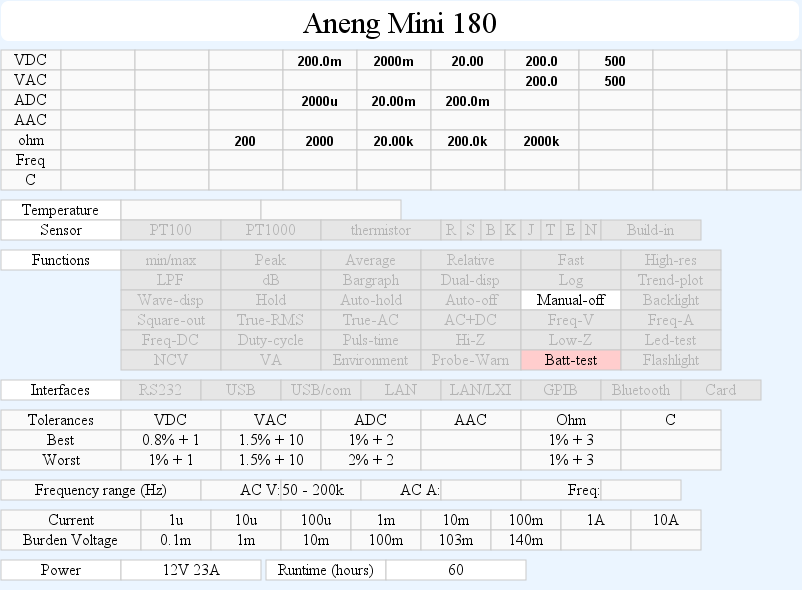 Tear down


Two screws and the back could be removed.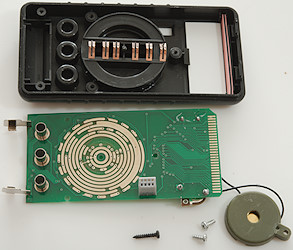 3 more and the circuit board could be removed.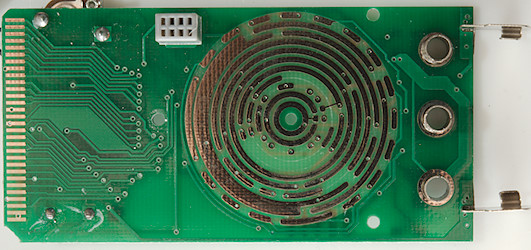 This side of the circuit board has the range switch, the LCD connection, the battery connections, the transistor tester socket and the input terminals.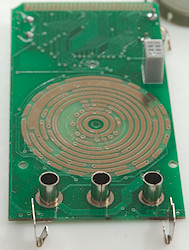 The electronic is on this side, near the current input terminals are the 3 current resistors: 1R00 (200mA), 9R00 (10mA) and 1000 (2000uA). A bit higher up on the circuit board are the two battery test resistors 360 (1.5V) and 361 (9V), they both include the 1ohm resistor in their final resistance.
The red wire and the trimpot do not look nice, the red wire is probably a last minute bug fix and the trimpot is because the correct part was not in stock.
I suspect that the M7 diode near the common terminal is for AC rectification.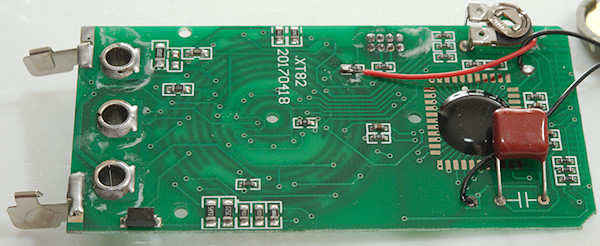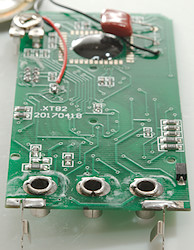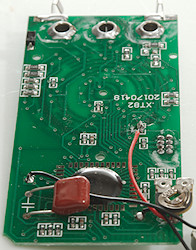 Conclusion



This is a simple and cheap DMM without any real input protection and with only a few ranges. This may be enough for some applications, but keep it away from mains voltage.

The battery test is not very useful with display of current, i.e. is 23 a good or bad battery?





Notes



This meter probably exist with many different names on it and small variations in functions.

How do I review a DMM
More DMM reviews