DMM BSide ACM91


A clamp meter from BSide with a DC sensitivity of 1mA, it do also have a lot of other ranges including temperature.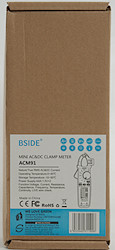 I got the meter in a brown cardboard box with a label specifying the contents.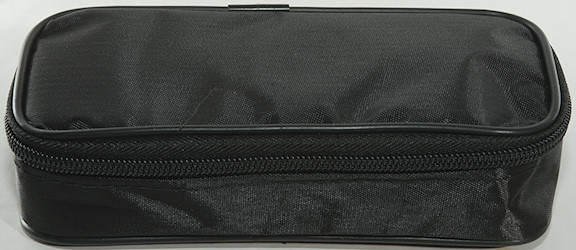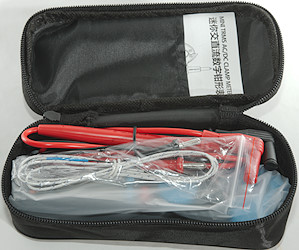 The pouch.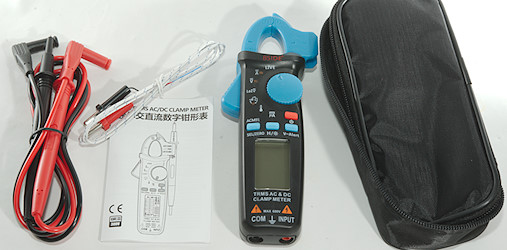 It included the DMM, a pair of probes, a thermocoupler and a manual.







The probes is branded BSide and has removable tip covers. With the cover on they are CAT III 1000V rated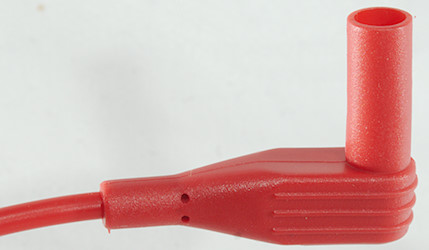 The shrouded plug is the slightly short variety.






The thermocoupler is the cheap type with banana plugs.






A probe holder for one probe, this means it only requires one hand to hold the meter and stick the probe somewhere, the other hand can be used for the black probe.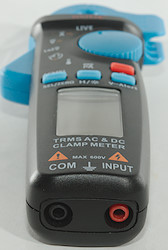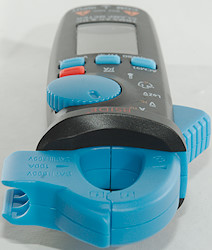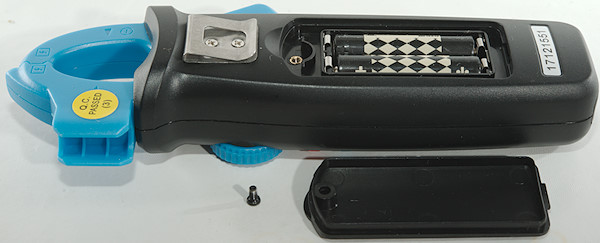 Display


The above picture shows all the segments on the display, not all are used by this meter.
The small display is used for frequency in AC modes and Fahrenheit temperature when measuring temperature.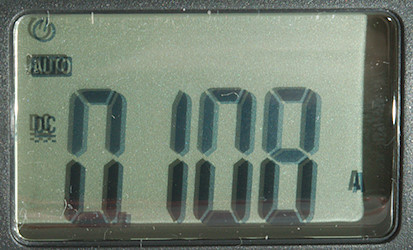 Typical display during usage, it will show the number and what measurement is selected.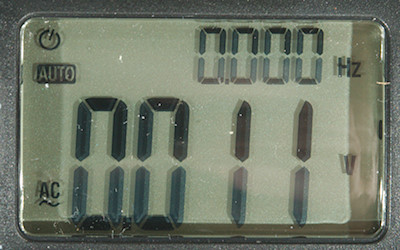 In AC modes the frequency is included on the secondary display.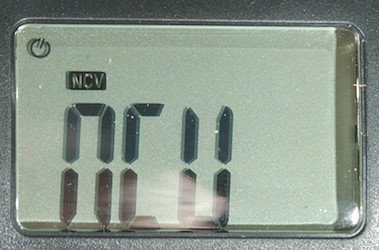 Non contact voltage or electric field will show ---- when no field and NCV with red background light and buzzer sounding when a field is detected.




Live detection will show ---- when no mains is detected and LIVE with red background light and buzzer sounding when a something is detected.





Functions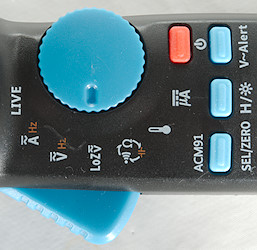 Buttons:
: Press to turn meter on or off.
SEL/Zero: Select AC and ohm/continuity/capacitance. Hold down to zero clamp in DC mode.
H/light: Freezes the display, hold down for backlight.
V~Alert: Hold down for NCV function.
Rotary switch:
Live: Detect mains voltage with a single probe.
A: Clamp measurement of DC and AC current.
V: Measurement of voltage om input terminals.
LoZV: Measurement of voltage om input terminals, with low impedance. AC/DC is automatic.
: Resistance, continuity and capacitance.
: Temperature measurement with thermocoupler
uA: Low DC Current measurement with probes.
Input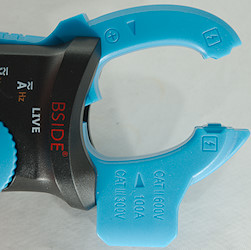 Clamp, used for DC and AC current measurement, except uA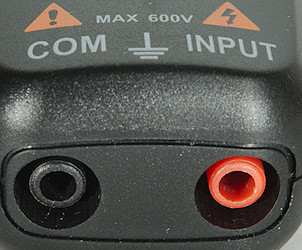 These terminals are used for Voltage, ohm, continuity, capacitance, temperature and uA.
CON: The common terminal
INPUT: The positive terminal.
Measurements
Volt and frequency

At 100mVrms input frequency range is from 10Hz to 3kHz
At 2Vrms input frequency range is from 10Hz to 3kHz
1 VAC is 5% down at 2.1kHz (RMS will not work at the frequency).
Frequency input requires a zero crossing.
Frequency counter is dual display in AC ranges.
LowZ has automatic DC/AC selection.
LowZ starts in DC and will switch to AC when voltage is above 1VAC without any DC.
Input impedance is 10..11Mohm on DC and AC
LowZ is 1Mohm input impedance.

Current

Frequency counter is on secondary display in AC ranges.
uA uses the probe inputs.
Initial DC offset on clamp is about 260mA, doing a demagnetizing I got it down to 70mA
uA current is protected by the PTC's
Clamp can handle about ø18mm

Ohm, Continuity, diode and capacitance

Ohm needs about 2.8s to measure 100ohm
Ohm is 0.51V open and 0.37mA shorted
Continuity is fast (About 30ms, but most of the time 3mS).
Continuity beeps when resistance is below 30ohm.
Continuity is 1V open and 0.37mA shorted
10uF takes about 2.2 seconds to measure.
6000uF takes about 8 seconds to measure.
Overload protection 250VDC/VAC

Miscellaneous

Current consumption of meter is 19mA and 24mA when using clamp (26mA with backlight in clamp mode).
Meter works down to 2.2V where it turns off, battery symbol shows at 2.4V.
Reading do not change with battery voltage.
Backlight only works down to about 2.6V where it is fairly dim.
The meter usual need a couple of display update to reach the final value.
Viewing angle is good.
Display updates around 3 times/sec
Backlight will automatic turn off in about 60 seconds.
Will automatic turn power off in about 30 minutes (Manual says 20 minutes).
Standard probes cannot be pushed fully down.
Weight is 161g without accessories, but with batteries.
Size is 180 x 70 x 32mm, the large with is due to probe holder on one side and clamp button on the other side.

Probes

Probe resistance 54mOhm for one.
Probe wire is soft and 78cm long.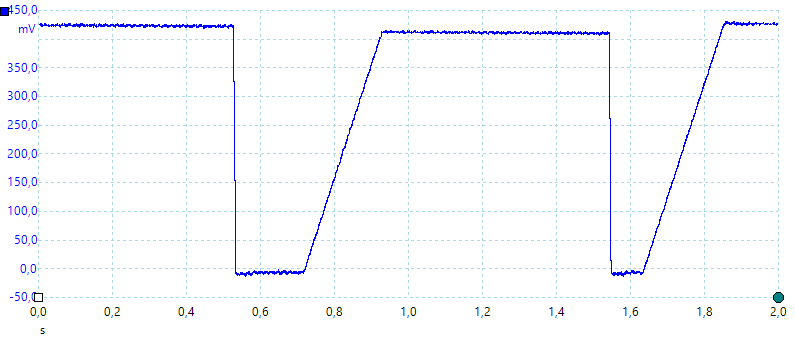 A look at the capacitance measurement waveform, this time with a 10uF capacitor.




Frequency input resistance is AC input have about 10Mohm (LowZ is 1MOhm).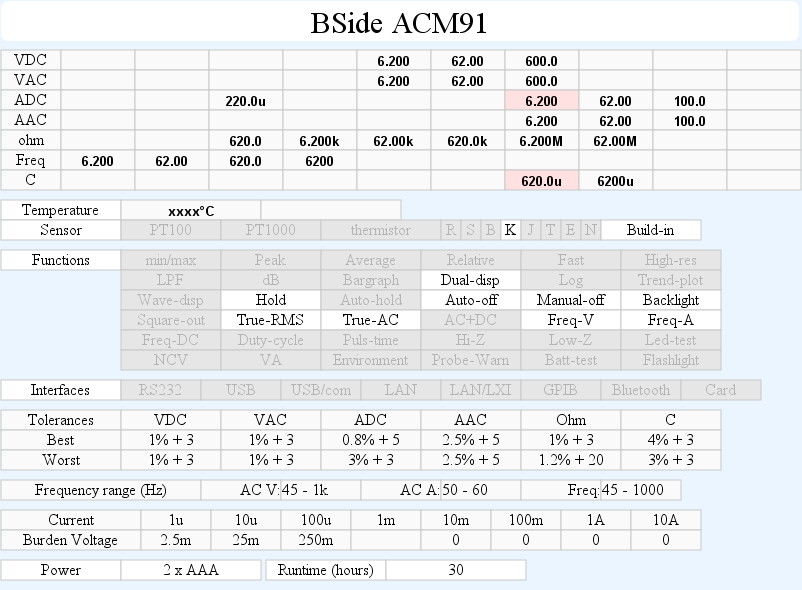 The clamp will change offset for a long time (More than 1 minute) on the A range, this basically makes it impossible to measure below 10mA
Auto range in capacitance has a problem, it may lock up between 600uA and 1000uF
Minimum capacitance value is 2uF, any value below that will show 0.
The software in the meter is not completely stable, it crashed a couple of times during my test
The power switch is not 100% reliable, sometimes it turns on/off or off/on when pressed once.





Tear down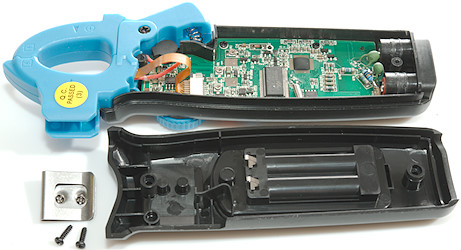 Four screws and the back could be removed.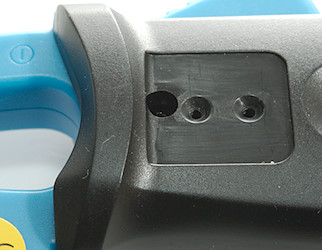 There was a small detail about locating the screws first, one was behind the serial number label another behind the belt clip.






Circuit board is nicely adapted for the enclosure. There is a flat flex for the current sensing and a red wire for the NCV going into the clamp.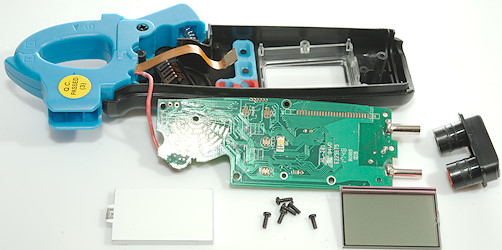 The circuit board had 6 screws, that was 3 screws for the display and 3 to hold the circuit board.





The clamp was mounted with two screws.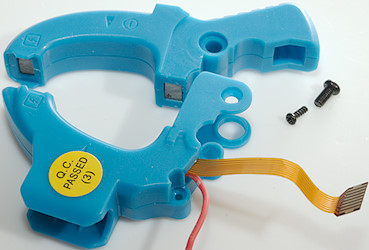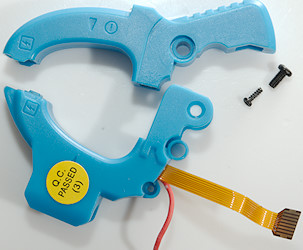 At the clamp there are some chips for handling the signal (U3, U5: ETM1792A: Probably Dual OpAmp, U4: Marked 3157F: Maybe Voltage regulator). The chip (U9: Marked 7W74 7F, maybe D-FlipFlop) may be to handle power. Near the battery connection is also another chip (U7: R11, Maybe LM385 reference). The big chip (U8: Holtek HT1621B, LCD memory) is for interfacing the LCD display, the DMM chip (U11) must be lacking that function. There is a EEPROM for parameters to the DMM chip (U2: 24C02A) and probably some calibration, there is also a couple of trimpots for the clamp.
For the input there is a couple of paths: two PTC's in series for ohm and uA, a 900kOhm path for temperature and ohm feedback and two resistor for voltage input (R7A & R7B: 2x5Mohm). The ohm and uA input uses a transistor pair (Q4 & Q5) to clamp the voltage.
The LowZ is made with 3 SMD resistors (R23, R24, R25: 3x300k), they are after the PTC's.






On this side is only the backlight led and the pads for switches and LCD











Conclusion



Specifications sound good and the meter has many functions, but it is not perfect, there are a couple of issues. It is lacking diode testing, capacitance test is not very good and frequency range is fairly limited. Compare to other clamp meters it add temperature, a uA mode and LowZ. The NCV and Live mode is also a nice touch.





Notes



How do I review a DMM
More DMM reviews