DMM DT9208A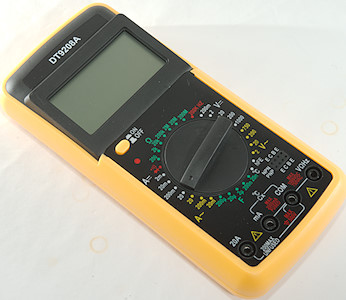 This is a cheap manual range multimeter. It has a lot of ranges.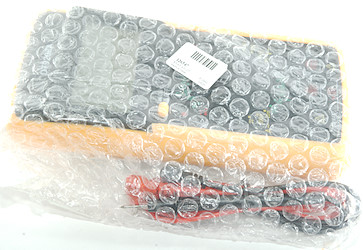 I got the meter in an envelope with some protective wrapping around it.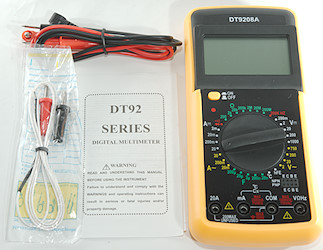 It included the DMM, a pair of normal probes, a thermocoupler and a manual for this series of multimeters (i.e. DT92xxA).





No tip cover on these small probes.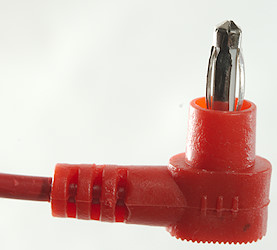 And no real shroud on the plugs.






The thermocoupler is the usual cheap model with loose bananaplugs.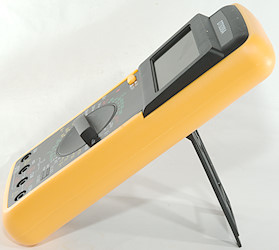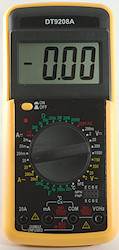 The range switch is a bit difficult to use single handed when meter is on the tilting bale, it slides around. You also have to be a bit careful with placing it correctly, the detents are not perfect at secure in the selected range.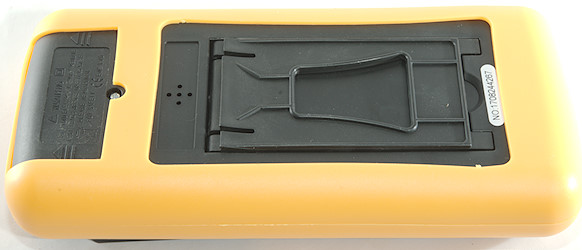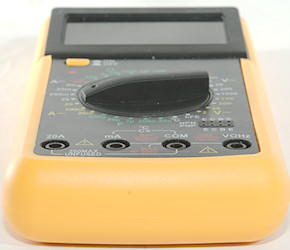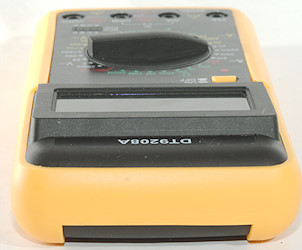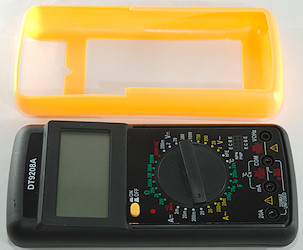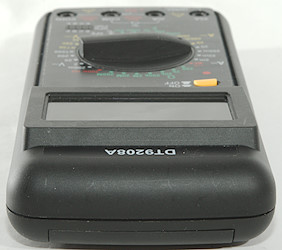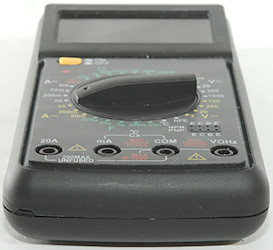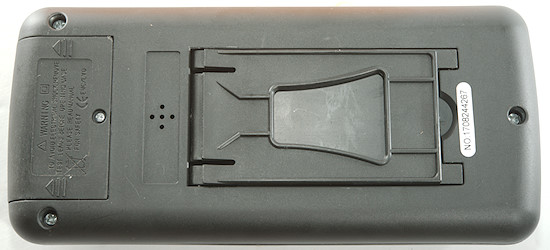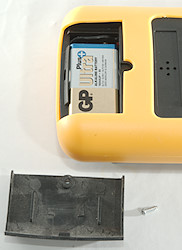 It is easiest to remove the rubber sleeve before changing battery.





Display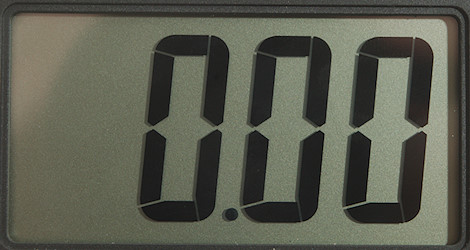 The display is only the numbers, sometimes a minus sign and a battery symbol. There is no indication of selected range or units.





Functions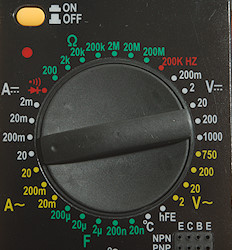 Buttons:
On/off: A mechanical switch to turn the meter on and off.
Rotary switch:
100K HZ: Frequency counter, only one range.
5x VDC: DC voltage ranges
4x VAC: AC voltage ranges
hFE: The transistor tester.
°C: Temperature display
5x F: capacitance ranges
3x AAC: AC current ranges.
4x ADC: DC current ranges.
: Combined continuity/diode range, it is a 2kOhm range.
7x Ohm: Resistance ranges.
Input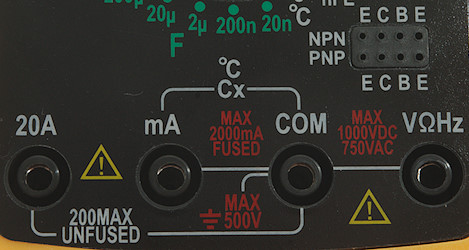 20A: High current, the reading will change due to heat.
mA: The lower current ranges, capacitance and temperature input.
CON: The common terminal for all ranges.
xxx: All other ranges.
Measurements
Volt and frequency

At 1Vrms input frequency range is from 100Hz to 200kHz, but not very precise
1 VAC is 5% up at 10kHz
Frequency input do not requires a zero crossing.
Input impedance is 10Mohm on DC and AC, mVDC input impedance will drop to 1Mohm above 3.3V
Frequency input is a capacitor.

Current

200mA current is protected by soldered SMD fuse.
20A current range is unprotected

Ohm, Continuity, diode and capacitance

Ohm needs about 1.6s to measure 100ohm
Ohm is 0.29V open and 0.17mA down to 0.027mA shorted, except 200M range that uses 2.9V and 3uA shorted-
Continuity is very slow (About 380ms).
Continuity beeps and a weak red led turns on when resistance is below 66ohm.
Continuity/Diode range uses 2.9V, max. display is 1.999 at 1.53V with 0.77mA, max. current is 1.62mA shorted
10uF takes about 1 seconds to measure.
100uF takes about 1 seconds to measure.
Overload protection is not rated

Miscellaneous

Current consumption of meter is 1.2mA.
Meter works down to 2.8V where it turns off, battery symbol show at 6.7V.
Reading starts to change around 6.4V and is 50% to high at 3.9V and 100% to high just before it turns off.
The meter usual need a couple of display update to reach the final value.
Viewing angle is good.
Display updates around 3 times/sec
Power do not automatic turn off.
Standard probes cannot be pushed very much down.
Weight is 228g without accessories, but with rubber sleeve and batteries.
Size is 191 x 89 x 35mm with rubber sleeve.

Probes

Probe resistance 92mOhm for one, these probes are not for measuring 10A or 20A.
Probe wire is soft and 57cm long.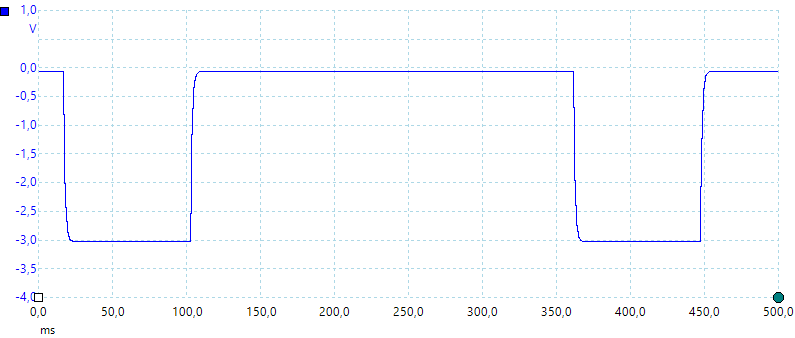 A look at the capacitance measurement waveform.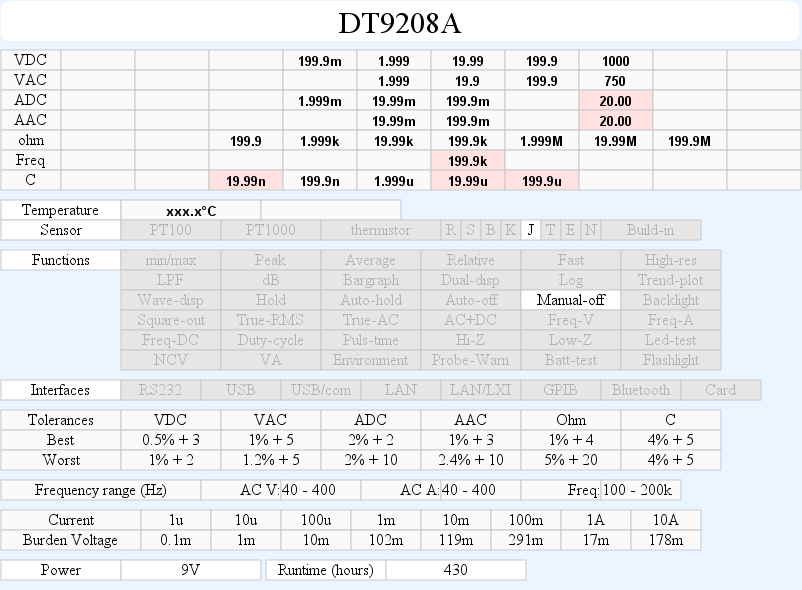 Frequency counter is not very precise. Specifications are fairly bad and display is slightly worse.
Some capacitance ranges show about 10% too low. The 200Mohm range is very sensitive to noise.
The 20A range will drift significantly at 20A





Tear down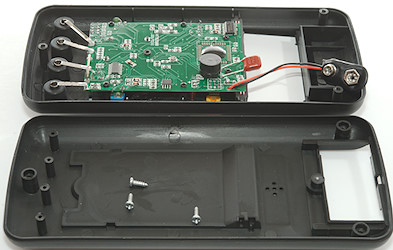 3 screws and the back could be removed.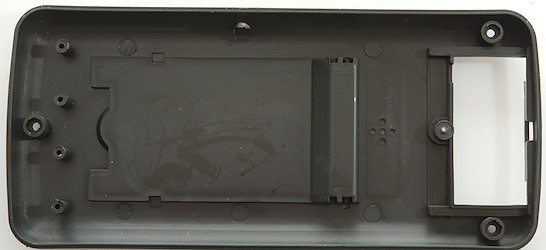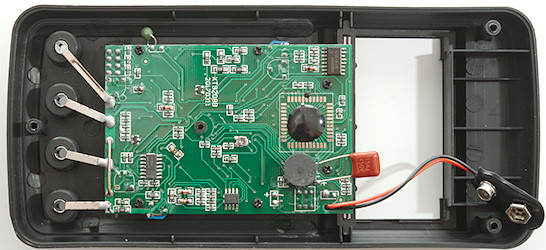 it is cheapest to produce a rectangular circuit board and it is made as small as possible.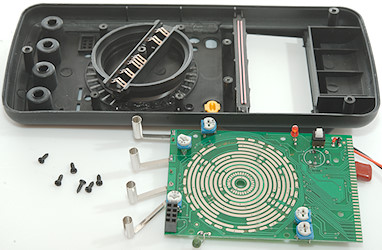 6 more screws to get it out.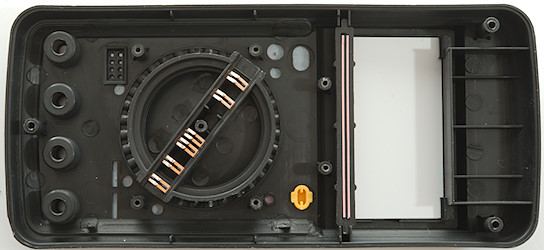 It was 4 screws around the switch and two at the display.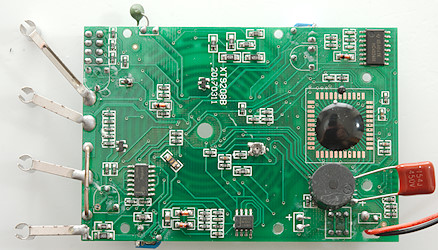 The 3 resistors near the 20A input (1R00, 9R00, 90R0) is for the 3 low current ranges. They also have a fuse, but it is SMD, i.e. not easily replaceable. There is a OpAmp (LM358) with some resistors and diodes, this is probably the rectification for AC ranges. The green PTC is probably used for ohm (But not capacitance) ranges. There is two 4504 (4.5Mohm) resistors in series, that is the input impedance in VDC and VAC.
I suspect that the HC4538 in the top corner is used for frequency measurement, i.e. it generates pulses that is integrated to a analog voltage that can be measured by the chip (This explains the bad precision). This means the HC14 Hex Schmitt-Trigger may be used for the capacitance measurement. The 5 resistors near the COM input is the ranges for capacitance.
The big red 450V capacitor is not used for voltage input.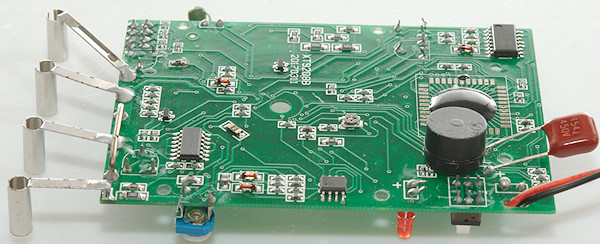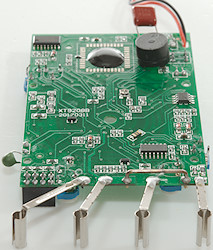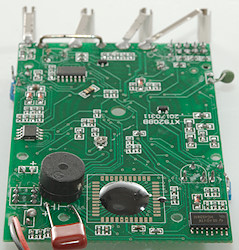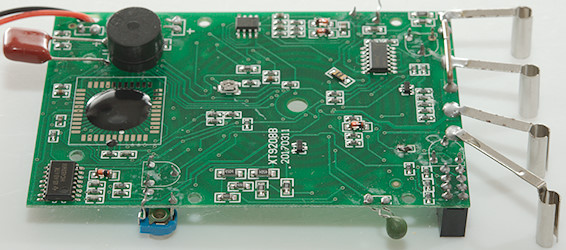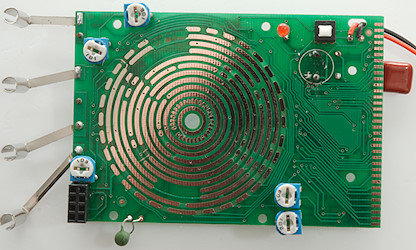 This meter has lots of adjustment, there was also one on the other side of the circuit board.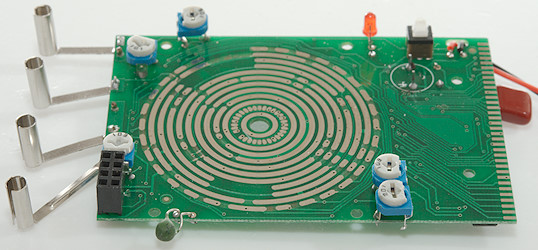 The way the legs on the PTC is twisted do not look safe.





Conclusion



The meter is unfused, this means best to keep away from mains voltages and anything with high current.
This is a cheap meter and most ranges are fairly precise, but even though it has many ranges, it is also lacking a lot of ranges compare to a autoranging meter.
It can be used for hobby purpose and around the house, but make a single mistake with the mA range and a new meter is required.





Notes



This multimeter is sold with many different type numbers on it and other multimeters also use this type number.

How do I review a DMM
More DMM reviews