DMM Hioki 3244-60 Card HiTester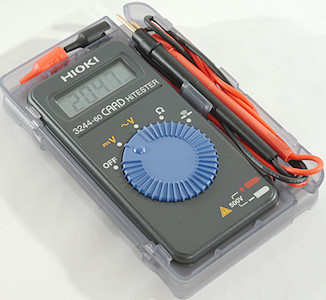 Hioki is a Japanese test equipment manufacturer, this is a small pocket multimeter with limited functionality.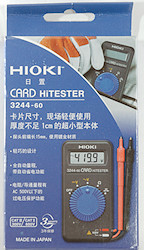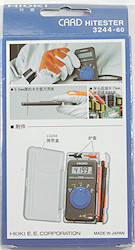 The meter arrived in a cardboard box with Japanese text on it.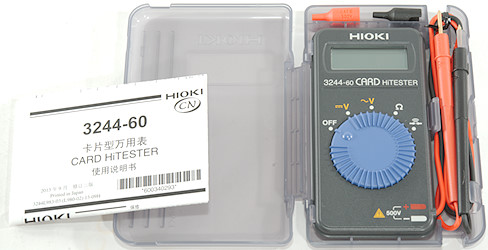 The box contained the meter in a plastic cover and a instruction sheet in Japanese and English (It is possible to download the sheet).






The probes has removable tip covers, with cover it is CAT III 300V, without cover it is CAT II 600V, but meter is only rated for 500V.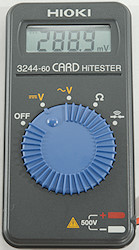 The range switch is easy to turn and there is a good detent to keep it correctly in the ranges.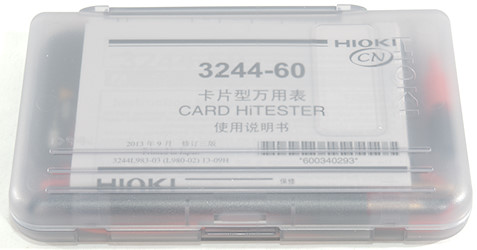 The manual fits inside the plastic box.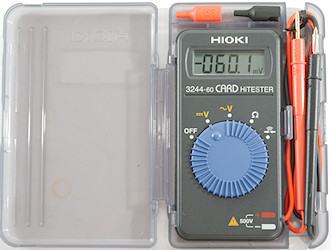 The tip covers can be stored inside the box (Very nice).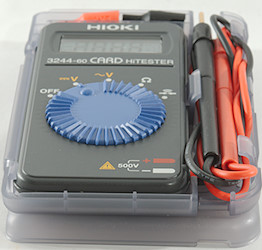 The lid can be folded under the meter.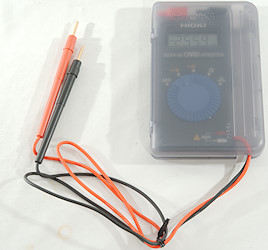 Or the lid can be closes with the probes sticking out, this gives a weak splash protection.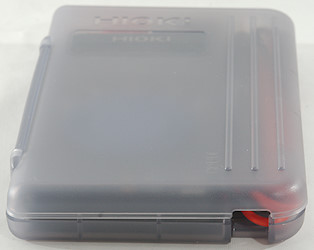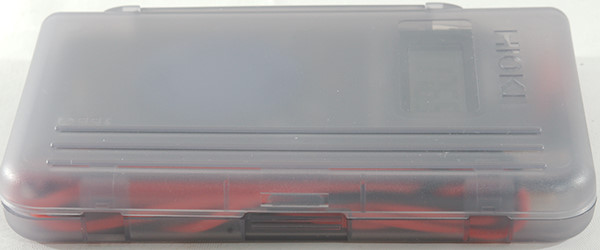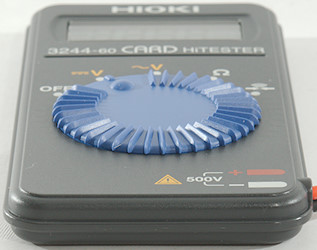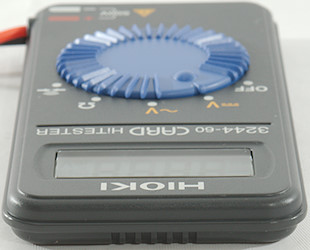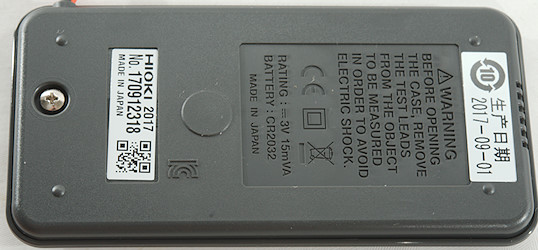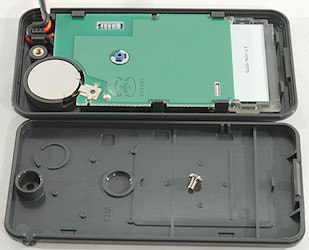 Display


The above picture shows all the segments on the display.





Typical display during usage, it will show the number and what measurement is selected.





Functions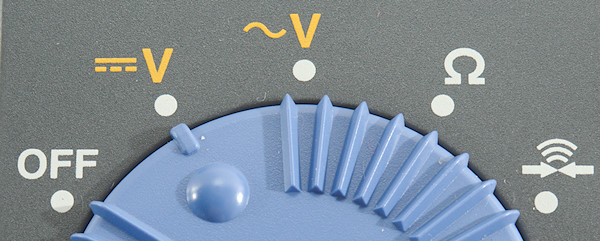 Rotary switch:
Off: Meter is turned off
VDC: Show DC voltage.
VAC: Show AC voltage.
: Resistance.
: Continuity, voltage is high enough to light a led.
Input



The probes is permanently attached to the meter.





Measurements
Volt and frequency

1 VAC is 5% down at 2.3kHz
Input impedance is 10..11Mohm on V AC and DC.
mV DC range is high impedance for DC up to around 0.42 volt where it changes to volt range
There is audible alarm when voltage is too high.
Over voltage protection is 500VAC/DC

Current

Meter do not have current ranges

Ohm, Continuity, diode and capacitance

Ohm needs about 1.5s to measure 100ohm
Ohm is 0.5V open and 0.8mA shorted
Continuity is moderate speed (About 60ms).
Continuity beeps when resistance is below 52ohm
Continuity is 3.1V open and 0.8mA shorted
Meter do not have a diode test, but the continuity has voltage enough to light a led (Display will show OF on any diode except schottky).
Over voltage protection is 500VAC/DC

Miscellaneous

Meter "bibs" every time the range changes.
Current consumption of meter is 0.8mA for most ranges and 1mA for VAC
Meter works down to about 1.2V where display flickers significantly, battery symbol shows at 2.2V.
Reading is stable down to 1.5V and will increase below, at 1.1V the reading is about 200%.
The meter needs one or two updates to show the correct value, in high ohm it needs many updates
Viewing angle is good.
Display updates around 2.5 times/sec
Meter will automatic turn off after 30 minutes, but it can be disabled.
To disable auto power off the switch must be turned to continuity and then back to ohm after a short pause when switching on.
Weight is 94.7g in box with batteries and tip covers (60g for meter with probes and battery).
Size is 126 x 80 x 18mm in box (Meter is 109 x 55 x 12mm).

Probes

Probe wire is fairly soft and 46cm long.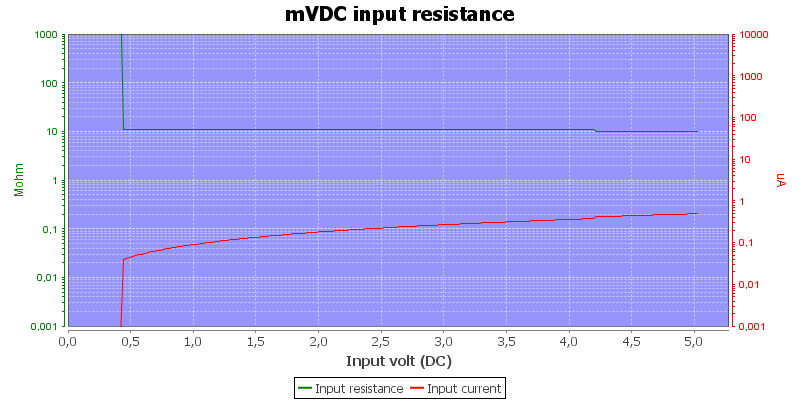 The input resistance at low voltage on DC range.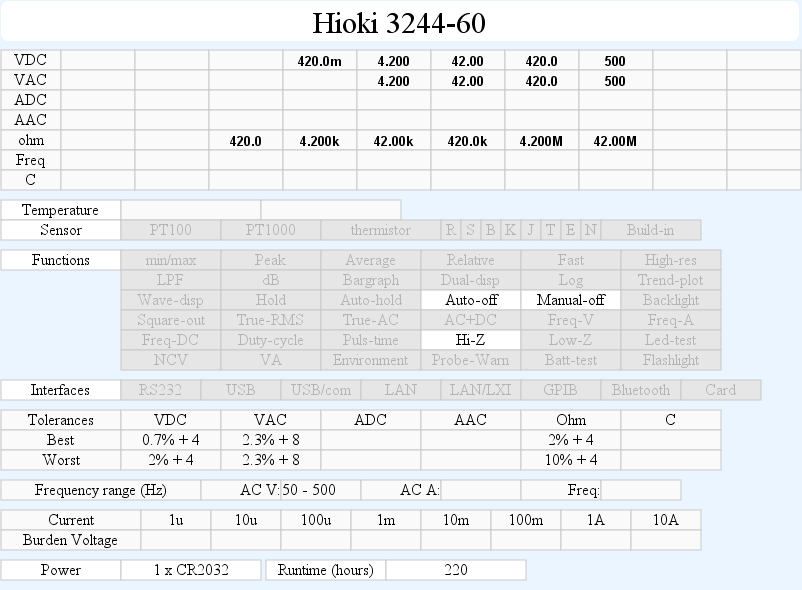 High DC voltage blocks for AC and high AC voltage gives wrong DC measurement.





Tear down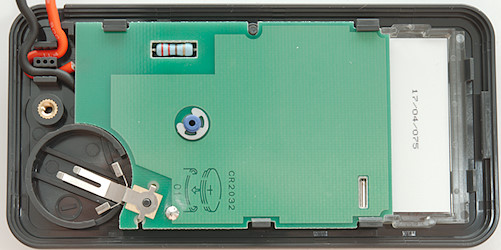 To open the meter one screw must be removed.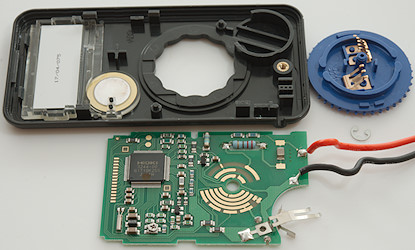 To remove the circuit board a locking ring must be removed and a few tabs must be loosened.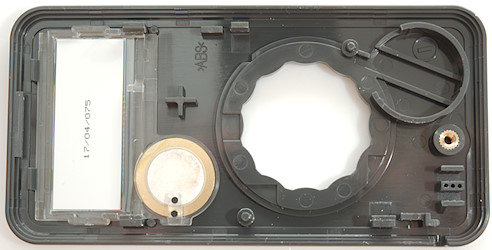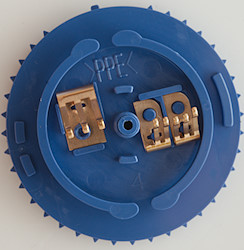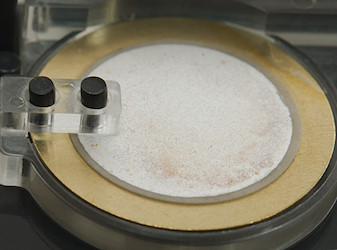 The buzzer do not use springs, but have some conductive rubber pins mounted above it for connection to the circuit board.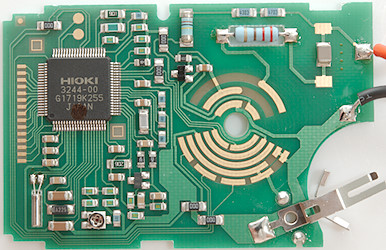 The meter has one input path that goes through two SMD resistors (430kohm and 470kohm) and a MELF resistor (9Mohm). There is also a ohms and continuity output path, it has a SMD PTC, a leaded resistor (220ohm) and after the range switch a transistor to handle over voltage/current.
The actual multimeter chip is a Hioki custom chip and has a trimpot for adjustment.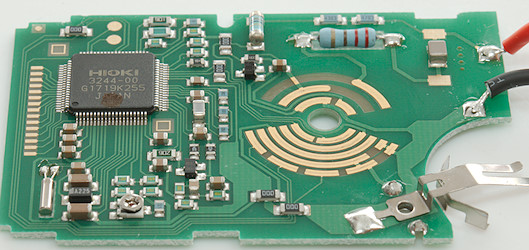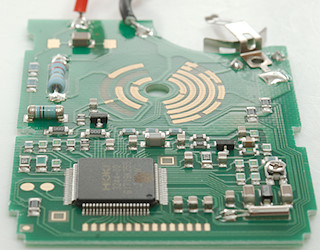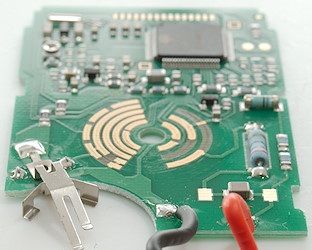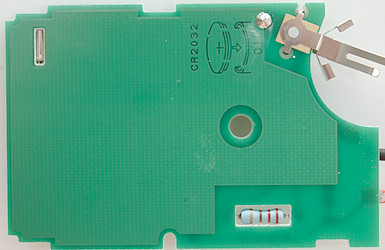 On this side only the positive battery contact is mounted and there is slots for a resistor and the crystal to keep the other side without parts sticking up and for the crystal also to keep it in position.
Most of this side contains copper, this will work as a shield for the electronic.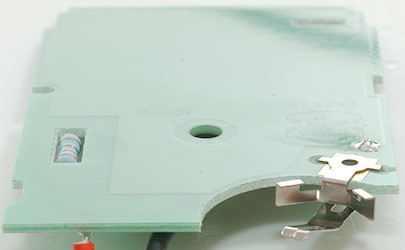 Conclusion



The safety looks good, but using a 600V CAT rating on a 500V rated meter is a bit strange.
The meter is fairly simple with very few ranges, but it is the most important ranges it has.





Notes



How do I review a DMM
More DMM reviews