DMM HoldPeak HP-38B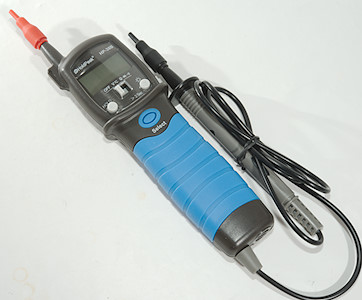 This is a pen style DMM with voltage and ohms.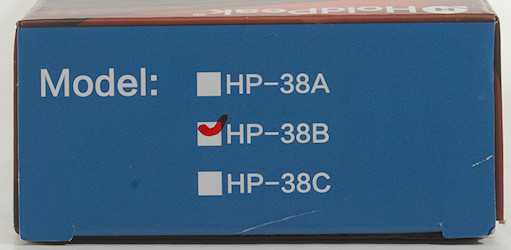 The meter arrived in a cardboard box with specifications for the 3 meters in this series.
A is for voltage only, C is the most advanced model.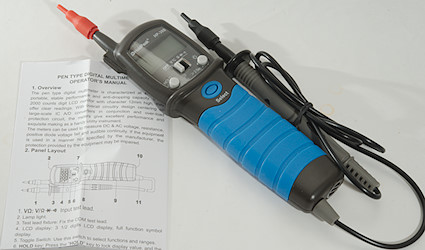 Inside the box was the meter and a manual, no pouch is included.






Being a penlight type meter the positive probe is part of the enclosure. The probe cover can be placed in two positions or removed.
There is no rating marked on the tip cover.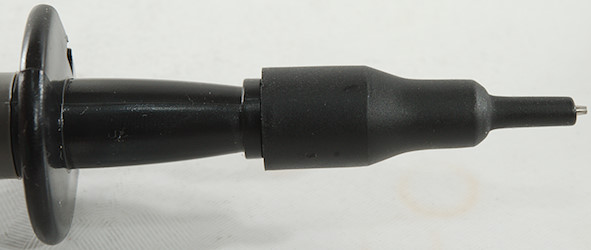 The negative probe is a lead that is permanently attached to the back of the meter.
Again the probe cover has two position or can be removed.
There is no rating marked on the tip cover.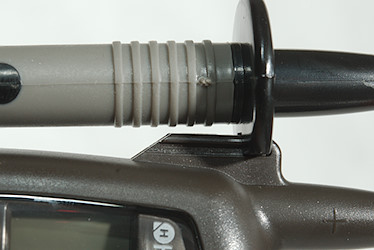 It is possible to attach the negative probe to the meter. This attachment do not fell very strong.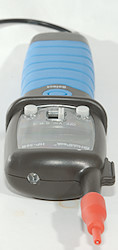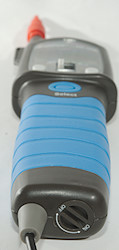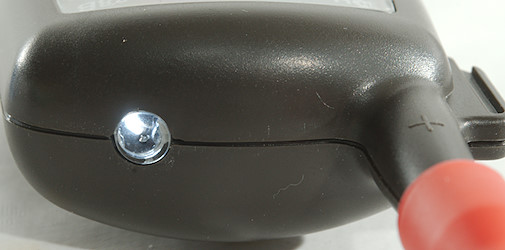 There is a led on the front.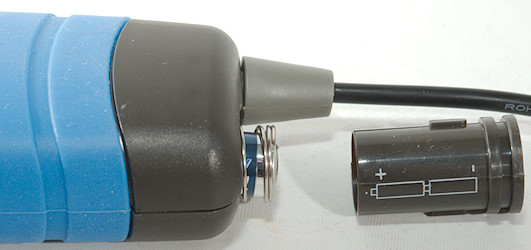 Batteries are stuffed in from the back.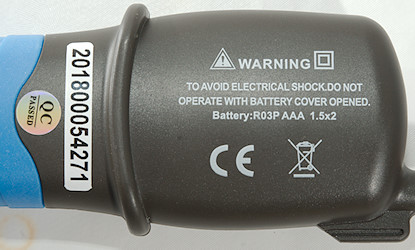 Display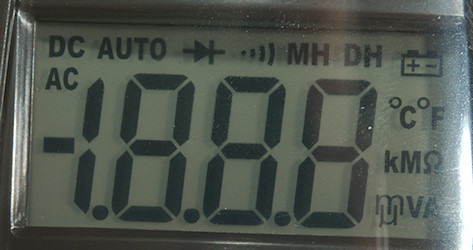 Display during power on where all segments are shown, the display has a couple of unused segments.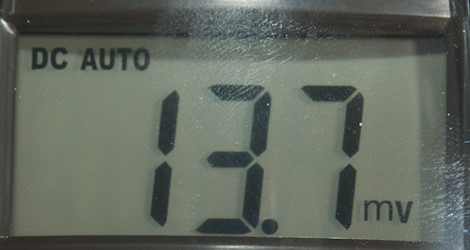 Typical display during usage, it will show the number and what measurement is selected.





Functions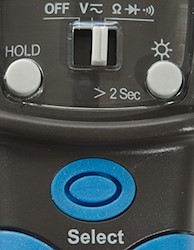 Buttons:
Hold: Freezes the display reading.
: Turns on the backlight and flashlight, but it must be held down for some time to do it.
Select: Select between AC and DC, ohm, diode and continuity.
Slider switch:
Off: Meter is off
V: DC and AC volt, use Select to change.
: Resistance, diode and continuity.
Input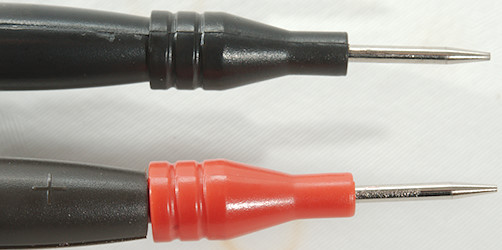 One probe is integrated in the meter, the other is a "loose" test wire.





Measurements
Volt and frequency

1 VAC is 5% down at 2.3kHz
Input impedance is 10 to 11Mohm on DC and AC
mV DC range is high impedance.
The specifications says it is protected to 600V DC/AC on V range

Current

There is no current ranges.

Ohm, Continuity, diode and capacitance

Ohm needs about 3.4s to measure 100ohm
Ohm is 0.45V open and 0.17mA shorted
Continuity is moderate speed (About 110ms).
Continuity beeps when resistance is below 50ohm
Continuity is 0.45V open and 0.17mA shorted
Diode range uses 1.6V, max. display is 0.999V at 0.2mA, max. current is 0.56mA shorted
The specifications says it is protected to 600V DC/AC

Miscellaneous

Current consumption of meter is 0.9mA in DC/ohm and 1.5mA in AC mode
Meter works down to 1.3V where it turns off, battery symbol show at 2.4V.
Reading is stable down to about 2.1V, then readings goes down 3% before the meter turns off
The meter usual need a couple of display update to reach the final value.
Viewing angle is good, except from 90° and up where it is invisible.
Display updates around 2.5 times/sec
Will automatic turn power off in about 15 minutes.
Backlight and flashlight turns automatic off after 15 seconds.
Weight is 160g with batteries
Size is 260 x 54 x 31mm.

Probes

Probe wire is fairly soft and 90cm long.


Input impedance in mV DC range and the lower voltage range.




High DC voltages may block for AC readings.





Tear down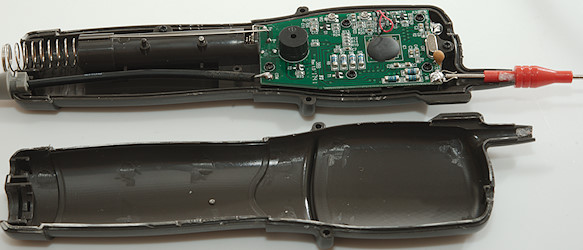 This meter is not designed to be opened and I had to break it open.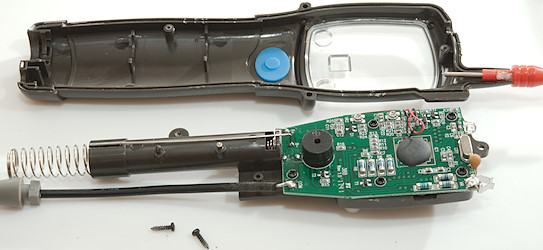 The electronic, LCD, buttons and battery box is a module that can be removed after taking two screws out. The meter is probably calibrated and tested in this module, before the enclosure is put on.






The front side of the module.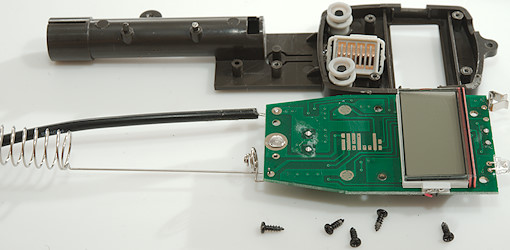 I had to remove 5 screws to take the module apart.





The range switch has 4 sliders, they fell out after I took the picture and where a bit tricky to put back in.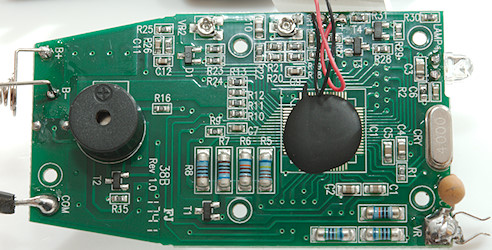 The input has 3 paths: A 10Mohm path for voltage consisting of the PTC and two resistors (2x5Mohm), a 900kOhm path for ohm sense input that is a single resistor and do not use the PTC and a ohm output path that only uses the PTC and T1 as input protection.
The meter has two trimpots (VR1 & VR2), one is probably voltage and the other AC rectification.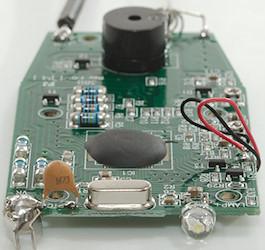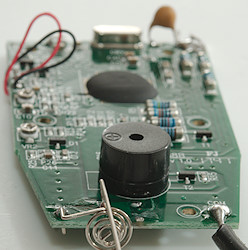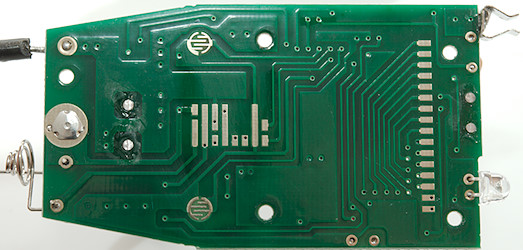 This side has the switch and LCD pads, the flashlight led is also mounted here. The Select switch is a dome, it will "click" when activated.









Conclusion



The meter do not have a CAT rating on it, but the manual says CAT III 600V, this may be a bit high for the meter.
The meter works fine in the few ranges it has, but it do not fell like good quality construction and I am not in favor of a glued together meter.





Notes



How do I review a DMM
More DMM reviews