DMM HoldPeak HP-4201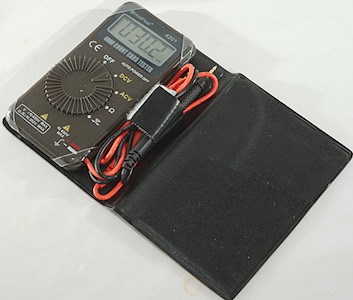 This is a cheap pocket DMM with 4000 count display and very few functions.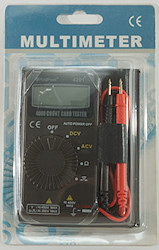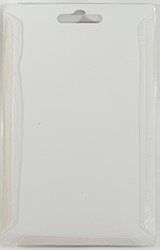 The packing is a generic cheap pocket multimeter retail package, with no branding, no specifications and no printing on the back.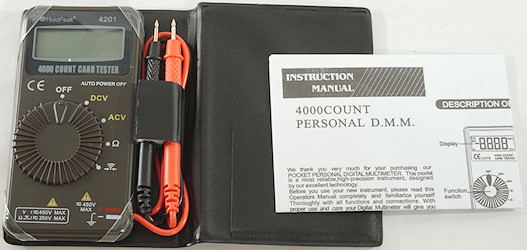 The packing contained the meter, the pocket sleeve and a instruction sheet.





The probes are fairly small with a golden tip.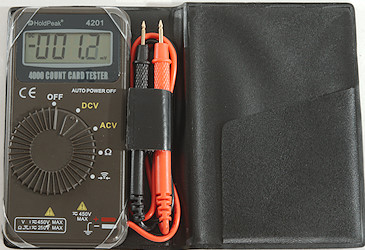 The range switch is easy to use and jumps nicely between positions as a added safety the buzzer will sound if it is stopped between ranges.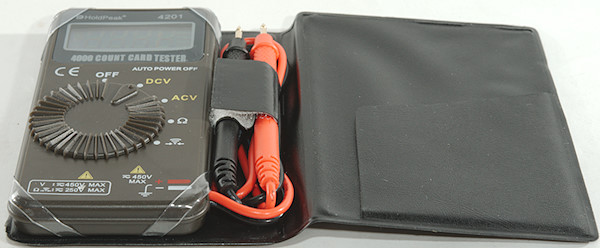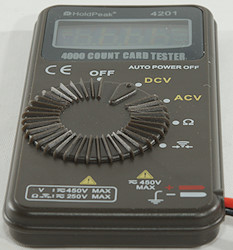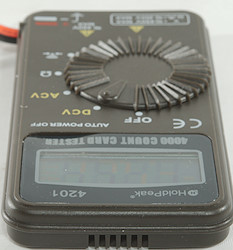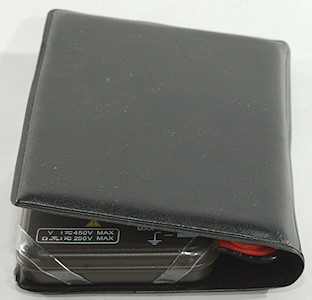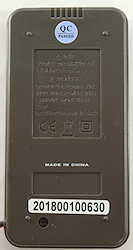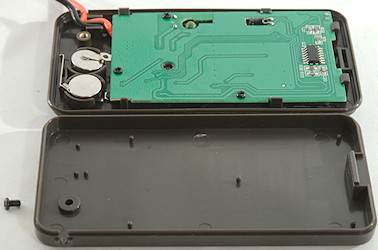 The batteries are not that easy to pry out when replacing them and the manual warn against using the probes for it (They may make a short).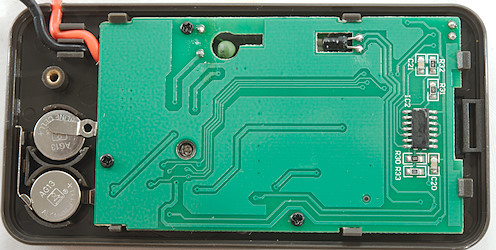 Display



The meter show all display segments when turned on, not all are used on this meter.





Display during normal usage, it will show selected range and value.






Functions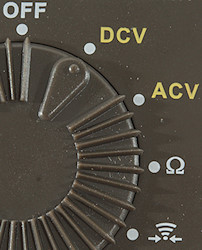 Rotary switch:
Off: Meter is off.
DCV: DC voltage ranges.
ACV: AC voltage ranges.
: Resistance measurement.
: Continuity.
Input



This meter only have a red and black probe coming out, no other connections.





Measurements
Volt and frequency

1 VAC is 5% down at 2.2kHz.
Input impedance is 10-11Mohm on DC and AC
mV DC input impedance is high and due to automatic range switching it will drop to 10Mohm at 0.4V
Rated overload protection is 450V DC/AC

Current

Meter cannot measure current

Ohm, Continuity, diode and capacitance

Ohm needs about 3.5s to measure 100ohm
Ohm is 0.45V open and 0.18mA shorted
Continuity is moderate speed (About 100ms).
Continuity beeps when resistance is below 40ohm and will make noise up to 80ohm
Continuity is 0.45V open and 0.15mA shorted
Rated overload protection on is 250V DC/AC

Miscellaneous

Current consumption of meter is 0.8mA in DC and ohm, AC uses 1.3mA
Meter turns off at 1.1V, battery symbol show at 2.4V.
Reading are stable down to 2.0 volt, below that the meter will show a bit low.
Viewing angle is good, except from the top.
Display updates around 2 times/sec
The meter usual need a couple or more display update to reach the final value.
Will automatic turn off after 18 minutes.
Weight is 96g without accessories, but with sleeve and batteries (65.3g without sleeve).
Size is 112 x 76 x 18mm with sleeve (109 x 58 x 14mm without sleeve).

Probes

Probe wire is fairly soft and 40cm long.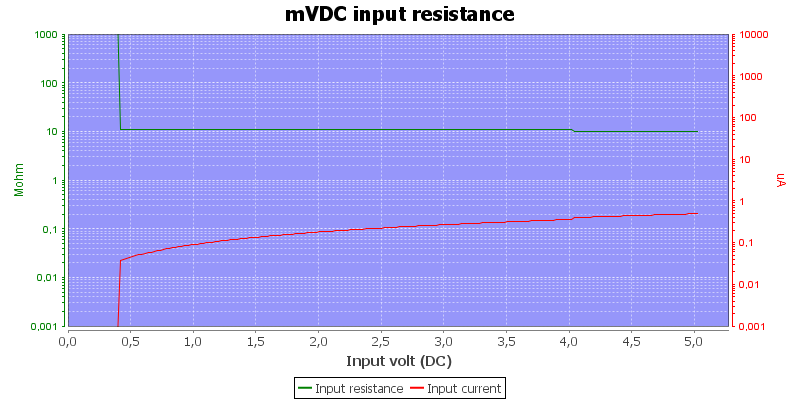 Millivolt input resistance is high.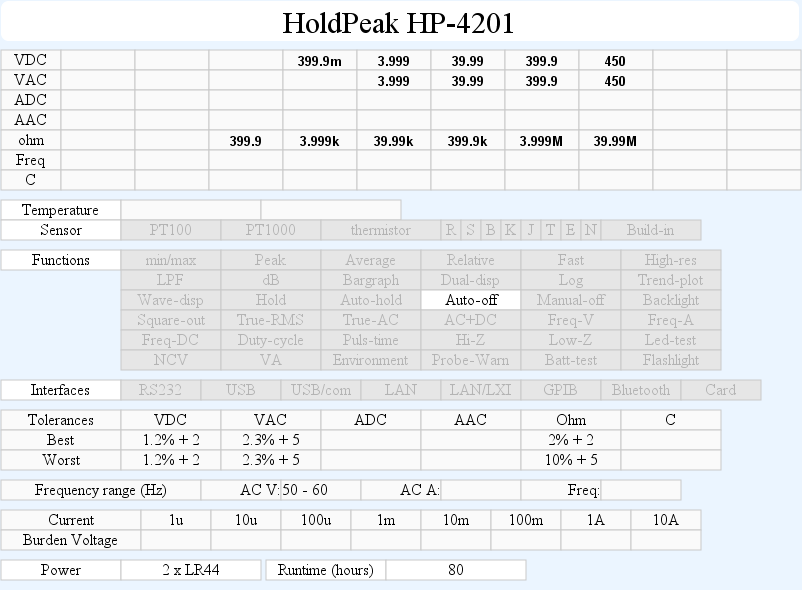 High DC voltage may block for AC readings.





Tear down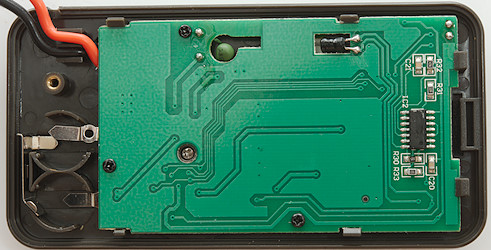 Only one screw must be removed to open the meter.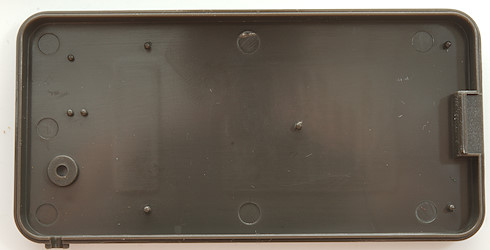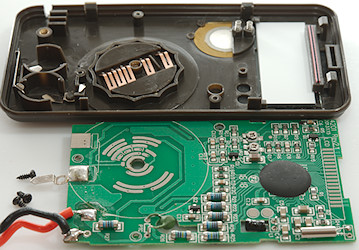 And 3 more to remove the circuit board from the meter.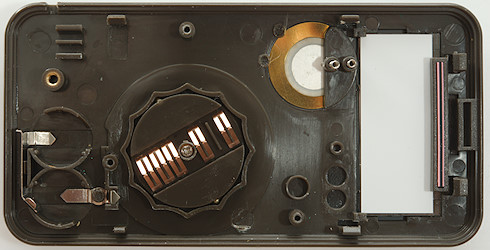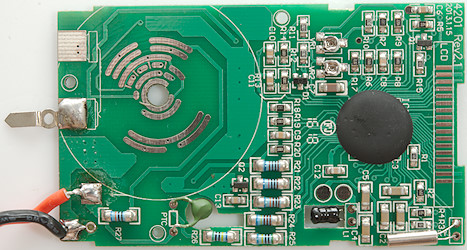 The input has the usual 3 paths, the main voltage input is through the PTC and two resistors (R25 & R26: 2x5Mohm). For ohm the PTC is switched to a protection transistor (Q2), this is the ohm output. The ohm input uses a resistor (R27: 900kOhm).
The buzzer has a inductor (L1) in series with it to generate more sound.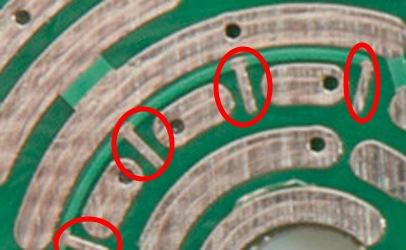 There is a special trick in the range switch to make the buzzer sound if the range switch is between ranges.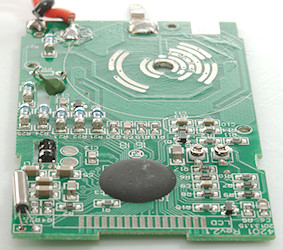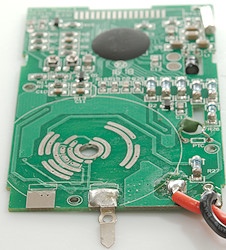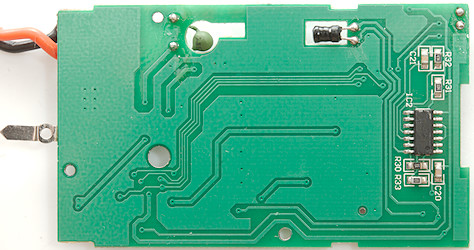 The circuit on this side (IC2: HEF4011B) is connected with the special trick in the range switch and it looks like an oscillator circuit.
The circuit board has cutouts for the larger parts (PTC and inductor).








Conclusion



This meter is not CAT rated and the safety do not look that high.
When I got the meter the range switch did not work, I had to turn it back and fort and press on it to get the ranges to work, after the tear-down the switch works perfectly. I did not do anything, it must be because the guides inside the meter is not good enough to place the circuit board correctly. There is also some damage to the meter, the foil in front of the LCD has been pressed down in one corner.
The meter is rather simple with only voltage, ohms and continuity and there is nothing wrong with the precision.

I will not recommend the meter due to the quality problems.





Notes



How do I review a DMM
More DMM reviews