DMM Hyelec MS8232


This is a cheap compact multimeter.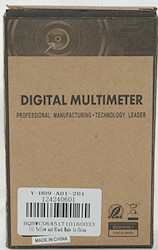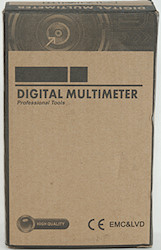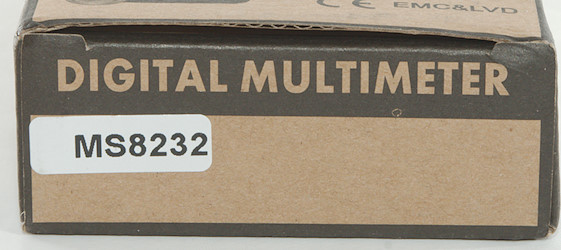 The meter arrived in a brown generic multimeter cardboard box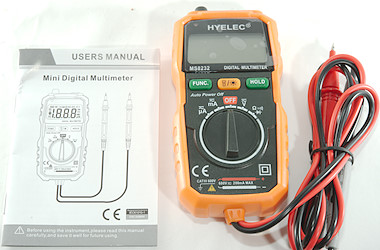 The box included the meter and a manual.







The probes is rated for CAT III 600V with tip covers on and CAT II 1000V without.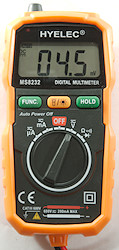 The meter do not have a tilting bale and depending on the surface it is possible to turn the range switch with on hand.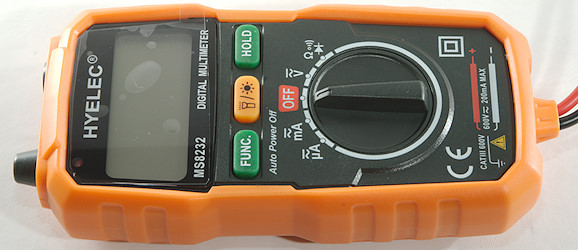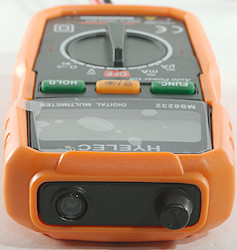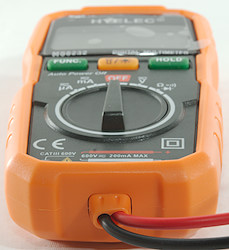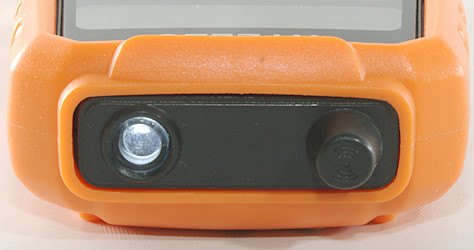 There is a flashlight led at the front.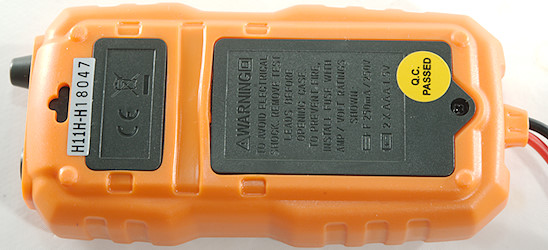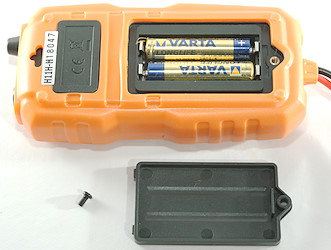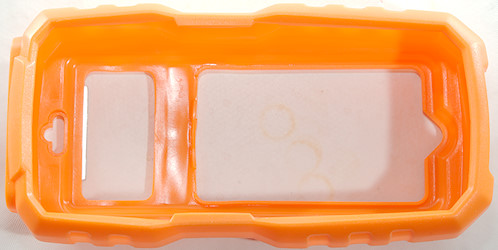 Display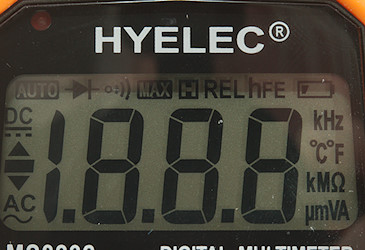 The above picture shows all the segments on the display, not all are used.
There is a red led above the display, it is used for NCV detection.




Typical display shows range and value.





Functions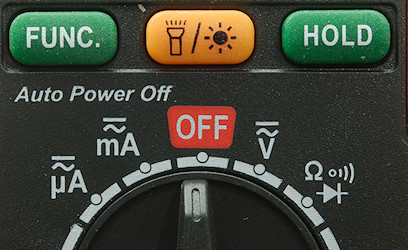 Buttons:
Func: Used to select between DC/AC and ohm/diode/continuity
: Hold down to turn on background light and flashlight (They work together).
Hold: Freeze the display reading.
Rotary switch:
uA: uA current, use FUNC. to select AC/DC
mA: mA current, use FUNC. to select AC/DC
Off: Meter is turned off.
V: Voltage DC and AC, use FUNC. to select
: Ohm, diode and continuity, use FUNC. to select.
Input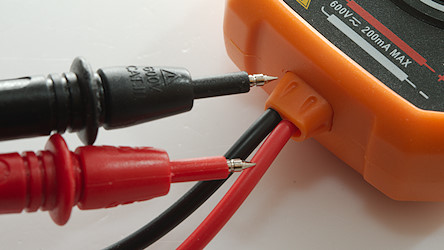 This meter only have a red and black probe coming out, no other connections.





Measurements
Volt and frequency

1 VAC is 5% down at 2.5kHz
Input impedance is 9-10Mohm on DC and AC
mV DC is about 90Mohm
NCV is always on when switch is off the off position and only indicated with a red led
Rated overload protection is 600VDC/VAC.

Current

Overload protection: 0.25A/250V 5x20mm fuse (Circuit board is marked 600V)
There is an audible warning when current ranges is overloaded

Ohm, continuity, diode and capacitance

Ohm needs about 3.3s to measure 100ohm
Ohm is 0.44V open and 0.24mA shorted
Continuity is moderate speed (about 100ms).
Continuity beeps when resistance is below 50ohm
Continuity is 0.44V open and 0.24mA shorted
Diode range uses 1.5V, max. display is 0.999V at 0.3mA, max. current is 0.77mA shorted
Rated overload protection is 600VDC/VAC

Miscellaneous

Current consumption of meter is 1.2mA in VDC and 1.9mA in AC and current (16mA when NCV led is on, 10mA with backlight and flashlight and 23mA maximum)
Meter works down to 1.4V where all segments turn on, battery symbol shows at 2.3V
The meter reading is stable down to 2V where it starts to show wrong values.
Backlight fades with voltage and is very dim at 2.5V
The meter needs a couple of updates before the reading is fully correct.
Viewing angle is good
Display updates around 3 times/sec
Backlight and flashlight will turn automatic off in about 16 seconds.
Will automatic turn power off in about 15 minutes
Auto power off will not disable NCV detection.
Weight is 169g without accessories, but with sleeve and batteries.
Size is 132 x 61 x 28.5mm with sleeve.

Probes

Probe wire is fairly soft and 75cm long.


DC Voltage input resistance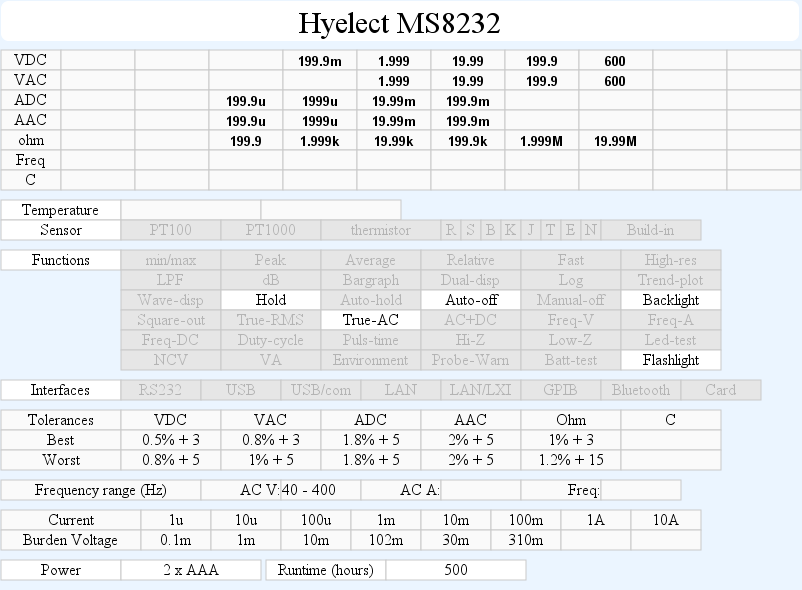 Tear down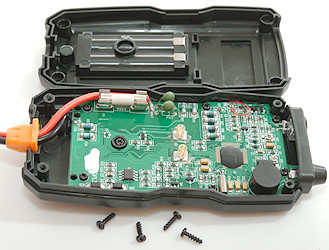 After removing the sleeve I had to remove four screws to open the meter.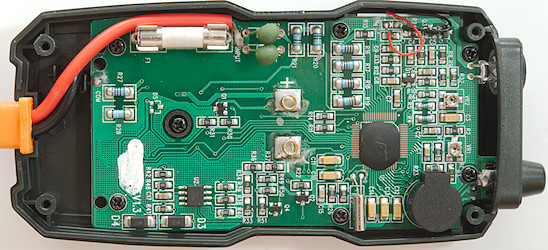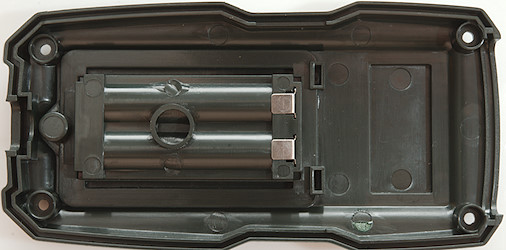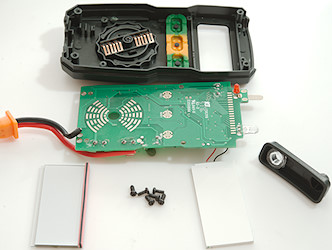 To get the circuit board out I had to remove 6 screws more.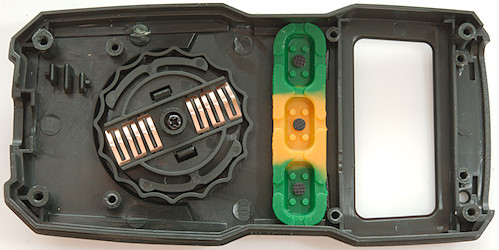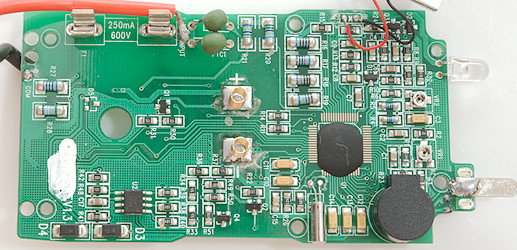 The mA current input is one resistor (R28: 0.99ohm) with the uA shunt next to it (R27: 100ohm), the two resistors are protected by two diodes (D3 & D4) and the fuse (F1).
Voltage input is a PTC (PTC2) and two resistors (R20 & R21: 2x5Mohm). The ohm range uses the same PTC (PTC2) for current output with a protection transistor (Q1), the ohm sense input is the other PTC (PTC1) and a resistor (R14: 900kohm).
The NCV has a antenna at the top of the circuit board, but the electronic is placed at the bottom, there is 4 pull down resistors (R33, R34, R36, R37: 4x47Mohm) and a chip to handle it (U2).
At the top of the circuit board are two trimpots.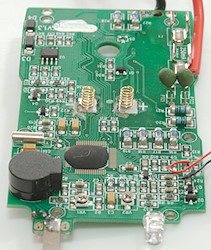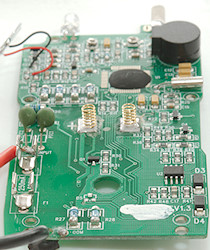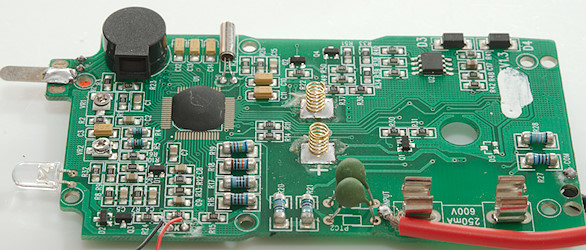 This side is the pads for the switches and LCD together with the red NCV led.









Conclusion



The CAT rating is too optimistic, a 250V fuse cannot be used in a 600V rated meter.
This is a small meter and works fine in the limited amount of ranges it has. I do not like that the NCV is always on, it means it may light up when the meter is placed on a table and it may drain the battery when the meter turns automatic off.





Notes



How do I review a DMM
More DMM reviews