DMM Innova 3320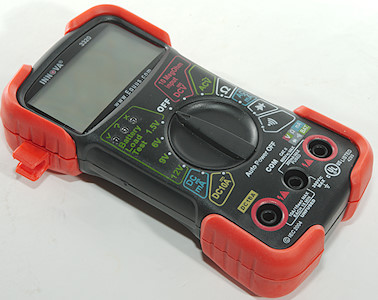 Innova has a couple of multimeters, this is their midrange model. They all have the probe holders sticking out to the sides.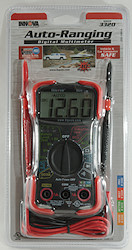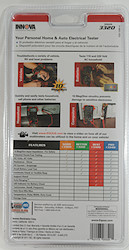 The meter comes in a blister pack with a comparison of the different meter models on the back.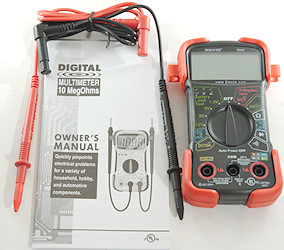 The pack includes the meter, a manual (That can also be downloaded) and probes.






The standard probes a slightly on the small side and are rated for 600V CAT II like the meter.




The plugs are fully shrouded and nearly standard probe size. They are interchangeable with standard probes.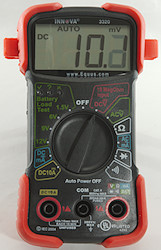 The range switch can be turned by one hand with the meter lying down or standing on the tilting bale.
The marking of "10MegOhm input" is a bit ridiculous, nearly all meters have that.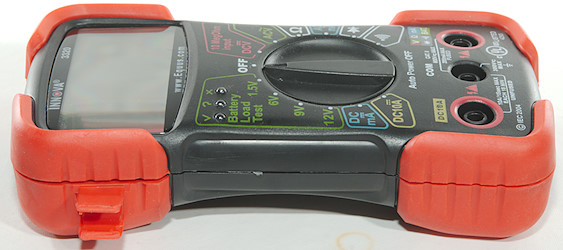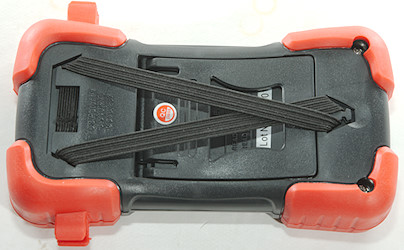 The meter has an elastic strap on the back.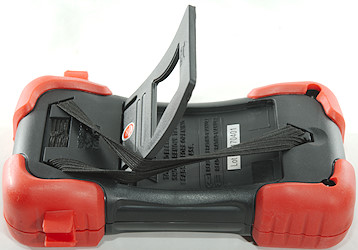 It makes it slightly more difficult to use the tilting bale.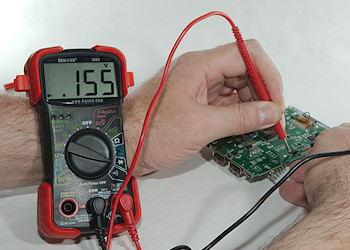 But makes it possible to attach the meter to an arm, may be practical sometimes.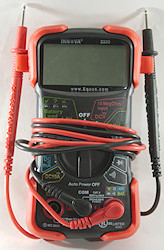 The probe holders in function.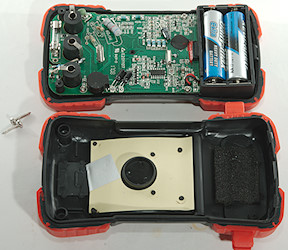 Battery and fuse replacement requires opening the meter.





Display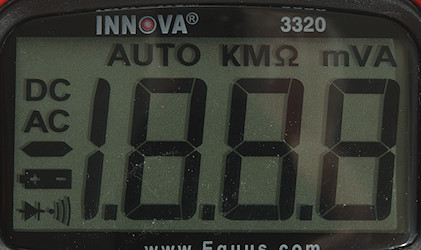 Nearly all the segments are shown during power on (The battery test symbol is missing).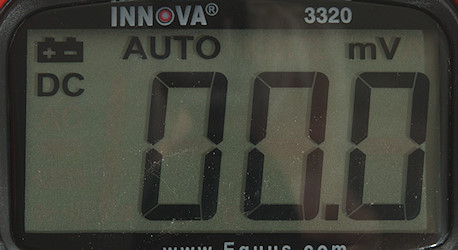 Typical display during usage, it will show the number and selected measurement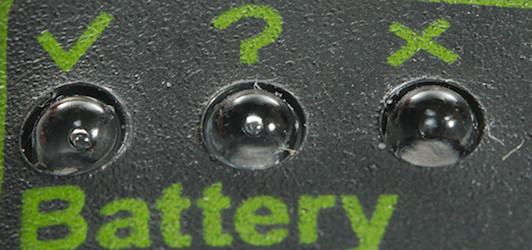 The battery tester has 3 leds in addition to the voltage readout, the leds are green, yellow and red and give a rough evaluation of the battery state. There is some light spill between the 3 position, but because the leds are different colors it is not a problem.





Functions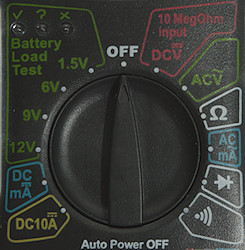 This meter has no SELECT button and each range has its own position on the rotary switch.
Rotary switch:
DC10A: 10A and 2A DC current.
DC mA: All the lower DC current ranges.
12V: Battery test for 12V
9V: Battery test for 9V
6V: Battery test for 6V
1.5V: Battery test for 1.5V
Off: Turns meter off.
DC V: Shows DC voltage
AC V: Shows AC voltage
: Ohm
AC mA: Two AC mA ranges.
: Diode
: Continuity
Input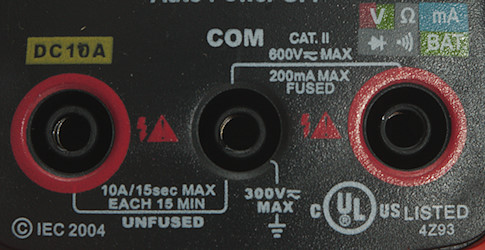 DC10A: This input is only used for two ranges: 2A and 10A DC.
COM: The common terminal for all ranges
xxx: All other ranges, including mA and battery test, it can be problematic to share current and voltage ranges on the same input terminal.
Measurements
Volt and frequency

1V AC readings is 5% down at 2.1kHz
Input impedance is 10-11Mohm in V ranges
mV has high input impedance.
A high DC voltage may block AC readings.
Input protection is 600V DC/AC

Current

10A range is unfused
10A range has an audible alarm at 10A or above.
mA range is fused with a 0.315A/250V 5x20mm fuse

Ohm, continuity, diode and capacitance

Ohm needs about 3.3s to measure 100ohm
Ohm voltage is 0.43V open and 0.2mA shorted.
Continuity is moderate in speed (About 110ms).
Continuity beeps when resistance is below 50ohm, but makes a bit noise up to 70ohm
Continuity is 0.45V open and 0.2mA shorted
Diode range uses 1.65V, max. display is 0.999V at 0.27mA, max. current is 0.7mA shorted
Input protection is 250V DC/AC

Miscellaneous

1.5V battery uses 150ohm load.
6V battery uses 64ohm load.
9V battery uses 880ohm load.
12V battery uses 64ohm load.
Battery ranges shares the mA fuse for loading and led, but not for voltage.
Current consumption of meter is 0.9mA to 3mA depending on range (With battery test led on it is 10mA to 13mA).
Meter turns off at 1.5V, battery symbol show at 2.4V.
Readings are correct until the meter turns off.
Viewing angle is good, except from the top
Display updates around 3 times/sec
Will automatic turn power off in about 15 minutes.
Standard probes fits in the meter.
The meter usual need a couple of display update to reach the final value.
Weight is 186g without accessories, but with batteries.
Size is 139 x 89 x 33mm (The 89mm in with is due to the probe holders, without them it is 74mm)

Probes

Probe resistance 55mOhm for oneŻ.
Probe wire is 88cm long.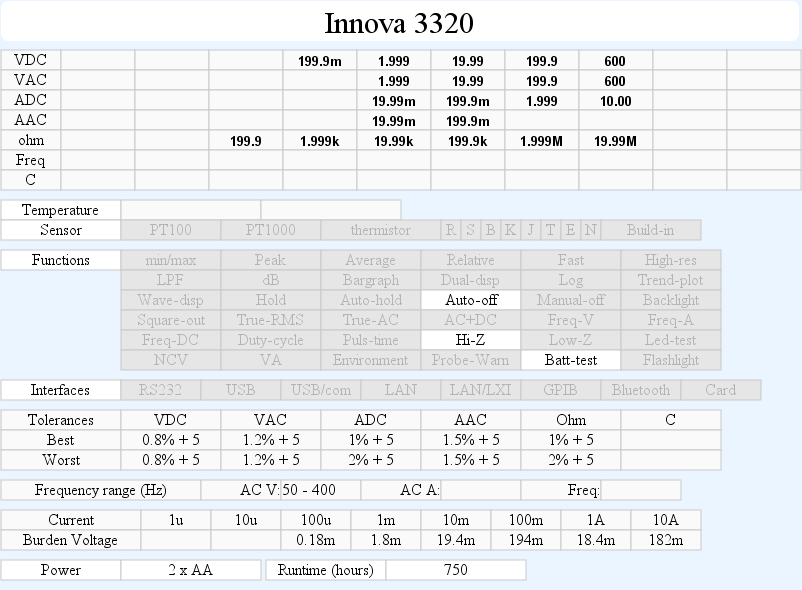 Tear down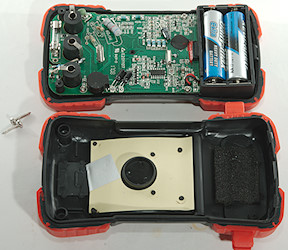 To get into the meter two screws must be removed.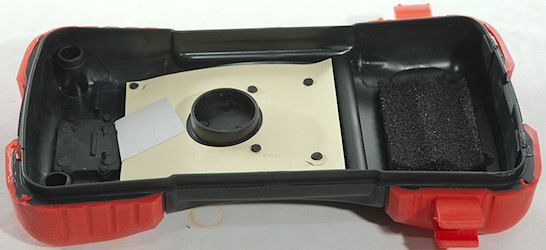 There is a screw under a PTC, this is not a very good design.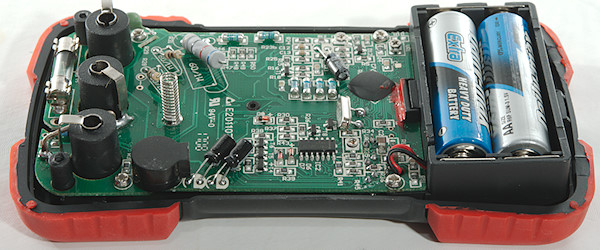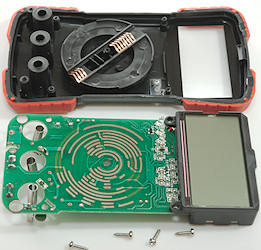 Four screws more and the circuit board can be removed. The pink zebra stibe that connect the display to the circuit board can be seen through the display lcd.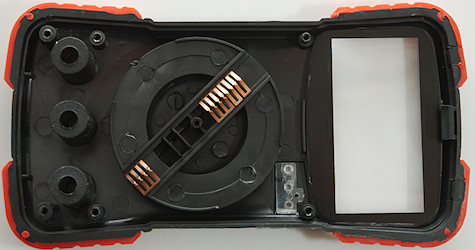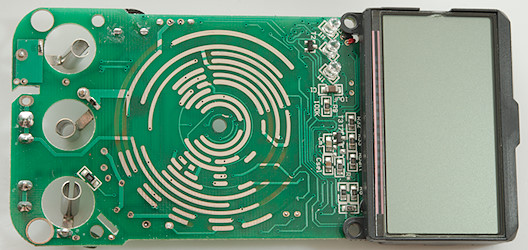 The 3 leds for battery test and a few other parts are mounted on this side.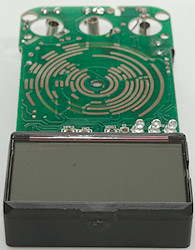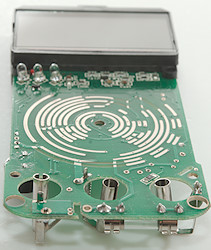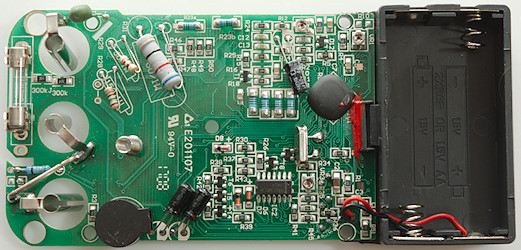 The input has a PTC for protection in ohm ranges (besides the input terminal) and a glass fuse for protection of current and battery ranges.
There are 3 resistors for battery check 9V (R28: 150ohm), 1.5V (R29: 89ohm), 6V & 12V (R31: 60ohm). The the low current ranges are a 1 ohm resistor below the 10A current shunt.
I would expect that the Quad OpAmp (IC2: LM324) is the comparator that handles the leds. Input for voltage is two resistors (R23a & R23b: 2x5Mohm).
The meter has 3 trimpots to for calibration, one is probably for the battery tester.
I am not very impressed with the way the crystal is mounted, it is very close to touching R34 (The body of crystals is isolated from the actual crystal inside).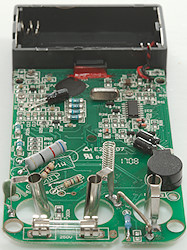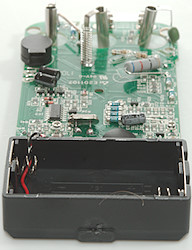 Conclusion



The CAT rating is fairly low, but do not live up to modern standard with unfused ampere range and a 250V mA fuse in a 600V meter.
The meter is a fairly basic meter, but it has most ranges needed for general around the house or car work and in addition to that it has a easy to use battery tester, the leds makes it easy to decide how good a battery is (But watch out for the mA range, a battery in that range will blow the fuse). The meter is not for electronic or mains work. Precision is close to spot on.





Notes



How do I review a DMM
More DMM reviews