DMM Mestek CM81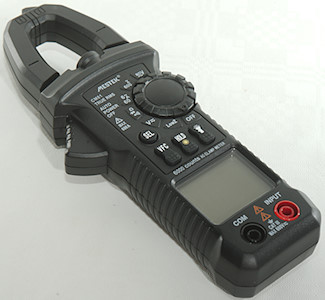 A clamp meter from Mestek that can only measure AC current.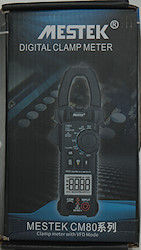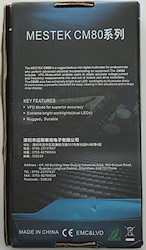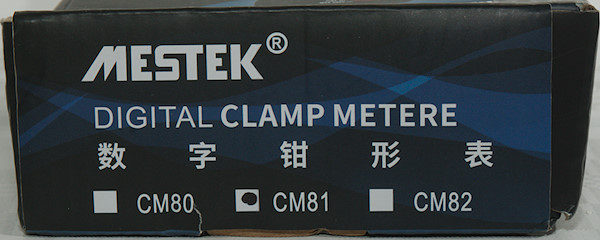 I got the meter in a cardboard box with for this series of Mestek meters.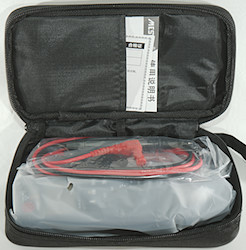 Inside the box was a pouch with everything in it.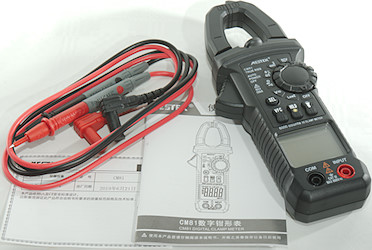 It included the DMM, a pair of probes and a manual.






The probes is branded Mestek and has removable tip covers. With the cover on they are CAT III 600V rated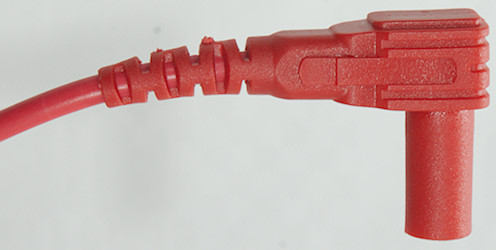 The shrouded plug is the slightly short variety.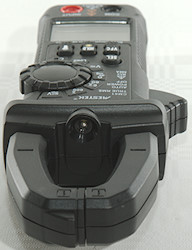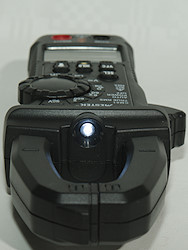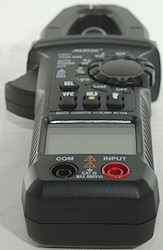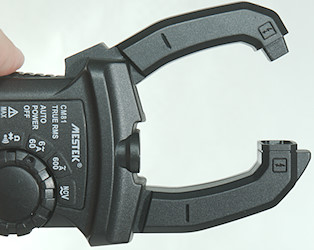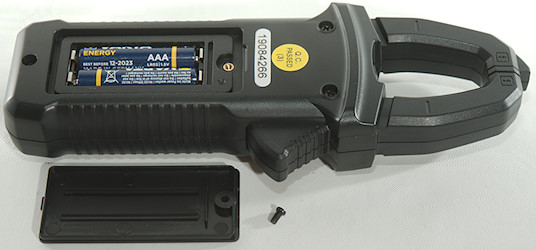 Display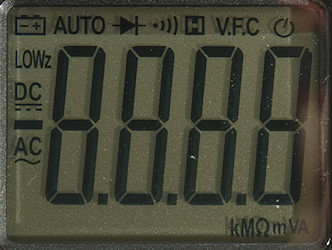 The above picture shows all the segments on the display.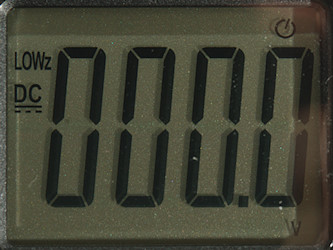 Typical display during usage, it will show the number and what measurement is selected.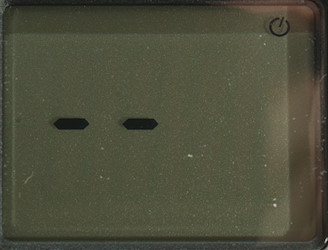 In NCV mode it shows bars and flashes the backlight depending on the field strength.





Functions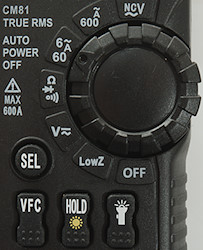 Buttons:
SEL: Select between AC and DC in volt (Not LowZ) mode and ohm, diode, continuity in ohm mode.
VFC: Enables a low pass filter in volt (Not LowZ) and current mode.
HOLD: Freezes the display, hold down for backlight.
: Turns the flashlight on.
Rotary switch:
Off: Meter is off.
LowZ: Measure volt AC or DC with 1Mohm input impedance. AC/DC is automatic.
V: Measure volt with 10Mohm input impedance, use SEL to select between AC and DC and VFC to apply a low pass filter.
: Measure ohm, diode and continuity.
6/60A: The two lower current ranges, they are AC only. Meter will automatic select range.
600A: The high current range, again only AC.
NCV: Non contact voltage or electric field detection.
Input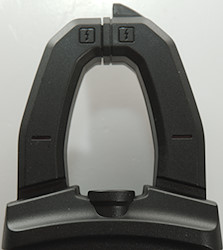 Clamp, used for AC current measurement.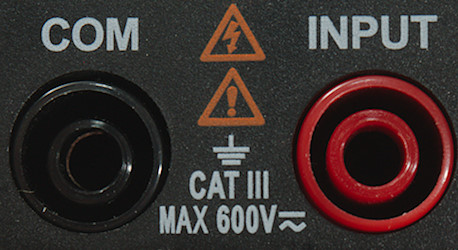 These terminals are used for Voltage, ohm, diode and continuity.
COM: The common terminal
INPUT: The positive terminal.
Measurements
Volt and frequency

Voltage range starts in AC mode.
1 VAC is 5% down at 2.5kHz (RMS will not work at the frequency).
In VFC mode 1 VAC is 5% down at 0.34kHz (RMS will not work at the frequency).
Input impedance is 10..11Mohm on DC and AC
LowZ has automatic DC/AC selection.
LowZ starts in DC and will switch to AC when voltage is above 0.7VAC independent of any DC voltage.
LowZ is 1Mohm input impedance.
Overload protection 600VDC/VAC

Current

Current auto range may get stuck between 6A & 60A range at 6A, due to calibration errors.
Clamp can handle about ø25mm

Ohm, Continuity, diode and capacitance

Ohm needs about 3s to measure 100ohm
Ohm is 1.05V open and 0.33mA shorted
Continuity is fast (About 30ms).
Continuity beeps when resistance is below 50ohm.
Continuity is 2.1V open and 0.33mA shorted
Diode range uses 2.3V, max. display is 1.999V at 0.12mA, max. current is 1.05mA shorted
Overload protection 600VDC/VAC

Miscellaneous

Current consumption of meter is between 2.8mA and 3.4mA (7mA with backlight, 8mA with flashlight and 11mA with both).
Meter works down to 0.7V where it turns off, battery symbol shows at 2.4V.
Reading starts to change below 1.6V
Backlight works down to about 2.0V where it is fairly dim.
Flashlight works down to about 2.5V where it is fairly dim.
The meter usual need a couple of display update to reach the final value.
Viewing angle is good.
Display updates around 3 times/sec
Backlight will automatic turn off in about 45 seconds.
Flashlight will automatic turn off in about 60 seconds.
Will automatic turn power off in about 15 minutes.
Standard probes cannot be pushed fully down.
Weight is 216g without accessories, but with batteries.
Size is 193 x 72 x 34mm

Probes

Probe resistance 50mOhm for one.
Probe wire is fairly soft and 77cm long.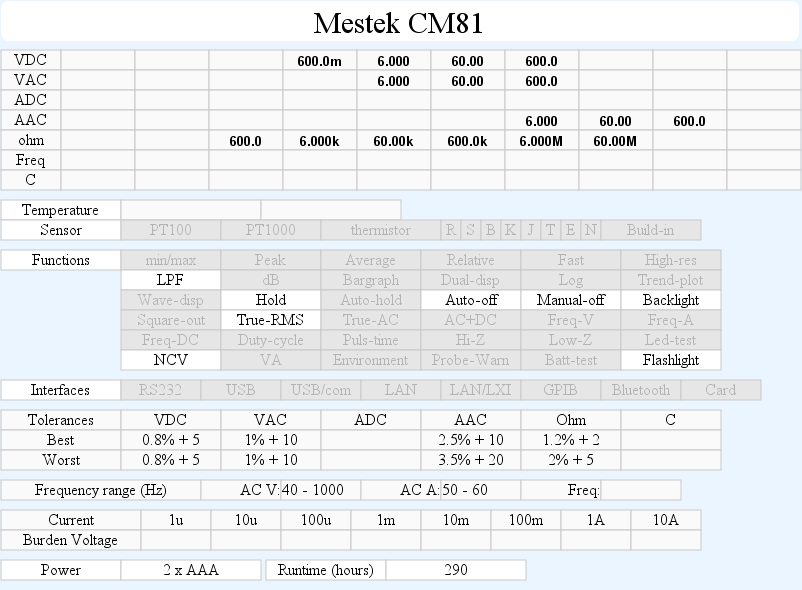 AC with high DC voltage shows way to low AC value.
LowZ always select AC, i.e. 600VDC with 5VAC will show 5VAC.





Tear down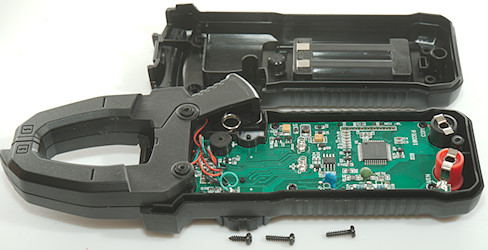 I had to remove 3 screws to open the meter.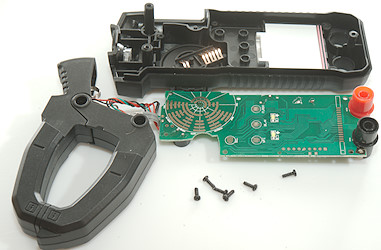 And 6 screws to get the circuit board out. The clamp slides out, there is no screws holding it.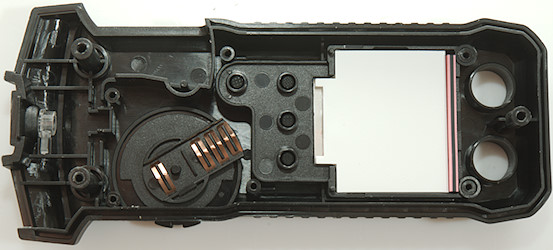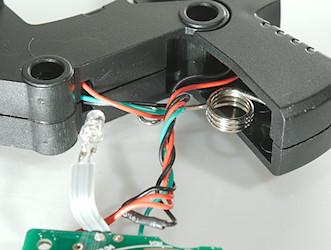 A lot of wires into the clamp: Red/black on both sides to the coils and a green for NCV antenna. The two black wires are connected together, this puts the coils in series.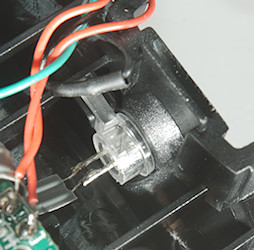 The led goes below the clamp to a small window.





The input has 3 paths: High impedance (R11A & R11B: 2x5MOhm), medium impedance (R13A, R13B, R13C: 2x300kOhm + 390kOhm), used both for ohm and lowZ ranges, and low impedance path with a PTC (PTC1) for ohm current output. The ohm range input protection is done by a transistor pair (Q1 & Q2).
The main meter chip (U1: Mestek C1102) is branded the same as the meter, it looks to be a modern type with reference resistors build-in, this probably also means it contains a EEPROM for calibration data. There is a switcher IC (U2: Marked L33F) and a IC I could not identify (U3: Marked C42X / H39Y).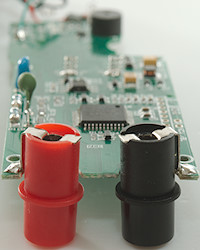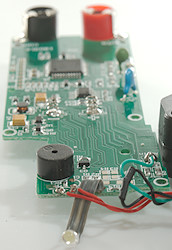 This side has the pads for the LCD, rotary switch and buttons in addition to two leds (BL1 & BL2) for backlight.









Conclusion



With no current input terminals the meter is safer but I still doubt it lives up to the CAT rating.
The meter is a AC clamp meter and with current ranges up to 600AAC it is for industrial usage. In addition to current it has basic DMM functionality with voltage (including LowZ and LPF), ohm, diodes and continuity, focusing it on mains usage.





Notes



The multimeter was supplied by banggood.com for review.

How do I review a DMM
More DMM reviews