DMM Mustool MT109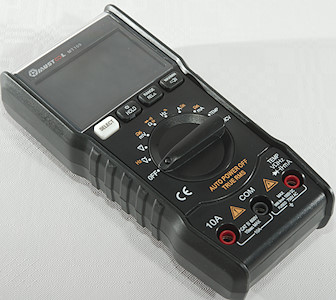 This is a smaller meter that has a lot of ranges.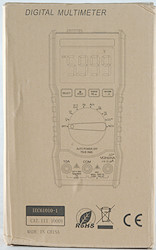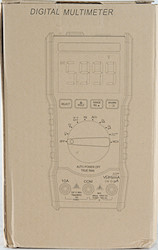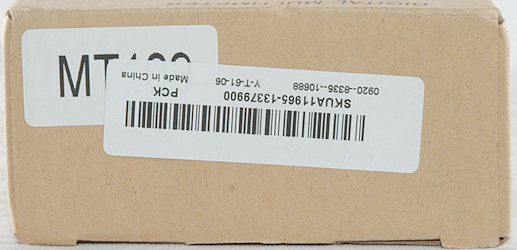 I got the meter in a brown cardboard box, the drawing mostly matches the meter.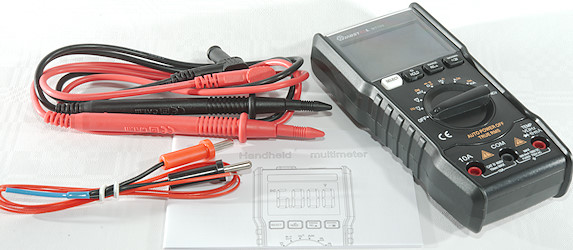 It included the DMM, a pair of probes, a thermocoupler and a manual.







The probes has is rated for CAT III, but do not include the partial tip covers required for CAT III or CAT IV.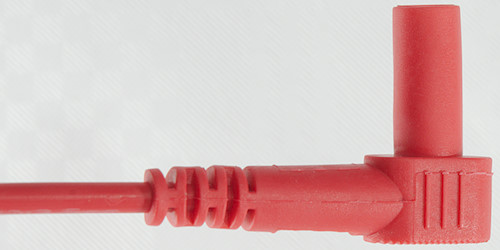 The shrouded plug is the slightly short variety.






A standard cheap thermocoupler.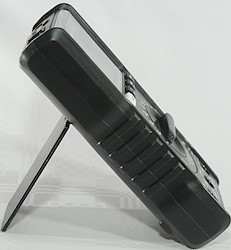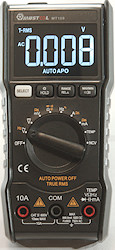 The range switch is a bit difficult to use single handed when meter is on the tilting bale, it slides around.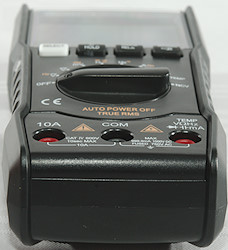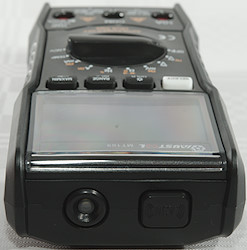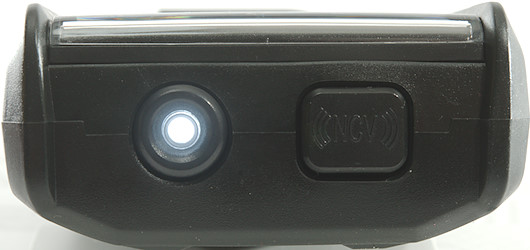 There is a flashlight led on the front of the meter.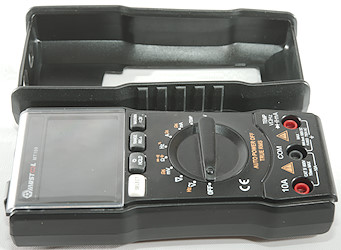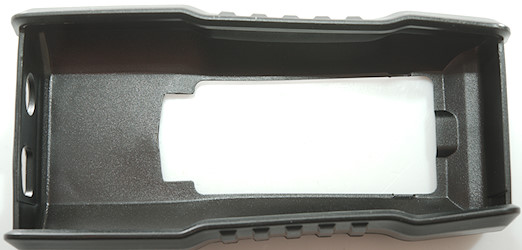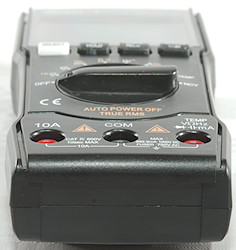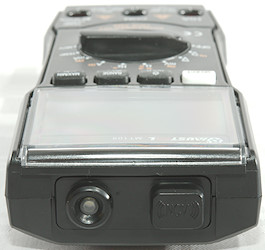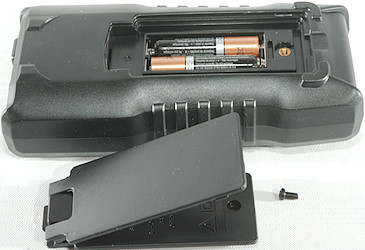 Display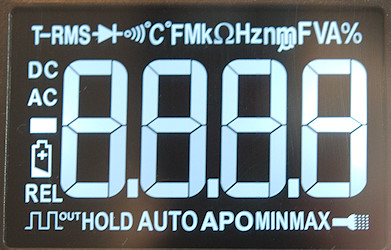 The above picture shows all the segments on the display, not all are used.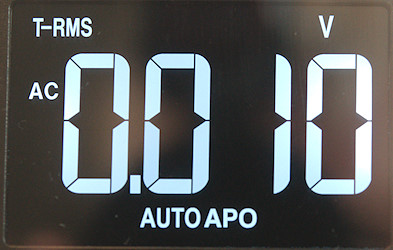 Typical display during usage, it will show the number and what measurement is selected.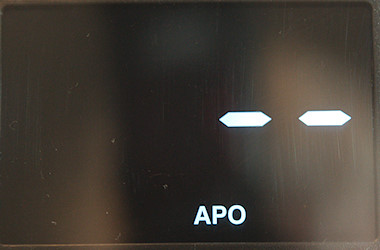 The NCV is the usual bars and the buzzer.





Functions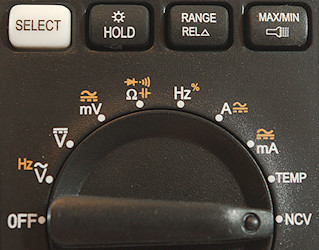 Buttons:
Select (White): Select the ranges printed with yellow.
Hold: Freezes the display, hold down to turn off backlight (Display is not readable with backlight off).
Range/Rel: Will disable auto range and change range, hold down to activate auto range. In capacity mode it will zero the reading.
Max/min: Starts recording maximum and minimum value, press to select between max/min/disable. Hold down to turn the flashlight on/off.
MAX/MIN will change to manual range and return to auto range when disabled.

Rotary switch:
Off: Meter is turned off
VAC: Show AC voltage, using the Select button to select frequency and duty cycle.
VDC: Show DC voltage.
mV: Show mV, use Select to change between DC and AC
: Resistance, diode, continuity, diode, capacitance.
Hz: Logical frequency and duty cycle (Use Select to change between them).
A: Current DC and AC (Use Select to change between DC, AC, Frequency, Duty-cycle).
mA: Current DC and AC (Use Select to change between DC, AC, Frequency, Duty-cycle).
TEMP: Temperature, used Select to change between Celsius and Fahrenheit.
NCV: Non-contact voltage or electric field detection.
Input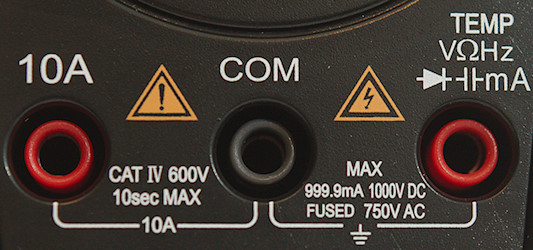 10A: High current input
COM: The common terminal for all ranges.
xxx: All other ranges.
Measurements
Volt and frequency

At 100mVrms in VAC frequency range is from 1.3Hz to 6kHz
At 2Vrms in VAC frequency range is from 1.3Hz to 60kHz
VAC frequency range requires a zero crossing.
At 0.1Vrms frequency input range is from 1.0Hz to 5MHz
At 2Vrms frequency input range is from 1.0Hz to 65MHz
The frequency input requires a zero crossing.
Duty cycle works from 2% to 99% at 100kHz with 1Vpp, precision is within 0.3 (Mostly 0.1).
Max/min needs about 500ms to capture a voltage with repeating pulses.
1 VAC is 5% down at 2.1kHz (RMS will not work at the frequency).
Input impedance is 10..11Mohm on DC and AC
Frequency input is above 1Mohm up to around 1.5 volt, then the protection clamps to 2kOhm
Overload protection on DC is 1000VDC and 750VAC peak, except mV range is 550V DC or AC peak.
Overload protection on AC is 750V rms
Overload protection on frequency is 550VDC and AC peak, but meter may be damage at 250VAC peak (This is what the specifications says).

Current

mA current is protected by a 0.63A/250V or 0.6A/250V 5x20mm glass fuse.
A current is protected by a 20A/250V (Circuit board and manual says 10A) 5x20mm ceramic fuse.
The A range has an audible alarm at 1A, i.e. beeper sounds all the time when current is 1A or above.
The A range is slowly drifting when current is near 10A (About 0.6% in 30 seconds).
The mA range has an audible alarm at 1A.
Current ranges must only be used up to 36VDC or 25VAC

Ohm, Continuity, diode and capacitance

Ohm needs about 2.8s to measure 100ohm
Ohm is 1.0V open and 0.33mA shorted
Continuity is fast (About 15ms).
Continuity beeps when resistance is below 50ohm.
Continuity is 1.0V open and 0.33mA shorted
Diode range uses 3.2V, max. display is 3.000V at 0.1mA, max. current is 1.4mA shorted
10uF takes about 4.2 seconds to measure.
11000uF takes about 9.5 seconds to measure.
70000uF takes about 9.5 seconds to measure.
Overload protection is 550V DC or AC peak

Miscellaneous

Current consumption of meter is 32mA and 41mA with flashlight on.
Meter "works" down to 2.1V where it turns off, battery symbol show at 2.3V.
Backlight works down to about 2.6V, below that the display is unreadable, except with a bright light on it.
Reading changes with voltage and 9V is down 6 count at 2.6V.
Flashlight changes with voltage and works down to meter turns off.
The meter usual shows the correct value on the first display update.
Viewing angle is good, except from top.
Display updates around 3 times/sec
Flashlight can be manually turn on/off and will turn off when the meter turns off.
Will automatic turn power off in about 180 seconds with a warning at 120 seconds
When auto power off is disabled the meter will sound the buzzer at 120 & 180 seconds about every 15 minutes.
Standard probes cannot be pushed fully down.
Weight is 209g without accessories, but with rubber sleeve and batteries.
Size is 145 x 70 x 37mm with rubber sleeve.

Probes

Probe resistance 40mOhm for one.
Probe wire is soft and 73cm long.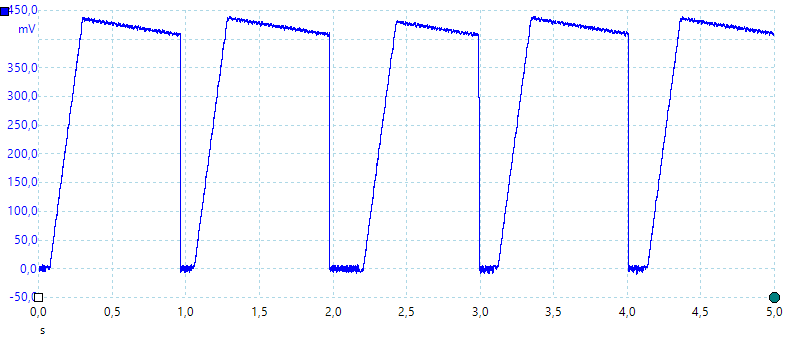 A look at the capacitance measurement waveform.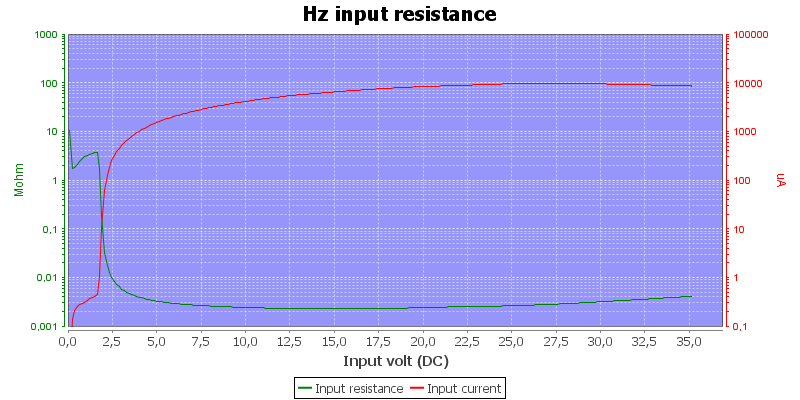 Frequency input resistance depends on input voltage.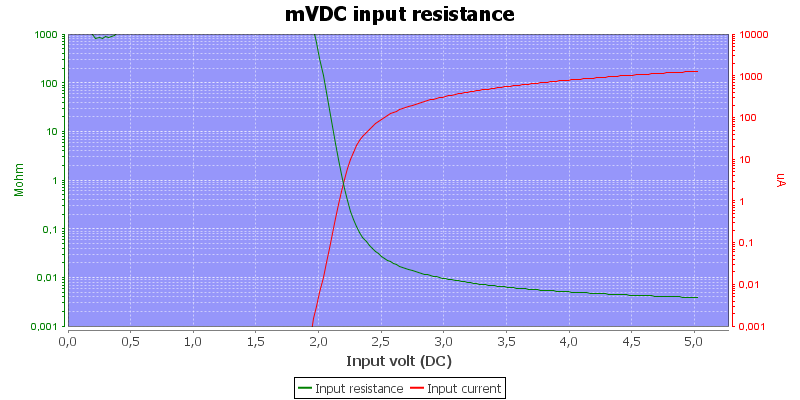 As usual mVDC has high input impedance at low voltages.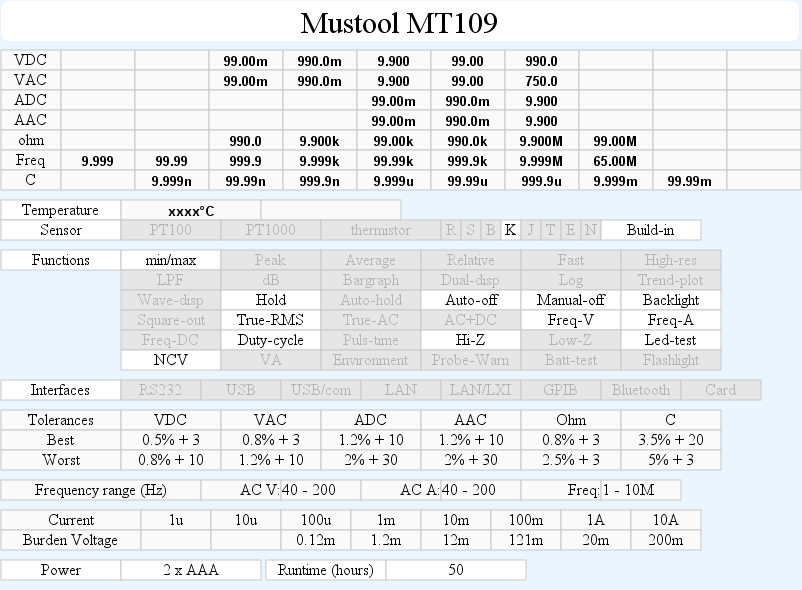 Ohm specification goes to 60Mohm
AC voltage may show low voltage when large DC offset is present.





Tear down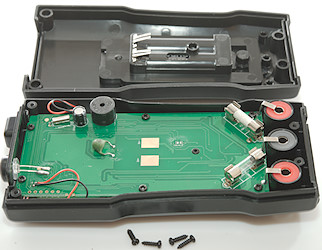 There where four screws holding the meter together.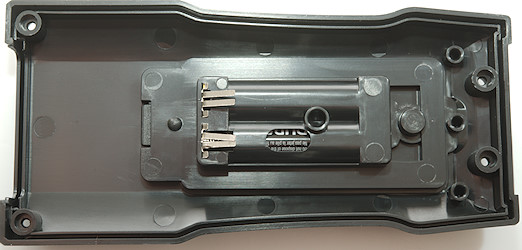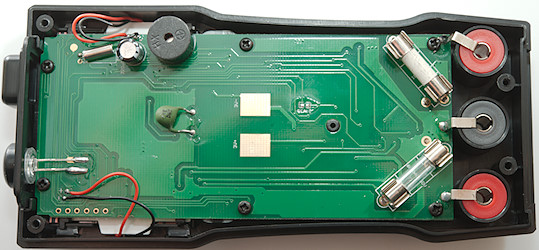 The circuit board is rectangular with most parts on the other side.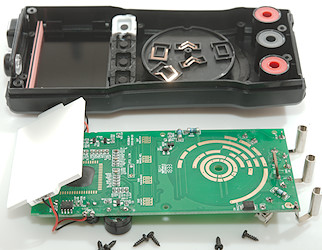 Six more screws and the circuit board could be removed.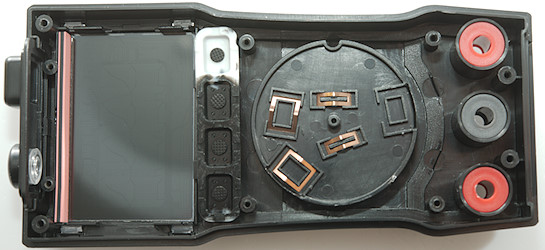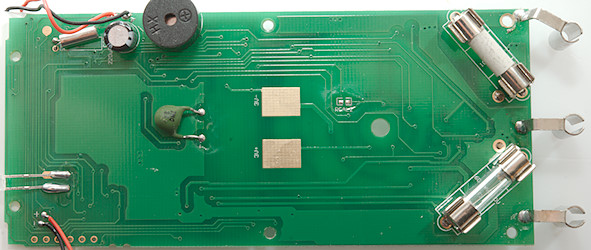 This side has the fuses, the PTC, the buzzer, the flashlight led and the crystal for the multimeter chip, basically anything that needs some space in height. The mounted A fuse is a 20A fuse, but the circuit board is marked 10A. For the mA range a 600mA/630mA fuse is used, this is a bit low for a 1000mA range.
The two points marked RCAL2 is accessible from the battery compartment without opening the meter.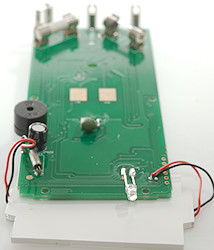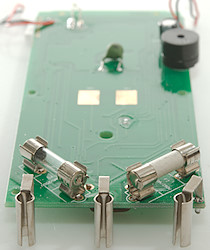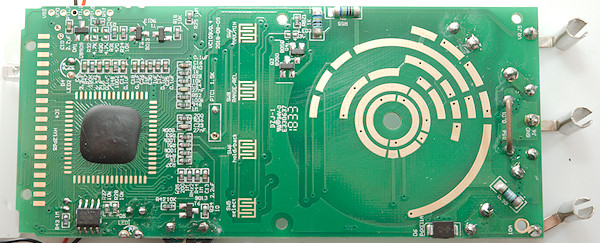 At the bottom near the input connectors are the current shunts, 0.01ohm wire for 10A and 0.99ohm for mA, this resistor is a bit small for 1W. There is also two MELF resistors for voltage input (2x5Mohm). There a transistor pair (Q3 & Q4) for protection together with the PTC. As is usual the case with cheap meters safety is based on a single SMD resistor (R53: 900kOhm), that will be directly connected to the input terminal in some ranges.
The PTC and transistor clamp is used in all ohm and frequency selections.
THE NCV antenna is at the top of the circuit board.
The multimeter chip (Circuit board says HY12P65) has an external calibration memory (24C08N)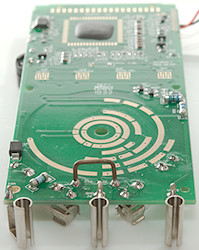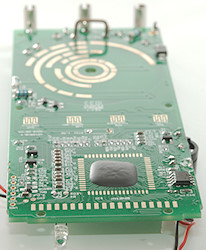 Conclusion



As usual CAT rating is overstated with 250V fuses and a single PTC it will not handle CAT III 1000V or CAT IV 600V.
The meter is fairly nice with 9900 display, but there is some missing ranges and way to much noise from the buzzer when measuring ampere and the mA range cannot handle the rated current for long. The max/min is a nice function, but it is rather slow.

It is a nice meter for around the house or hobby usage, as long as it is only occasional usage, due to the fairly short battery lifetime.





Notes



The multimeter was supplied by Banggood for review.

How do I review a DMM
More DMM reviews