DMM Mustool MT66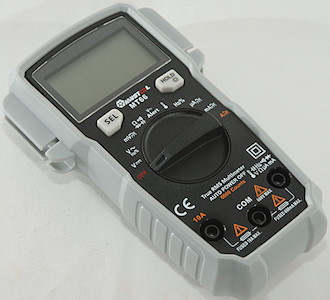 This is a fairly cheap DMM with all the most common functions.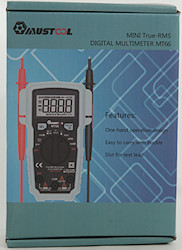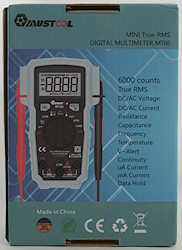 I got the meter in a box with picture of the meter and supported function listed.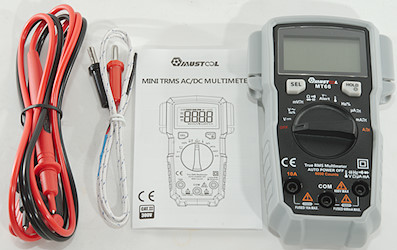 It included the DMM, a pair of probes, a thermocoupler and a manual.







The probes has removable tip covers. With covers on the rating is CAT III 600V, without covers CAT II 1000V.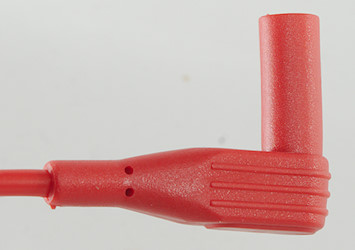 The plug is fully shrouded, but is slightly smaller than standard probe plug size.






A standard cheap termocoupler.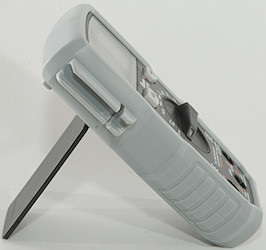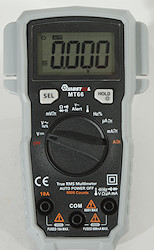 When using the tilting bale the meter is nearly stable enough to turn the switch, but the meter is very smooth and will easily slide around.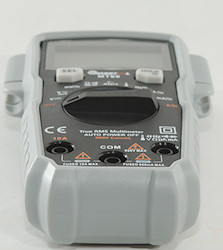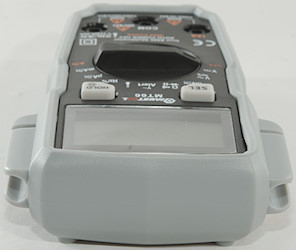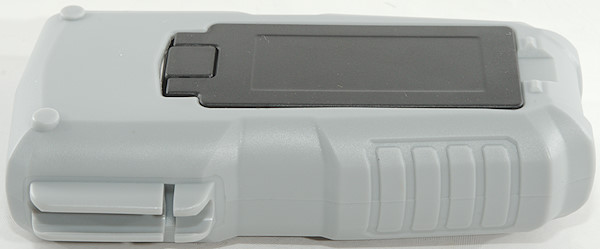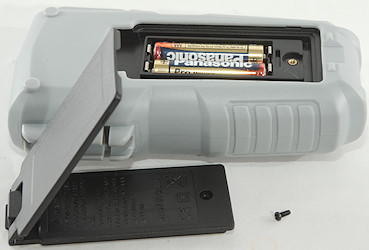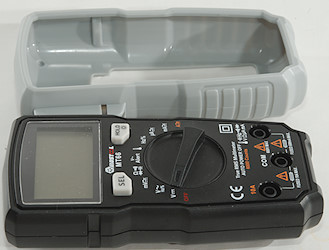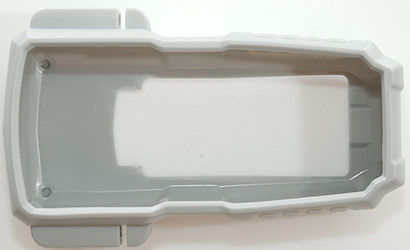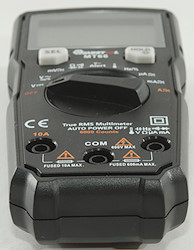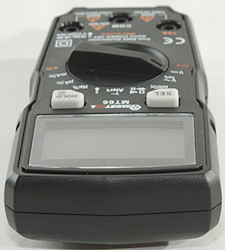 Display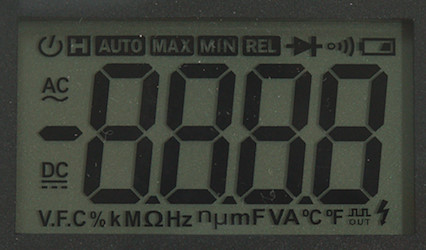 The above picture shows all the segments on the display, not all of them are used by this meter.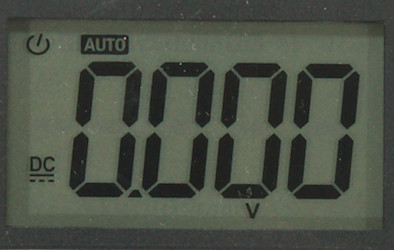 Typical display during usage, it will show the number and what measurement is selected.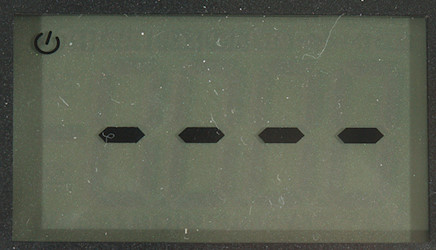 The NCV function will show lines depending on electric field strength.





Functions






Buttons:
Sel: Select Hz and duty cycle in VAC and frequency input. Ohm, diode, capacitance, continuity in ohm mode. C/F in temperature mode and DC/AC in current modes.
Hold: Freezes the display, hold down for backlight.

Rotary switch:
Off: Meter is turned off
VDC: DC voltage
VAC: AC voltage and SEL can be used to frequency/duty cycle
mV: Show DC or AC mV.
: Resistance, diode, capacitance and continuity.
VAC Alert: NCV detector, it will show bars, flash backlight and sound buzzer when a electric field is detected.
: Temperature with a thermocoupler.
Hz %: Measure frequency and duty cycle (Use the Hz % button to select).
uA: Low current range for AC and DC.
mA: Medium current range for AC and DC.
A: High current range for AC and DC.
Input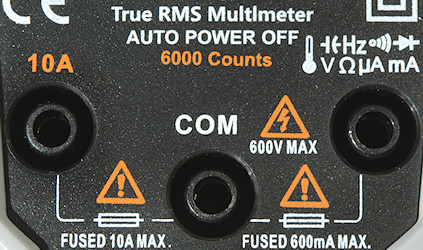 10A mA: High current
CON: The common terminal for all ranges.
xxx: All other ranges, including mA and uA
Standard probes cannot be fully seated in the terminals, but they will make contact. Banana plugs fits perfectly.





Measurements
Volt and frequency

At 100mVrms frequency input range is from 0.6Hz to 3MHz
At 1Vrms frequency input range is from 0.5Hz to 27MHz (Higher voltage do not increase the upper frequency)
1 VAC is 5% down at 2.3kHz (RMS will not work at this frequency).
Frequency counter and duty cycle needs a zero crossing (Both AC and frequency input)
Duty cycle works from 1% to 99% at 100kHz with 1Vpp, precision is within 0.3 (Mostly 0.1).
Input impedance is 10-11Mohm on DC and AC
mV range is 10Mohm for DC & AC, impedance drops above 1.8V to 3kohm
Frequency input is about 1Mohm up to about 1.5V, then it drops to 3kOhm
Voltage input are rated for 600VDC/VAC

Current

A range will give audible alarm at 10A, meter shows OL above 10A.
A range will change reading when current is near 10A, but easily stays within tolerances (2%) for the 10second limit.
uAmA protected by a 0.6A/250V 5x20mm fuse (Manual says fuse must be 700V).
A is protected a 10A/250V 5x20mm fuse (Manual says fuse must be 700V).

Ohm, Continuity, diode and capacitance

Ohm needs about 2.9s to measure 100ohm
Ohm is 1.0V open and 0.25mA shorted
Continuity is fast (about 20ms).
Continuity beeps when resistance is below 50ohm.
Continuity is 2.1V open and 0.25mA shorted
Diode range uses 3.9V, max. display is 3.300V at 0.24mA, max. current is 1.5mA shorted
10uF takes about 2.3 seconds to measure.
9000uF takes about 10 seconds to measure.
Overload protection is specified to 250VDC/VAC

Miscellaneous

Current consumption of meter is between 1.3mA and 1.8mA depending on range (Up to 8.5mA with backlight).
Meter works down to 2.2V where it turns off, battery symbol shows at 2.4V.
Reading is stable to just before battery symbol shows, it is 0.6% out when it shows
Backlight only works down to about 2.6V where it is fairly dim.
The meter usual shows the final value in first or second try.
Viewing angle is good, except from the top
Display updates around 2.5 times/sec
Backlight will automatic turn off in about 30 seconds.
Will automatic turn power off in about 16 minutes.
Standard probes cannot be pushed fully down.
Weight is 177g without accessories, but with sleeve and batteries.
Size is 138 x 82 x 36mm.

Probes

Probe resistance 51mOhm for one
Probe wire is soft and 81cm long.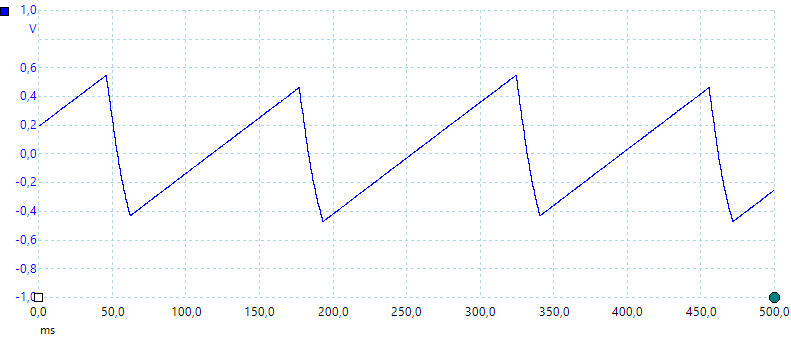 A look at the capacitance measurement waveform.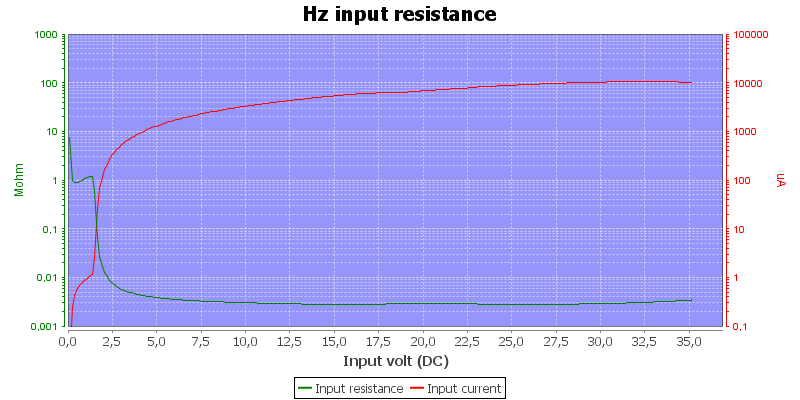 Frequency input impedance.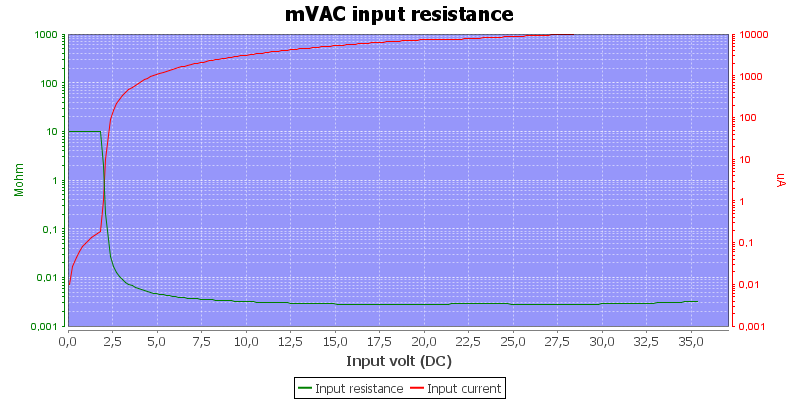 mVAC input impedance, mvDC looks similar.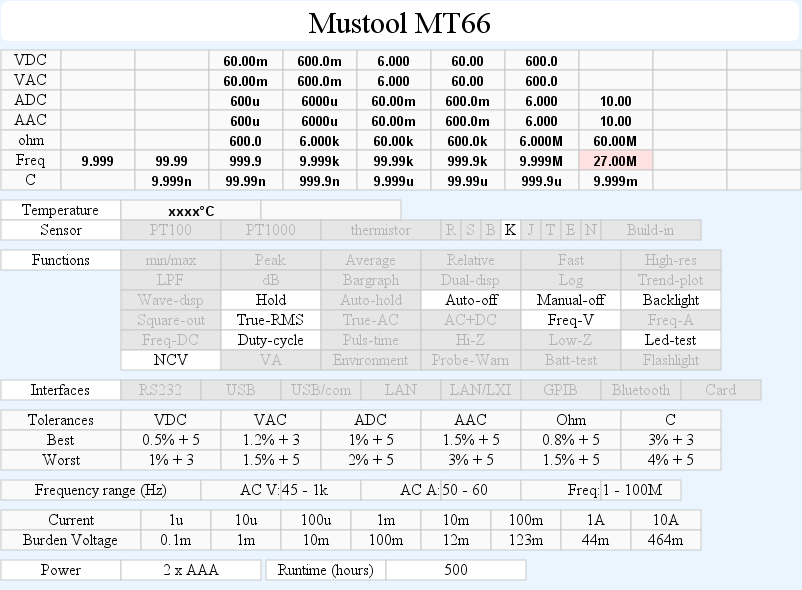 The frequency range is specified to support 99MHz, but it do not.
Large DC offset voltage makes AC readings wrong.




Tear down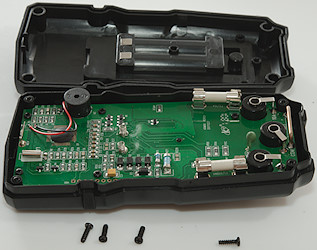 Four screws and the back could be removed.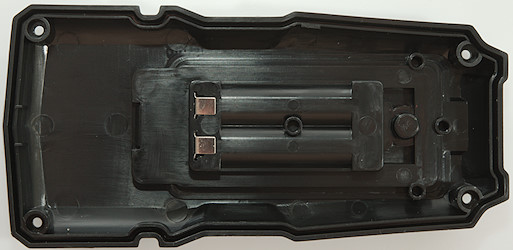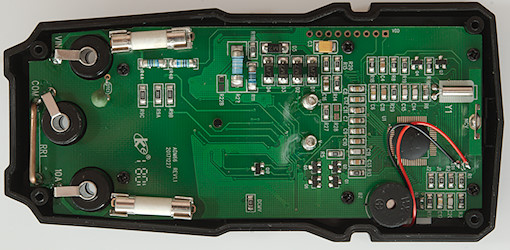 The circuit board is shaped for the box with holes for the input terminals and cutouts for the enclosure screws in the corners.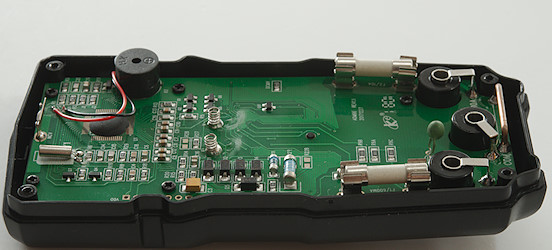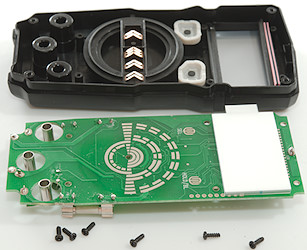 The circuit board was mounted with six screws.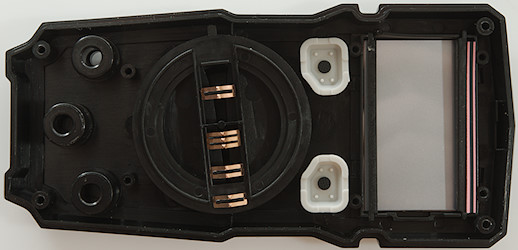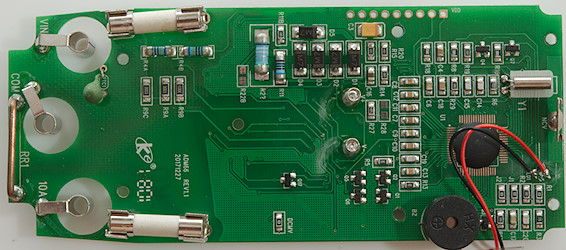 The uAmA current ranges uses the voltage terminal and is switches to two resistors for uA (R11 & R11B: 100ohm, 10kOhm) and one resistor for mA (R22: 0.99ohm). The resistors are protected by 5 diodes (D1..D5)
The voltage input has the very common 3 paths: Voltage input (R4A & R4B: 2x5Mohm), medium impedance (R9A, R9B, R9C: 3x300kOhm), this goes directly to the multimeter chip and low impedance (PTC) with two transistor pairs for protection for mV, ohm, temperature and frequency (Q5 & Q6 and after 1kOhm Q1 & Q2).
At the top of the circuit board is an antenna for the NCV electric field detection, it is tied to ground with a large resistor (R3: 22Mohm).
I like the PTC is at the input and that the medium impedance path is a couple of resistors in series.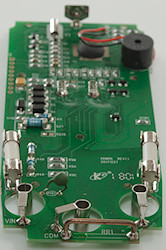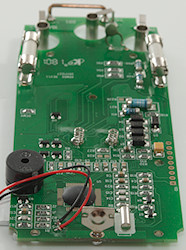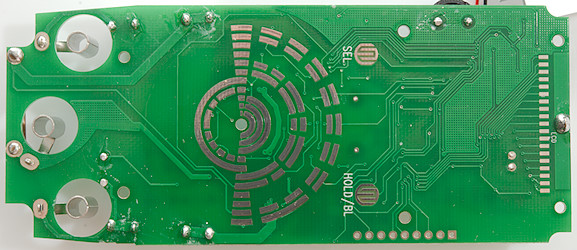 On this side of the is only the pads for the range switch, the buttons and the LCD display.











Conclusion



The meter do not have any CAT rating on it, but the manual list CAT III 300V and CAT II 600V in different places. I might be close to fulfilling them, but the mounted fuses has to low voltage rating.

The number of ranges is fairly complete, even a NCV function is present, but the meter do not have any extra functions.

This is a fairly simple meter, but it lives up to the multimeter category in a good way with full support in all ranges for both low and high values and everything in between.






Notes



The multimeter was supplied by banggood.com for review.
The manual do not completely match the meter, there are a few differences.

How do I review a DMM
More DMM reviews