DMM PeakMeter PM18C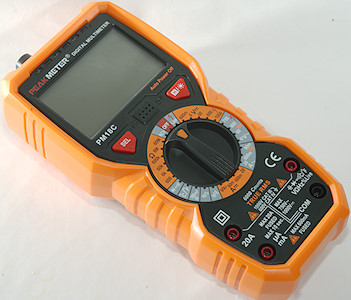 PeakMeter has many fairly cheap meters in their program, this is manual range meter with a wide area of ranges (some of them with auto range).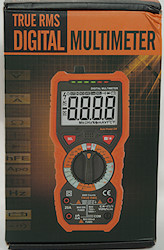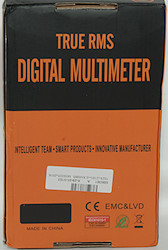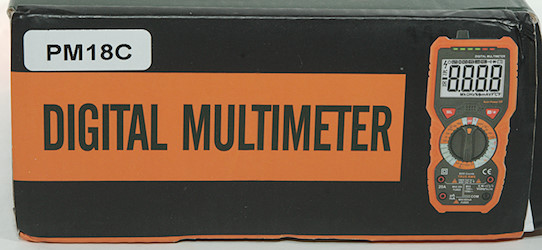 The box matches the meter, but there is no brand or model number on it, except a small sticker.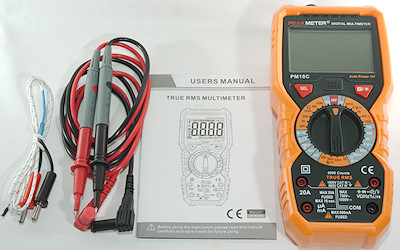 It included the DMM, a pair of probes, a thermocoupler and a manual (No branding or model number in the manual, but it matches the meter).







The probe are marked 20A and with the usual CAT ratings on the tip and tip cover.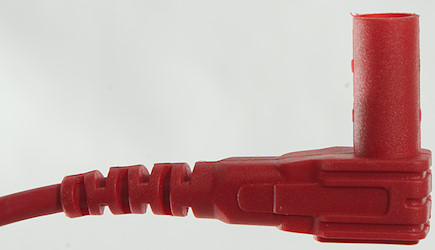 The shrouded plug is the short variety.






The thermocoupler is the usual cheap model with two banana plugs.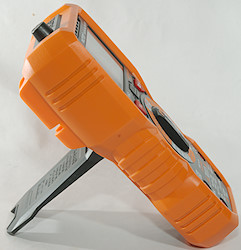 The range switch is a bit loud, but the clicks works very well for selecting the ranges.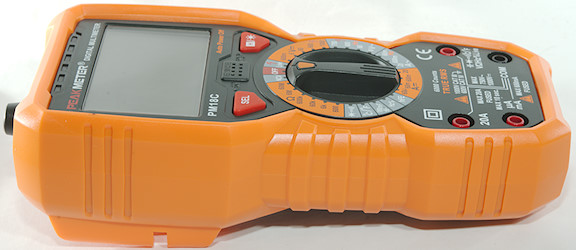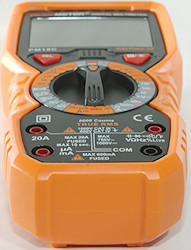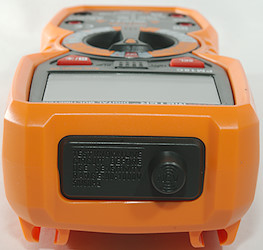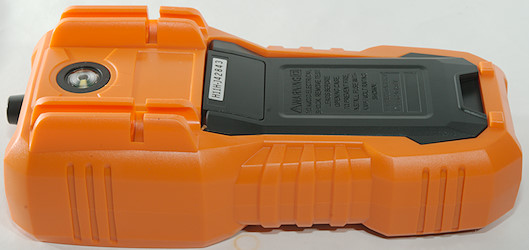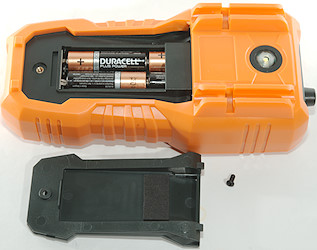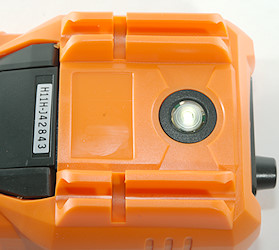 There is a flashlight on the back of the meter.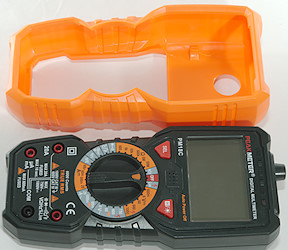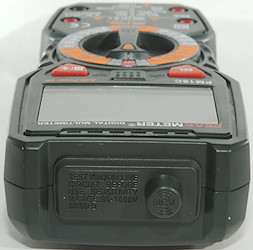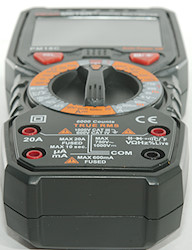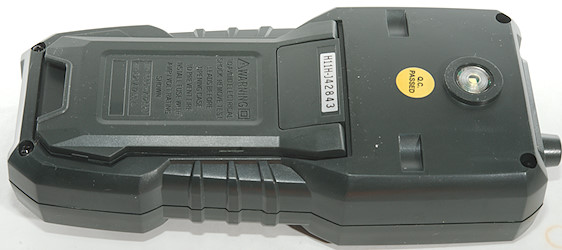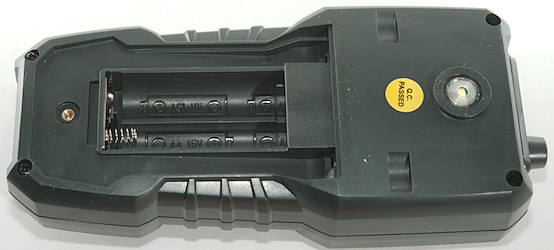 Display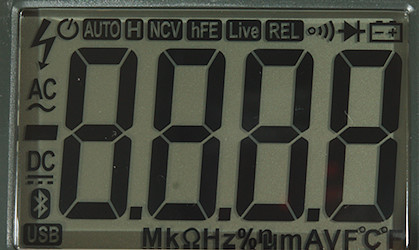 The above picture shows all the segments on the display, not all are used by this meter.




Typical display during usage, it will show the number and what measurement is selected.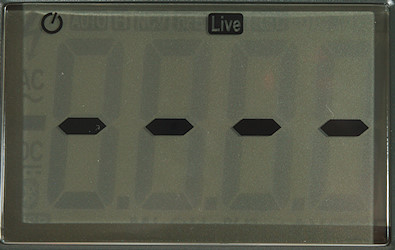 The NCV amd Live shows bar when nothing is detected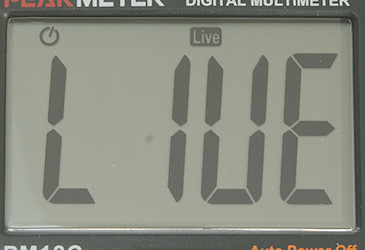 And will show "NCV" or "LIVE" on the 7 segment display when something is detected. The actual strength is shown on the light bar and how fast the buzzer beeps.





The light bar above the display if used in NCV, Live and Continuity. It may look like 6 segments, but it only has 3 leds!





Functions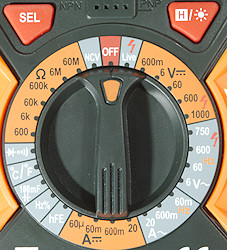 Buttons:
Select (Red): Used to select frequency counter/duty cycle in AC voltage and current and in Hz mode. Also used in Continuity to select Diode and toggle between °C and °F.
Hold (Red): Freezes the display, hold down for backlight and flashlight. Holding down during power on will disable auto power off.

Rotary switch:
Off: Meter is turned off
Live: Use voltage input for NCV testing, this is more reliable at detected main voltage if probe touches it.
VDC: 5 DC volt ranges-
VAC: 4 AC volt rages
AAC: 3 AC current ranges.
ADC: 4 DC current ranges.
hFE: Transistor tester.
Hz%: Frequency input, it is auto ranging
100mF: capacitance range, it is auto ranging
°C°F: Temperature input, use SEL to select between °C and °F
: Continuity and diode, use SEL to change.
: 6 resistance ranges
NCV: Non Contact voltage or electric field detection.
Input
20A: High current, it can only withstand 10+ ampere for a short time (The 20A fuse used could not handle 20A).
mAuA: The lower current ranges, the selector switch will change between two different shunts (Fuse is 600mA).
CON: The common terminal for all ranges.
xxx: All other ranges.
Measurements
Volt and frequency

At 1Vrms frequency input range is from 1Hz to 7MHz
At 2Vrms frequency input range can be stretched to 70MHz
1 VAC is 5% down at 2.1kHz (RMS will not work at the frequency).
Frequency counter and duty cycle can only be selected in AC ranges.
Frequency input requires a zero crossing.
Duty cycle works from 2% to above 99% at 100kHz with 1Vpp, precision is within 0.4 (Mostly 0.2).
Input impedance is 10..11Mohm on DC and AC
mV range is high impedance for DC up to around 2 volt where it drops to a few kOhm.
Frequency input is up to 1Mohm below 2 volt, then the protection clamps to 2kOhm
Input are rated for 1000VDC and 750VAC

Current

Frequency counter and duty cycle can only be selected in AC ranges.
600mA current is protected by a 0.6A/250V 5x20mm fuse.
20A current is protected by a 20A/250V 5x20mm fuse.
The 20A range has an audible alarm at 10A.

Ohm, Continuity, diode and capacitance

Ohm needs about 1s to measure 100ohm, manual range improves speed significantly.
Ohm is 1V open and 0.3mA shorted in 600ohm range down to 0.1uA shorted in 60M range.
Continuity is fast (About 20ms).
Continuity beeps when resistance is below 30ohm. Light bar is green when resistance is below 30ohm and red when resistance is below 60ohm
Continuity is 1V open and 0.3mA shorted
Diode range uses 3.2V, max. display is 3.000V at 0.1mA, max. current is 1.3mA shorted
10uF takes about 4.2 seconds to measure.
70000uF takes about 12 seconds to measure.
Overload protection is rated at 600V DC/AC

Miscellaneous

Current consumption of meter is 1mA in DC and 1.4mA in AC, with light it is 75mA
Meter works down to 2.3V where it turns off, battery symbol show at 5.1V.
Reading do not change with battery voltage.
Backlight only works down to about 2.6V where it is fairly dim.
The meter usual need a couple of display update to reach the final value.
Viewing angle is good, except from the top.
Display updates around 3 times/sec
Backlight and flashlight will automatic turn off in about 15 seconds.
Will automatic turn power off in about 15 minutes.
Standard probes can nearly be pushed full down.
Weight is 432g without accessories, but with rubber sleeve and batteries.
Size is 194 x 88 x 56mm with rubber sleeve.

Probes

Probe resistance 48mOhm for one.
Probe wire is soft and 80cm long.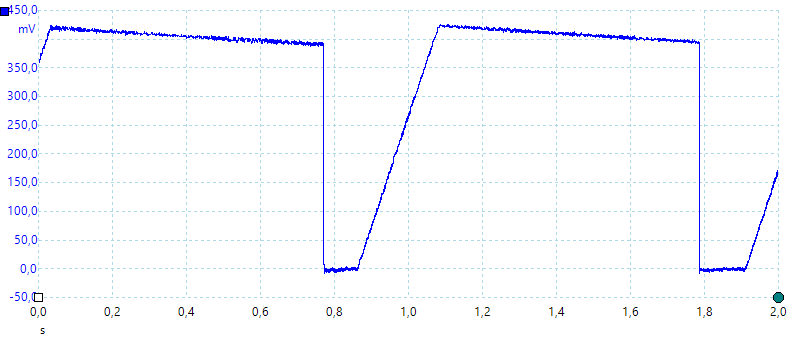 A look at the capacitance measurement waveform.




Frequency input resistance depends on input voltage.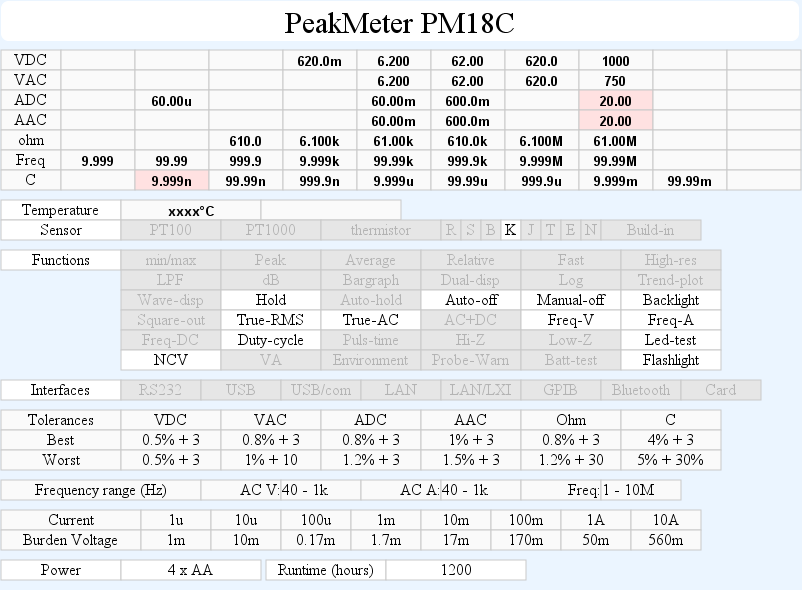 The meter cannot be used at 20A, the fuse did blow. At 10A the meter is 5% wrong.
The low capacitance range is 12% out.





The blown 20A fuse








The fuse is marked 20A and with approvals.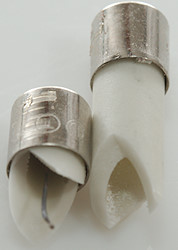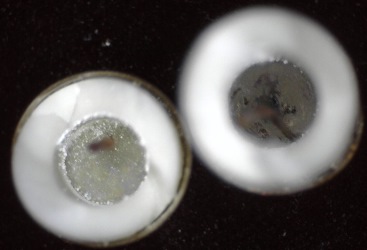 But I did not find any sand inside (Sand is used to prevent arcing when braking high voltage and current).





Tear down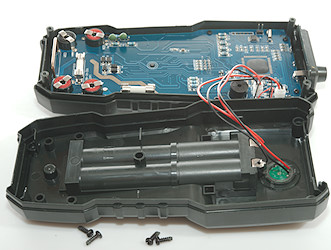 Four screws and the back could be removed.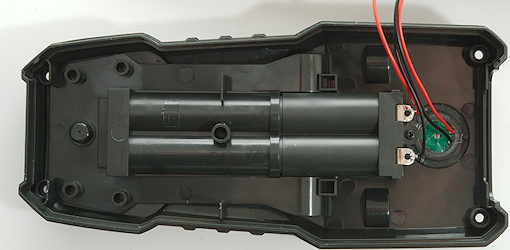 The flashlight led is mounted in the back (It cannot be removed without damage).




The circuit board fits the enclosure and there is connectors for the battery and flashlight, but they are the same.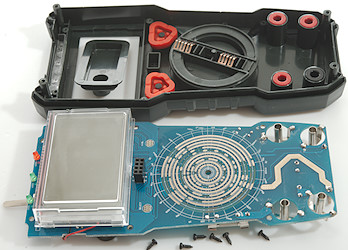 There was 6 more screws to get the circuit board out.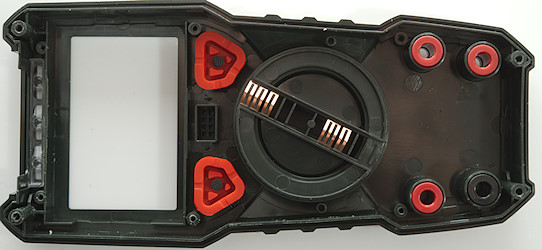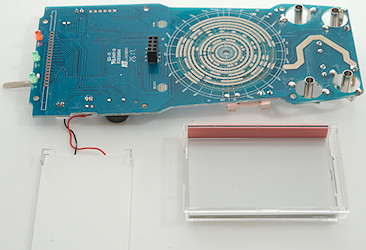 The backlight and LCD display was loose.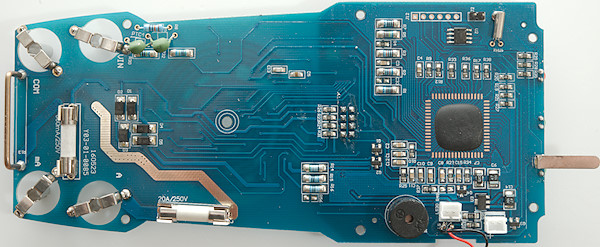 At the voltage input are 3 paths: Voltage (r30 & R32: 2x5Mohm), drive for ohm and capacitance (PTC4 & PTC5), sense for these ranges (R8: 900kOhm). For the PTC there is a transistor pair for protection (Q1 & Q2). The uAmA current input has the usual clamping diodes (D1..D5) and 3 resistors (R14: 1ohm, R15: 9ohm (Not used as shunt) and R16: 1kOhm). The transistor tester has 4 resistors (R23, R24, R26: 20ohm, 100kohm, 2.7kohm), the last resistor in the row (R31: 10Mohm) is for the NCV antenna at the top.
The light bar above the display uses 3 leds with current limitig resistors (R28, R29, R35: 100ohm). The flashlight and backlight is controlled with a single transistor (Q3) and is powered directly from the battery with a series resistor (R65: 51ohm for flashlight, R18: 10ohm for backlight).
The voltage regulator for the meter (U3: 7530-1) is placed next to the power connector, the multimeter chip also has a EEEPROM (U2:24C02A) for calibration and functions.
It looks like the chip used is for autoranging meters, but here it is forced to do manual ranging.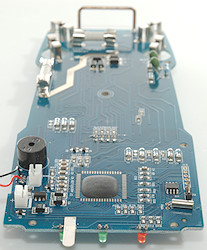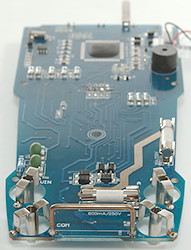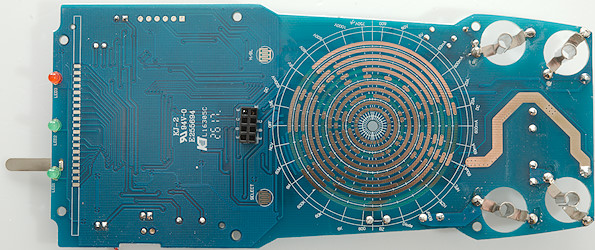 There is not much on this side, the 3 leds for the led bar, the socket for the transistor tester and the pads for the lcd and switches.










Conclusion



The CAT rating is, as usual for cheap meters, wrong. A 250V fuse do not belong in a 1000V meter!
For a manual range meter this is fairly good, it has a lot of ranges, but not as many as a normal autoranging meter. The precision is good. The 20A range cannot do 20A only 10A and is not that precise.





Notes



How do I review a DMM
More DMM reviews