DMM PeakMeter PM8211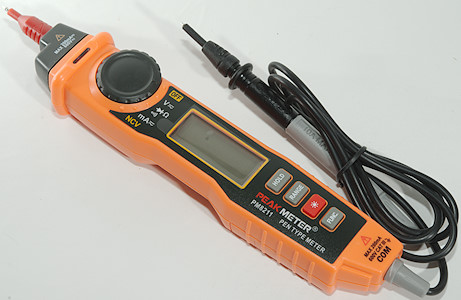 This is a pen DMM with voltage, current and ohms.





I got the meter in a pouch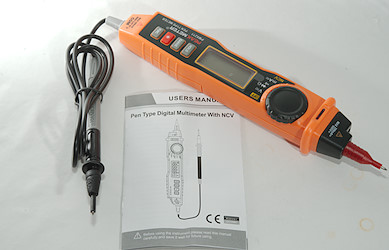 The only content was the meter and a user manual.






The probe is rated for CAT III 1000V and CAT IV 600V with cover and CAT II 1000V without cover.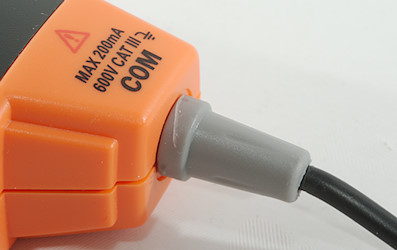 It is not replaceable, but wired directly into the meter.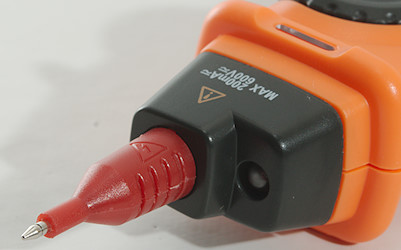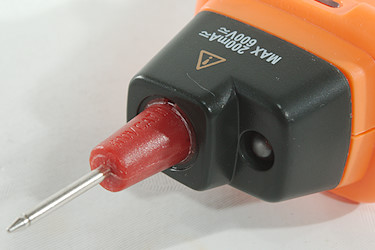 The positive probe is built into the meter and has a removable tip cover. It is rated for CAT III with tip cover and CAT II without, in both cases 600V like specified on the meter.
There is a flashlight led beside the probe, it follows the backlight.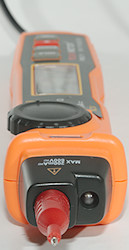 Display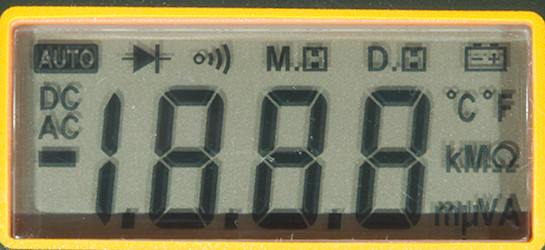 The above picture shows all the segments on the display.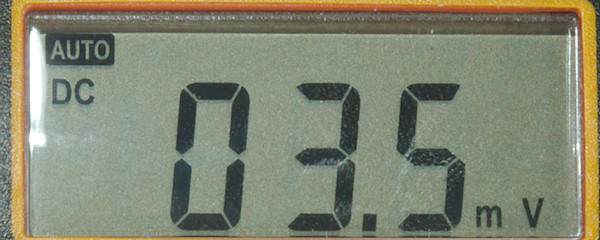 The normal display will show value and range.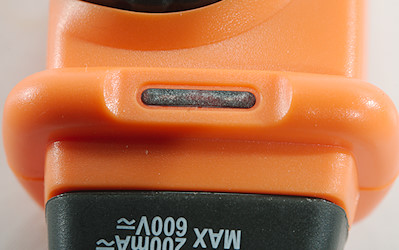 The NCV function do not use the display (It will be in AC volt), but only a red indicator and the buzzer.





Functions







Buttons:
Hold: Will freeze the display reading, until pressed again.
Range: Switch to manual range and change range, hold down for auto range.
: Hold down to turn background and flashlight on.
Func: Select between DC/AC and ohm/diode/continuity.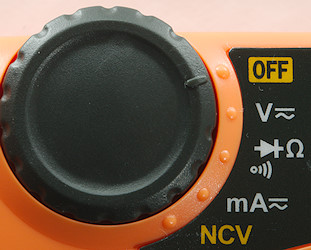 Rotary switch:
Off: Meter is turned off
V: DC/AC voltage
: Ohm, diode and continuity.
mA: DC/AC current
NCV: Turn on NCV circuit and switch to show volt AC on display.
Input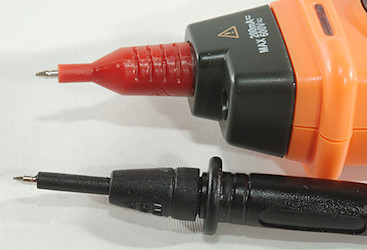 This meter has the red probe build in, the black probe is wired from the back. Using the same input for current and voltage can be problematic, especially when it requires soldering to replace the fuse.





Measurements
Volt and frequency

1V AC readings is 5% down at 2.0kHz
V input impedance is 9-10Mohm
mV DC input impedance is about 100Mohm, but it drops to 10Mohm just over the top of the range.
Rated overload protection is 600 VDC/VAC

Current

Meter will sound an alarm when current is above 200mA
Input protection is a 0.25A/250V 5x20mm soldered fuse

Ohm, continuity, diode and capacitance

Ohm needs about 3.5s to measure 100ohm
Ohm is 0.45V open and 0.24mA shorted
Continuity is quick (<30ms)
Continuity beeps when resistance is below 38ohm
Continuity is 0.45V open and 0.24mA shorted
Diode range uses 1.6V, max. display is 0.999V at 0.28mA, max. current is 0.76mA shorted
Rated overload protection is 600 VDC/VAC

Miscellaneous

Current consumption of meter is 1mA in VDC/ohm/diode/continuity, 1.7mA in VAC and current and 2.2mA in NCV mode (About 7mA with backlight and flashlight).
Display has faded at around 1.2V, battery symbol show at 2.4V.
Readings will start drift at about 1.7V and is about 1.5% out when display fades.
Backlight fades with voltage and is very dim at a 2.5V
Viewing angle is good
Display updates around 3 times/sec
Will automatic turn power off after about 15 minutes
Backlight will turn of in about 16 seconds.
Flashlight follows backlight, turn on and off at the same time.
The meter often need many display update to reach the final value.
Weight is 157g without accessories, but with battery.
Size is 247 x 42 x 35mm (Strain relief for minus probe included).

Probes

Probe wire is 100cm long.


The mV input has higher impedance at low voltage, but it soon drops to about 10Mohm.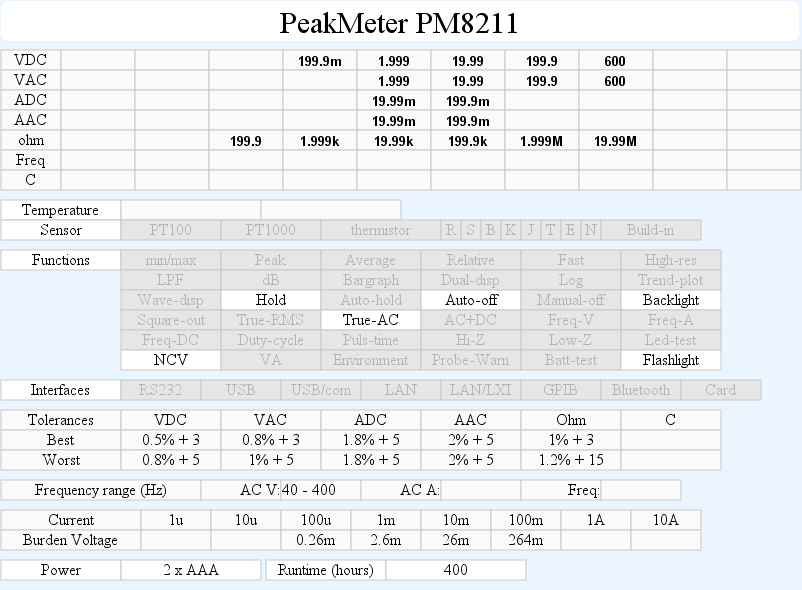 Tear down



I had to remove 5 screws, before I could open it up.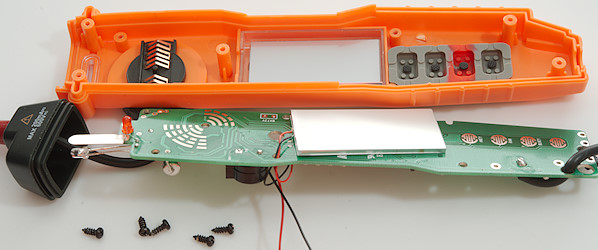 There was 5 screws holding the circuit board.






The current range uses a soldered fuse and a shunt (R28: 1ohm) mounted at the back of the meter. For protection of the shunt it uses a diode (D5).
The input path is split between a high ohm path (R20 & R21: 2x5Mohm) and two PTC (PTC1 & PTC2) paths. For some reason PTC1 is connected to another high ohm path (R30 & R31: 2x47Mohm), this is the reason for the 9Mohm input impedance.
In ohm the protection is PTC2 and a transistor (Q1) for output and PTC1 with a resistor (R14: 900kOhm) for input.
There is a NCV antenna next to the flashlight led, this antenna has a very high ohm path to discharge it (R33, R34, R36, R37: 4x47Mohm). The 6 pin chip (U2: Marked 22A5) handles the NCV detection and uses a transistor (Q5) to drive the led.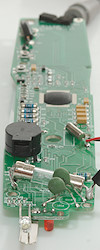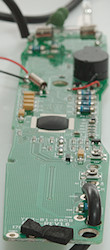 This side has the pads for the switches and for the LCD display, together with the NCV indicator led.




Conclusion



The meter says CAT III 600V, but that is very optimistic with a 250V fuse and small SMD resistors (after PTC's)

This meter is a bit low on ranges and functions. The voltage and ohm works fine, but I do not like the glass fuse that requires soldering to replace.





Notes



How do I review a DMM
More DMM reviews