DMM Vici VC835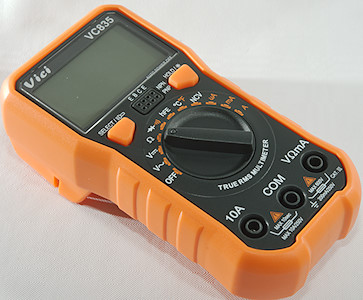 A cheap 2000 count meter, but with true-rms and auto range.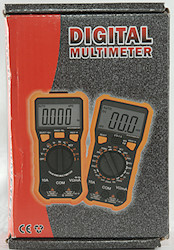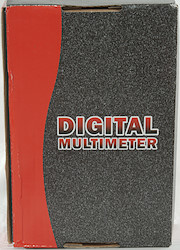 The box is a generic box for this series multimeter, the front shows one better and one worse that this meter. The box is also lacking any branding. It did contain a "VC835" sticker.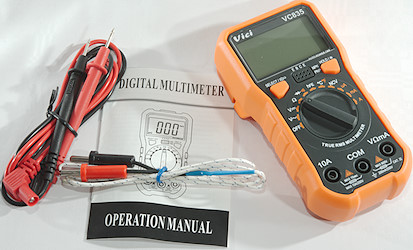 It included the DMM, a pair of probes, a thermosensor and a manual.






The cheap probes do not contains any CAT rating, they are rather small.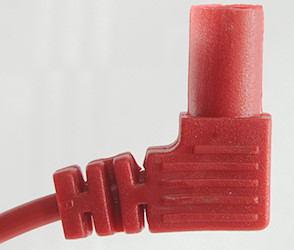 The shroud is very short at 11.3mm and nearly covers the plug inside.






A standard cheap termooupler with banana plugs.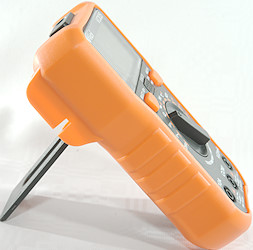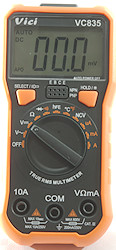 It is possible to use the buttons and range switch with the meter on the tilting bale as long as the table is not too slick.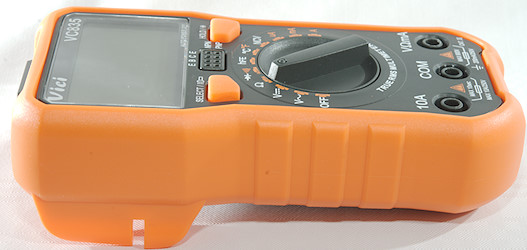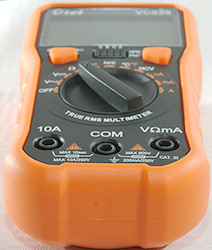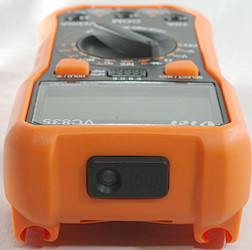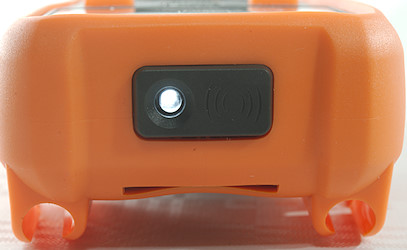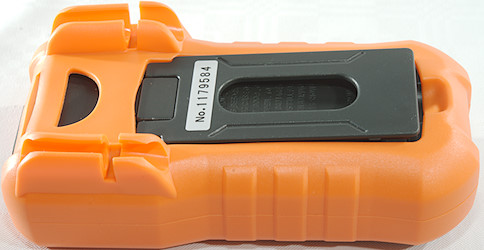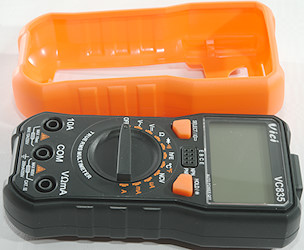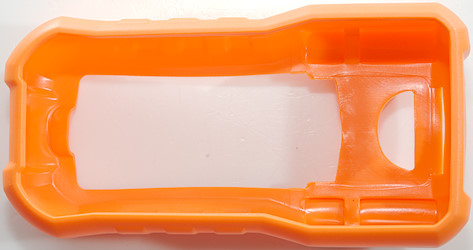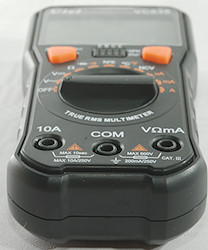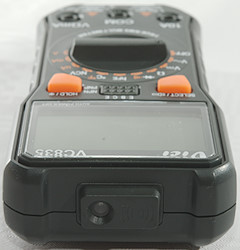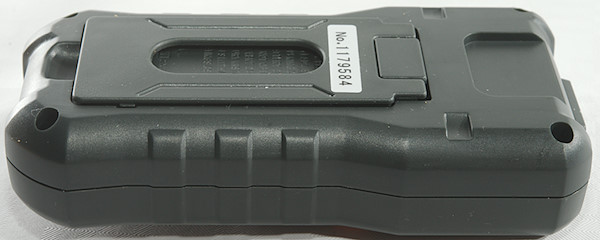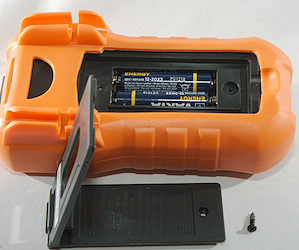 Display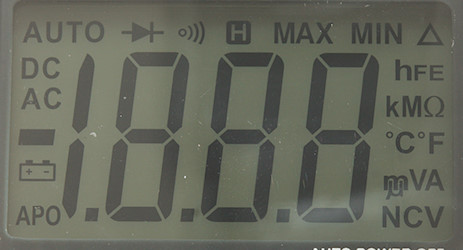 The above picture shows all the segments on the display. Not all of them are used on this meter.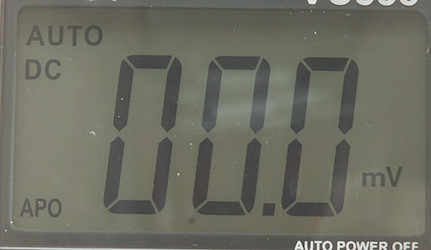 Typical display during usage, it will show the number and what measurement is selected.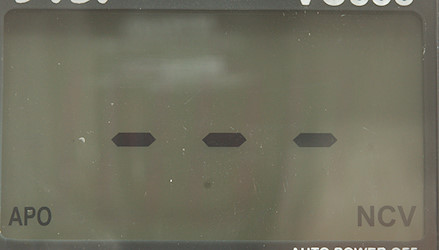 Non contact voltage will show from one to four bars depending on the electric field strength.




Functions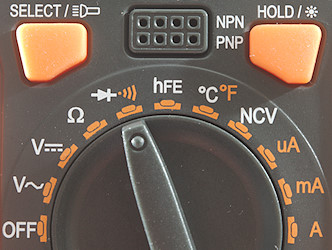 Buttons:
Select (Orange): Will select between AC and DC in current ranges and diode/continuity, °C/°F. Hold down to turn flashlight on.
Hold (Orange): Freeze display reading, hold down to turn backlight on.
Rotary switch:
Off: Meter is turned off
VAC: Show AC voltage.
VDC: Show DC voltage including mV
: Resistance, continuity, diode and capacitance
: Diode/continuity, use SELECT to change.
hFE: Transistor tester.
°C/°F: Temperature
NCV: Non contact voltage detector.
uA: Lowest current ranges, select AC by pressing SELECT
mA: Milli ampere ranges, select AC by pressing SELECT
A: Ampere ranges, select AC by pressing SELECT
Input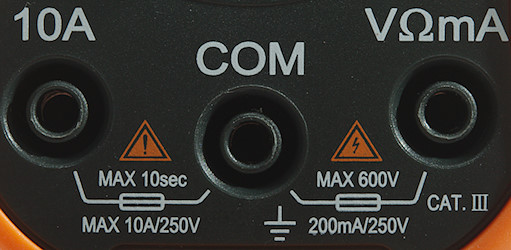 A: The 10A range.
CON: The common terminal for all ranges.
xxx: All other ranges, including uA and mA.
Measurements
Volt and frequency

1 VAC is 5% down at 2.4kHz (RMS will not work at the frequency).
Input impedance is 10Mohm to 11Mohm on DC and AC
Overload protection is rated for 600VAC/DC

Current

10A range will give an audible alarm when current is 10A or above.
uAmA range is protected with 10A/250V 5x20mm fuse, circuit board and manual says 0.2A/250V
A range is protected with 10A/250V 5x20mm fuse

Ohm, continuity, diode and capacitance

Ohm needs about 3.1s to measure 100ohm
Ohm voltage is 1.0V open and 0.28mA shorted
Continuity is fast (About 30ms).
Continuity beeps when resistance is below 50ohm.
Continuity is 2.1V open and 0.28mA shorted
Diode voltage is 2.3V with display of up to 1.999V with 0.1mA, maximum current is 0.8mA shorted

Miscellaneous

Current consumption of meter is 1.3mA to 1.8mA (4.9mA with backlight, 4.5 with flashlight and 7.5mA with back+flash light)
Meter works down to 2.2V where it turns off, battery symbol show at 2.3V.
Readings are stable with changing battery voltage.
Backlight and flashlight only works down to about 2.5V where it is fairly dim.
Viewing angle is good, except from the top.
Display updates around 3 times/sec
Will automatic turn power off in about 16 minutes.
Backlight will automatic turn off in about 30 seconds.
Flashlight do not turn automatic off, but will turn off when the meter turns off.
The meter usual need a couple of display update to reach the final value.
Weight is 193g without accessories, but with batteries and sleeve.
Size is 140 x 72 x 41mm

Probes

Probe resistance 145m for one.
Probe wire is thin and 73cm long.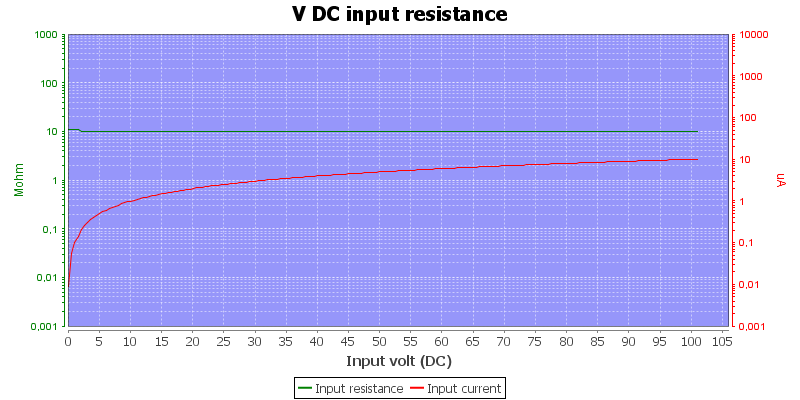 Th input resistance is the typical 10-11Mohm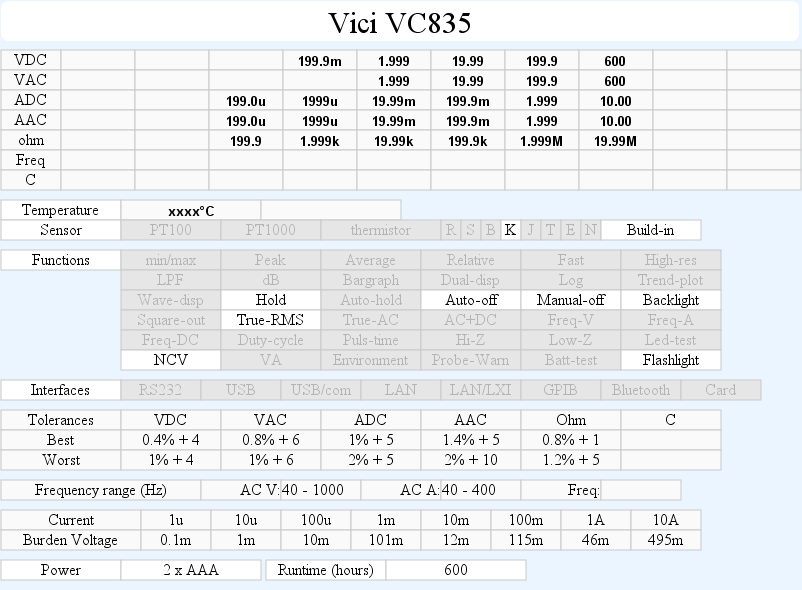 Tear down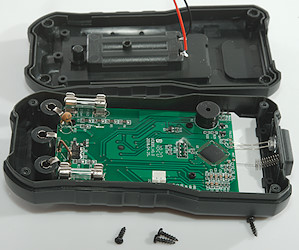 I had to remove four screws to open the meter.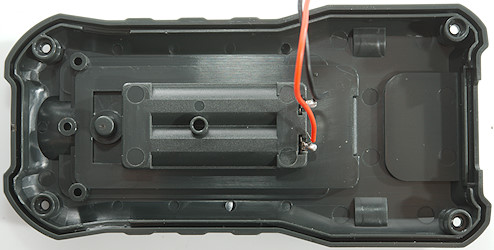 The battery used a small connector.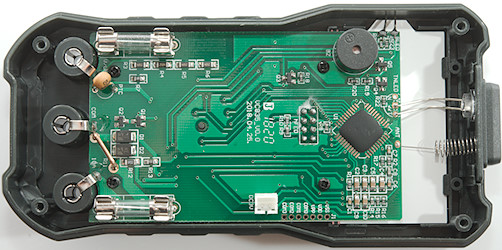 The flashlight led has long legs to reach the output window, the NCV antenna is a spiral.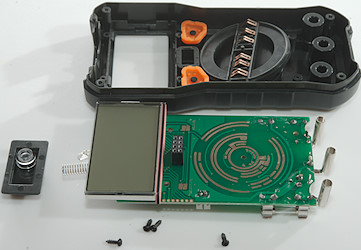 I had to remove four more screws to remove the circuit board.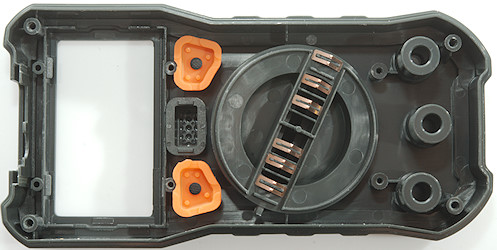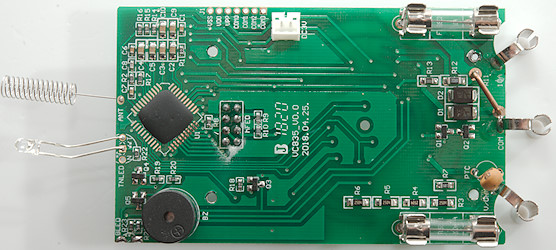 The 10A shunt is rather small. The mA (R12: 1ohm) and uA (R13: 100ohm) shunt each has a transient protection diode (D1 & D2) as over current/voltage protection until the fuse blows.
For voltage input is used four resistors (R3..R6: 4x2.5Mohm). In ohm/diode/continuity the PTC together with a transistor pair (Q1 & Q2) protected the current output and a resistor (R7: 1Mohm) the input. The temperature input also used the PTC and transistor pair.
It looks like this chip is missing the usual resistor set (1k-10k-100k-1M), they are probably inside the chip.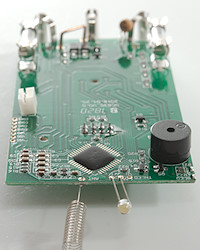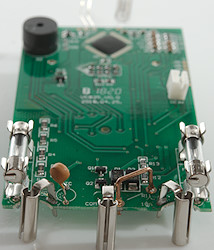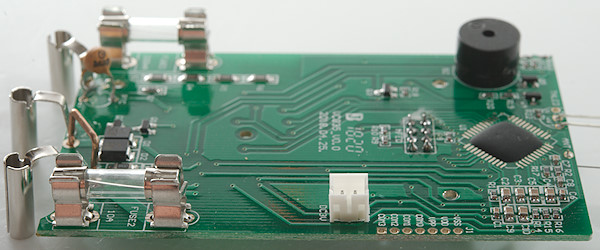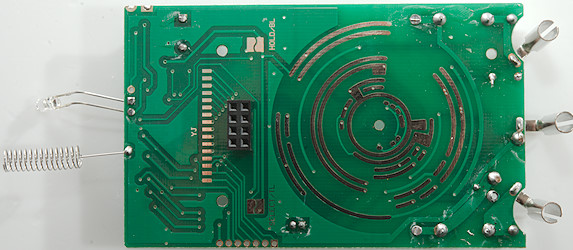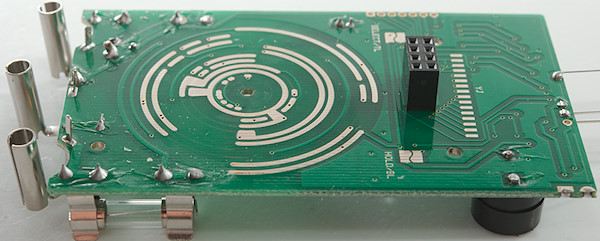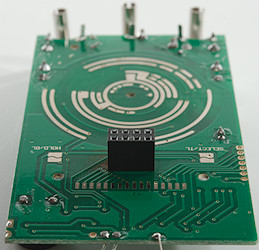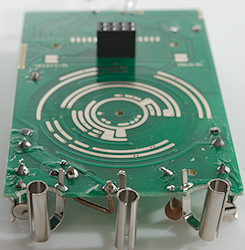 Conclusion



The CAT rating is as usual wrong with 250V fuses and a small SMD resistor (R7) at the input.
The meter has many of the common ranges, but there are significant exceptions and also a lack of functions. The wrong fuse can mean a dead meter if a mistake is made.
For a cheap 2000 count meter it is fairly decent.





Notes



How do I review a DMM
More DMM reviews