DMM XB-866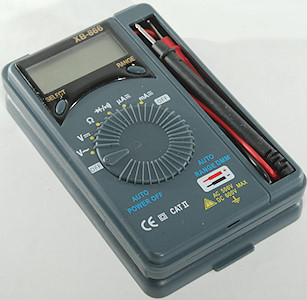 This is a cheap pocket DMM, it has the most common ranges, but do not have any functions.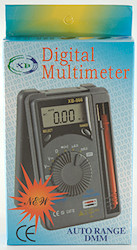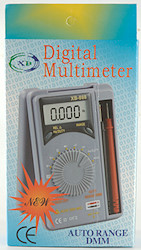 The meter arrived in a cardboard box that is designed for two models (The two sides are different models).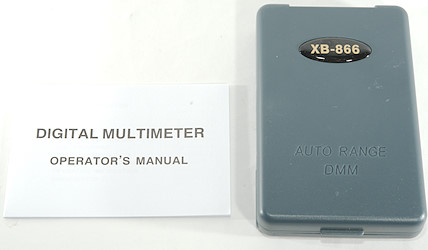 The box contained the meter and a manual.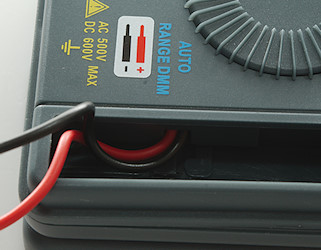 The probes are part of the meter and cannot be replaced without soldering.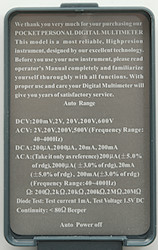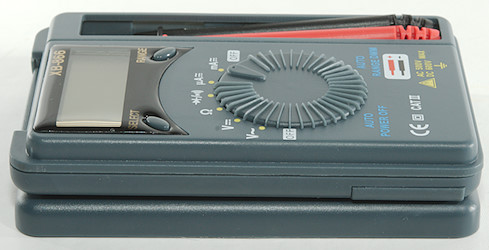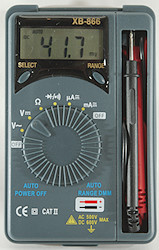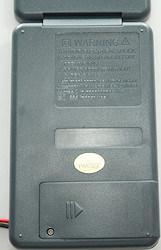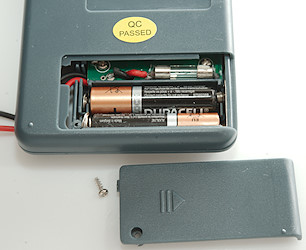 The area around the batteries, the spring and lid is a bit cramped, making the lid a bit difficult to mount and unmount.





Display






The above picture shows all the segments on the display, not all are used on this meter.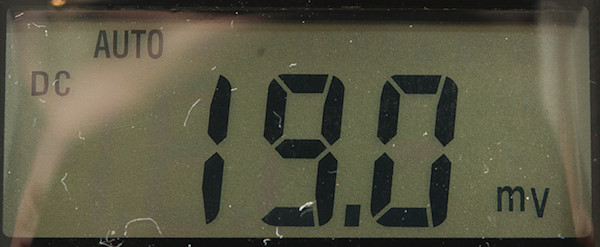 Typical display during usage, it will show the number and what range is selected.





Functions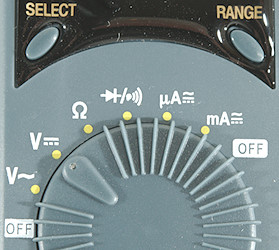 Buttons:
Select: Used to select between Diode and Continuity and to select AC in current ranges.
Range: Used to manually select range, hold down to return to auto range.
Rotary switch:
Off: Meter is turned off
VAC: Voltage AC
VDC: Voltage DC
: Resistance
: Diode and Continuity, use Select to change.
uA: Low current range, use Select for AC
mA: High current range, use Select for AC
Off: Meter is turned off
Input



A red and a black probe is linked to the meter.





Measurements
Volt and frequency

1 VAC is 5% down at 2.2kHz
Input impedance is 10-11Mohm in DC and AC
mV DC is high impedance below 1.5V, above it is 10Mohm.
At low AC voltage there is problems ignoring a high DC voltage.

Current

uA and mA range is fused with a 5x20mm soldered glass fuse, that will prevent any range from working if it is blown.
2000uA and 200mA range will give audible alarm when overloaded

Ohm, continuity, diode and capacitance

Ohm needs about 3.5s to measure 100ohm
Ohm is 0.42V open and 0.2mA shorted
Continuity is slow (Up to 150ms, most of the time it is time considerable faster).
Continuity beeps when resistance is below 48ohm.
Continuity is 0.44V open and 0.2mA shorted
Diode range uses 1.6V, max. display is 1V at 0.25mA, max. current is .67mA shorted
The specifications says input are protected to 250V DC or AC

Miscellaneous

Current consumption of meter is 0.8mA in VDC and 1.4mA in AC and current.
Meter displays values down to 1.5V where it turns off, battery symbol show at 2.3V.
Readings will change slightly, about 2 count on a 5V value.
Viewing angle is good, except from the top.
Display updates around 2.5 times/sec
Will turn power of automatic after about 15 minutes.
The meter usual need a few display update to reach the final value.
Weight is 128g without accessories, but with batteries.
Size is 118 x 75 x 21mm

Probes

Probe wire is fairly soft and thin, they are 43cm long.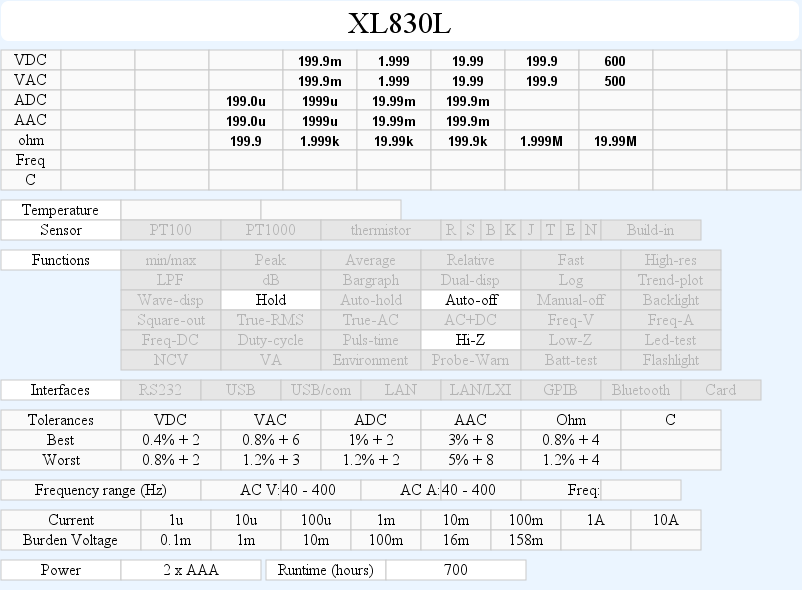 mVAC must be manually selected.





Tear down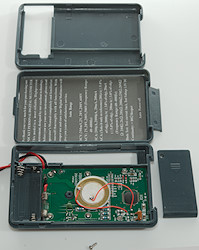 Removing the battery lid also loosens the back and it can be removed, together with the lid.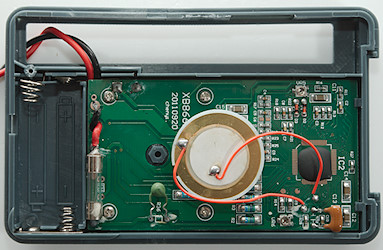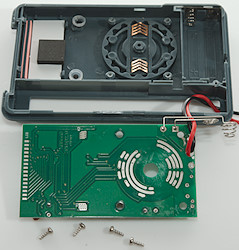 Four more screws and I could remove the circuit board, I had to be a bit careful with the battery connections.
The display do not have tight alignment control, this makes it a bit tricky to get the display/zebra stipe correctly aligned when putting it together again.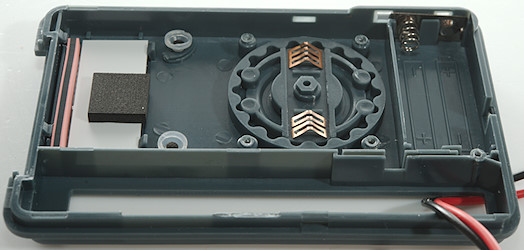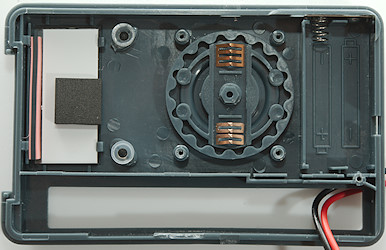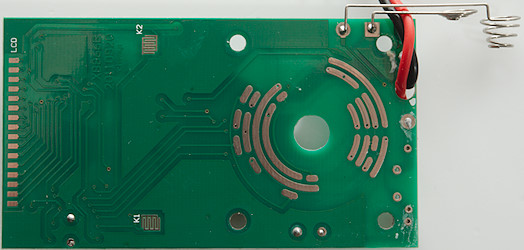 Only the switch, buttons and LCD connections on this side.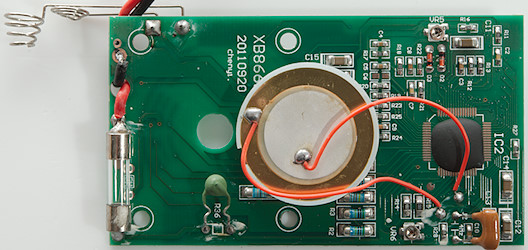 The green device (R36) is a PTC for input protection, the two resistors near it, but under the buzzer is the current shunts for uA and mA. The input voltage resistor is split in two (R2, R3: 2x5Mohm). The input clamp on this meter is probably D2 & D3. The meter has two trimpot for adjustment. Usual meters uses a crystal to get a stable frequency for the DMM chip, but in this case it is a resonator (It is cheaper).
It looks like the fuse is the first part on the input, i.e. a blown fuse prevents measuring voltage!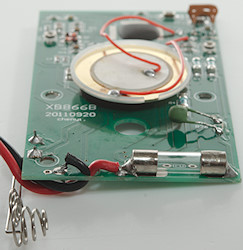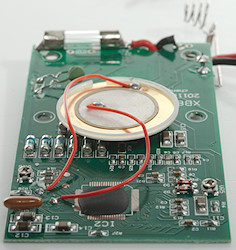 Having the probe leds through a hole in the circuit board will improve the strength considerable.











Conclusion



The meter is very small, but has many of the common ranges (Autorange helps with that). It works fine in the ranges it has and for a simple meter it is fairly good, but do not blow the fuse, it is soldered in.





Notes



This meter exist with many different names on it and small variations in functions.

How do I review a DMM
More DMM reviews