Review/Test of 13mm AA 5-Mode Circuit board


Driver is from Intl-outdoor.com

Official specifications:
Suitable for 1 AA battery (Alkaline & NiMH)
Input voltage: 0.9-1.5V
Output current: 500mA +/-10 - 150mA - 20mA
Modes: High - Medium - Low - Strobe - SOS
High efficiency
No flickering, driver works at 100KHz
PCB diameter: 13mm
PCB thickness: 1.5mm
Cathode brass pill height: 3mm
Components height on the side with the inductor: 5mm
Copper leads included




Measurements



Tested with: Cree XP-G2
Diameter: 12.9mm
Maximum height: 6.6mm
The driver has high, medium, low, strobe and sos.
No memory, when off for a few second it will reset to high.
Strobe 8Hz at 1.2 volt





High






At about 1.3 volt the led turns off, but the driver continues with drawing current, not very good.




Led voltage has some high frequency noise in it, there is no problem in that.





Medium






The regulation makes the led flash at about 3kHz at 1.2 volt supply.





Low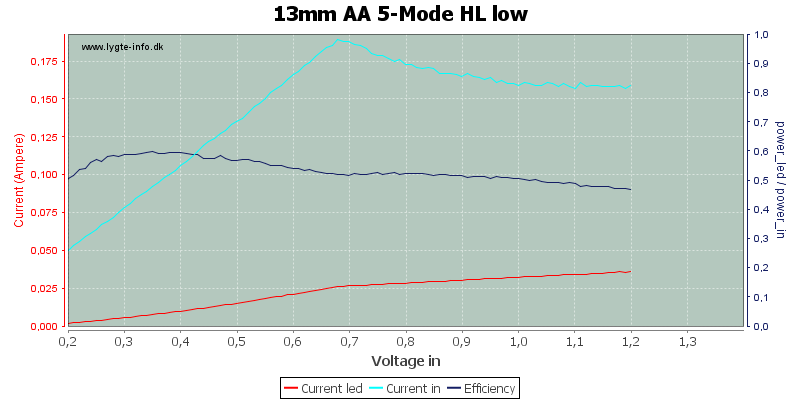 The regulation makes the led flash at about 1.4kHz at 1.2 volt supply.




Strobe




SOS


The spacing in the morse code is not correct





Conclusion



The driver is only designed for 1.5 volt batteries, preferable alkaline. It will start at around 0.9 volt, on high it has trouble at above 1.3 volt.
The regulation is not pwm, but a regulated boost regulator, the actual frequency will depend on mode and battery voltage.
I do not like this driver, due to its low input voltage range.





Notes



How do I test a led driver
List of all tested drivers