Review/test of LD-29 2.8A 1/2 Cell Circuit board



Driver is from Intl-outdoor.com, but he does not sell it anymore.

Official specifications:
Suitable for 1 or 2*18650 or 26650 batteries
Input voltage: 3-8.4V
Current and Modes:
High (2.8A) - Medium (700mA) - Low (100mA) - Strobe - SOS
High (2.8A) - Medium (700mA) - Low (100mA)
Current on High with 1 cell 2.5-2.6A
Constant current circuit (2 cell only)
Memory function
This driver does not use PWM
PCB Diameter: 18.5mm
Contact board diameter: 20.3mm
Total height: 8.9mm
Gold plated contacts
Low voltage protection 1 cell: at 3V the light will step down to low mode and start flashing
Low voltage protection 2 cells: at 5.8V the light will step down to low mode and start flashing
Reverse polarity protection
Tinned leads

You can change between the set of modes by turning on the flashlight on low mode for about 3 seconds,the light will flash once, then quickly turn off the flashlight and then turn it on.





Measurements



Tested with XM-L2
Diameter 18.5 mm & 20.2 mm
Max. height: 9.3 m
Strobe 15 Hz 44% on time
Mode set 1: High, medium, low, Strobe, SOS
Mode set 2: High, medium, low
When doing a low to high test the led did not turn on.
The driver has memory, the actual mode is stored when the light is off for a short time.
A off/on will select next mode, the off has to be rather long, not to select next mode.
The driver can be used with 1 or 2 LiIon batteries in series.
The low voltage warning only works with 2 batteries.





High






The drivers has very good regulation and good efficiency. It turns down power at 6.5 volt and battery warning comes on at 5.8 volt.
As usual efficiency and power calculations are wrong when the light is flashing.




There is a maximum of 1.6 watt lost in the driver.




And a bit above 9 watt to the led.




With one cell, the stabilization is not that good (Led current varies between 3 and 4 volt).
The driver drops to medium mode at about 3.3 volt, this is good for keeping the led on.
There is no low voltage protection, but the driver turns off at 2.5 volt, i.e. minimum voltage for 2900/3100/3400 Panasonic cells.




With one cell the loss in the driver is slightly lower.




The output does not contain any noise.




The low voltage warning is slow (2 sec cycle) flashing on the led.





Medium






Medium has the same good stabilization and does not step down, it goes directly to low battery warning at 5.8 volt.




The led power is 2 watt.




With lower led power, the driver can sustain the medium level down to about 3.1 volt and it has very good efficiency.




Also with one cell the led drive level is 2 watt.




Again a very smooth output, no traces of any pwm or driver regulation.





Low






On low the regulation is also good, the efficiency is slighty down.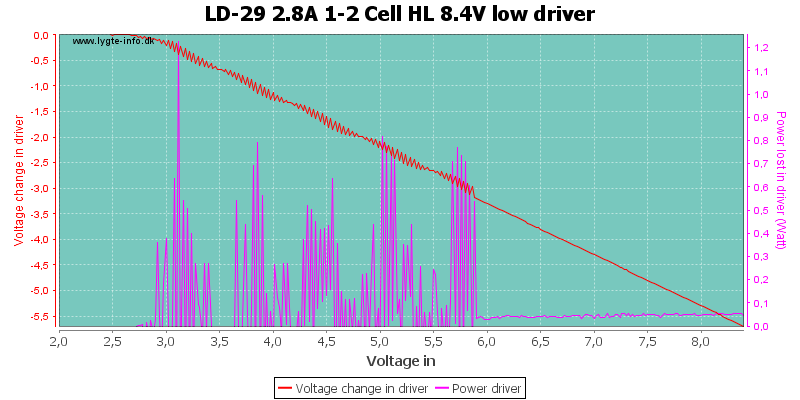 The led power is about 0.3 watt.




With a single cell the driver works down to about 2.8 volt, before brightness drops of.




Again a very smooth output, no traces of any pwm or driver regulation.





Strobe






The strobe is at 15 Hz and the brightness depends on the batteries voltage (The driver cannot reach full brightness with 3.6 volt).




SOS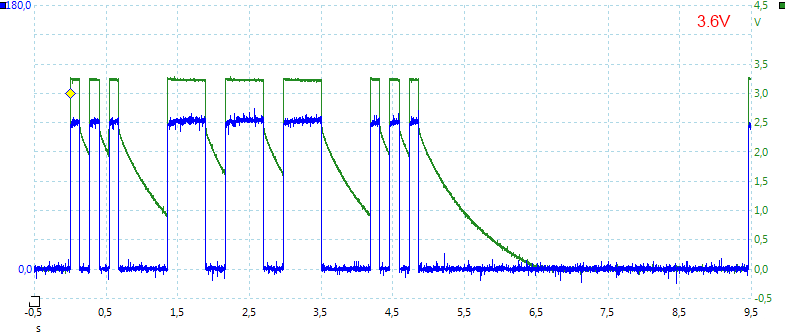 With SOS it is the same.





Conclusion



The driver is a very good stabilization (Except on high with 1 cell) and good efficiency. The mode change could be better.
There is also very little space for mounting of the two led wires.





Notes



How do I test a led driver
List of all tested drivers