Review/Test of LD-2C 3A 1/2 Cell Circuit board


Driver is from Intl-outdoor.com

Official specifications:
Suitable for 1 or 2*18650, 26650 or 16340 batteries
Input voltage: 3-4.5V, 5.8V-8.4V
Constant current circuit
Memory function, sets in after turn off
This driver does not use PWM
PCB Diameter: 18mm
Contact board diameter: 20.5mm
Total height: 7mm
Gold plated contacts
Low voltage protection 1 cell: at 3V the light will step down to low mode and start flashing
Low voltage protection 2 cells: at 5.8V the light will step down to low mode and start flashing
Reverse polarity protection
Copper leads already soldered

Group of modes:
3 Modes: High (3A) - Medium (900mA) - Low (150mA)
2 Modes: High (3A) - Low (150mA)
1 Mode: High (3A)

You can change between the set of modes by waiting 10 seconds on High mode for 1 flash, then turn off and then turn on the flashlight to switch to the next set. You can effectively choose the driver to have 3 modes, 2 modes or 1 mode.





Measurements



Tested with: Cree XM-L2
Diameter: 20.4mm and 18mm
Height: 7mm
In first mode set the driver has: High, medium, low
In second mode set the driver has: High, low
In third mode set the driver has: High only
The mode set selection is done from high mode.
The driver has memory, the actual mode is stored when the light is off for a short time.
A short off/on will select next mode.
Driver is buck only.



High






The drop at 8 volt is the mode set signal, it is not shown at 3 volt but about 3 seconds after light is turned on.
At about 5.1 volt the driver warns about low voltage, but it does not turn off before the voltage is down to 2.5 volt.




I wonder what happens between 6.5 and 6.8 volt.




Starting at a lower voltage will select the one battery mode, where the warning first kicks in at 3 volt, but the output starts dropping at 3.6 volt.




Starting from a low voltage and slowly increasing the voltage does not really work. The light turns on at 2.5 volt and goes directly into warning mode, where it will stay.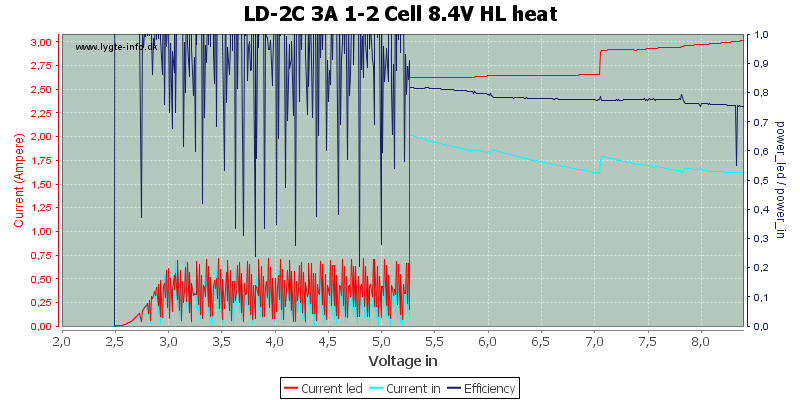 There is a couple of watts lost in the driver and when it heats up, it will reduce power slightly (At 7 volt).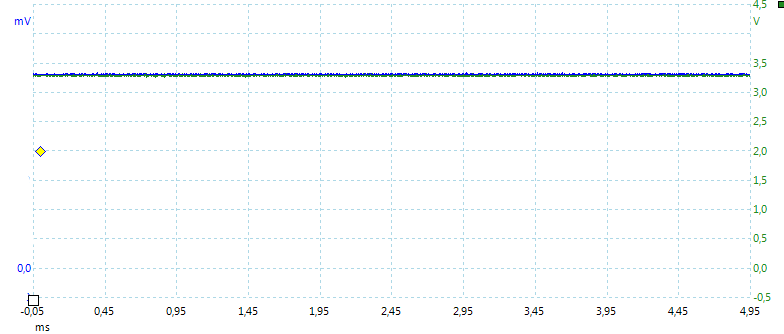 At full power with two batteries there is some high frequency (50 kHz) noise in the light.





Medium






The efficiency is better at medium leevel.




With a single battery the efficiency is very good.




No pwm in the light, but some high frequency driver noise.






Low







At low there is neither pwm or noise in the light.





Conclusion



The driver handles two different battery configuration in a nice way with low battery warning, but it does not turn off when the battery is low.
Generally the driver does what it is supposed to do, but I would like a better efficiency with two batteries.





Notes



How do I test a led driver
List of all tested drivers