Charger Allmaybe EC2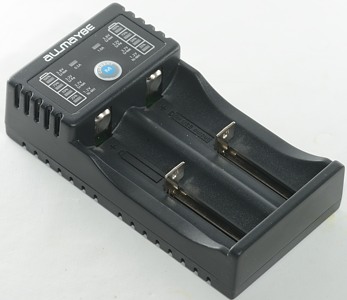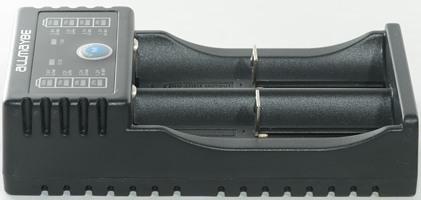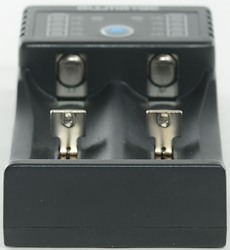 Allmaybe is new to the charge market and starts with this model that is usb powered and can work as power bank. It can charge two cell at a time and handles many different chemistries and sizes.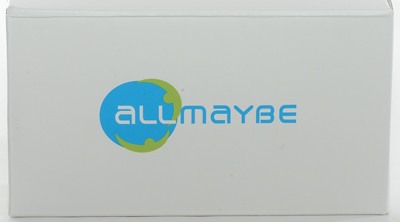 It arrived in a small cardboard box.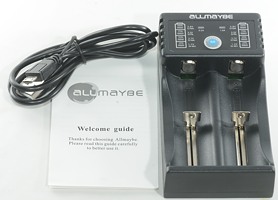 It included the charger, a usb cable and a instruction sheet.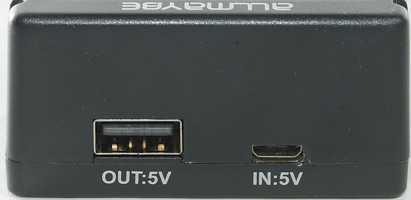 The charger has a micro usb input and a full size usb output for the power bank function.
The charger needs a 2A usb power supply/charger to work at full speed.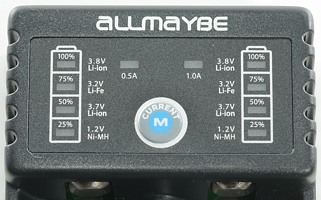 The user interface is a couple of leds and a single button.
A fast press on the button will select battery type, when a battery has just been put into a slot.
A long press (2 seconds) will change current at any time.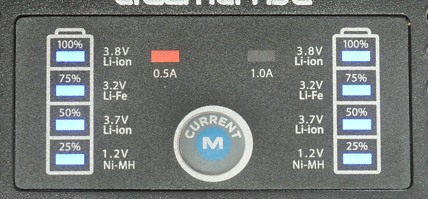 There is 4 blue leds for each slot, they are used to show charge state and when selecting battery type.
The two red leds show selected current.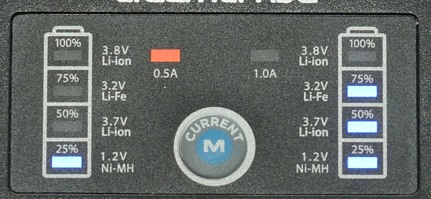 Charging, the blue leds are animated.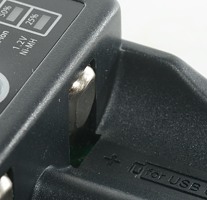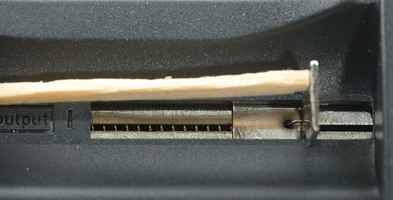 The slots uses the classical slider construction and it works fine.

The slots can work from 33 mm to 70mm. This means that very long protected 18650/26650 batteries will not fit in the slots.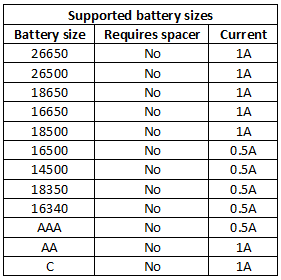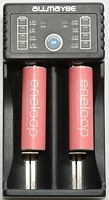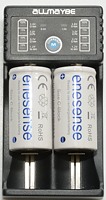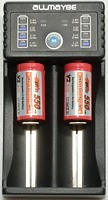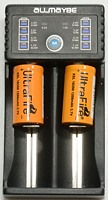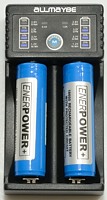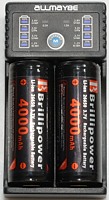 The charger can handle 70 mm long batteries including flat top cells.





Measurements



When not connected to power it will discharges with less than 0.1mA.
On the power bank slot it will discharge with about 0.2mA (45mA while indicating capacity).
When power is connected with a full battery, the charger will charge with 0.8mA
Below 0.1V the charger will not detect a battery, but will charger with about 3mA
Between 0.2A and 1.5V the charger assumes NiMH
Between 1.6V and 2,1V the charger will not recognize a battery, but charges with about 2mA
Above 2.2V the charger assumes LiIon
Charger will not restart when voltage drops.
It will restart charging on reinsertion of the battery or power cycling.
Usb input power consumptions when idle without batteries is 34mA, with batteries about 60mA
Charge LiIon 3.7V setting (4.2V charge voltage)


The charger uses a CC/CV charge algorithm with about 150mA in termination current, this is a good charge.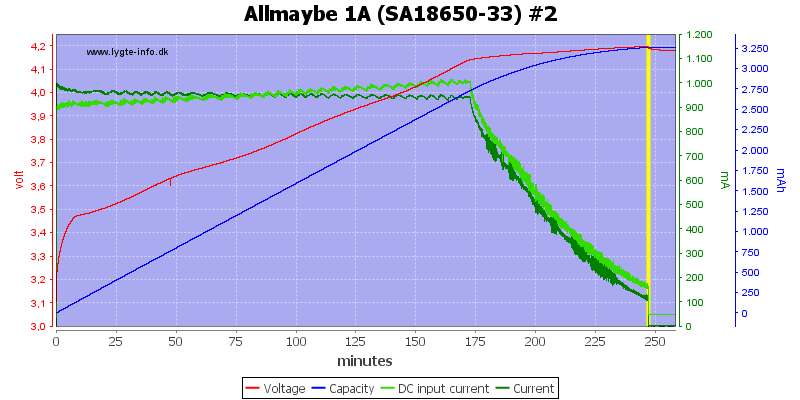 Second channel looks about the same. The tolerances on this channel are better, voltage is closer to 4.20 volt and termination current is slightly lower.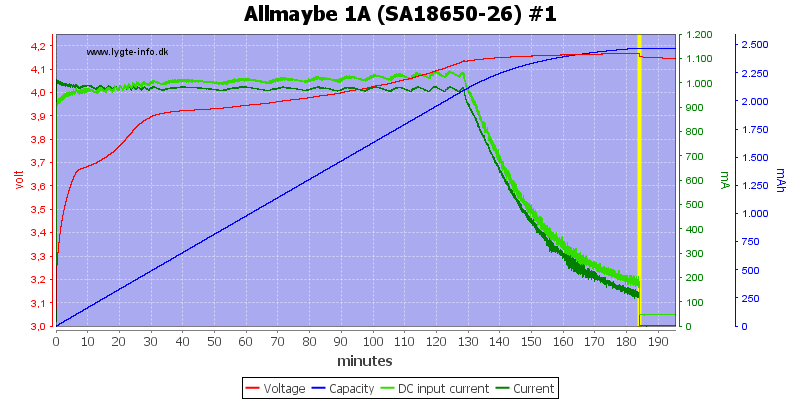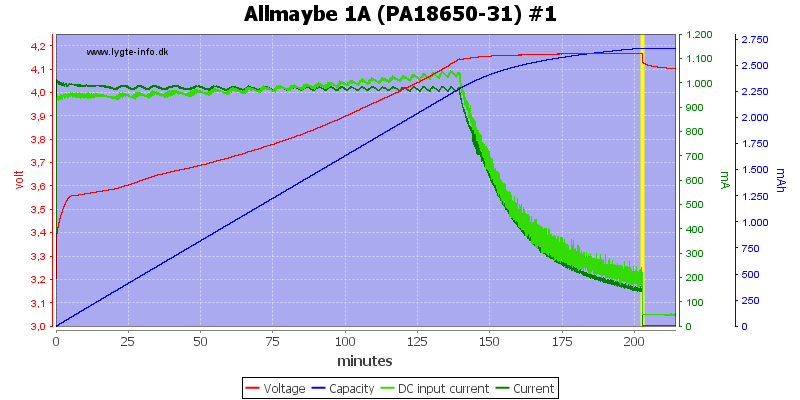 No surprise with the low/high capacity cells.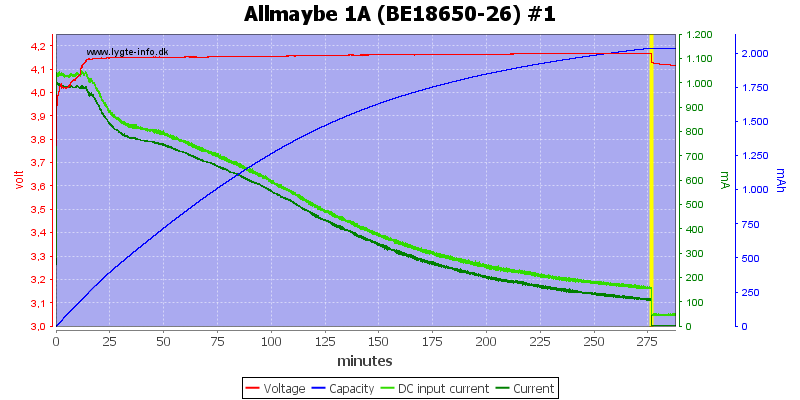 This old battery needs a very long CV phase, and is charged fine.




The charger profile is just as fine at 0.5A and the termination current is the same.




The two small cells are also charged fine.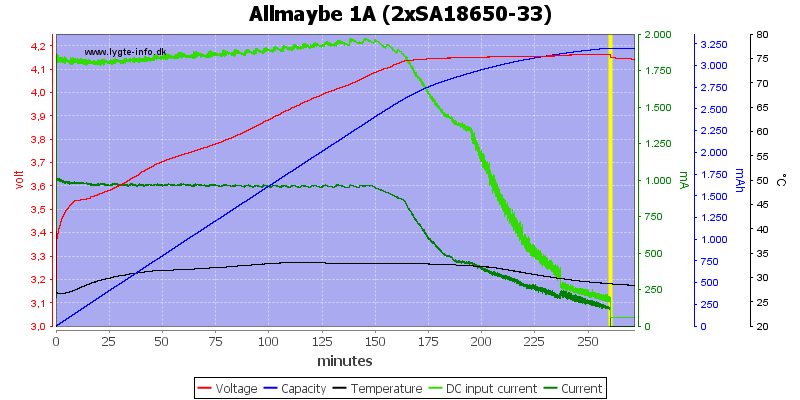 Charging two cells at the same time means that the charger needs 2A from the usb input.




Simulating a weak power supply by adding 0.5ohm in series with it slowed down the charging considerable, but did not prevent the charger from doing a good job.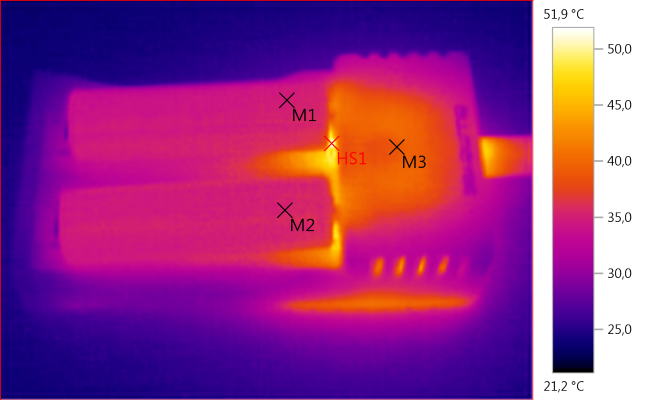 M1: 35,0°C, M2: 35,5°C, M3: 38,9°C, HS1: 51,9°C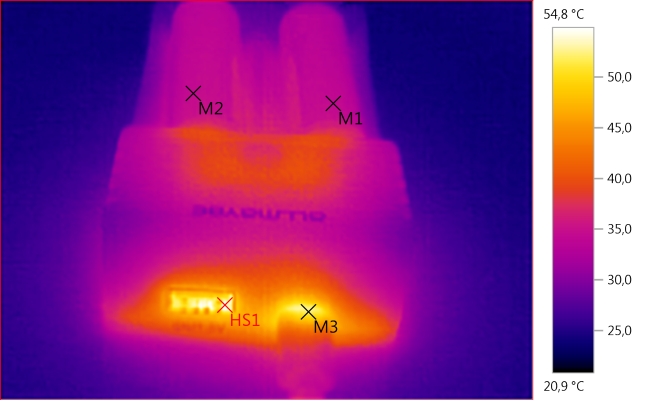 M1: 34,4°C, M2: 34,6°C, M3: 52,2°C, HS1: 54,8°C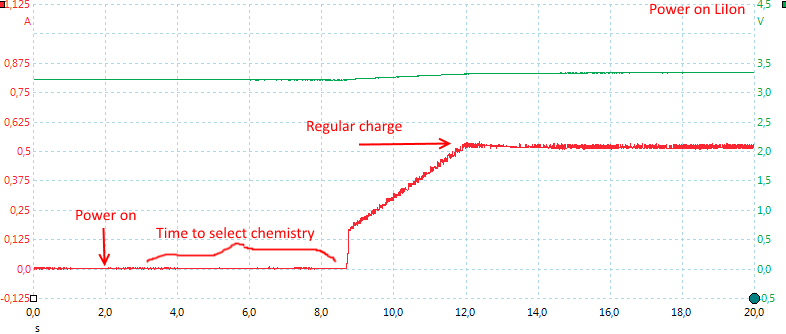 The charger need some time to start, most of the time is used to wait the user to select another battery type.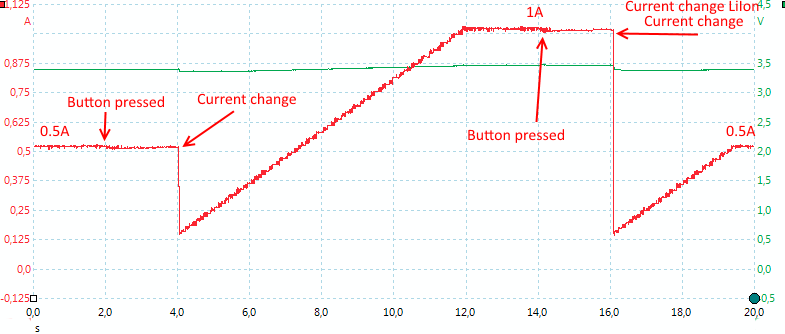 When changing current the charger always start from a low current and slow increase it to the selected level.





Charge LiIon 3.8V setting (4.35V charge voltage)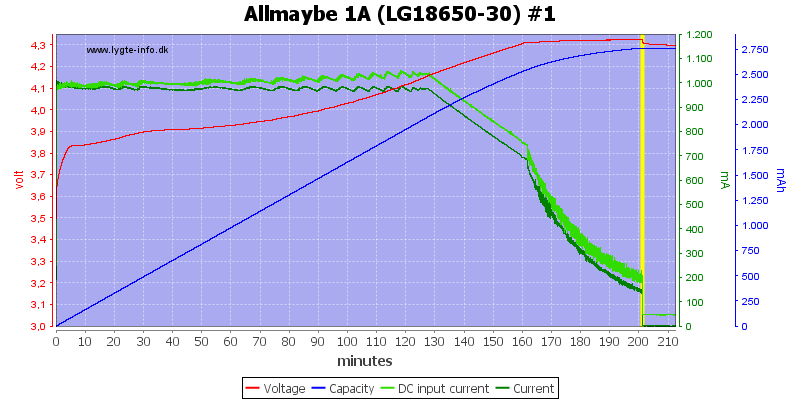 No surprise with the 4.35V charge, it looks fine.





Charge LiFe 3.2V setting (3.6V charge voltage)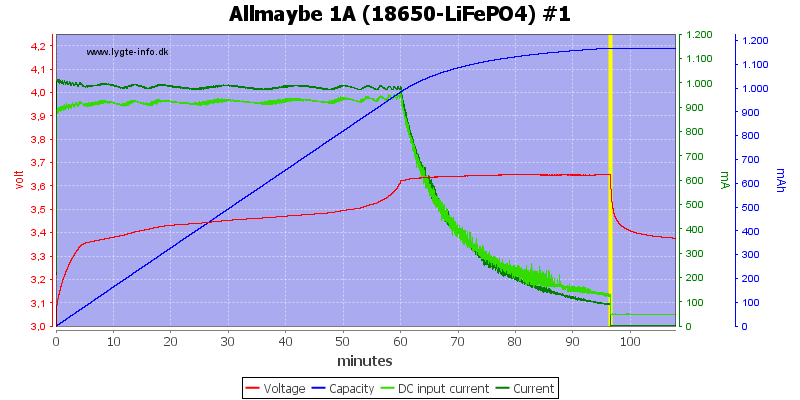 The two LiFePO4 charges also looks fine.





Charge NiMH 1.2V






With NiMH the charger turns off current to measure the voltage and will terminate on voltage without doing a top-off charge. This means the batteries will not be fully charged, but they are fairly close.
There is a small 10mA trickle charge.




The second channel looks the same.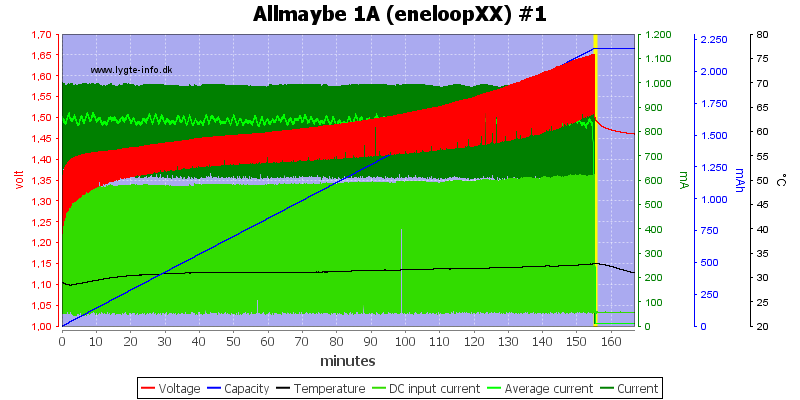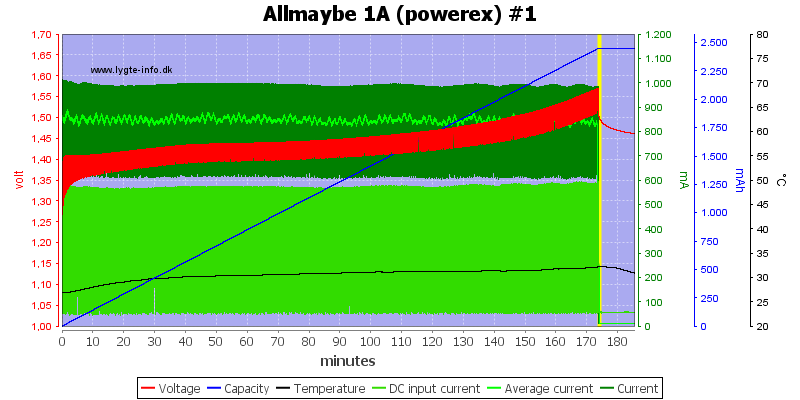 On the 3 high capacity batteries there is a small temperature increase at the end, i.e. they are very close to being fully charged.




Termination works fine at 0.5A




The AAA is charged fine.




As usual voltage termination is fast to stop when the cell is full.




The charger maintain the same charge current with two cells.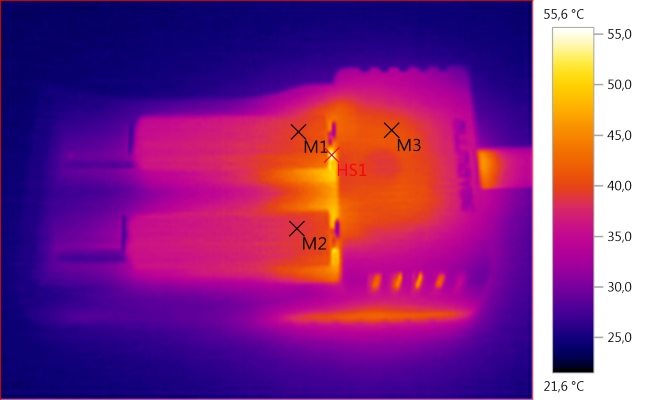 M1: 39,5°C, M2: 38,9°C, M3: 40,8°C, HS1: 55,6°C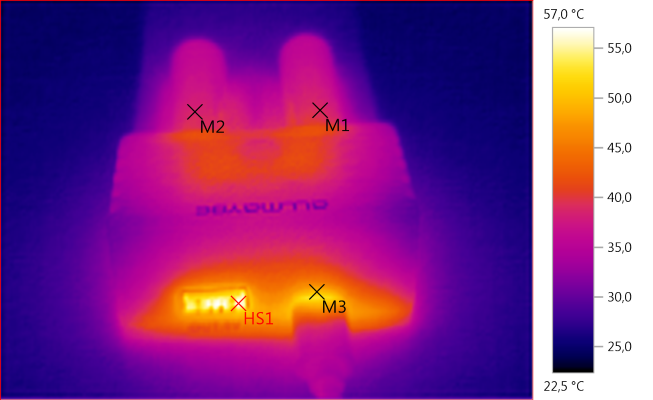 M1: 39,2°C, M2: 38,5°C, M3: 49,7°C, HS1: 57,0°C




NiMH needs the same time to start as LiIon, but it is not possible to select battery type.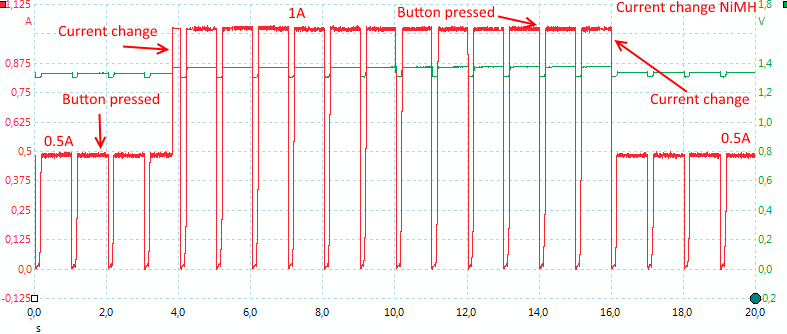 With NiMH the current change is more abrupt.





Usb output



Usb output is coded as Apple 1A
Usb output will turn off after 10 seconds with less than 40mA load.
On the power bank slot it will discharge with about 0.15mA (45mA while indicating capacity).
Usb output will not deliver current when usb input has power.


The usb output can deliver 1.2A before the voltage starts dropping, this is good for a 1A output.




With a 0.5A load the usb output looks good for about 3 hours.




But at 1A load the usb output do not really work, the converter cannot handle a partically discharged battery.




I did also try a 2A discharge, it did not reach 2A, because the voltage dropped, but I found a problem: The battery was not disconnected when it was empty (At 1A or lower it did disconnected the battery as expected).





The noise is 64mV rms and 472mVpp.





The noise is 100mV rms and 768mVpp.





Conclusion



This charger is good at LiIon and fairly good at NiMH and the possibility to select multiple LiIon voltage makes it very versatile.

The power bank function is not very good, it uses an old coding and cannot deliver full current with a partial discharged battery, in addition to this the noise is very bad.

I.e. it is a good charger, but do not buy it for the power bank function.




Notes



The charger was supplied by Allmaybe for review.

Here is an explanation on how I did the above charge curves: How do I test a charger