Charger Allmaybe TC2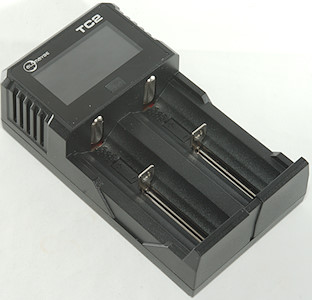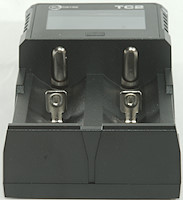 This is a two cell universal charger without any settings. Charge current is selected automatically. It is from Allmaybe that is a alternate brand for Xtar.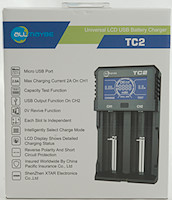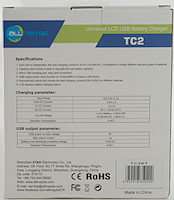 It arrived in a small white cardboard box with a lot of specifications.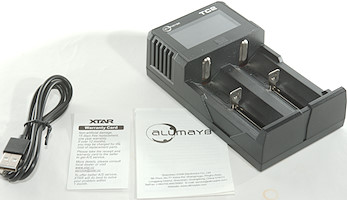 It included the charger, a usb cable and a instruction sheet.




The charger has a micro usb input and a full size usb output for the power bank function.
The charger needs a 2A usb power supply/charger to work at full speed.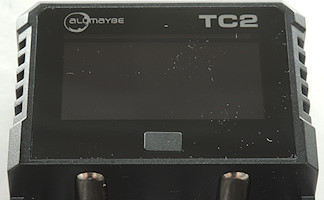 The user interface is a display and a single button.
A double click on the button will select test mode.
A long press on the button will turn the display off.
A short press on the button can be used to turn the usb output on.
It is not possible to select/change charge current with the button, it depends on the slot and number of batteries.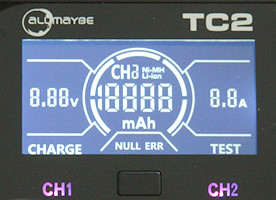 During power on all the segments are shown.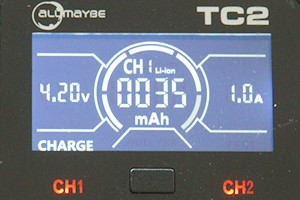 Charging display.
The CH1 and CH2 indicators are red while charging and green when powered and not charging.
When usb output is active CH2 is green, except when battery is low, then it will be red.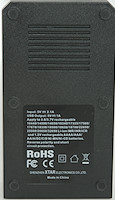 There are specifications on the back of the charger.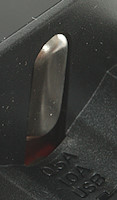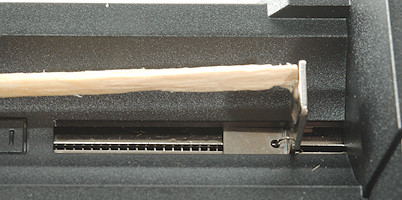 The slots uses the classical slider construction and it works fine.

The slots can work from 33 mm to 70mm. This means that very long protected 18650/26650 batteries will not fit in the slots.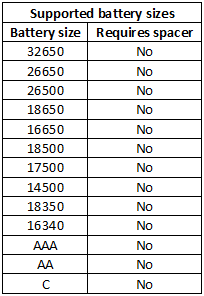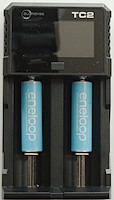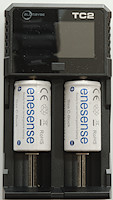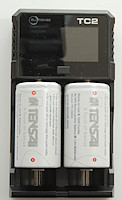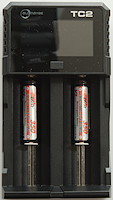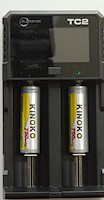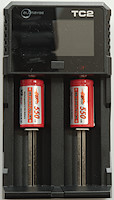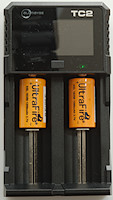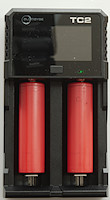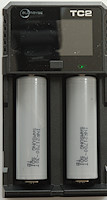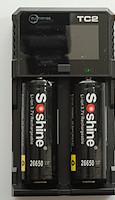 Watch out for protected 14500 cells, they may trigger 1A current!
The charger can handle 70 mm long batteries including flat top cells.





Measurements



When not connected to power it will discharges with less than 1mA in slot #2 and 0.6mA in slot #1.
When power is connected with a full battery, the charger will charge with 0.4mA
Charge will use 0.5A charge current when battery is below about 52mm
Between 0V and 1.9V the charger assumes NiMH
Above 2.0V the charger assumes LiIon
Voltmeter is within 0.01V
Voltmeter will not show above 4.20V
Voltmeter will update voltage after charging is finished.
Charger will restart when voltage drops to 3.90V.
It will restart charging on reinsertion of the battery or power cycling.
Usb input power consumptions when idle without batteries is 18mA and 16mA with display off.
Charging LiIon



Charge current for long batteries is 2A in slot #1 and 1A in slot #2, when both slots are used the current will be 1A in both slots, short batteries will be charged with 0.5A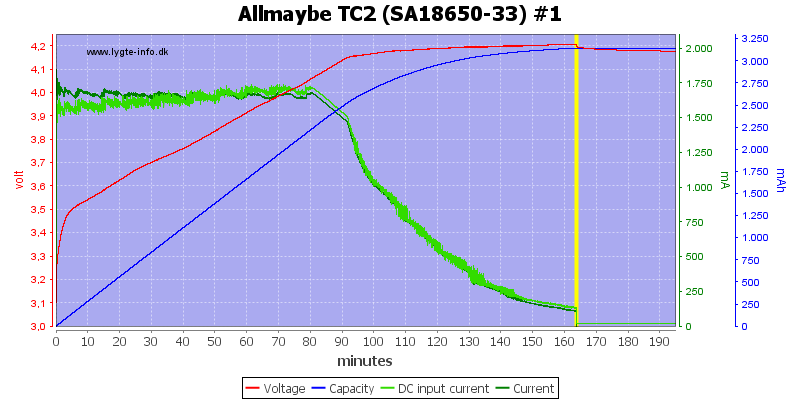 A nice CV/CC charge curve with about 110mA termination
Display shows 3549mAh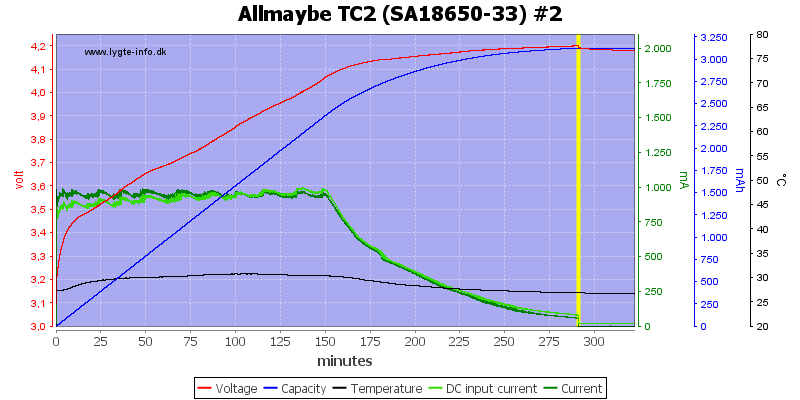 The second slot charges with 1A and the termination is 60mA
Display shows 3439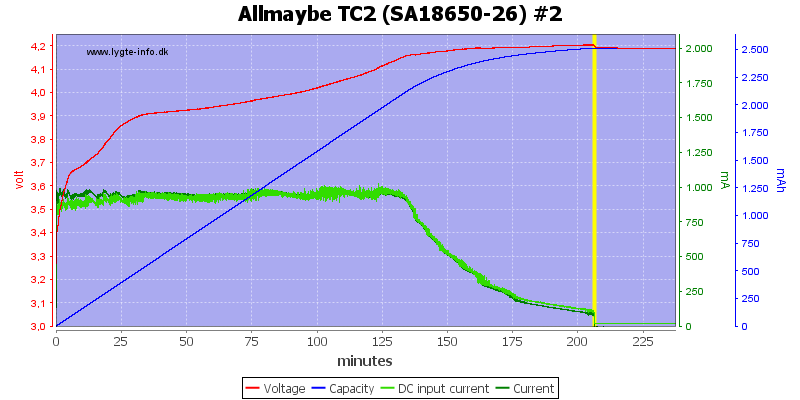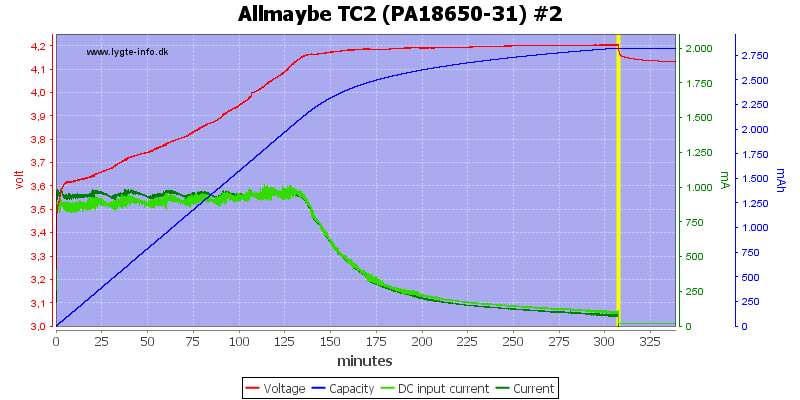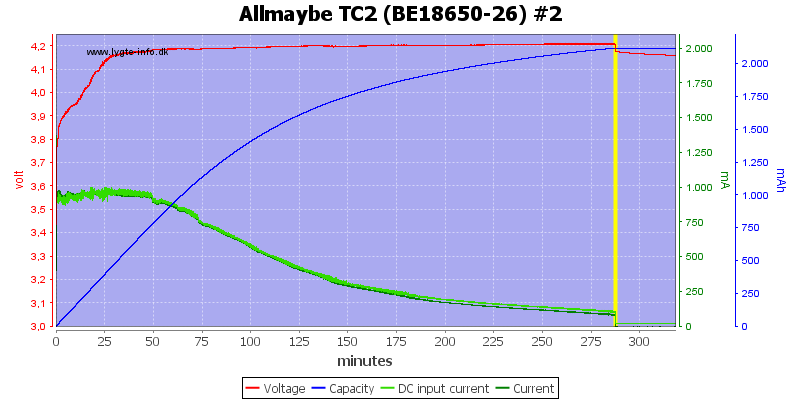 The other capacities are handled nicely in slot #2 too get lower current.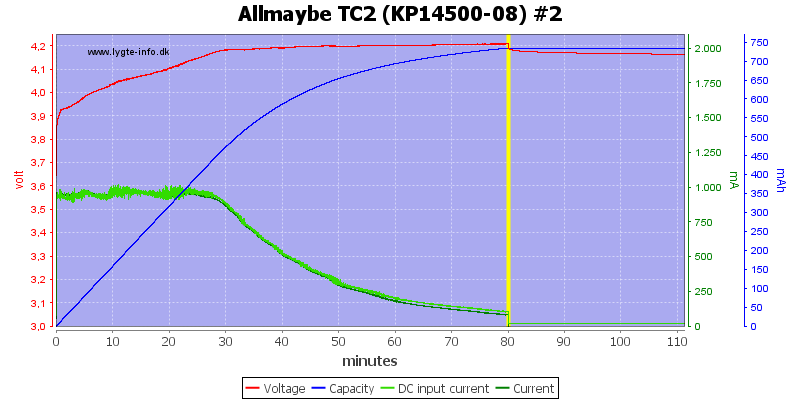 My protected 14500 with my sense equipment was long enough to trigger 1A charge in slot #2.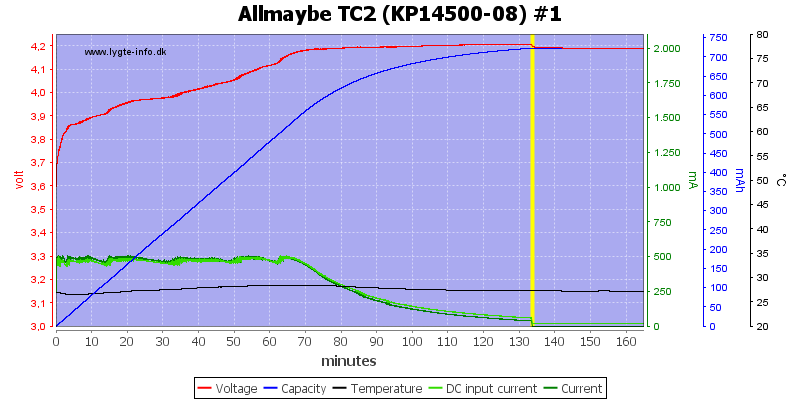 It went better in slot #1.
Display shows 765mA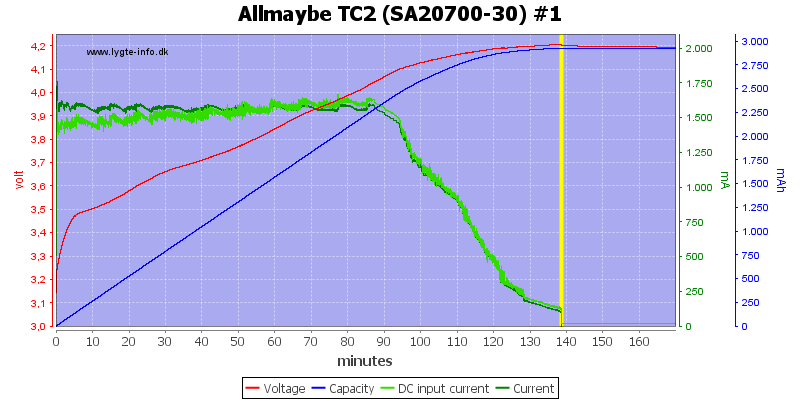 This cell can nicely handle the 2A charge current.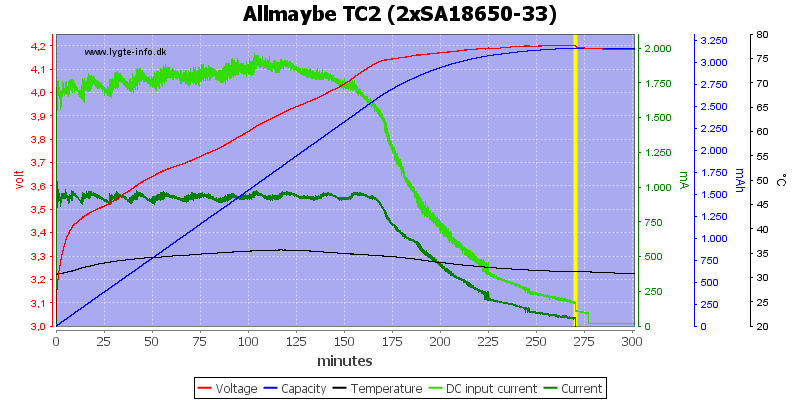 With two cells the charge current is 1A in both slots and the total current from usb is about 2A.
Display shows 3503mAh and 3172mA




Adding a 0.5ohm resistor to simulate a long cable or weak power supply made the current drop to 0.5A and then do a nice charge.
Display shows 3561mAh




M1: 33.3°C, M2: 34.0°C, M3: 35.4°C, M4: 34.3°C, M5: 33.3°C, HS1: 41.1°C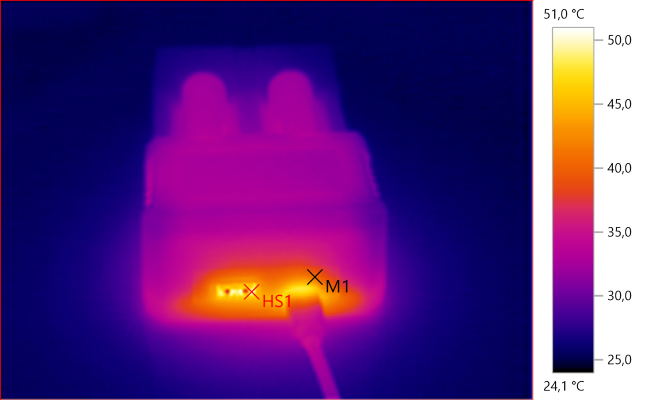 M1: 40.7°C, HS1: 51.0°C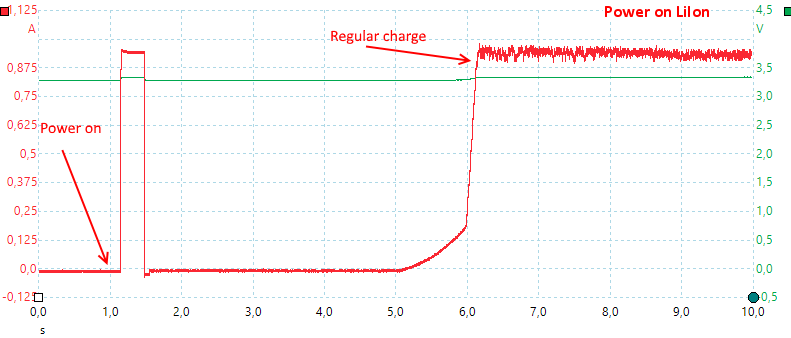 The charger need some time to start. The pulse at the start was only present sometimes, it must be because the charge circuit starts, before the micro controller is ready.





Testing LiIon



A test consist of charging the battery, the discharging while measuring capacity and finally charging it again. This type of test takes a long time.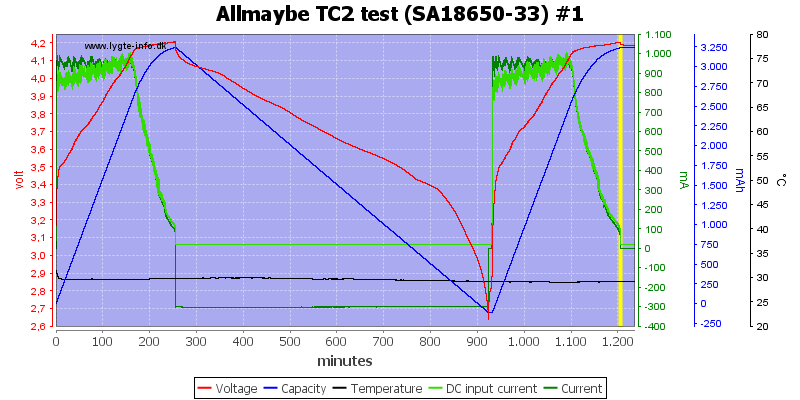 When testing the charge current is 1A on both slots, the discharge current is only 0.3A.
Display shows 3279mAh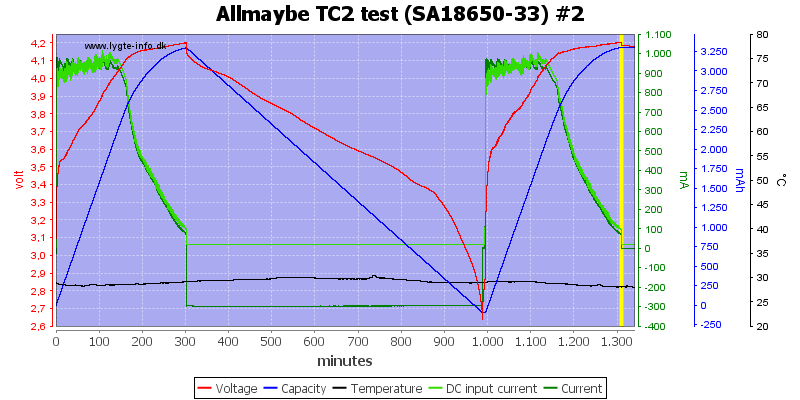 This channel looks the same.
Display shows 3375mAh




M1: 37.1°C, M2: 36.7°C, M3: 39.9°C, M4: 38.4°C, HS1: 47.4°C




M1: 43.1°C, HS1: 53.9°C






Charge NiMH



Charging current is 0.5A for AA/AAA NiMH in either or both slots, C/D sized cells will use 2A in slot #1 and 1A in slot #2.




The charge curve is a -dv/dt charging, there is a trickle charge of about 25mA
Display shows 2158mAh




Second slot is similar.
Display shows 2130mAh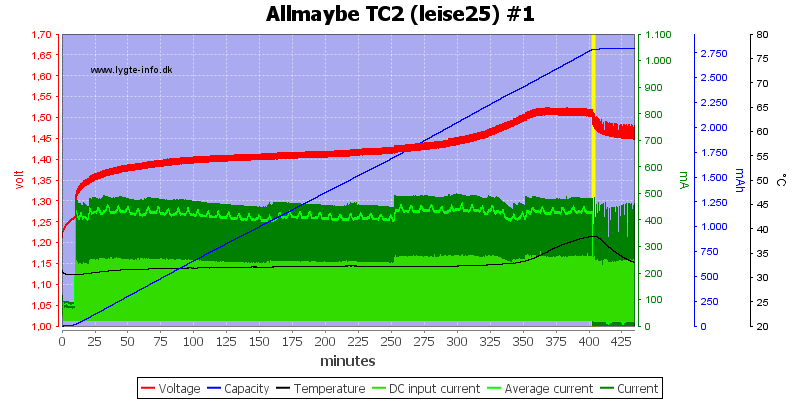 The two high capacity cells are handled nicely.




The 0.5A charge current is fine for a AAA cell and easy to terminate on.




It takes some time to terminate on a full cell, due to the low precharge current and -dv/dt termination.




Two cells are charged at the same speed as on cell and need about 0.5A from usb,
Display shows 2144mAh and 2202mAh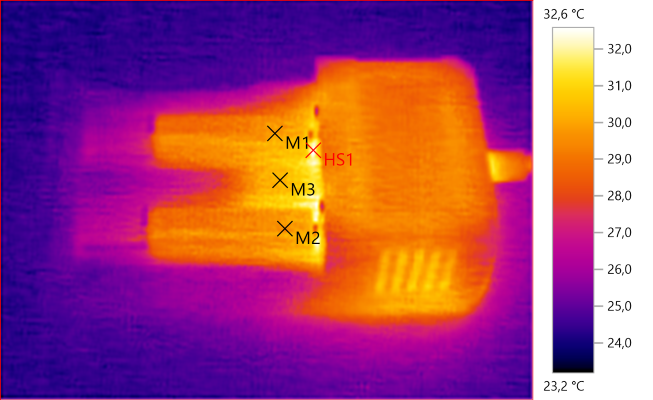 M1: 29.9°C, M2: 29.3°C, M3: 30.0°C, HS1: 32.6°C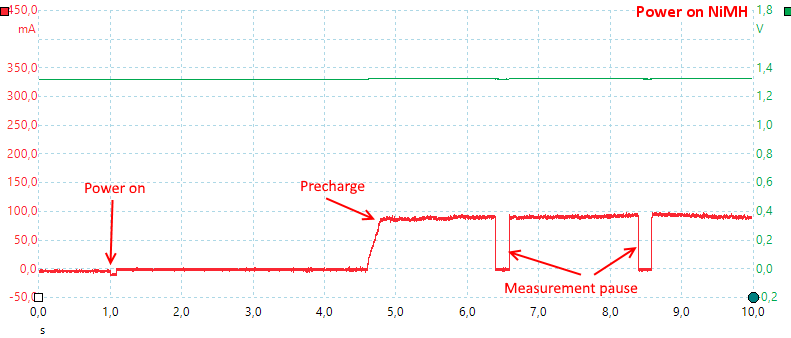 NiMH needs some time to start and then it starts with a precharge.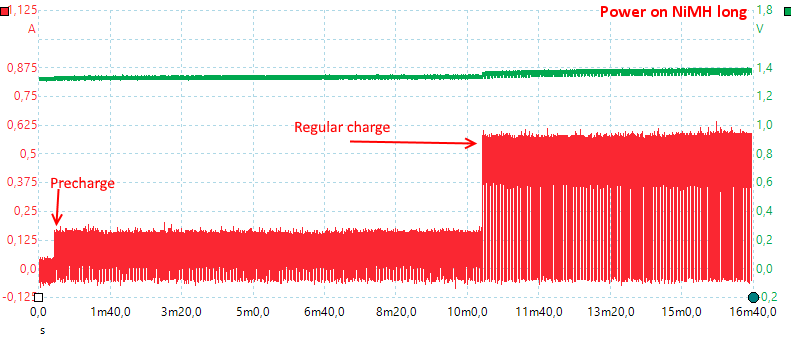 This precharge takes 10 minutes, before the regular charge kicks in.




Trickle charge is done with a 0.5A pulses every 20 seconds.





Testing NiMH



A test consist of charging the battery, the discharging while measuring capacity and finally charging it again. This type of test takes a long time.




When testing the charge current is 0.5A, the discharge current is only 0.3A.
Display shows 1922mAh




Second slot looks similar.
Display shows 1970mAh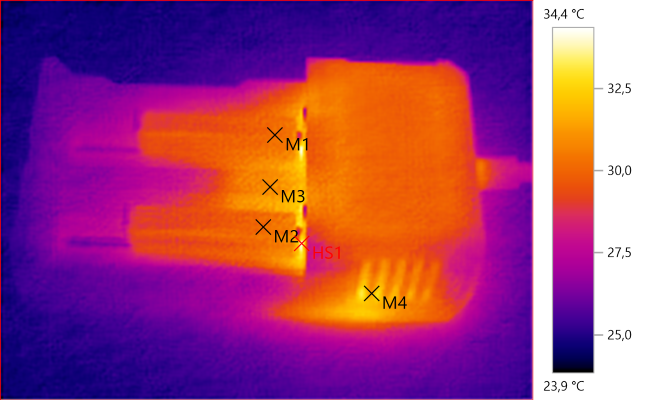 M1: 30.2°C, M2: 30.1°C, M3: 31.0°C, M4: 31.4°C, HS1: 34.4°C





Usb output



Usb output is coded as usb charger (DCP)
Usb output will turn off when current it below 80mA for about 1 minute.
Usb output will turn off immediately when current is zero
On the power bank slot it will discharge with about 1mA.
Usb output will not deliver current when usb input has power.
The led (CH2) is on while the usb output is active.


The usb output can deliver 1.4A before the voltage starts dropping, this is a bit high for a 1A output, but acceptable.




With a 0.5A load the usb output looks good for about 3½ hours.




One hour do also looks good for most of the time, there is some trouble with maintaining the voltage when the battery is nearly empty




The noise is 23mV rms and 205mVpp.





The noise is 42mV rms and 361mVpp.





Conclusion



The charger works fine for both LiIon and NiMH, it has a low current tricke charge on NiMH, this means it is best to remove batteries from it when it is finished.
There is no button for selection of charge current, it depends on battery length and slot used.
The testing function works fine to check capacity of batteries, but as usual it is not fast to do this check.
The power bank function only uses one cell, this means the current is limited to about 1A.





Notes



Here is an explanation on how I did the above charge curves: How do I test a charger