Charger Duracell 4h CEF14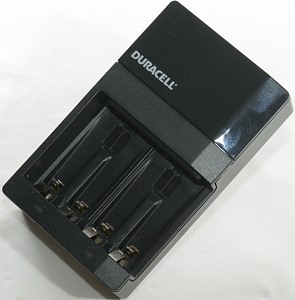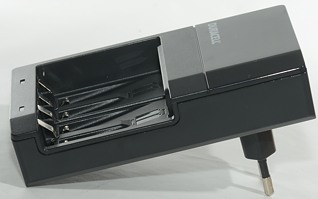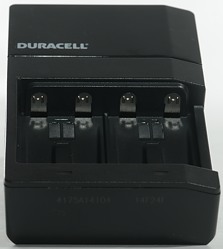 Duracell has broad selection of batteries and do also have the chargers to charge the rechargeable types.
I bought this charger from duracelldirect.dk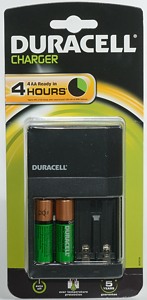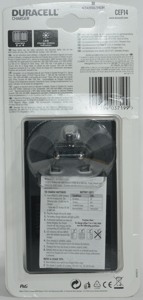 I got the charger in a blister pack. As can be seen on the pack the charger needs 4 hours to charge batteries.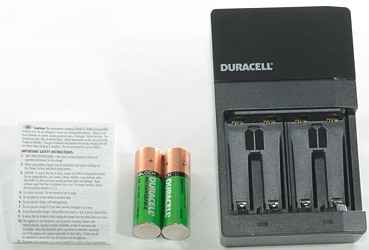 The pack contained the charger, a instruction sheet and some low capacity batteries.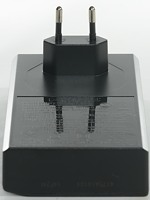 The charger is designed with a EU plug.





The only user interface is two red leds, one for slot #1 & #2 and one for slot #3 & #4, i.e. the charger can only charge two or four batteries at a time.
The led is red while charging and will flash on error. When charging is done they turn off.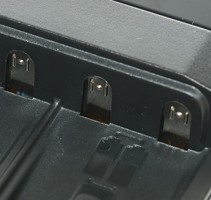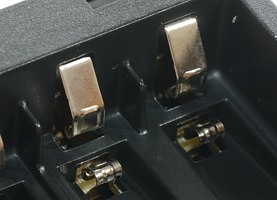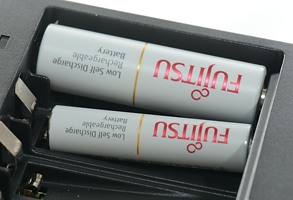 The charger has the typically two level slots used for AA and AAA batteries.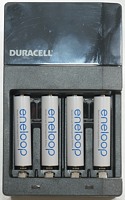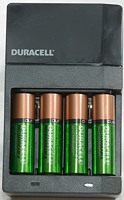 Measurements charger
When not powered it will discharge the battery with less than 1uA
Steady red light is charging.
Charge will restart charging after power loss, or battery insertion.
Power consumption when idle is 0.42 watt
Can only charge in pairs.


The two batteries are filled up and a bit more, the charger is on the slow side to detect when the batteries are full.
The 4 hours charge time did not work here, it took a bit more than 6 hours.




Same with the other channel.




The charger reported error with these cells and did not charge them fully.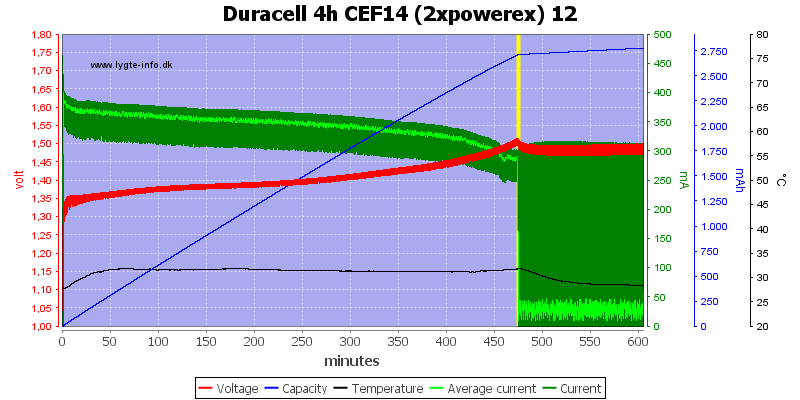 The powerex was stopped just about when they where full.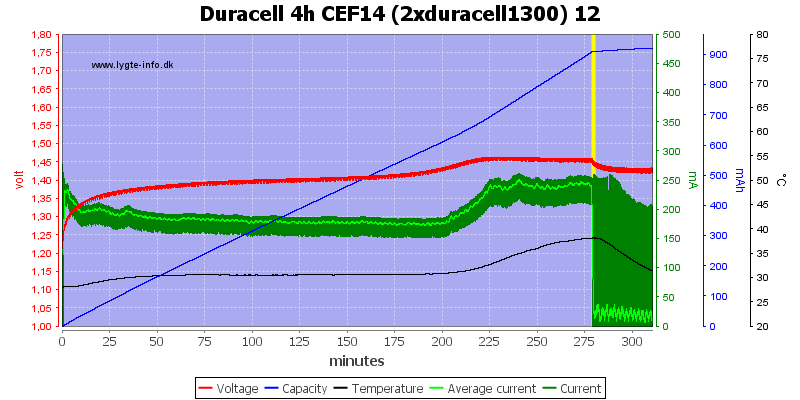 The supplied batteries was 1300mAh (See review) and here the charger could nearly charge in 4 hours. It needed 4½ hour, but if it had terminated when the batteries was full or had used full charge current, it would have been 4 hours.




With AAA cells the current is reduced and the charger reported error during my test run and terminated before the batteries was full.




The charger is not fast at detecting full cells, it used about 25 minutes.




Charge time is the same with 2 and 4 batteries in the charger.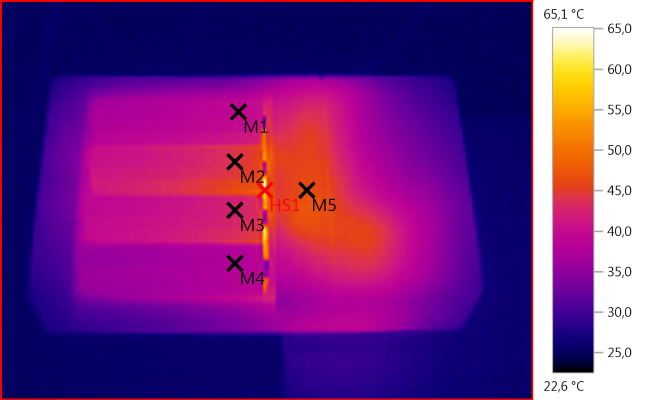 M1: 39,4°C, M2: 44,4°C, M3: 42,8°C, M4: 37,9°C, M5: 46,2°C, HS1: 65,1°C
Even with this low charge current the batteries are warmed by the charger.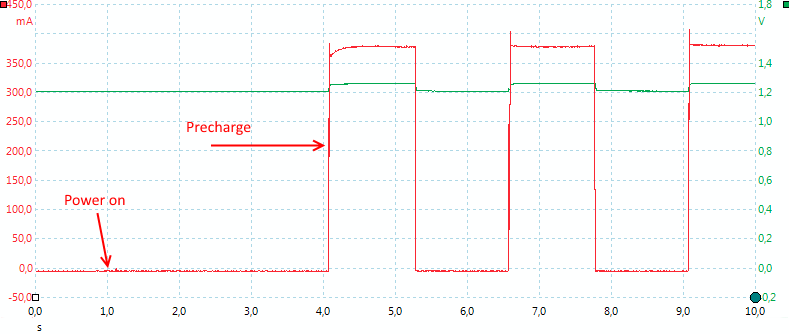 The charger need about 3 seconds from power is applied until it start charging.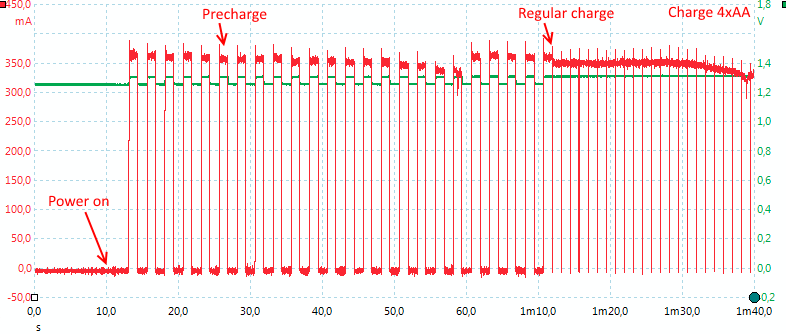 But the initial charge current is not the full charge current, after about a minute the full current is applied.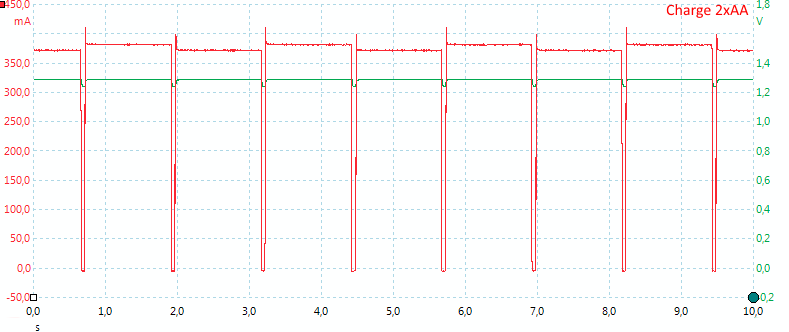 There is no difference with 2 to 4 cell charging.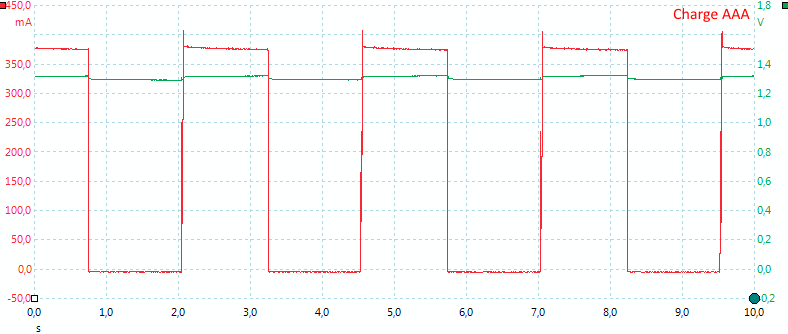 With AAA cells it will stay at the low charge current using pwm.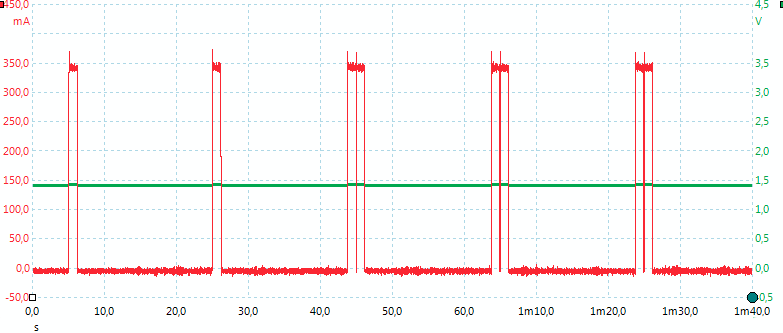 Trickle charging is done with pulses at full current, I wonder why they have different width.

Testing the mains transformer with 2500 volt and 5000 volt between mains and low volt side, did not show any safety problems.





Conclusion



This charger works best with batteries used in pairs, i.e. if all you equipment uses two or four batteries. I do not like chargers with that limitation, I prefer models that can handle each cell individually.
The charge speed on the package is nearly a lie, the 4 hours is only valid for some special low capacity batteries, for more normal batteries it needs 6 to 8 hours.
I also wonder why the charger failed to charge some of my cells.





Notes



Here is an explanation on how I did the above charge curves: How do I test a charger