Charger Enova All-41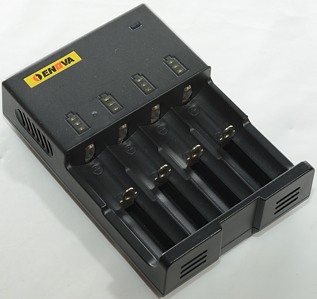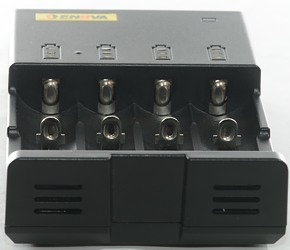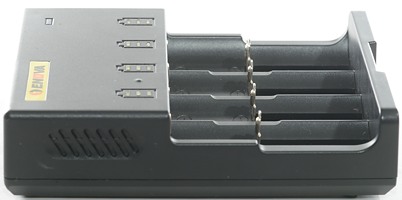 Enova has a long line of chargers with 2, 4 and 8 channels. This review is about one of the 4 channel chargers. The charger can charge both LiIon and NiMH batteries, it has 3 leds for each battery to show charge state.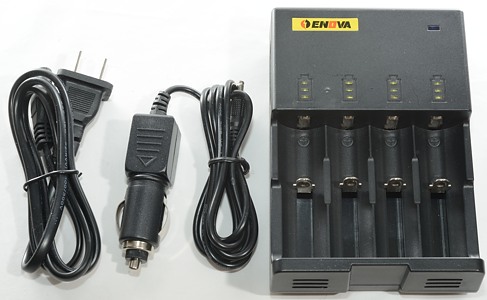 I got the charger without any box.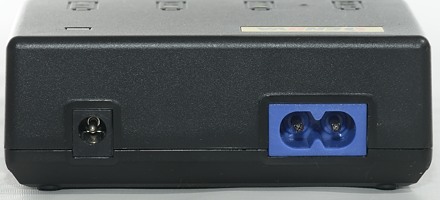 The charger can be supplied directly from the mains or with 12V power.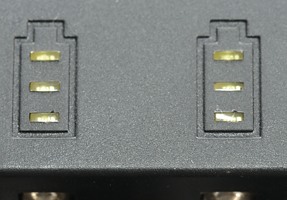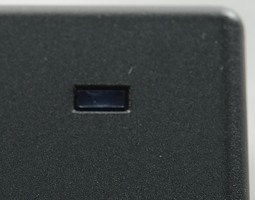 There is 3 leds to show charge state, while charging one of the is flashing. All 3 will be steady lit when the battery is charged full.
In the upper corner there is a blue led to show that the charger has power.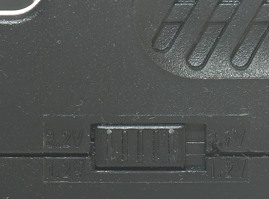 Very discretly placed on the side of the charger is a switch to select between 3.6 volt and 4.2 volt charging.
I do not like this switch, I would prefer a much more visible indication of charge voltage on the top of the charger.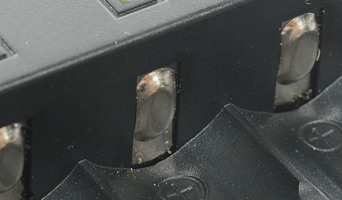 The battery slots are the usual construction and works acceptable, even though they do not have a metal rail.
It can handle batteries from 30mm to 69.1mm, this excludes the longest protected 18650 and 26650 batteries.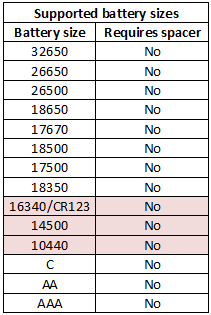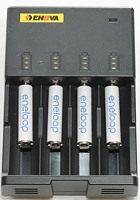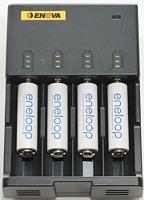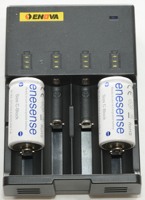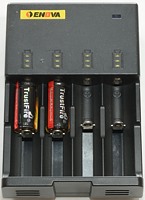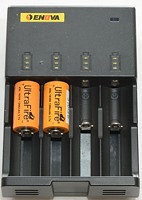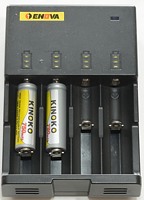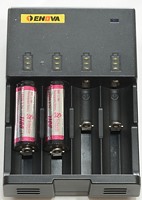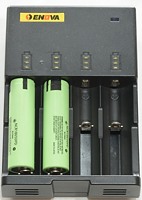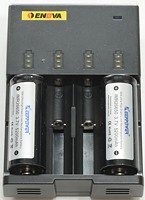 The charger can handle 69.1 mm long batteries including flat top cells.
The current is too high for 10440 cells.
With 16340/14500 it is possible to charge two at a time in slot #1 and #3 (They must be equally discharged), but for a single cell the current is to high.





Measurements



The charger will charge with 0.5mA from 0 volt and all the 3 leds will flash.
At 0.75 volt regular charge current will be applied.
Above 2.0 volt charger assumes LiIon battery.
Charger will not restart if voltage drops.
Charge will restart charging after power loss, or battery insertion.
When not connected to power it will drain about 1.3mA from a LiIon battery, but only 0.3mA from a NiMH battery.
When mains powered the charger has two charging circuit, they are shared between four slots (One circuit for slot #1 and #3, the other for slot #2 and #4).
When a battery is full the charging current will be used for the other slot in the group.
LiIon charge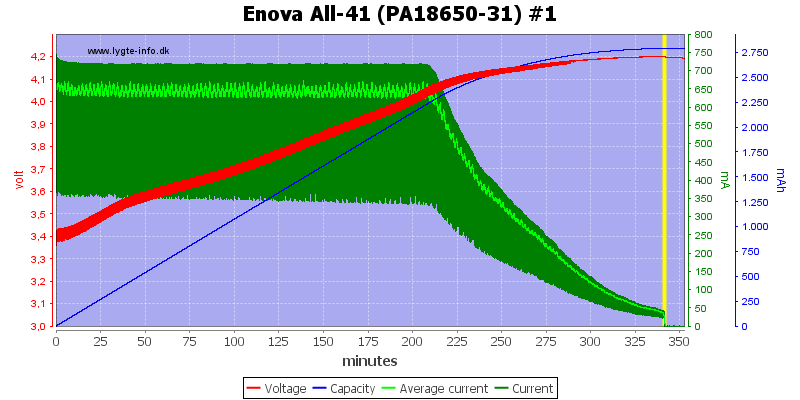 Nicely simulate CC/CV charge profile with a 50mA termination.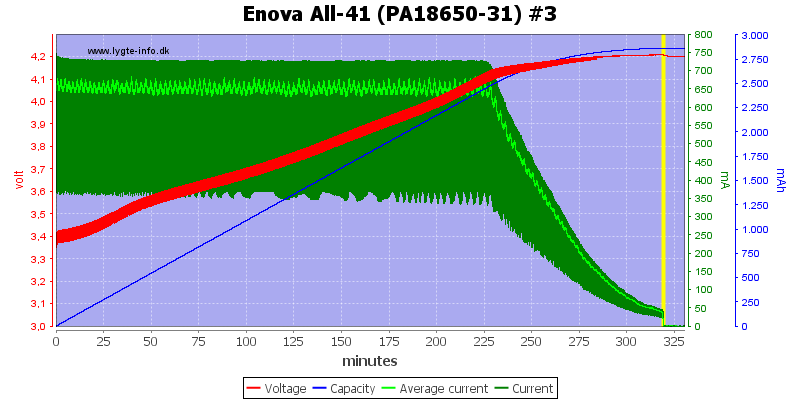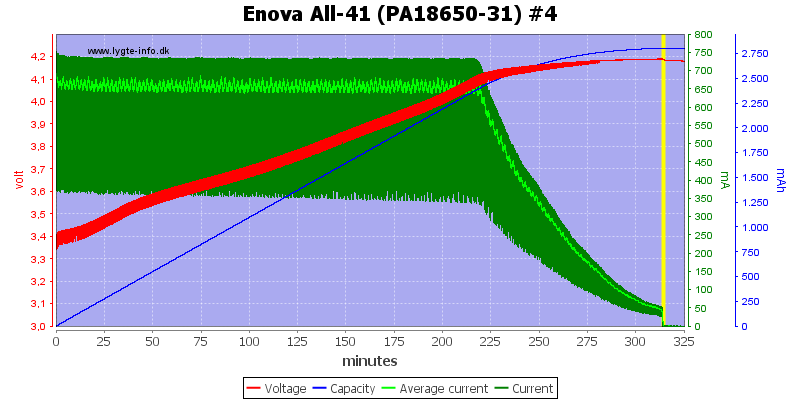 The other 3 channels works the same way.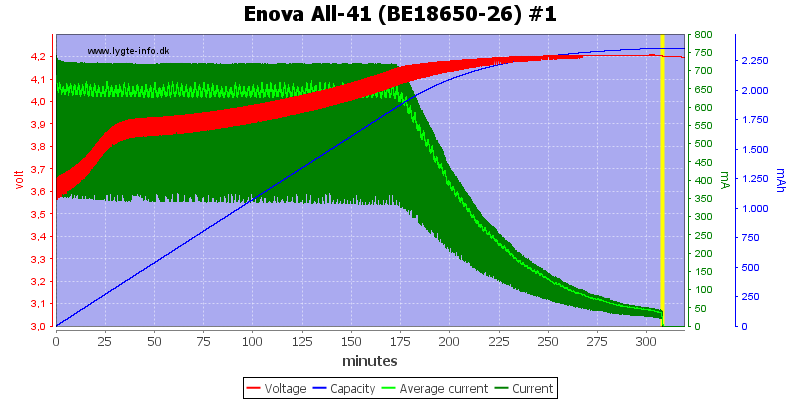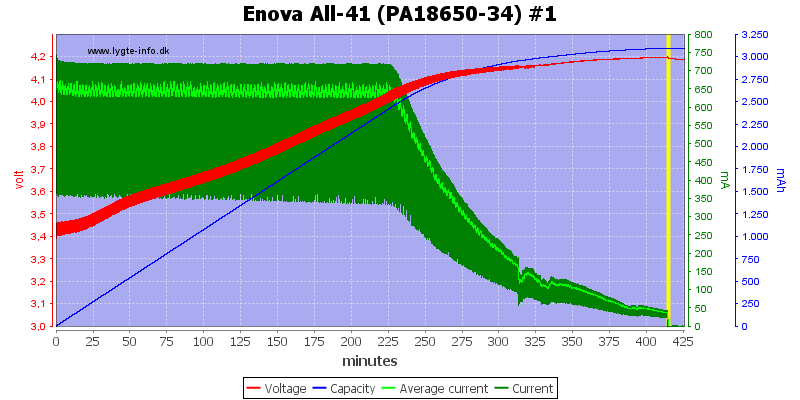 The two other batteries does also charge fine.




My old 16340 cell is handled without any problems.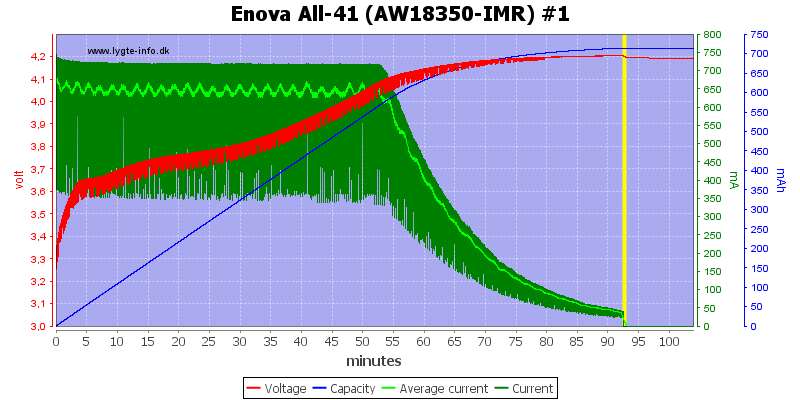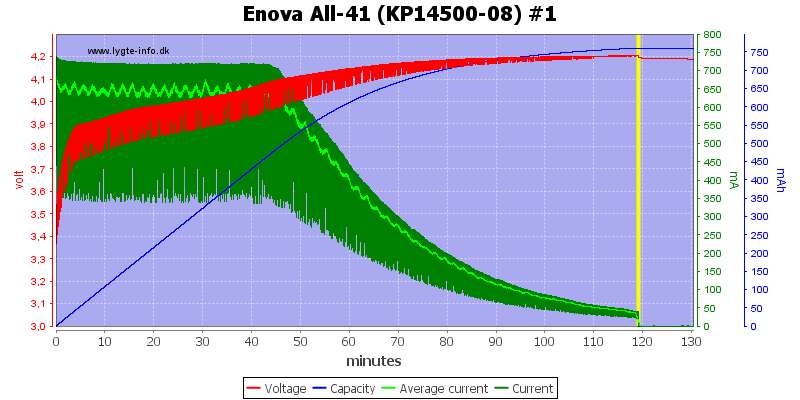 Same with the two other cells.




With four batteries the charger will only charge with half speed, because each charge circuit has to charge two slots. This means about 10 hours to charge 4 3100mAh batteries.




The charger needs about 800mA when powered from 12V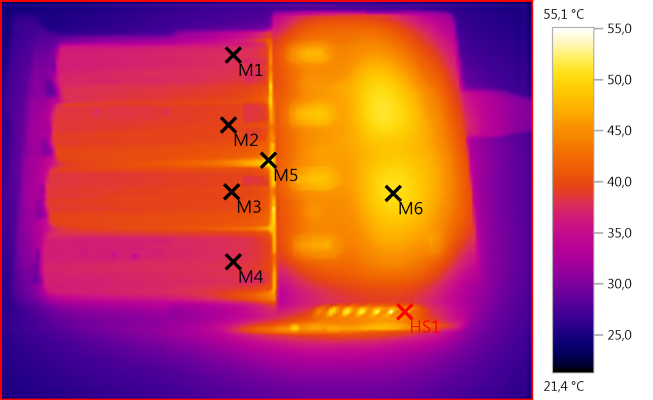 M1: 37,8°C, M2: 39,5°C, M3: 39,7°C, M4: 38,1°C, M5: 49,6°C, M6: 50,7°C, HS1: 55,1°C
The charger gets fairly warm, even with this low charge current, but nothing serious.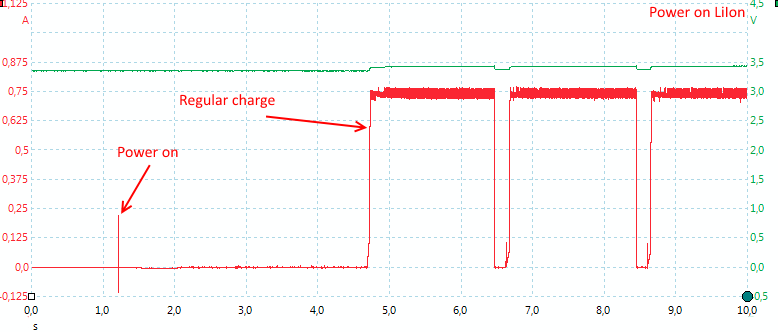 The charger starts in about 3 seconds.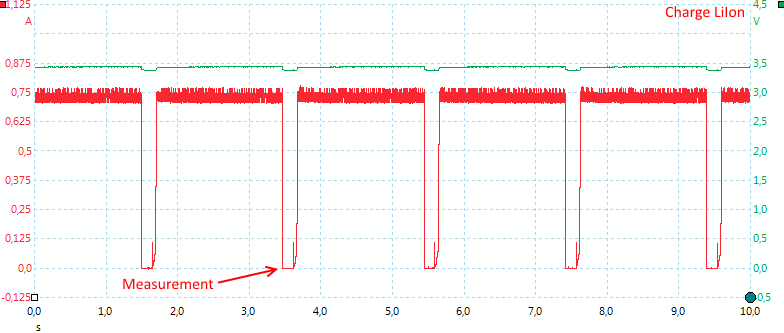 When charging it is turning the current off at regular intervals to measure the voltage.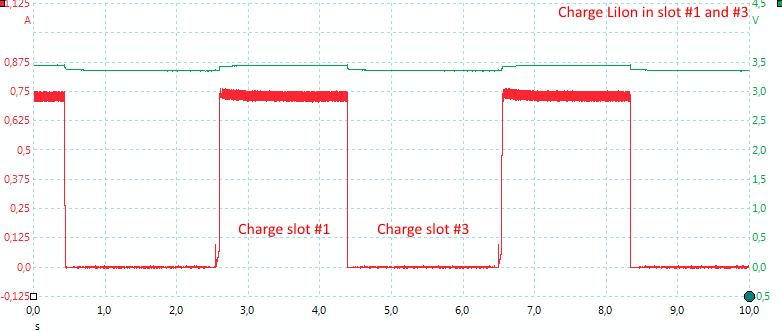 With batteries in both slots for that charging circuit it will switch between the two batteries that shares a charge circuit.





LiIon LiFePO4 charge



With a very discrete switch on the side of the charger, it is possible to select between 4.2V and 3.6V charging.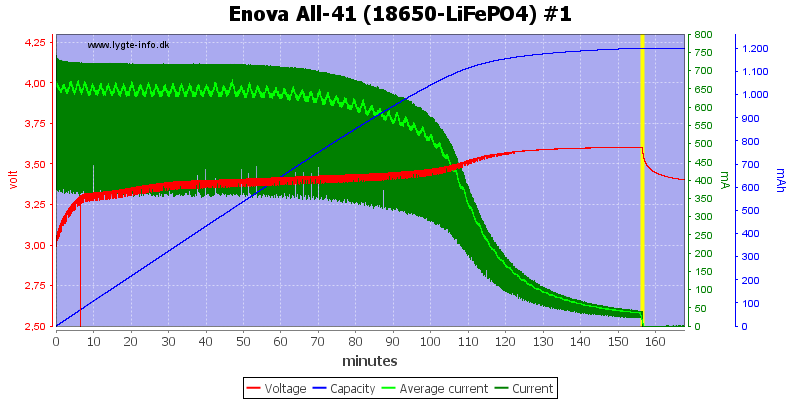 This looks like a good simulated CC/CV charge curve for LiFePO4.





NiMH charge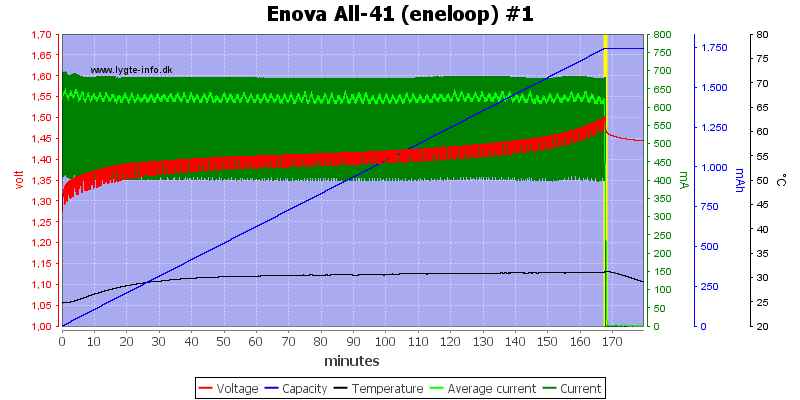 With NiMH charging the chargers stops on maximum voltage, i.e. slightly before the batteries are full and it does not add a top-off or trickle charge.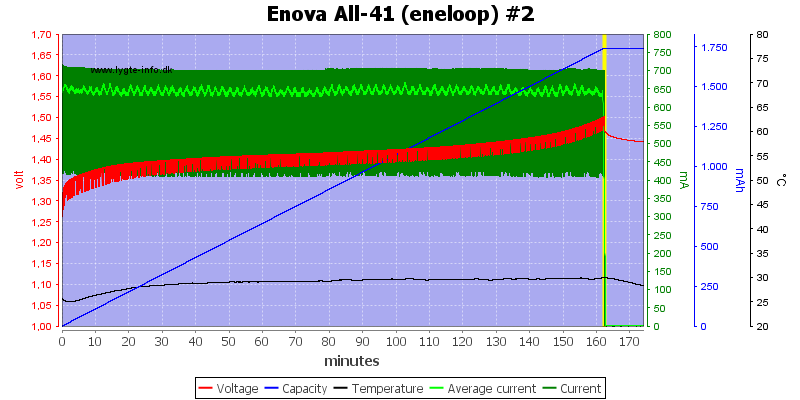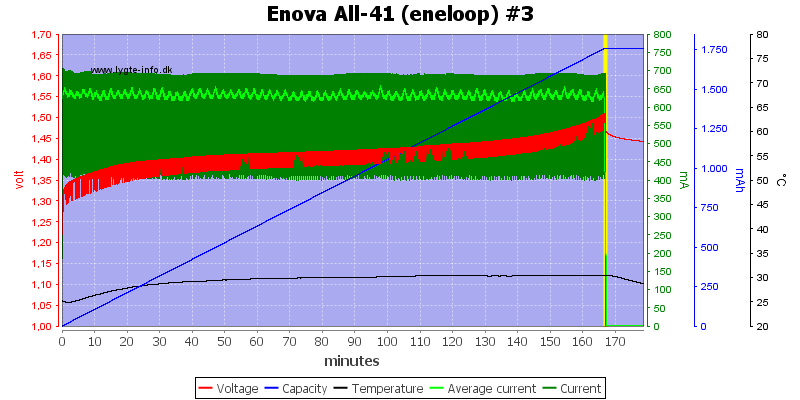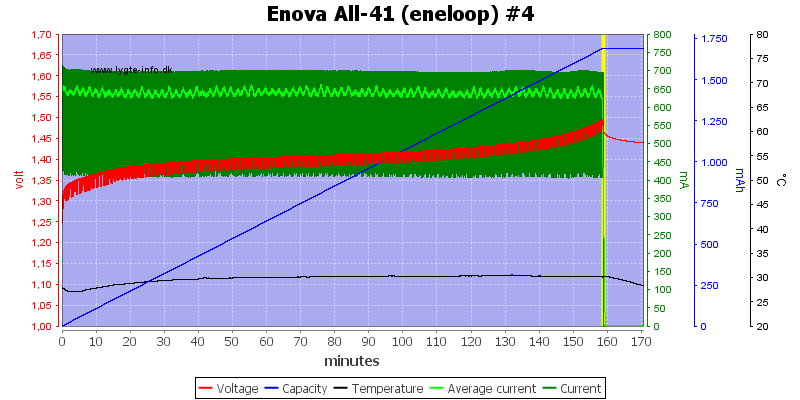 All channels works the same way.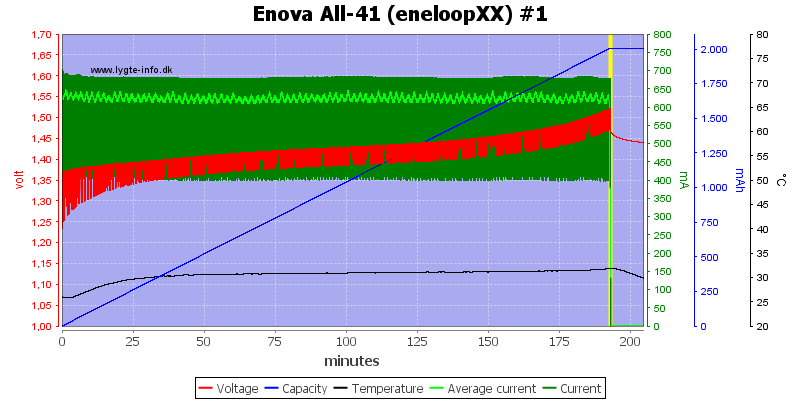 The XX is significantly undercharged.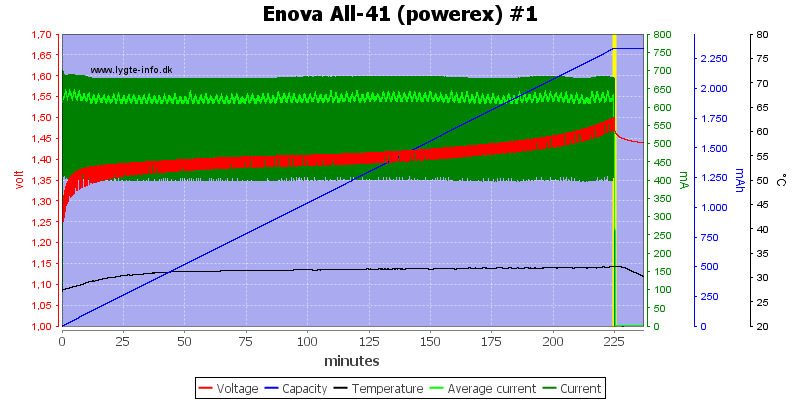 It works better with the powerex.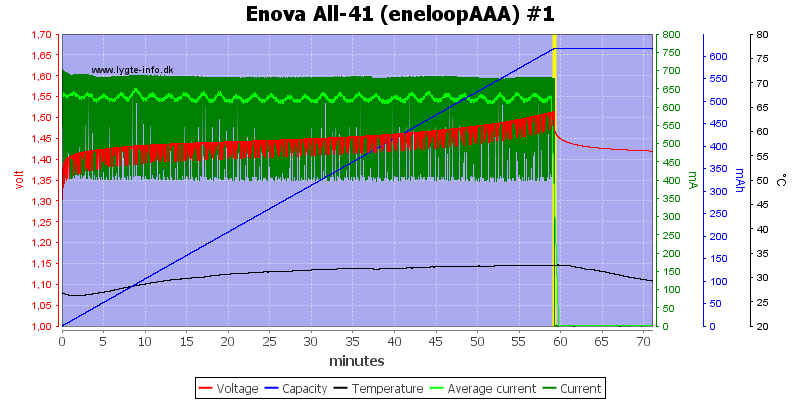 The AAA is also slightly undercharged.




With a maximum voltage termination it is fairly fast to detect a full battery.




No problem with four batteries. Notice the current jump in average current just before termination. This is because the other slot finished first and then the full charge current is used on this slot.




For charging NiMH it needs about 500mA from a 12V power supply.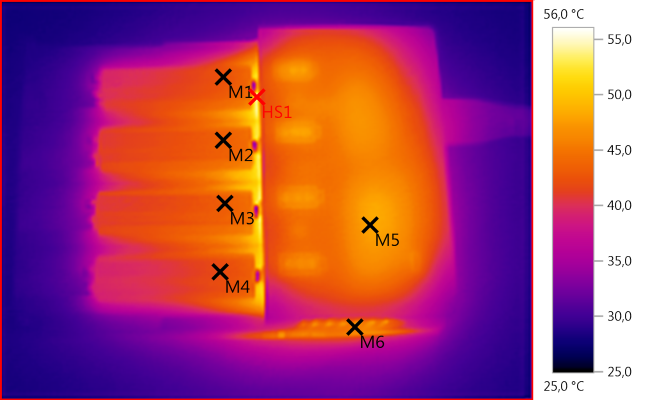 M1: 42,5°C, M2: 43,4°C, M3: 43,3°C, M4: 41,9°C, M5: 48,0°C, M6: 45,9°C, HS1: 56,0°C
Considering the low charge current, it gets fairly warm.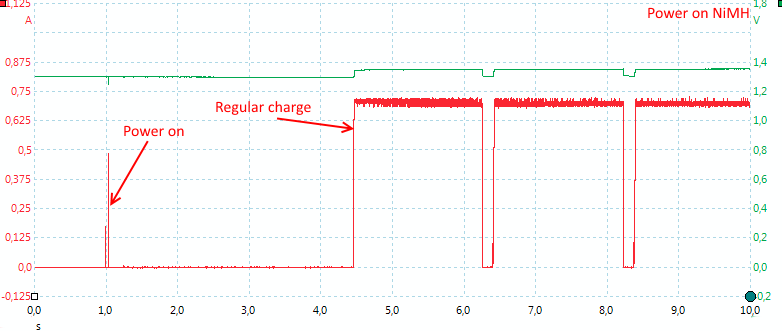 NiMH also starts in 3 seconds.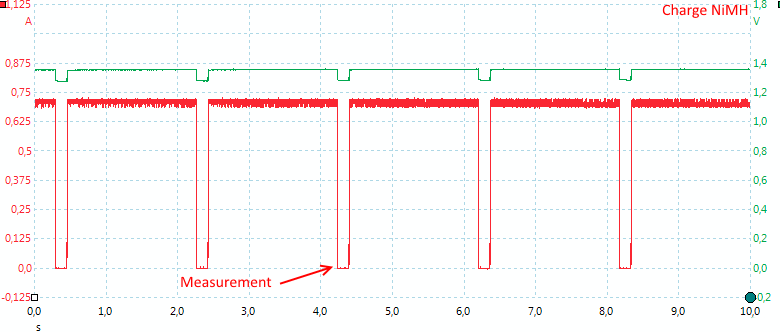 NiMH does also use measuring pauses.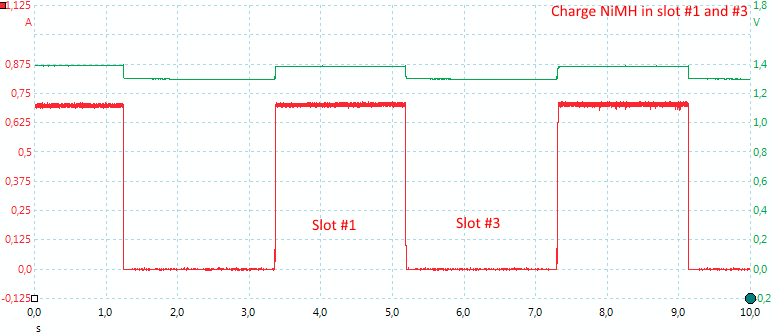 And the charger will split the charge current between two slots.





LiIon & NiMH mixed charge



The charger supports charging a mix of NiMH and LiIon batteries at the same time.




The NiMH takes the same time to charge as above.




With a mix of LiIon and NiMH, the NiMH will finish first and the LiIon may change to full charge current.


The charger passed a isolation test with 2500 volt, but failed a 5000 volt test, this makes the charger acceptable for 110VAC usage, but doubtful for 230VAC usage. Usage with 12 volt (in a car) is, of course, always possible and safe.





Conclusion



It requires a lot of patience to use this charger with four batteries, but it does a good job on LiIon and LiFePo4 batteries and an acceptable job on NiMH.
I do not like the nearly invisible LiIon/LiFePO4 switch.




Notes



The charger was supplied by Enova for a review.

Here is an explanation on how I did the above charge curves: How do I test a charger