Charger Folomov A4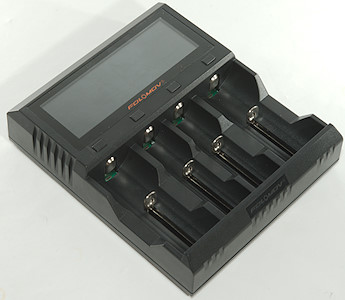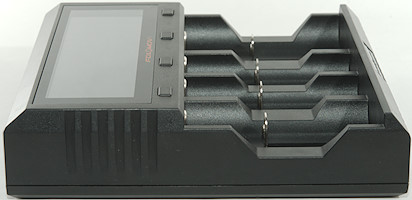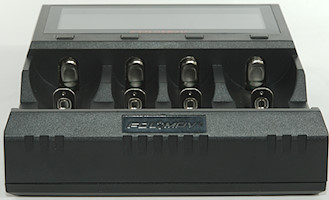 Folomov is new on the charger market and has started with some fairly powerful chargers. This is a four slot charger that can charge with up to 3A, but also charge with low current for small cells.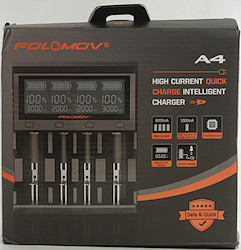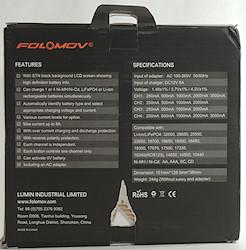 The cardboard box lists lot of specifications, battery types and features.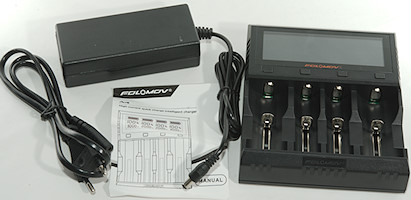 The box contains the charger, a power supply and a instruction sheet.





The charger has one 12V input barrel connector.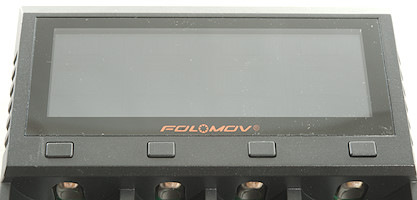 The user interface has four buttons, one for each slot and large display.
After putting a battery in a slot the current will flash for some time.
When flashing a short press on the slot button will change current in this sequence 250-500-1000-2000-3000-2000-500-250, holding down the button will change chemistry between LiIon and LiFePO4.
The user interface is slightly slow, i.e. a two fast presses is not detected.
I have one complain about the interface: When a current is changed for one channel, the adjustment time for that channel is extended, but not for the other channels, i.e. with 4 batteries in the charger you do not have time to adjust each slot in sequence, before the last slot starts. The solution is to put one battery in at a time and select current for it, then the next.





The display is fairly simple, each slot has a large animated (when charging) battery symbol, a chemistry text, a charge percent, the voltage and charge current.





Display during charge, the bottom line will change between current and voltage.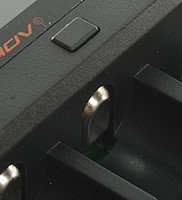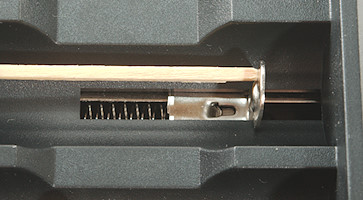 The slots uses the usual construction and works well. They can handle batteries from 29mm to 69.9mm long. The new 70mm cells are a very tight fit and very long protection 18650 will not fit.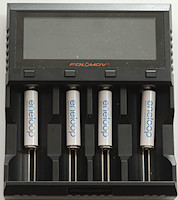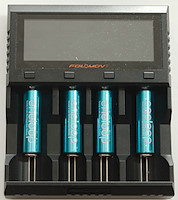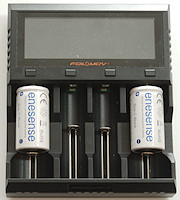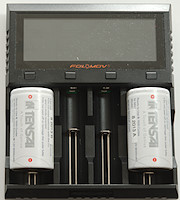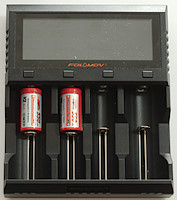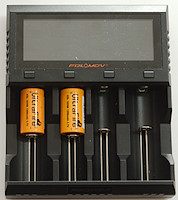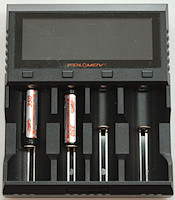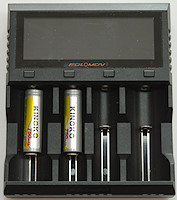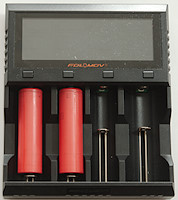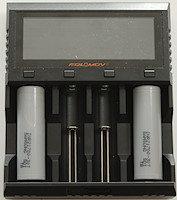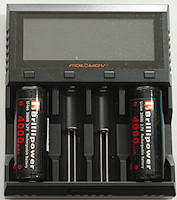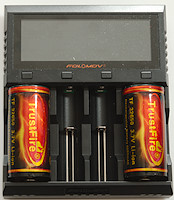 The charger can nearly handle 70 mm long batteries, there is no problems with flat top cells.





Measurements



Charger will charge a LiIon with 0.4mA when full.
Charger will discharge a LiIon with 0.25mA when not powered.
Charger will discharge a NiMH with 0.05mA when not powered.
Below 0.7V the charger will show "Er" and charge with about 3mA
Between 0.8V and 2V NiMH is assumed
Above 2.0V LiIon is assumed
Voltmeter is within 0.02V in the full range.
Voltmeter will stop updating when charging is stopped.
Charger will restart if battery voltage drops to about 3.9V.
Charger will restart if battery is removed or power is cycled.
Power consumption when idle is 1.05 watt



4.2V LiIon charging



Charge current can be selected from 250mA, 500mA, 1000mA, 2000mA and slot #1 and #4 can do 3000mA, but not when the charger is filled.




A nice CC/CV voltage charge curve with termination at about 100mA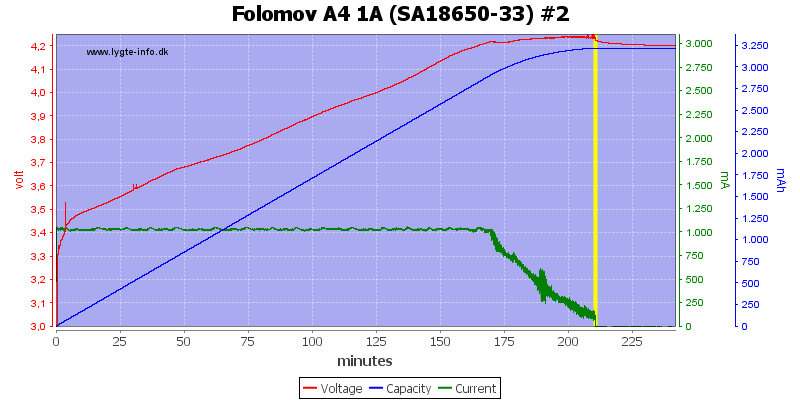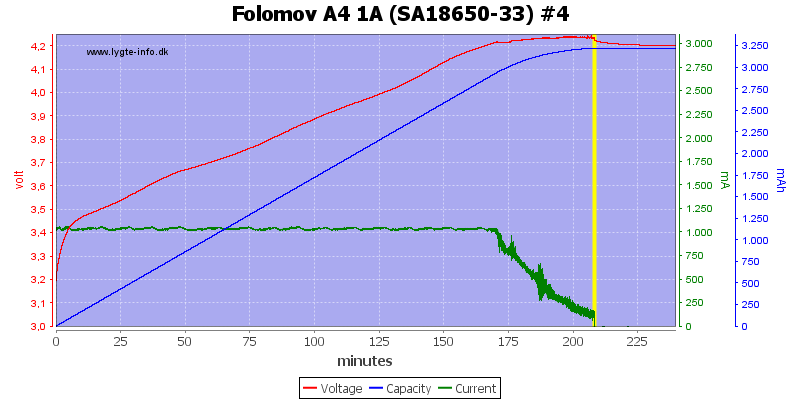 The other 3 channel is the same.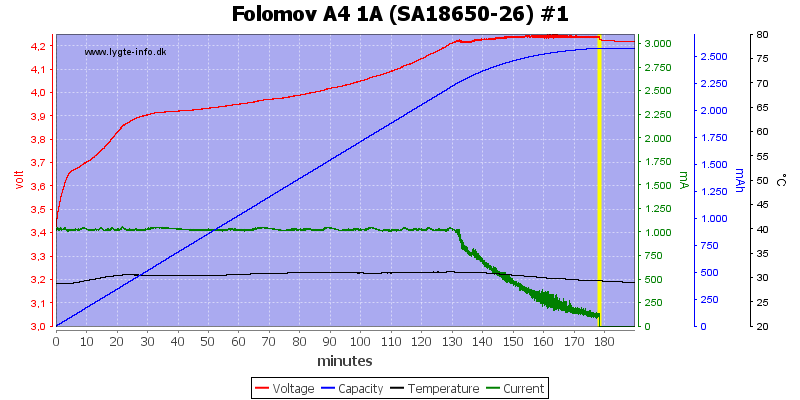 The two other capacities works fine.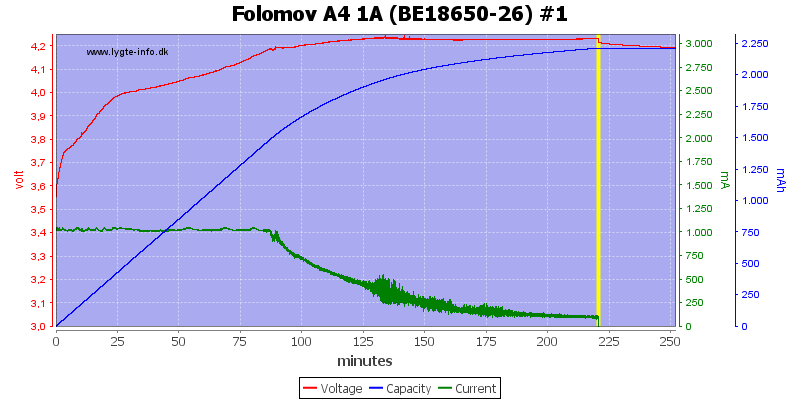 This fairly old cell is handled nicely at 1A charge current.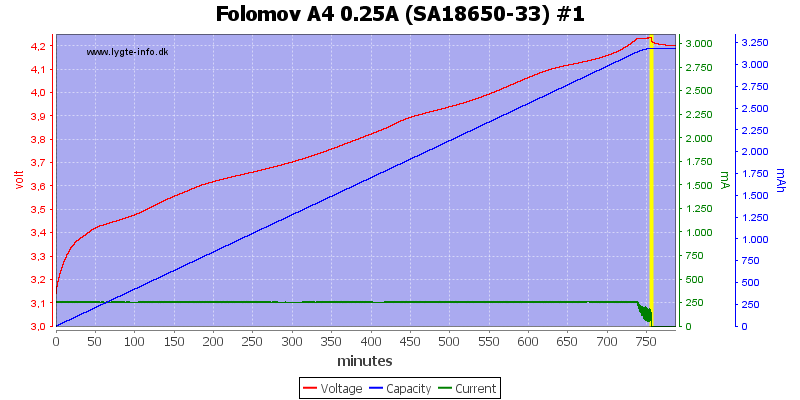 Charging with 0.25A also works fine.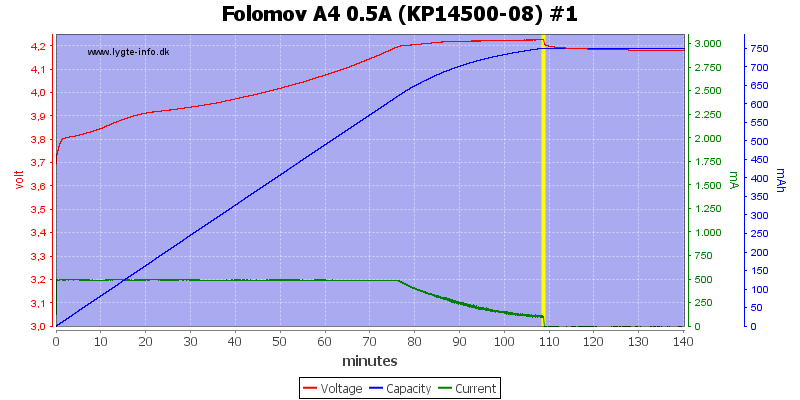 These two smaller cells I charged at 0.5A and it worked fine.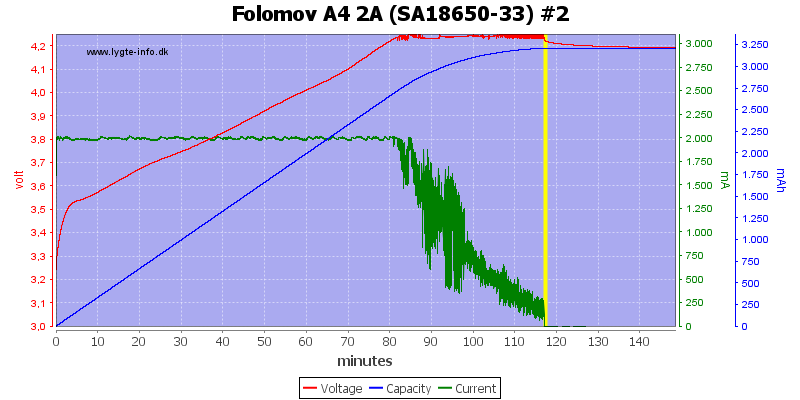 A 2A charge, termination current is about the same. The charger do not have perfect control of the CV phase, but it works fine.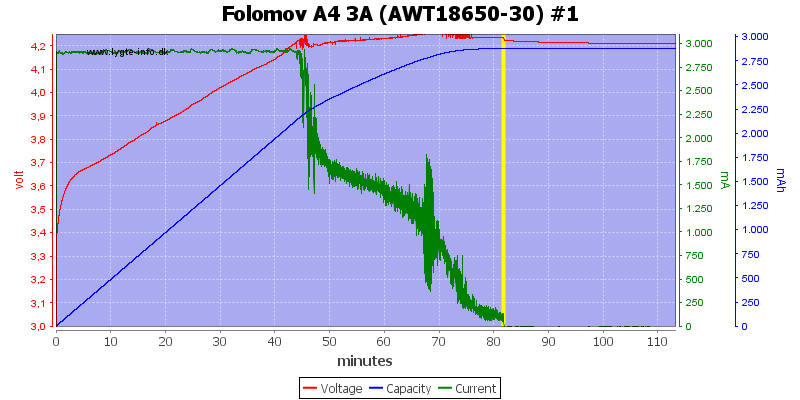 3A works the same way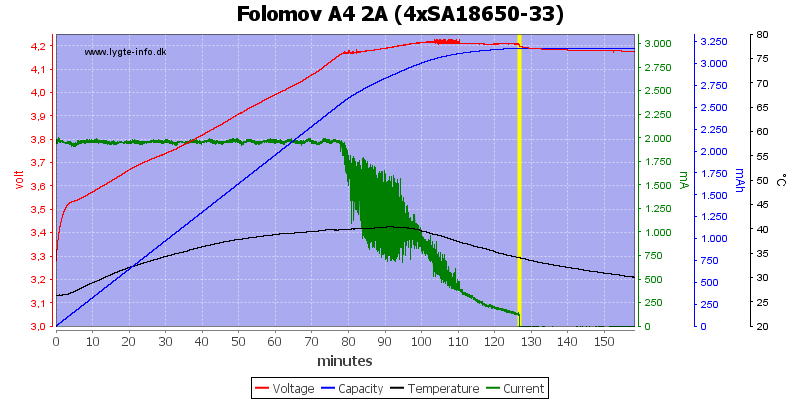 Four cells at 2A




When charging with a total current of 8A it needs nearly 4A from the 12V input.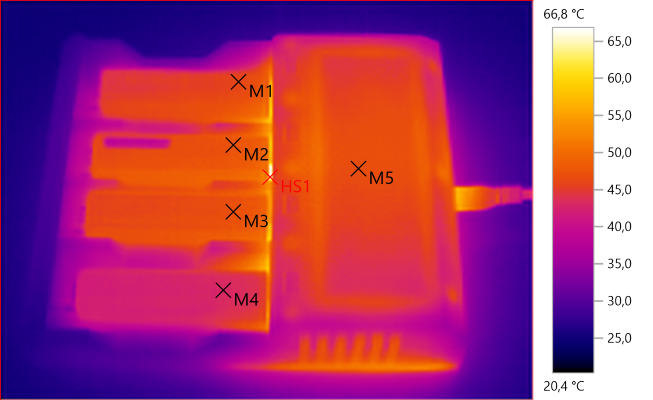 M1: 46,0°C, M2: 47,5°C, M3: 47,3°C, M4: 43,1°C, M5: 46,7°C, HS1: 66,8°C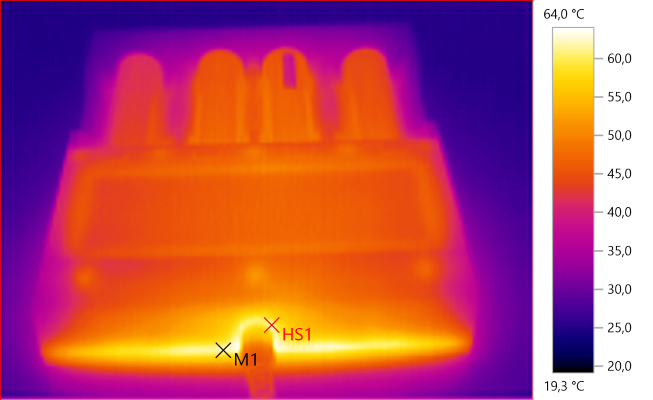 M1: 61,8°C, HS1: 64,0°C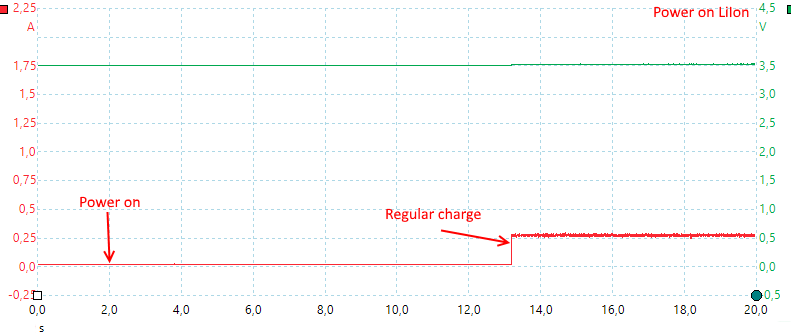 The charger takes about 10 seconds to start.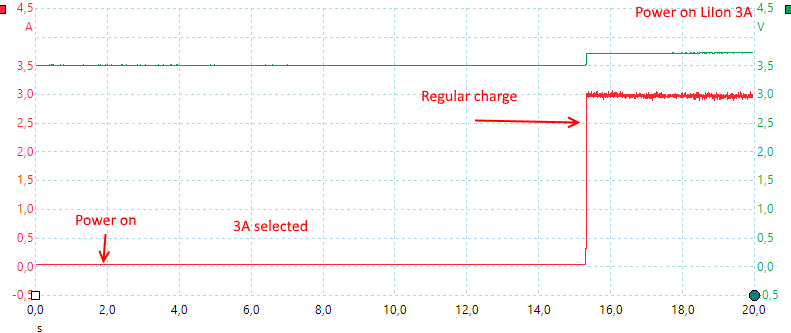 If the button is pressed during that time the current is changed and the time is extended.






3.6V LiIon charging (LiFePO4)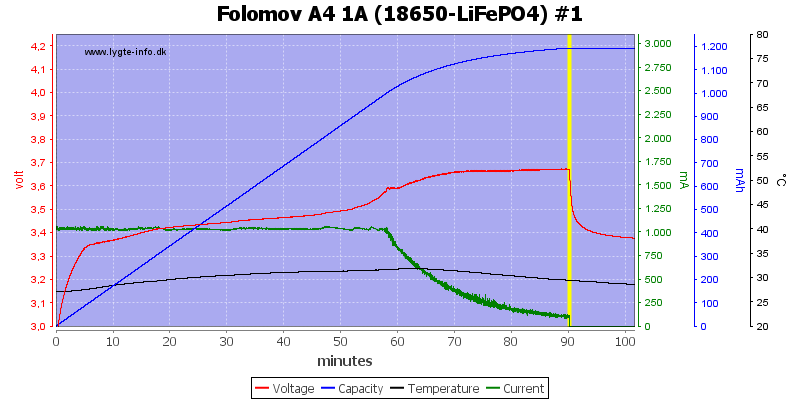 The LiFePO4 charge curves looks good.





NiMH charging



Charge current can be selected from 250mA, 500mA, 1000mA, 2000mA and for slot #1 and #4 3000mA




This is a voltage termination with no top-off charge and no trickle charge. This means the batteries will not be filled completely.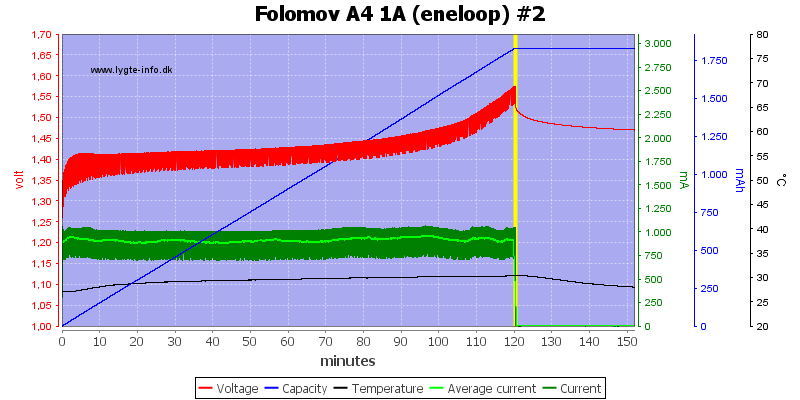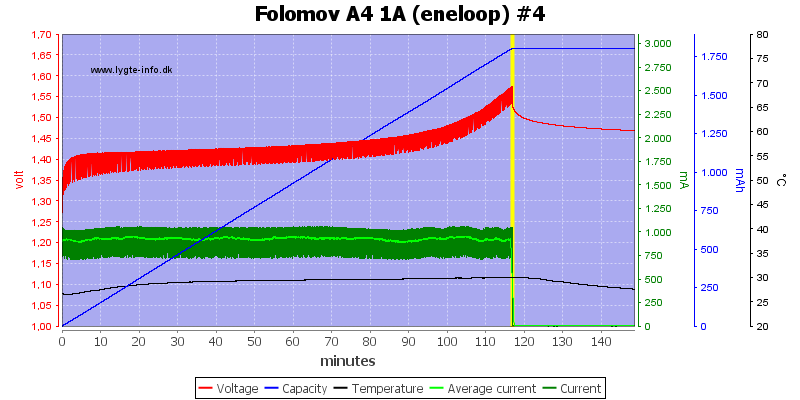 The other slots is the same.




The two high capacity cells works the same way.




The voltage termination also works fine at 0.25A.




Here with an AAA cell.




Voltage termination gives fast detection of a full cell.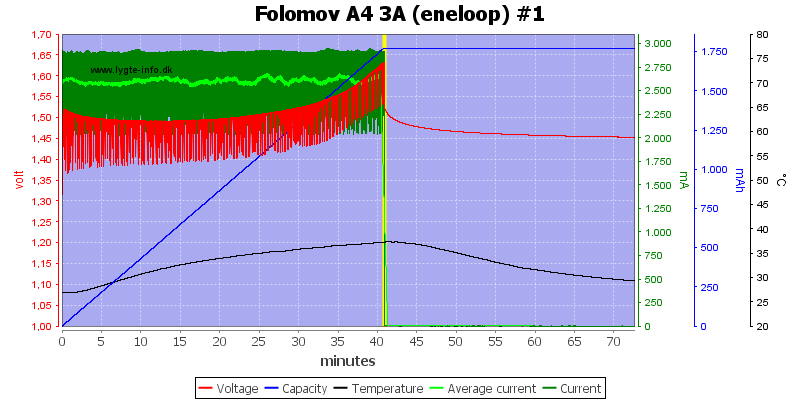 Fast charging at 3A.




With four cells the charger can do two cell at 2A and two at 3A.




For charging NiMH at maximum speed it needs about 2.5A from 12V, it is easy to see on the input current when the 3A charge is finished.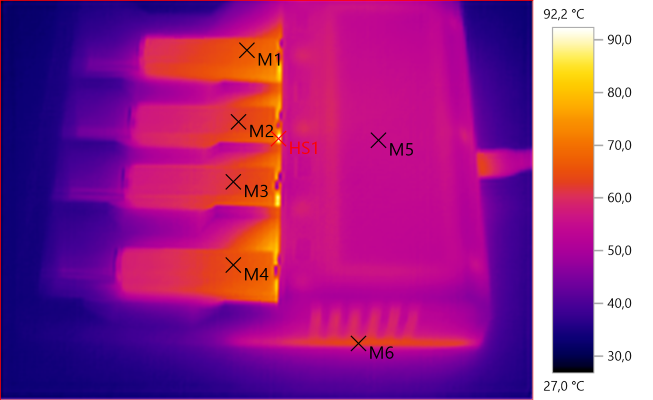 M1: 66,7°C, M2: 62,5°C, M3: 62,1°C, M4: 64,9°C, M5: 55,4°C, M6: 63,3°C, HS1: 92,2°C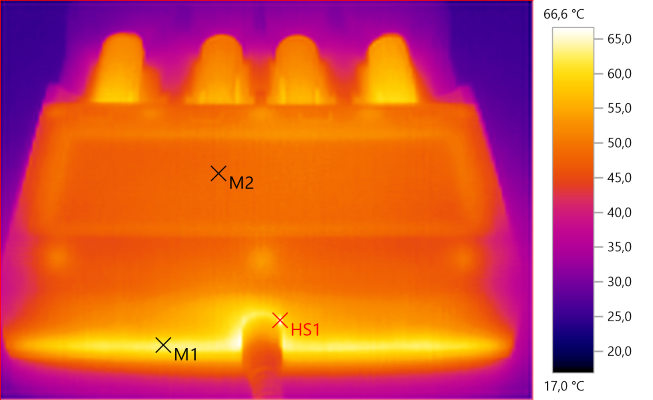 M1: 62,8°C, M2: 48,7°C, HS1: 66,6°C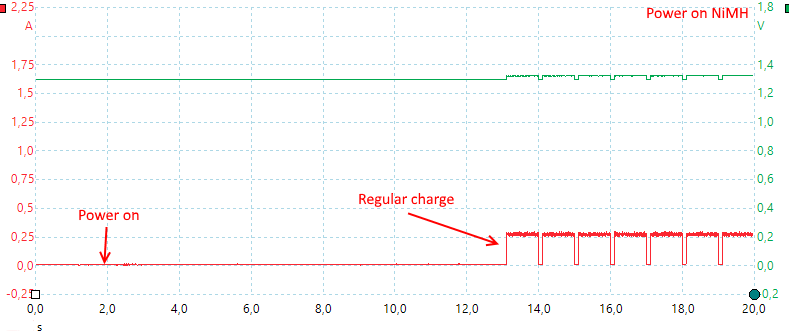 NiMH also needs about 10 seconds to start, the charger turns current off to measure voltage.




When adjusting the current the wait period is extended.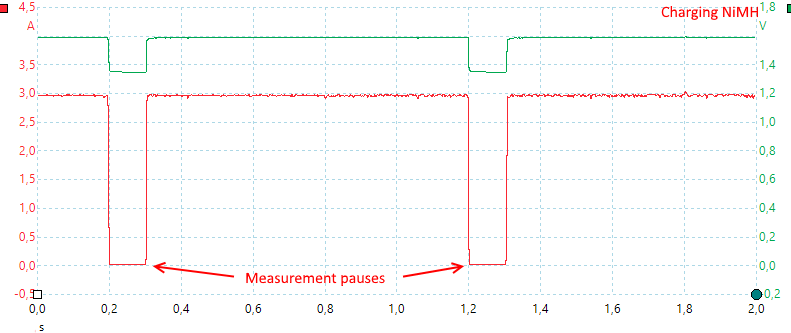 A closer look at the pauses, they are 0.1sec every second.


Testing with 2830 volt and 4242 volt between mains and low volt side, did not show any safety problems.





Conclusion



This charger may look a bit simple, but it has what is needed for charging two types of LiIon and NiMH and it can do it slow or fast, depending on what is needed. I like the simplicity of the user interface, but would have liked it a bit more responsive and a longer timeout when using it.
Because it terminates NiMH on voltage a one or two hour top-off charge would have been nice.

I will rate it as a good charger.





Notes



The charger was supplied by a Folomov for review.

Here is an explanation on how I did the above charge curves: How do I test a charger