ISDT A4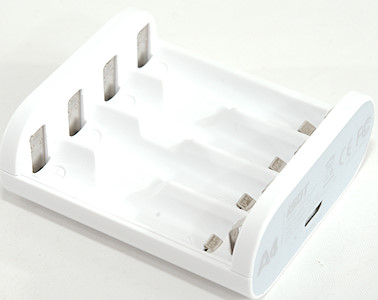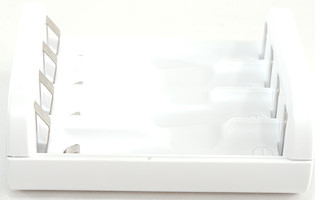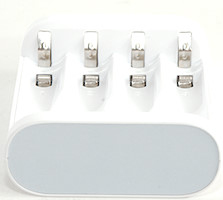 A very simple charger to look at from ISDT, but it can do more than the looks shows. It will charge NiMh, LiFePO4 and regular LiIon batteries in AA and AAA size.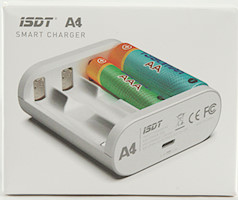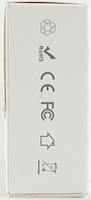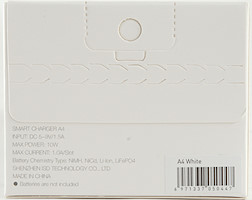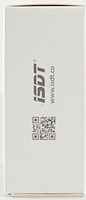 I got the charger in a cardboard box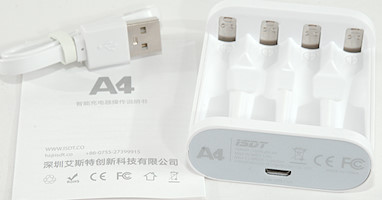 The pack included the charger, a usb cable and a instruction sheet.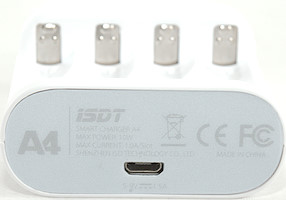 The charger is usb powered.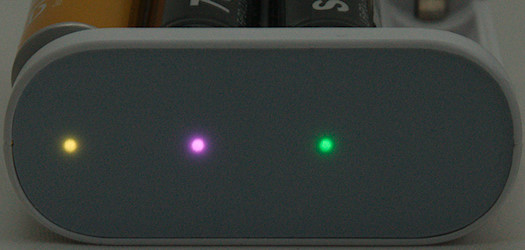 There is one multicolor led for each slot. The color and blink pattern are used to show chemistry and charge state:
Orange/yellow: NiMH
Purple: LiFePO4 or LiIon
Green: Charge done
Red: Error, number of flashes shows type.
Up to 25% charge: Single flash
25% to 75% charge: Double flash
More than 75% charge: Triple flash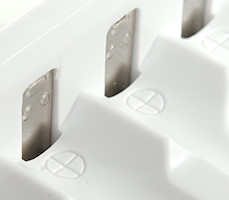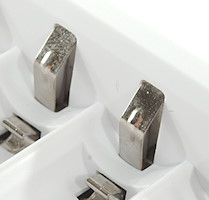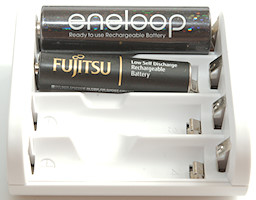 The charger uses the typical design with two level slots for AA/AAA batteries. This design limits its usability for LiIon, it will only work with button top unprotected cells. The plus pole will not connect to a flat top and the slot is too short for a protected cell.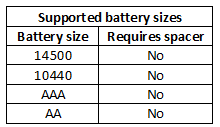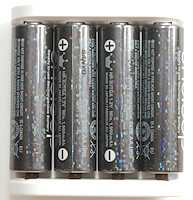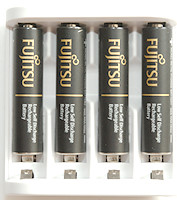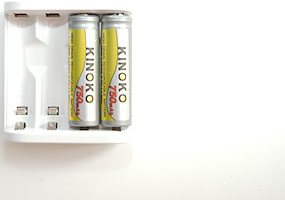 Only unprotected button top cells will fit.





Measurements charger



Power consumption when idle is 60mA from usb.
When charging the usb power draw is kept at 500mA or lower.
Without power it will not discharge a batteries with any significant current
Charging 4.2V LiIon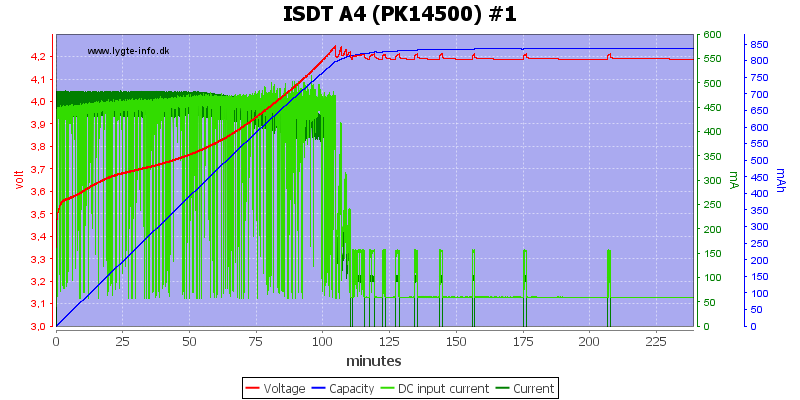 The charge current for LiIon is about 0.5A, but there is not much CC/CV shape in the charge curve, instead it trickle charges the battery to 4.2V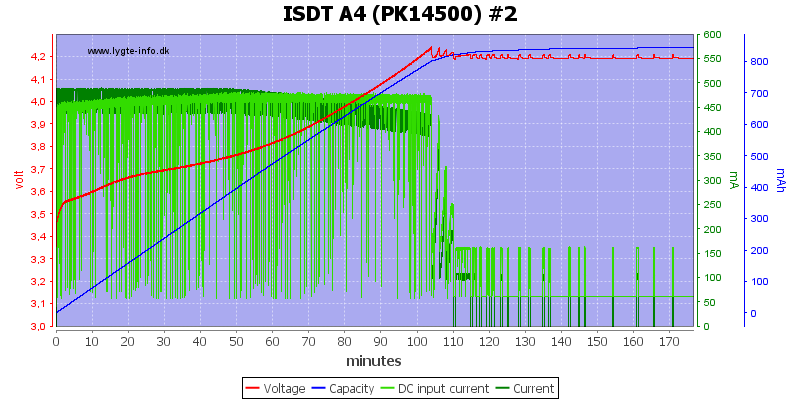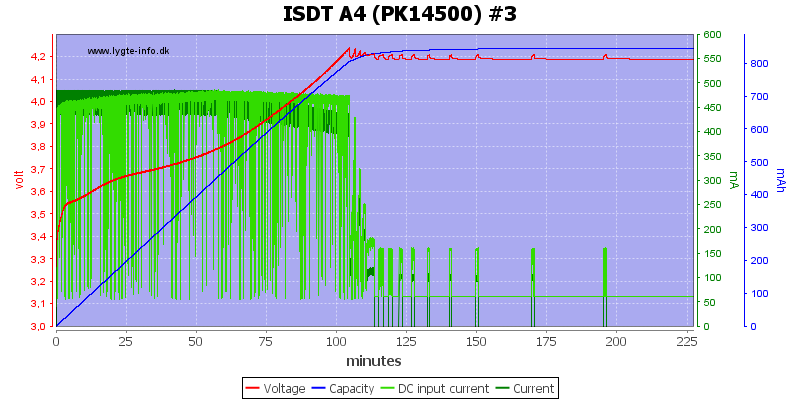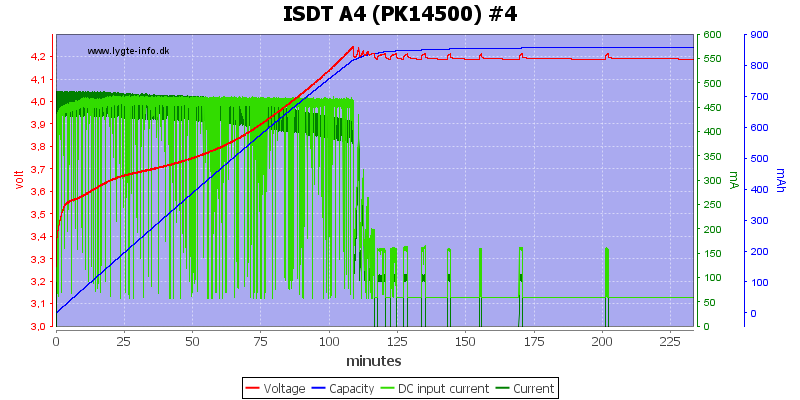 The other 3 slots look similar.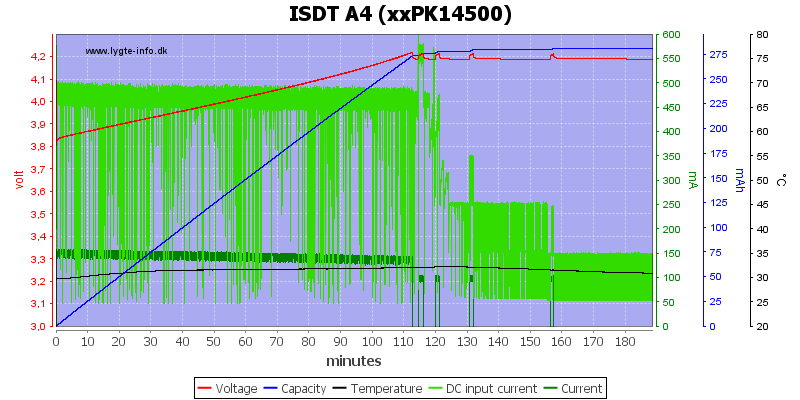 Here I put a few more batteries in the charger and the current dropped.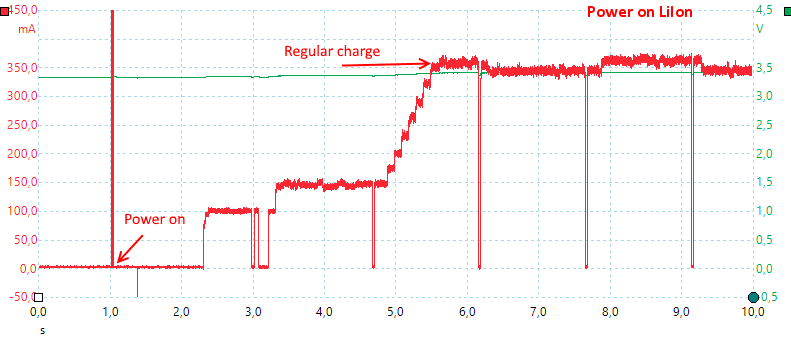 The charger need less than 5 seconds to get up in current, it looks like the 0.1ohm test resistance I have added is reducing the charge current some. The charger is turning voltage off to measure voltage.





Charging 3.6V LiIon (LiFePO4)



The charger can automatic recognize LiFePO4, it must be related to the pulsing charge current.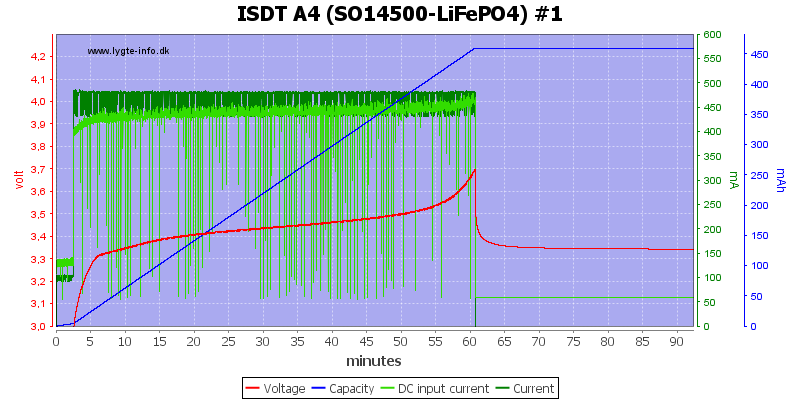 The charger uses low current up to 3V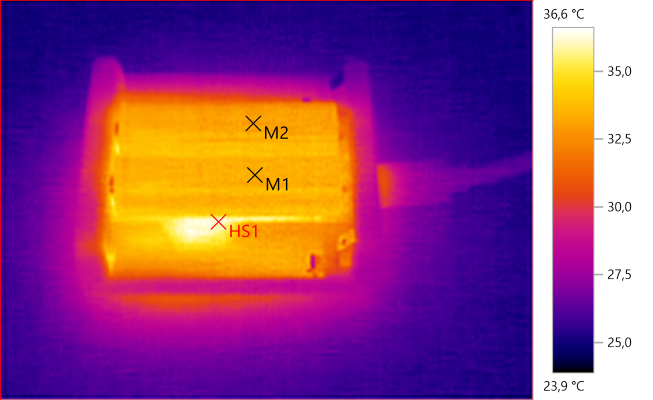 M1: 33.4°C, M2: 32.8°C, HS1: 36.6°C
I only have two test button top LiFePO4 14500 batteries, these are handled without much heat.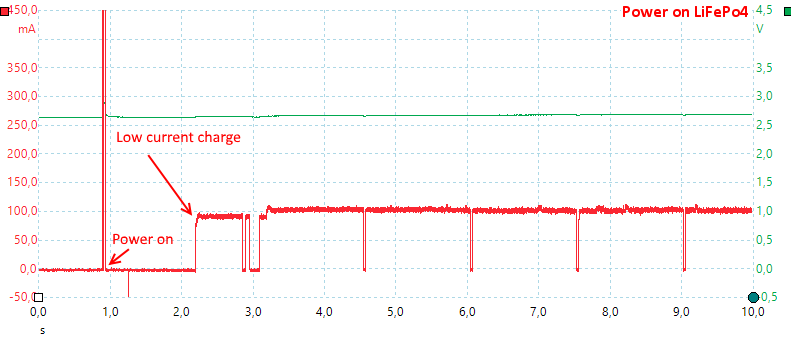 Because a LiFePO4 often is below 3V when starting to charge, the initial charging is at low current.





Charging NiMH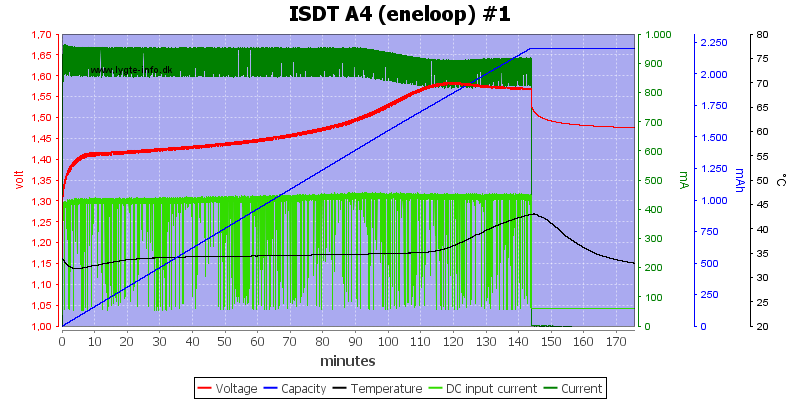 This looks like a fairly good -dv/dt charge curve with slightly below 1A current.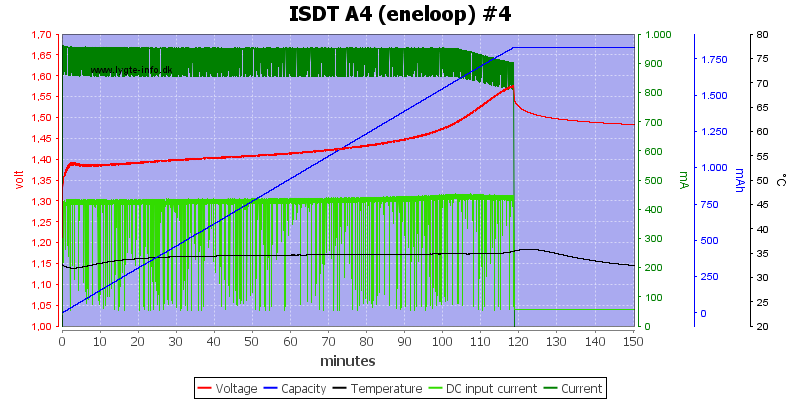 All 4 slots is about the same, but the reaction time when the battery is full varies a bit.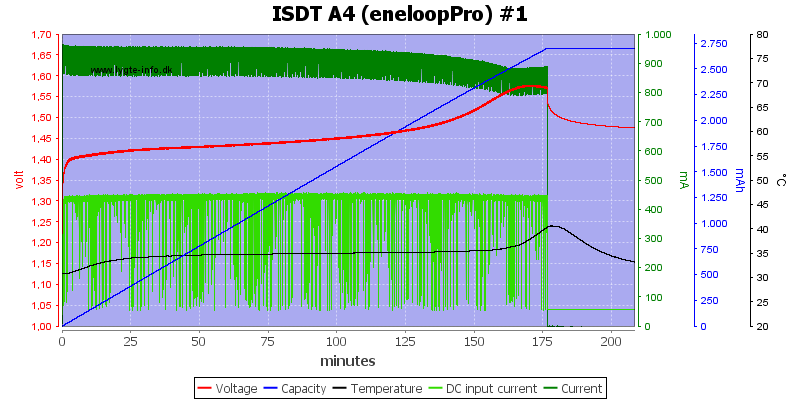 The two high capacity batteries are also charged fine.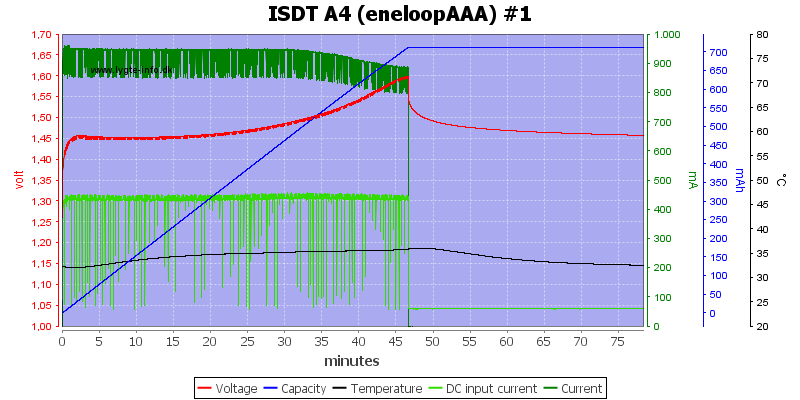 The AAA is charge at 1A and termination is slightly premature.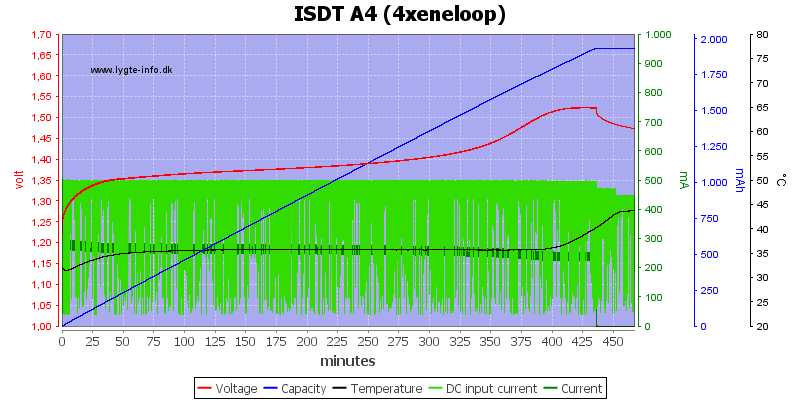 With 4 batteries the current is reduce significantly, probably to keep the usb power draw at about 500mA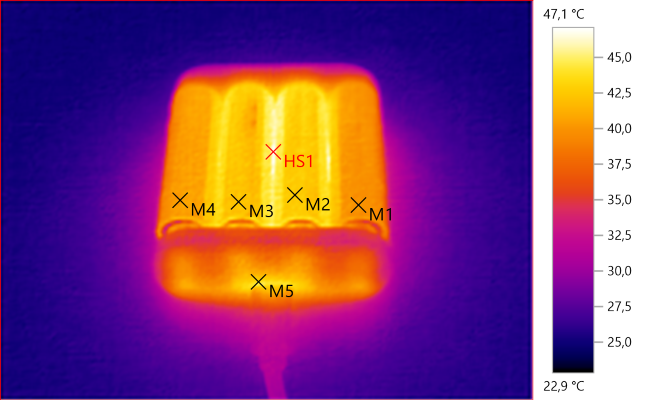 M1: 40.1°C, M2: 42.6°C, M3: 42.1°C, M4: 40.4°C, M5: 43.8°C, HS1: 47.1°C
With 4 NiMH batteries in this compact format there is some heat.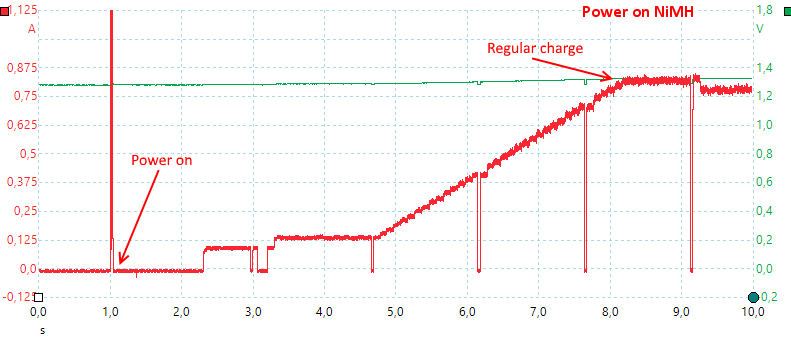 The charger needs about 7 second to start a NiMH charger, mostly because it turns the current on gradually.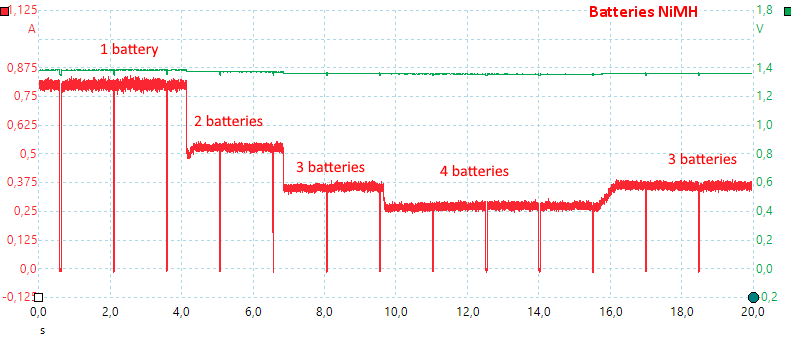 The current changes when putting in or taking out batteries.





Conclusion



This charger looks like a AA/AAA charger, but it also handles small LiFePO4 and LiIon cells, all of them with automatic detection.
It is important to note that the charger only works with unprotected button top cell, this means all common NiMH, some LiFePO4 and few LiIon.
The charger only draws 0.5A from usb, it makes it a fairly slow charge when it has a full load of batteries, but it can be used with just about any usb outlet.
The LiIon charging is not really a CC/CV charge, but more like a CC charge with pulses to fill the cell.
With LiFePO4 it looks better, it is a CC charger, but it do not supplement with pulses.
With NiMH the charger works fine.

For NiMH and LiFePO4 I will call it fairly good and it is very compact.





Notes



The charger was supplied by Banggood for review.

Here is an explanation on how I did the above charge curves: How do I test a charger