Charger Ikea Storhögen 603.306.50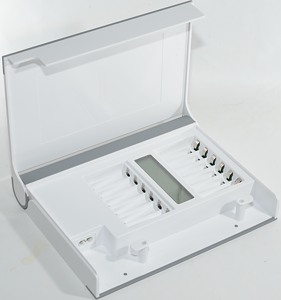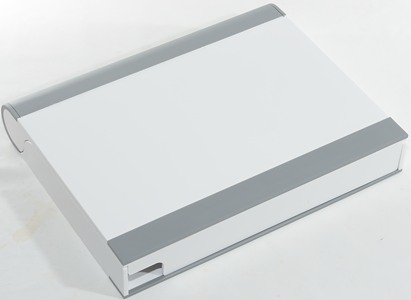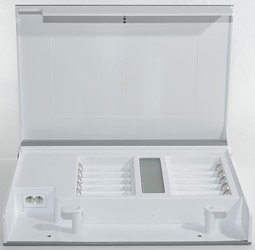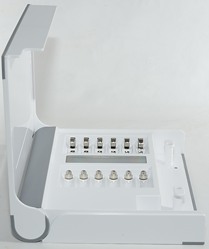 This is the largest charger from Ikea with space for 12 AA/AAA cells and it do not look like any other charger. It can be place on a bookshelf between books and look a bit like a book or it can be mounted on the wall. To make installation neat there is space inside the charger to keep spare mains wire.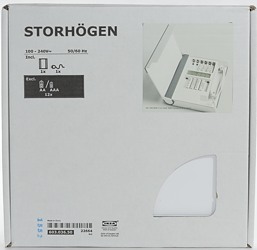 I got the charger in a cardboard box.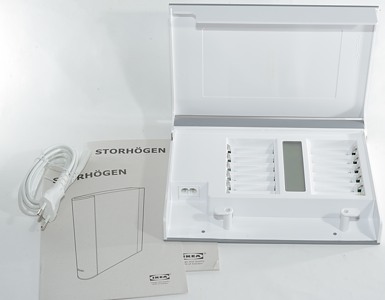 The pack included the charger, mains cable, instruction manual and mounting instructions with illustration and in multiple languages (As is common for Ikea).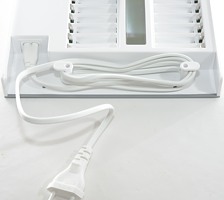 The mains connection is inside the charger and any extra length mains wire can also be stored inside the charger.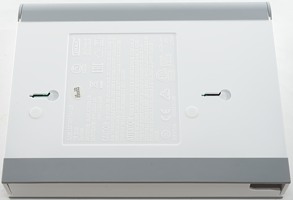 The charger has mounting holes for mounting it on the wall.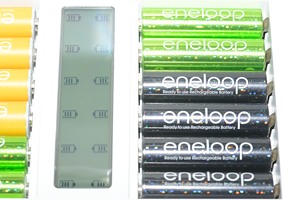 The display has background light, but it will only turn on when power is applied or batteries are added/removed, it will not stay on during charge. When the charger is empty it will go into a standby mode and not recognize if batteries are added, to start it up the power must be removed for some time.






The battery will show lines depending on charger state, a empty battery will start with just the outline. During the next many hours the lines will slowly be added when the battery is charged.
There is no animation.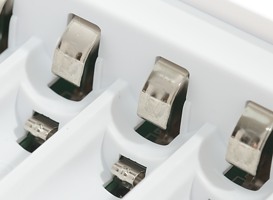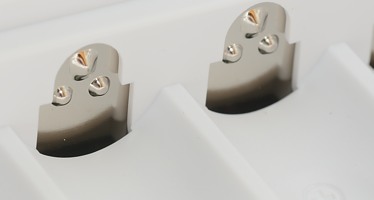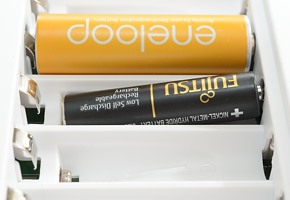 The charger has the typically two level slots used for AA and AAA batteries.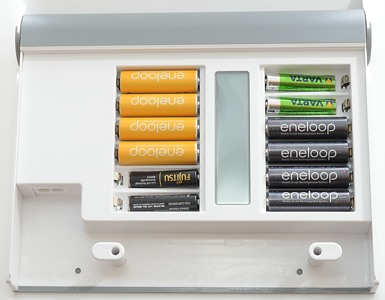 Measurements charger
When not powered it will discharge the battery with below 0.03mA
If the charger detect an error the battery symbol will have an X above it.
Charger will detect charge level in batteries.
Charge will restart charging after power loss, or battery insertion.
Power consumption when idle is 0.06 watt


This charging looks like the charger is using a timer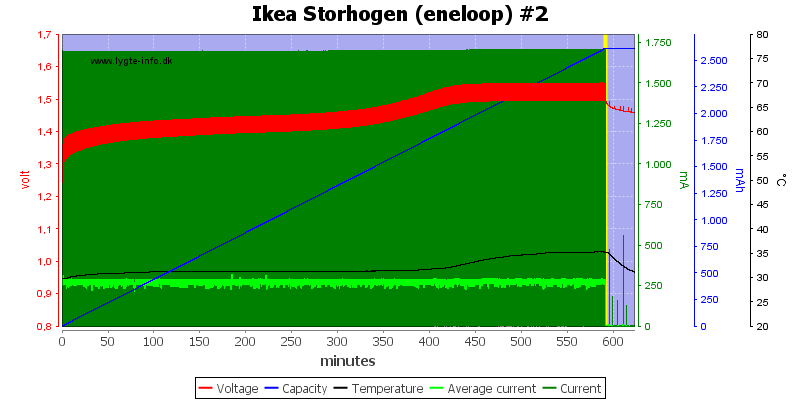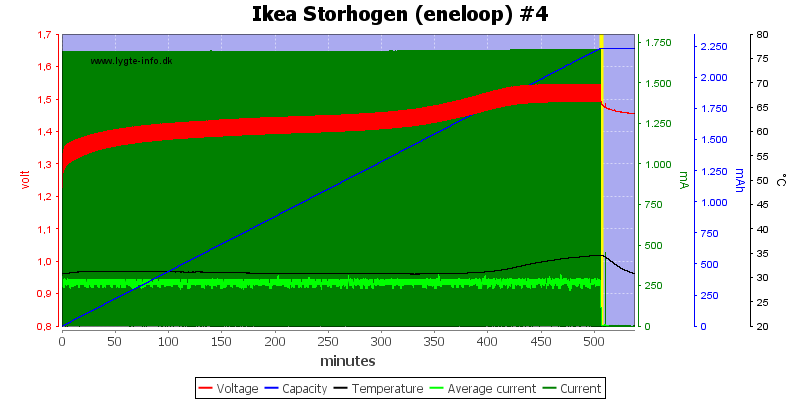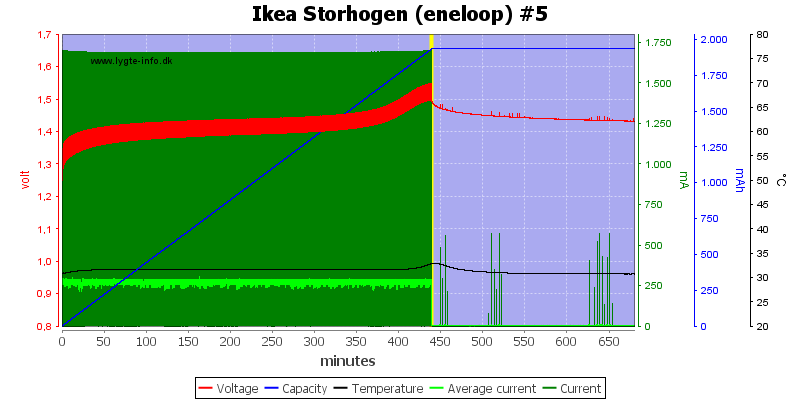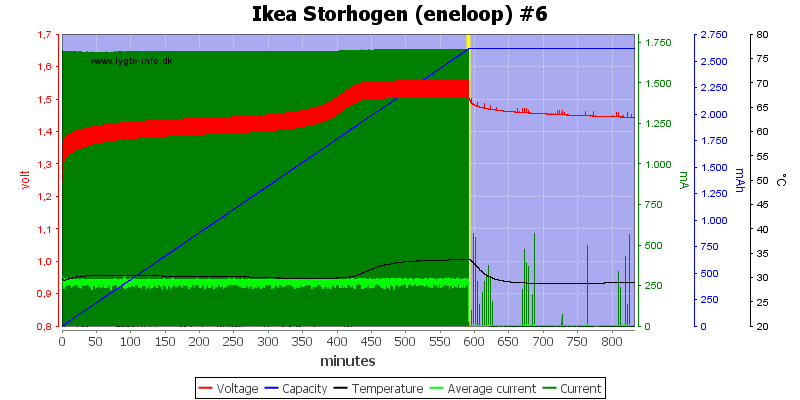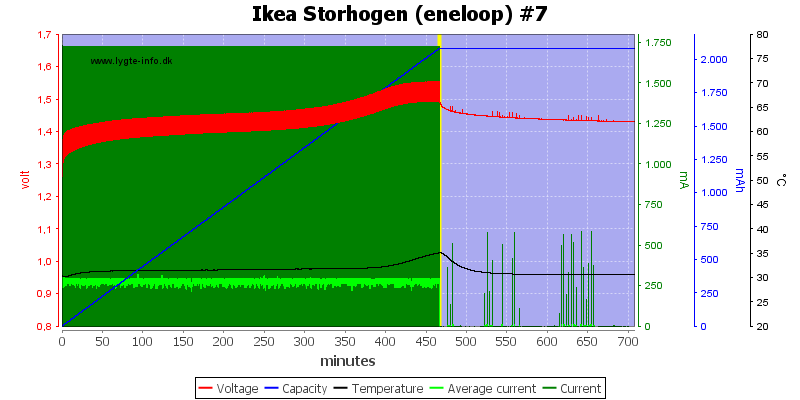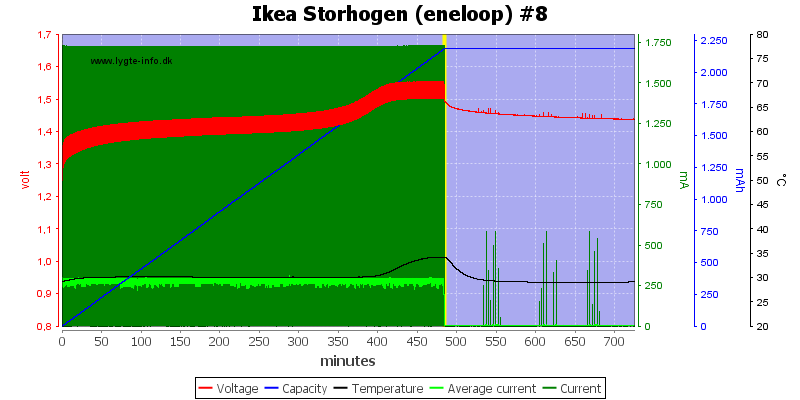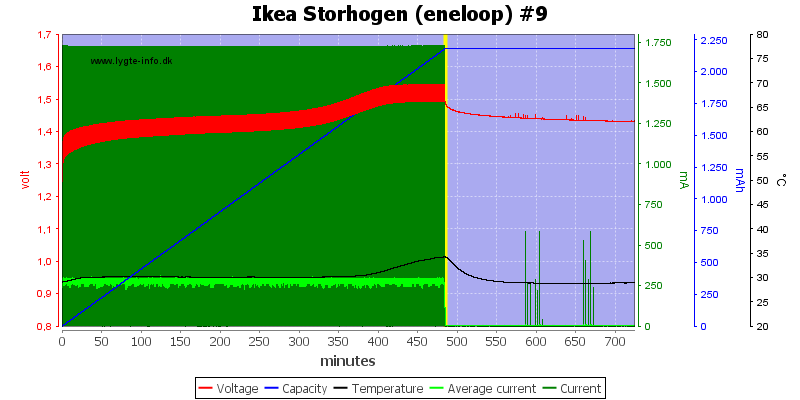 Sometimes the charger can termination on -dv/dt, but often it will be slow to terminate or maybe terminated on time (I supposed the nearly 600 minutes is termination on time).




With eneloopPro the maximum time matches what is need to full charge it.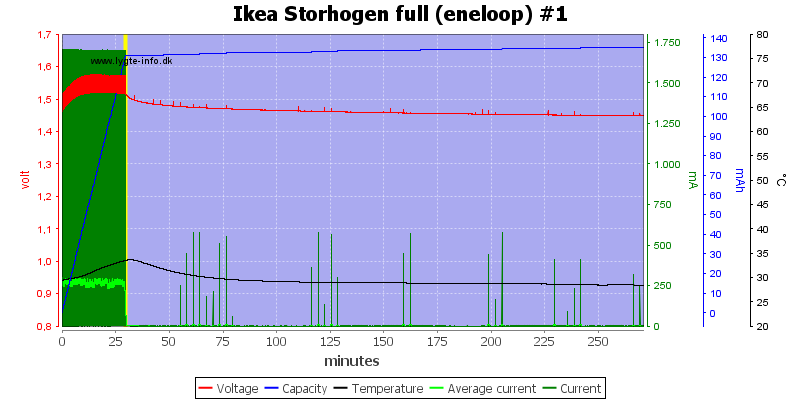 In my test it detected a full battery, but looking at the above curves I doubt it will do that every time.




There is no problem charging 12 batteries, but again some are terminated on time and some on -dv/dt.




M1: 39,2°C, M2: 32,0°C, HS1: 44,2°C
I did this test with the charger closed and placed on a table.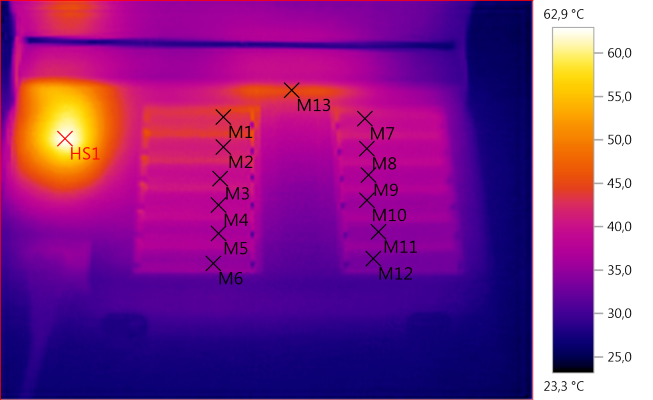 M1: 43,0°C, M2: 41,0°C, M3: 39,6°C, M4: 37,9°C, M5: 36,4°C, M6: 34,8°C, M7: 40,3°C, M8: 38,2°C, M9: 36,7°C, M10: 35,7°C, M11: 34,3°C, M12: 33,3°C, M13: 45,0°C, HS1: 62,9°C
The electronic gets a bit warm and also the cells in the rear slots, this is nothing problematic, but I wonder how warm it would be when placed between books.




The charger needs about 4 second to initialize. It has two charge circuit, each one handling 6 slots. Each circuit charges with 1.6A and with time sharing it means an average current of about 260mA for each slot. The charge speed is not adjusted depending on number of cells.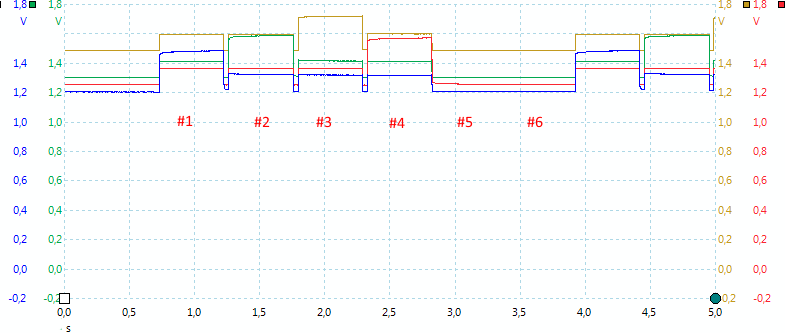 Here I tried to capture the timesharing, with only 4 channels I could only capture voltage on the four first slots.

Testing with 2830 volt and 4242 volt between mains and low volt side, did not show any safety problems.





Conclusion



The charger works, but due to the low charge current it has trouble with detecting when batteries are full. It is also fairly critical with the batteries, i.e. it will not charge old batteries.

I like that Ikea has tried to make different charger design, but I will only rate it as acceptable due to the termination problems.





Notes



I had some problems testing this charger, it is very critical with the internal resistance of the batteries and my test setup adds some. Before I could test I had to make a new current sense probe with 2.5mOhm instead of my usual 10mOhm and get new batteries.

Here is an explanation on how I did the above charge curves: How do I test a charger