Charger Ioncell BC0907C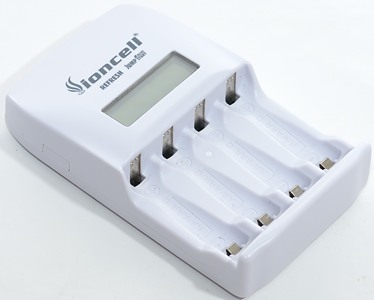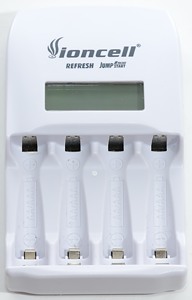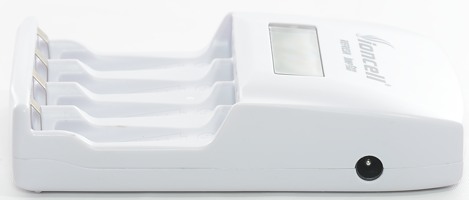 I do not know much about the "Ioncell" brand, except I have tested a Ioncell usb power supply before. This charger is a simple 4 channel NiMH charger with discharge/refresh ability. I found this charger on ebay.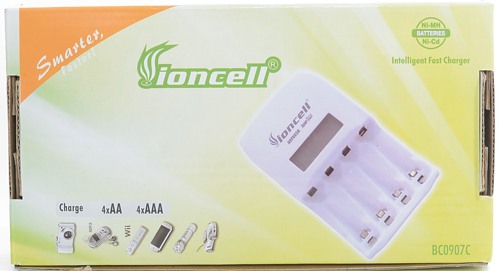 The box has a lot of specifications on it (Click the picture for a larger version).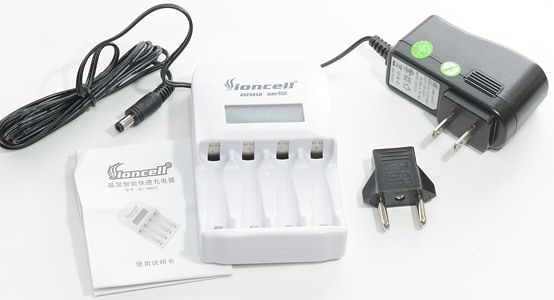 Inside the box is the charger, a universal power supply (100-240VAC 50/60Hz) with US plug, a adapter plug and a manual.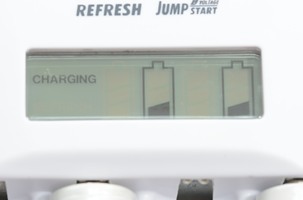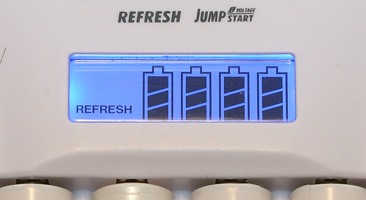 The charger has a simple LCD display with a very nice blue background light.
The background light is on while the charger is working.





To trigger the discharger/refresh cycle, the "Refresh" button must be pressed. This will start a refresh on all channels.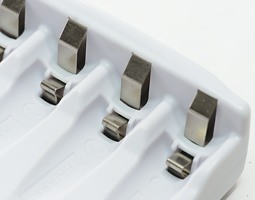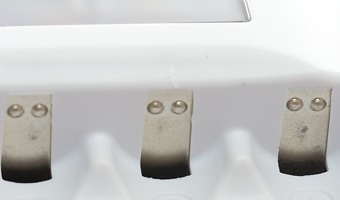 The charger have separate connections points for minus on AA and AAA batteries, this way it can select different charge currents.





The marking of each slot is good.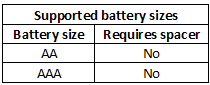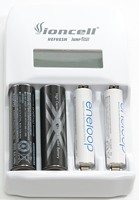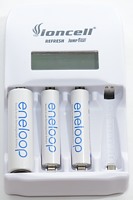 Measurements
Discharge battery with less than 1uA when power is disconnected.
Charge battery with about 100mA when power is connected and charge cycle is done.
Charge will restart charging after power loss or battery insertion.
The charger will try to review a over discharged battery.
It takes about 10 minutes to detect a full battery.
The channels on the charger are independent, i.e. there are small differences between them.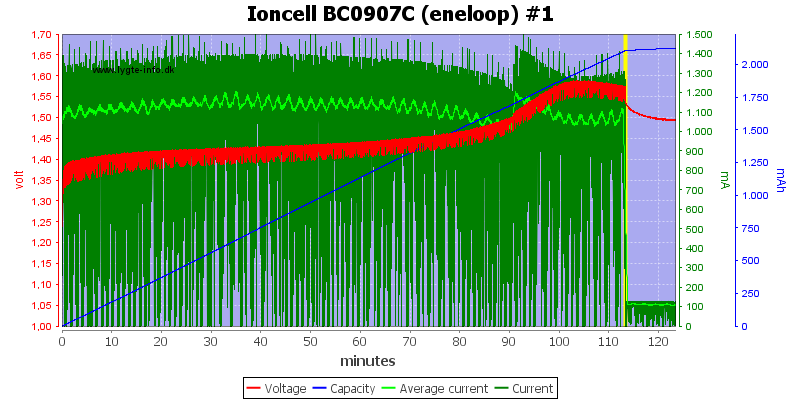 The charging looks nice, with a -dv/dt termination, but the trickle charging is a bit high at 100mA.
The 100mA is acceptable for non LSD (Low self Discharge also sometimes called precharged) NiMH, but not for LSD.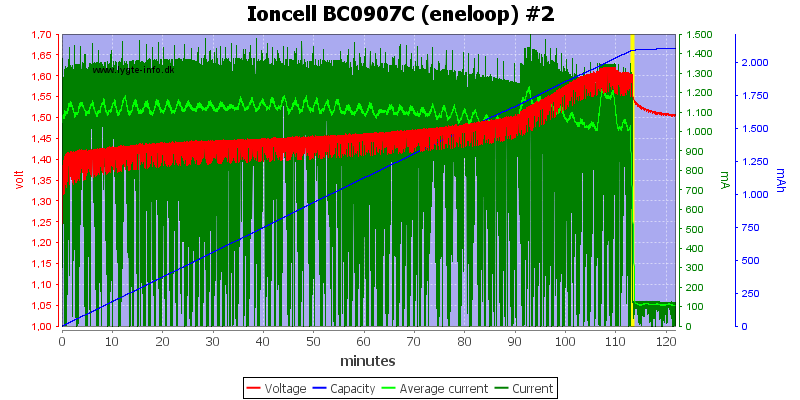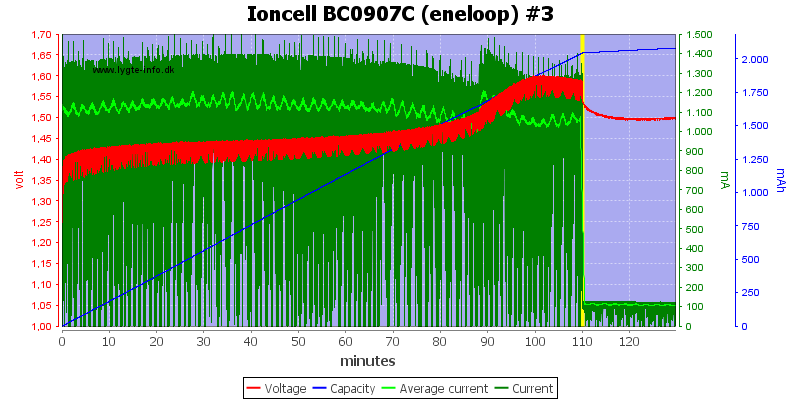 Not much difference to the other channels.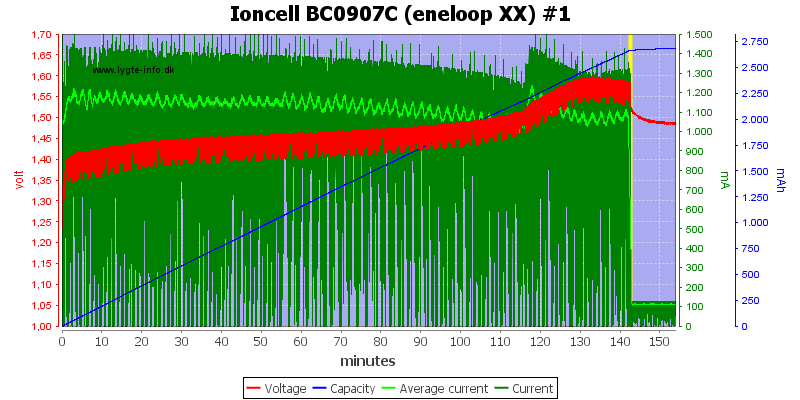 The XX takes a bit longer to charge.




With AAA cells the charger current is reduced to around 400mA, but the trickle charge is still 100mA.




Pressing the "refresh" button will start a cycle, first the battery is discharged and then it is charged.
It takes about 7 hours to do four 2000mAh batteries.




A full battery takes about 10 minutes to detect.




The charger uses the same charge current with four batteries in it, but it looks like the trickle current is reduced.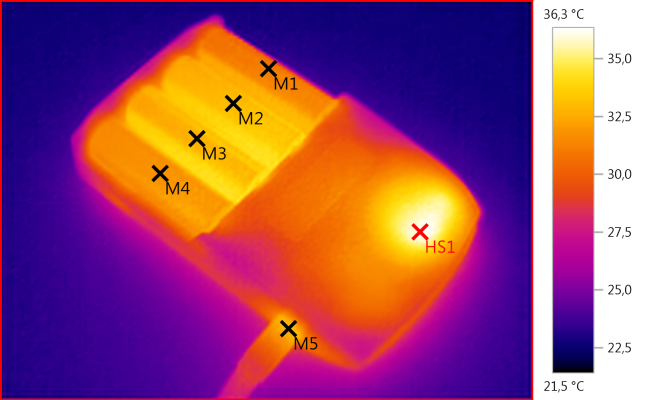 M1: 31,1°C, M2: 33,1°C, M3: 32,7°C, M4: 31,8°C, M5: 32,8°C, HS1: 36,3°C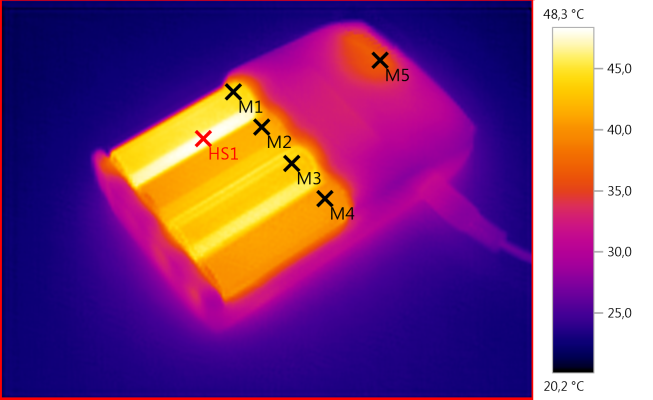 M1: 44,5°C, M2: 41,6°C, M3: 43,3°C, M4: 40,6°C, M5: 36,8°C, HS1: 48,3°C

The heating is fairly even for the batteries.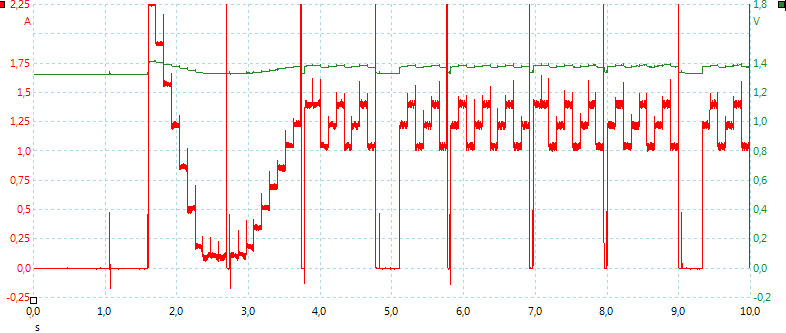 The charger does a fast startup at high current, then reduces the current.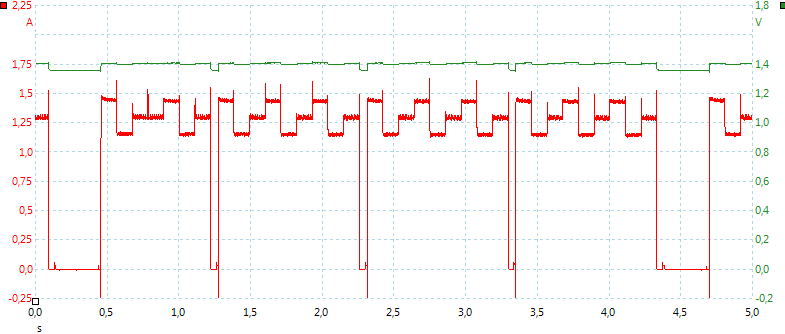 The staircase steps is charge current is strange, but I cannot see any problems in it.


Testing with 2500 volt and 5000 volt between mains and low volt side, did not show any safety problems.





Conclusion



The charger does a nice charging job, but the high trickle current spoils it for LSD cells. I.e. either be quick to remove the batteries when the charger is finished, or use only non-LSD cells.
All in all a good charger (Except for the trickle current) and easy to use.





Notes



Here is an explanation on how I did the above charge curves: How do I test a charger