Charger LiitoKala Lii-400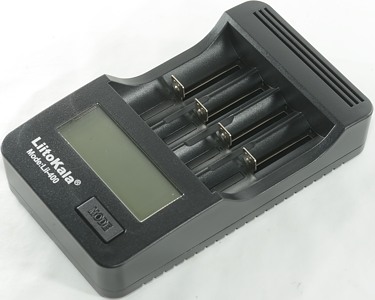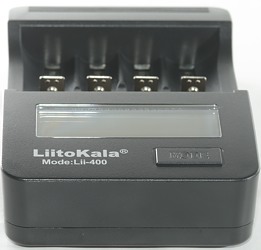 LiitoKala got known for a analyzing charger, they have since made many other chargers. This is a charger that can charge both LiIon and NiMh, it can also work as a power bank.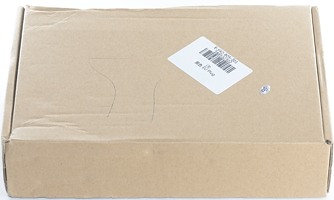 It arrived in a brown cardboard box without any printing on it.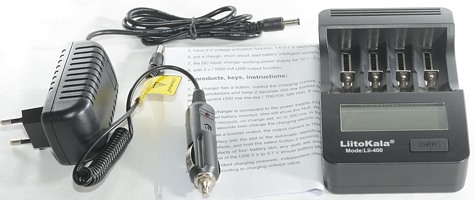 In the box was the charger, a power supply, a car adapter and a instruction sheet.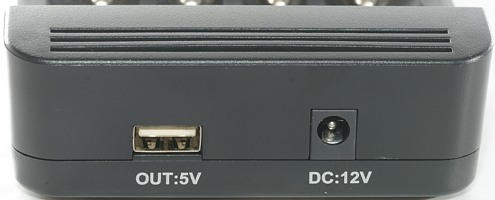 The charger has 12V DC input and a full size usb output for the power bank function.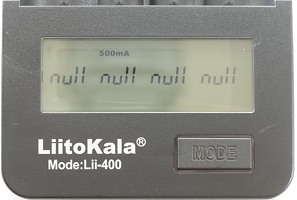 The user interface is a LCD display with voltage display and current selection.
A single button is used to select current, it has to be pressed for about 1 second to change current.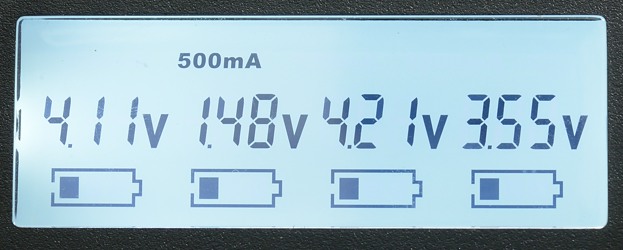 The battery icon is animated while charging and steady when finished.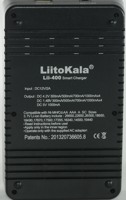 Specifications are printed on the bottom of the charger (That is fairly common).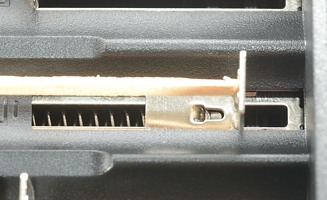 The slots uses the classical slider construction and it works fine.

The slots can work from 33 mm to 70mm. This means that very long protected 18650/26650 batteries will not fit in the slots.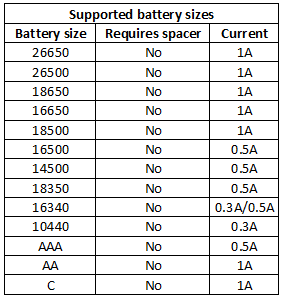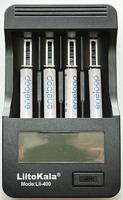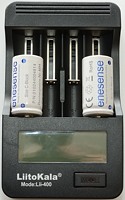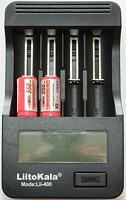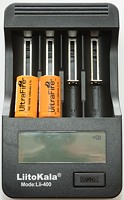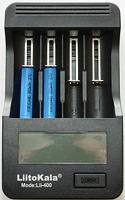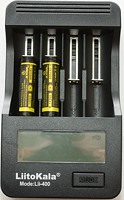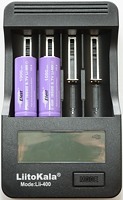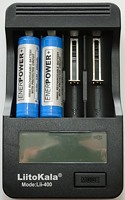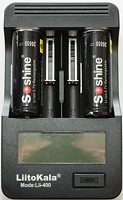 The charger can handle 70 mm long batteries including flat top cells.





Measurements



The charger will discharge batteries LiIon with about 0.8mA (26mA with display on) when not connected to power.
When power is connected with a full LiIon battery, the charger will charge with 0.5mA
Below 0.4V the charger will not detect a battery, but will charger with about 3mA
Between 0.4A and 2.0V the charger assumes NiMH
Above 2.0V the charger assumes LiIon
Voltmeter is usual within 0.02 volt
Voltmeter do not show precise values below 0.8V
Charger will restart when voltage drops below 3.9V.
It will restart charging on reinsertion of the battery or power cycling.
Power consumption when idle is 0.8 watt (0.55 watt of this is used by the power adapter).
Display will stay on for about 30 seconds after the last button press.
Charge LiIon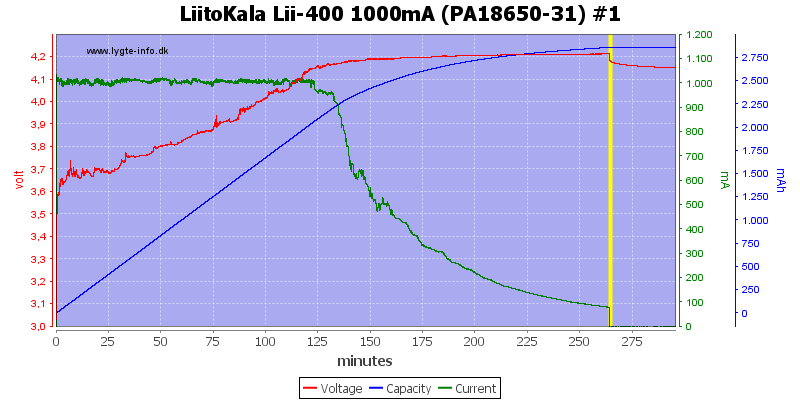 This is a 1A CC/CV charge curve with a termination current of about 100mA, it looks good.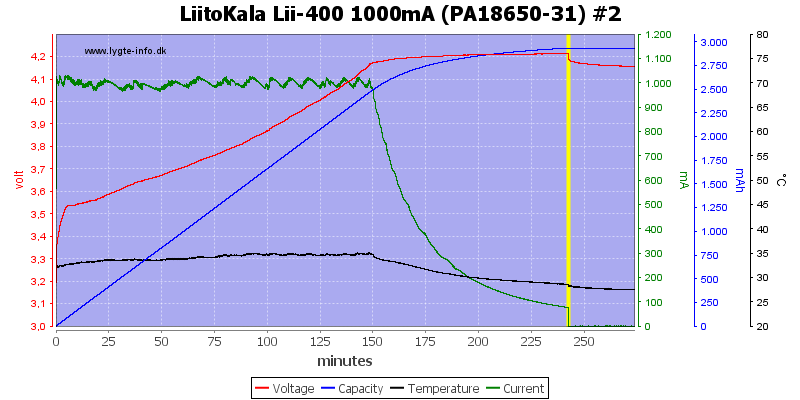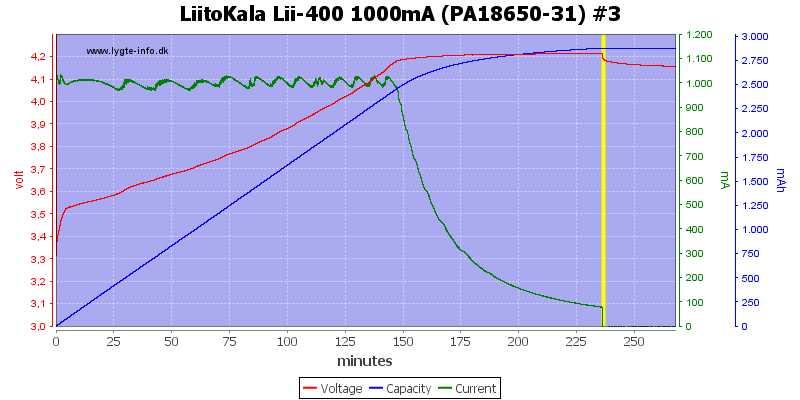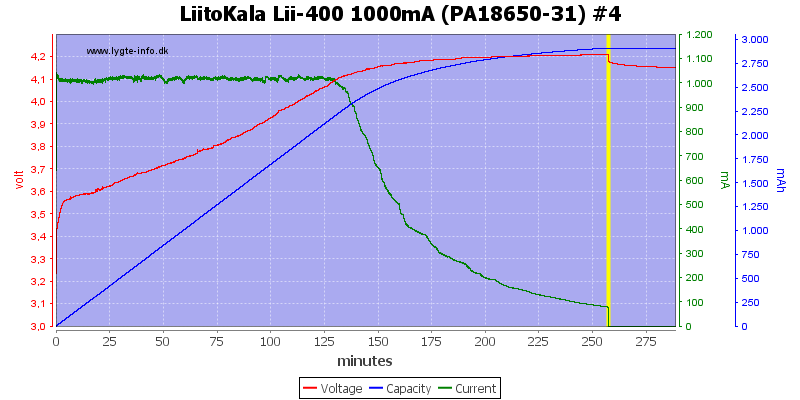 The other 3 slots looks just as good.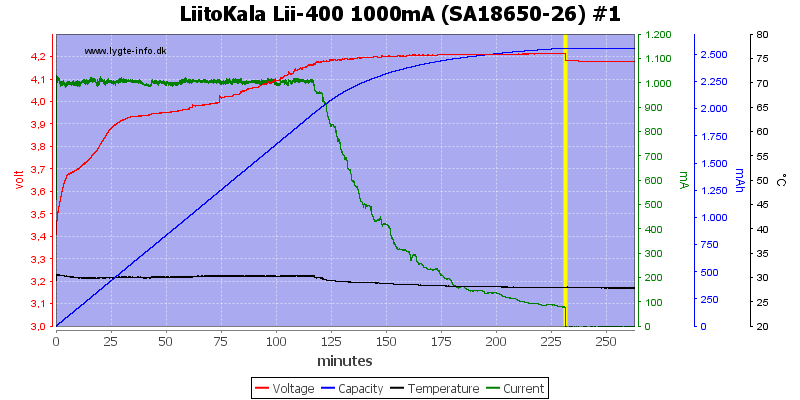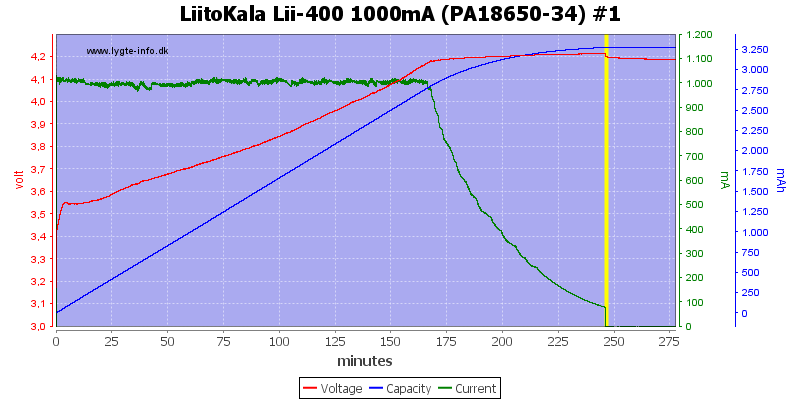 The different capacities also looks fine.




Same with the old cell.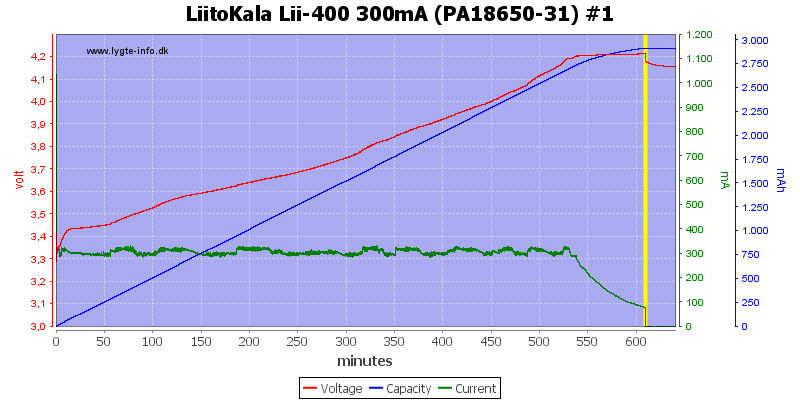 The lowest setting on the charger is 300mA, but the termination current is still about 100mA, this is not perfect (Small cells will not be completely filled).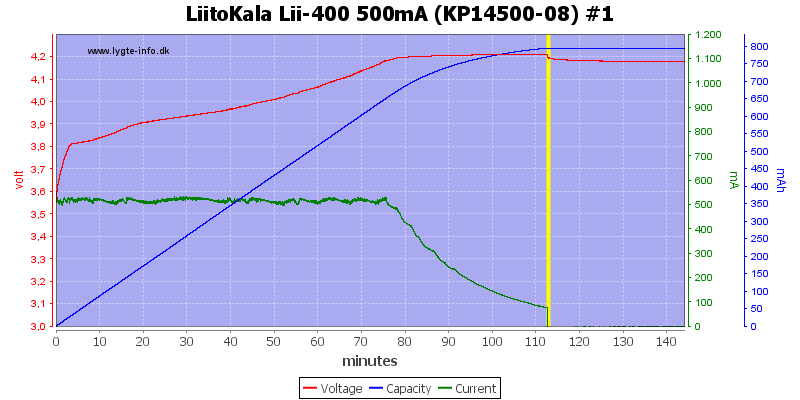 No problem with the smaller cells, except the 100mA termination current.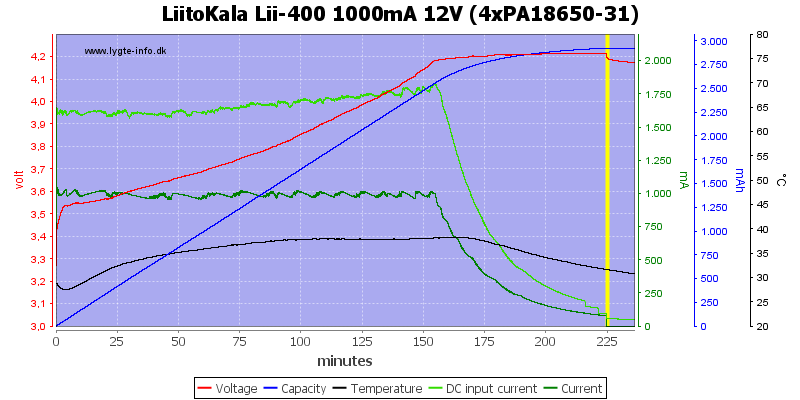 Charging 4 cells at 1A require about 1.8 from 12V (The supplied main apdater is 2A).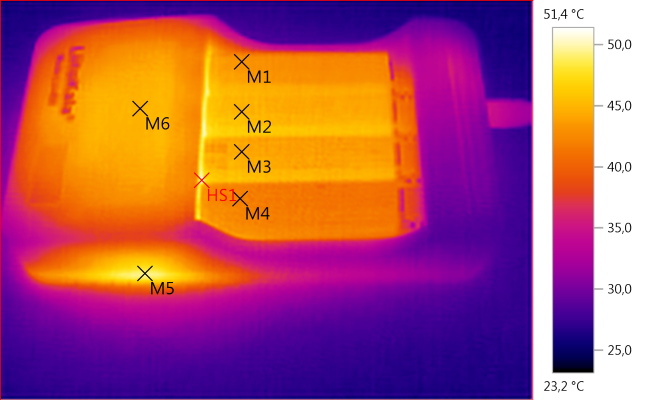 M1: 43,4°C, M2: 45,1°C, M3: 44,3°C, M4: 42,1°C, M5: 49,4°C, M6: 44,8°C, HS1: 51,4°C
The charger warms up when charging four cells, but not too much.




The charger need some time to start.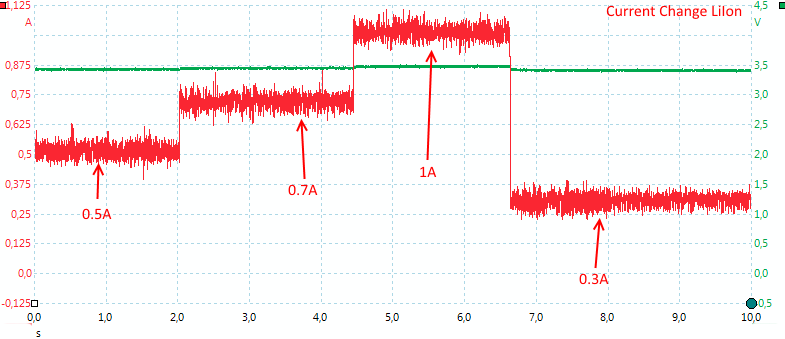 Holding the button down will change current one step is starts at 0.5A and goes up, from 1A it jumps to 0.3A.
This means 0.3A is the last current in the sequence (It is possible to select current before putting batteries in the charger).





Charge NiMH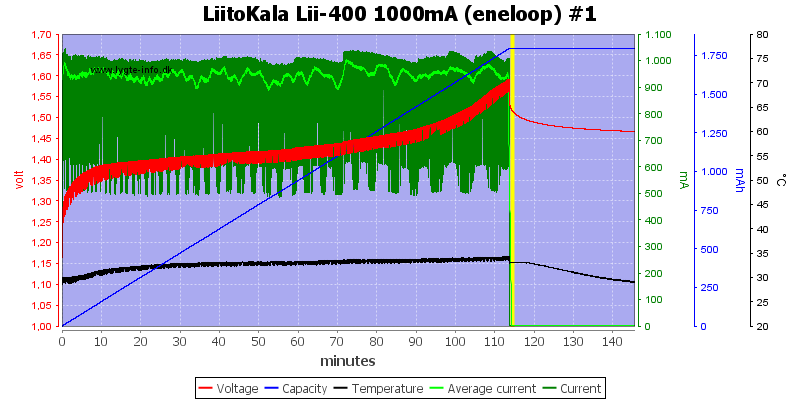 NiMH batteries uses a voltage termination, but without top-off charge, i.e. batteries will not be completely filled.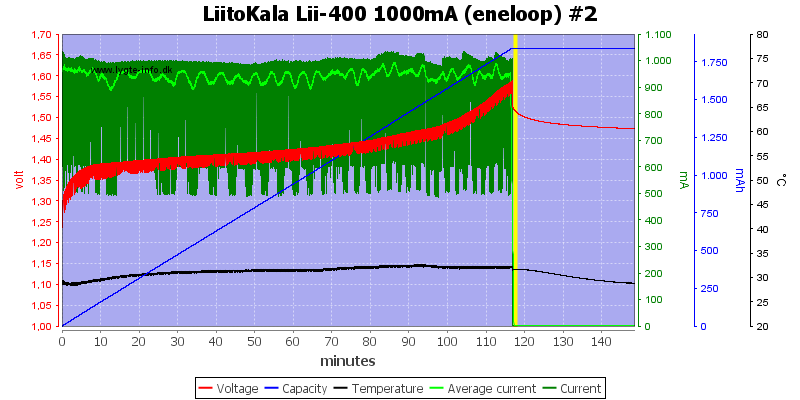 All the channels looks the same.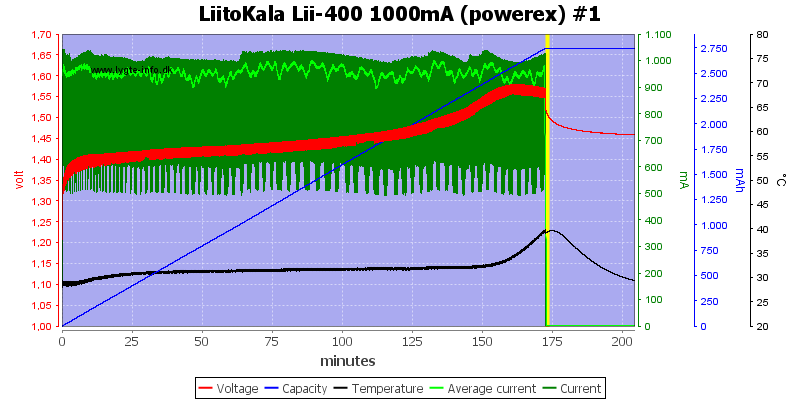 It looks like the charger can also do -dv/dt, here two of the high capacity cells are terminated on that.
The voltage termination must also be rather smart, because it did charge the (old) XX cell at a fairly high voltage.




There is no problem terminating at 300mA.




When it can handle a AA cell at 300mA, it can also handle a AAA cell at 500mA without any problems.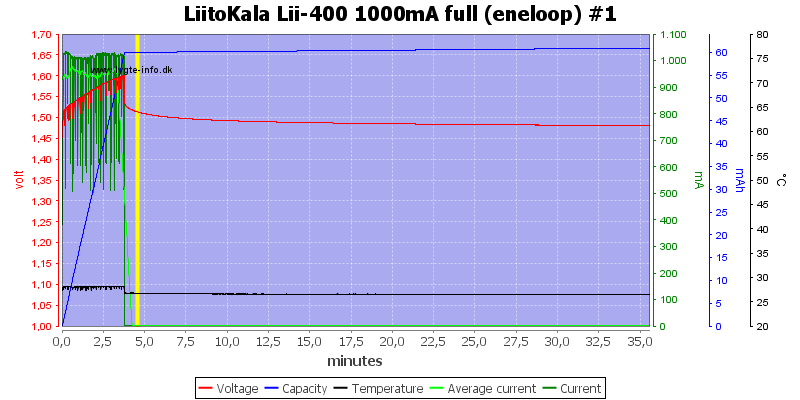 A full cell is detected fairly fast, due to the voltage termination.




There is no problem with four cells at a time.




And the charger uses about 1A from 12V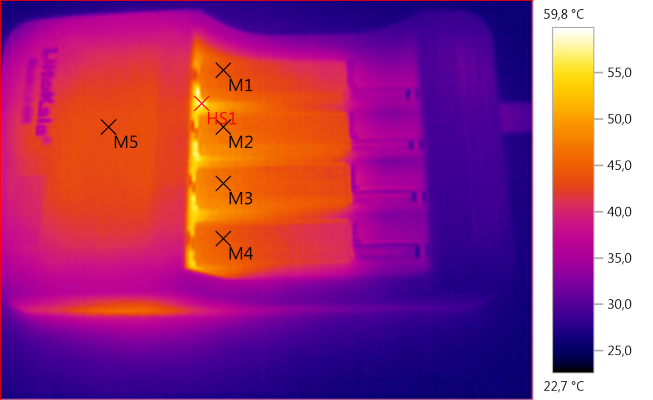 M1: 44,1°C, M2: 46,5°C, M3: 46,6°C, M4: 44,3°C, M5: 43,3°C, HS1: 59,8°C




NiMH needs the same time to start as LiIon. The charger is turning current off to check voltage.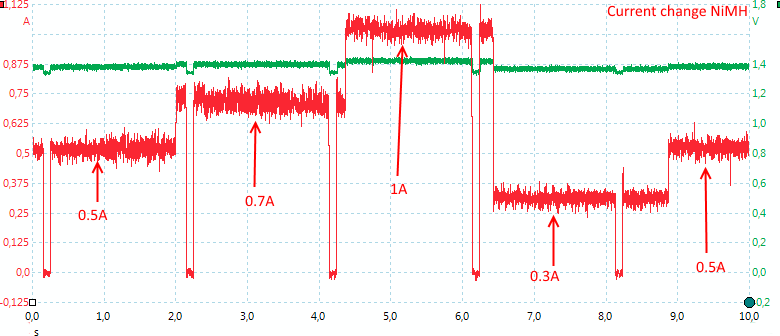 Current change works the same way.





Usb output



Usb output is coded as Apple 1A
Usb output will turn off after 20 seconds with less than 80mA load.
The power bank will discharge batteries with about 0.8mA (26mA with display on).
Usb output will only turn on when no power is connected to the charger.
Usb output will usual turn on automatic, but can also be turned on with the button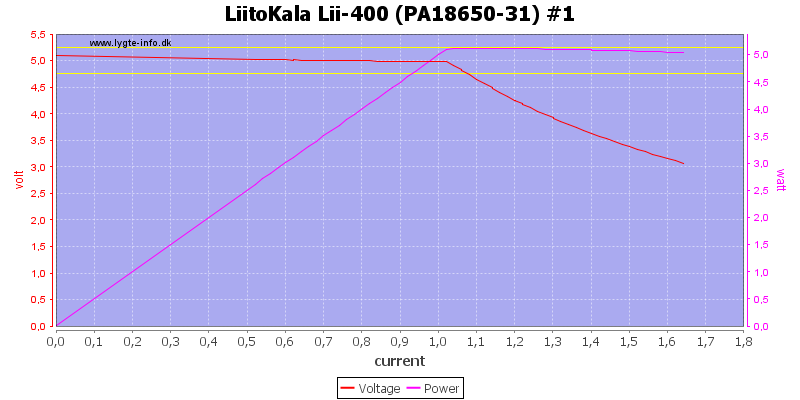 Usb output can deliver about 1A with one cell, before the voltage starts dropping.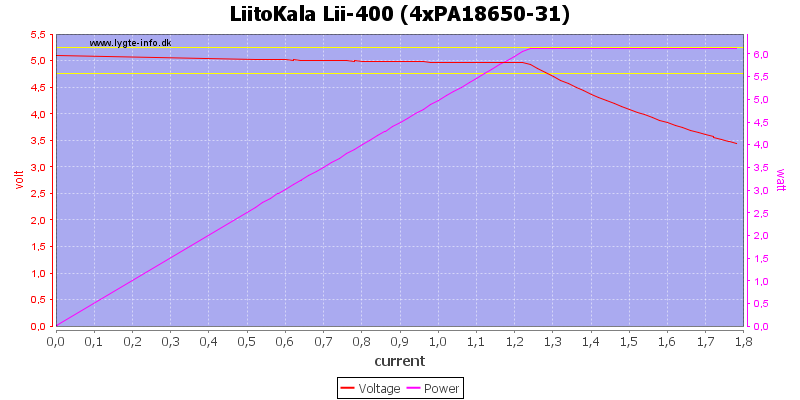 With four cells the current is slightly higher.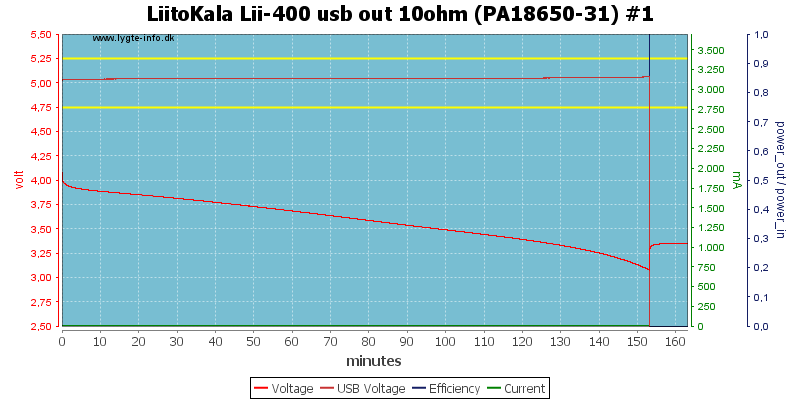 At 0.5A load the output looks very good with one cell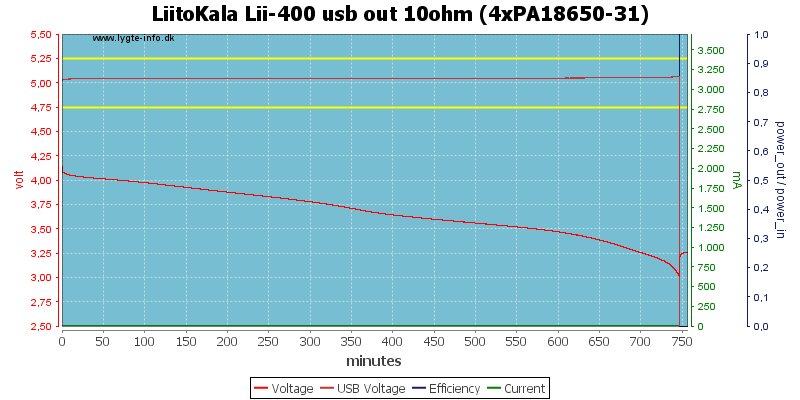 And also with four cells.




But at 1A there is serious problems with one cell, the usb output cannot maintain voltage when the cell voltage drops.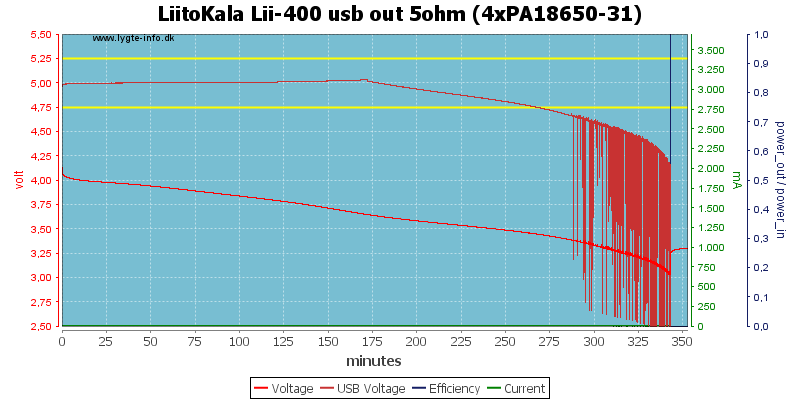 The problem is also present with 4 cells, but to a lesser degree.





The noise is 3mV rms and 38mVpp at 0.5A, when the batteries have enough voltage.





The noise is 10mV rms and 85mVpp at 1A


Testing the power supply with 2830 volt and 4242 volt between mains and low volt side, did not show any safety problems.





Conclusion



The charger is good at both LiIon and NiMH, but with small LiIon cells and some NiMH cells you will get slightly below maximum capacity (This is fairly common on many different chargers).
The user interface is simple and because the initial current is 0.5A it is safe for most cells.

The usb output is not very impressive, it uses a old coding and cannot deliver the rated current.





Notes



The charger was supplied by Gearbest for review.

Here is an explanation on how I did the above charge curves: How do I test a charger
Read more about how I test USB power supplies/charger