Charger LiitoKala Lii-402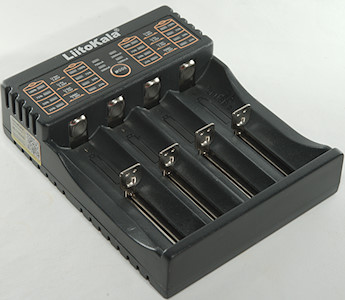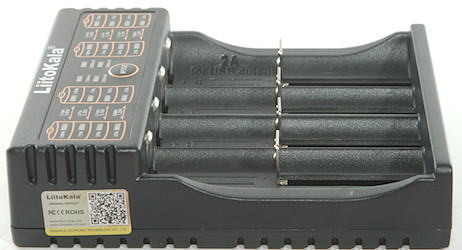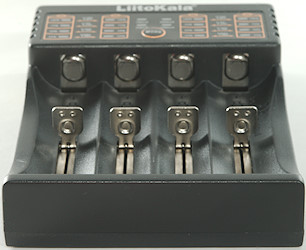 LiitoKala has some fairly cheap charger that can handle nearly all battery types (Lii-100 and Lii-202), do this one match the other models?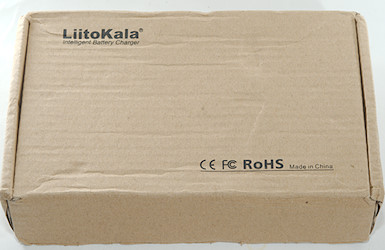 It arrived in a brown cardboard box nearly without any printing on it.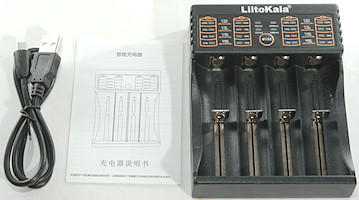 In the box was the charger, a power supply, a car adapter and a instruction sheet.





The charger has usb input for charging and usb output for power bank function.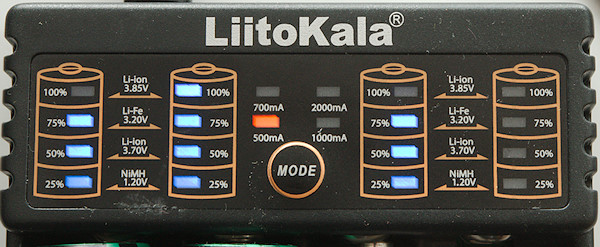 The user interface is lots of leds and a single button.
Holding the button down will change current.
Short presses on the button will change battery type.
These selection can only be done before it starts charging.
There is lots of restriction on charge current.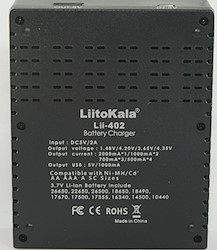 Specifications are printed on the bottom of the charger (That is fairly common).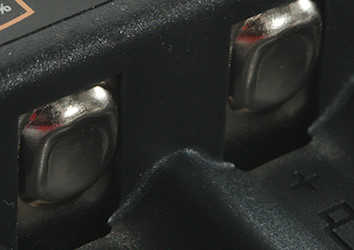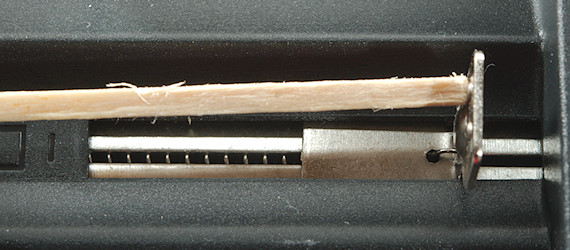 The slots uses the classical slider construction and it works fine.

The slots can work from 32.4 mm to 70mm. This means that very long protected 18650/26650 batteries will not fit in the slots.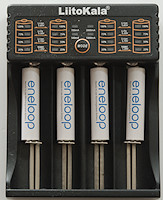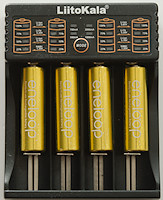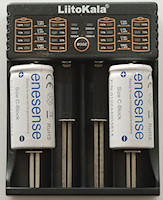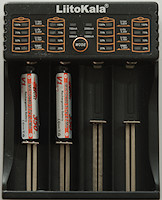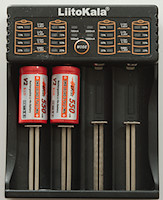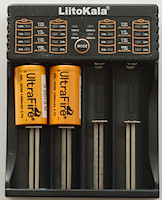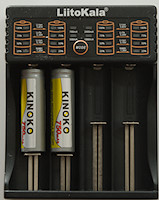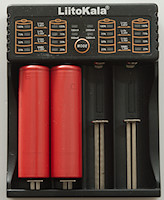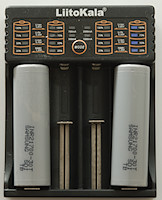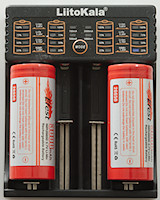 The charger can handle 70 mm long batteries including flat top cells.
Charge current is on the high side for 10440 batteries.
21700 is a very tight fit.





Measurements



Only slot #4 support 2000mA current
1000mA can only be used with one or two batteries on the charger.
700mA can be used with up to 3 batteries.
500mA can be used with all four batteries.
The charger will discharge LiIon batteries with below 0.1mA when not connected to power.
Usb out will discharge with 0.6mA when not connected to power.
When power is connected with a full LiIon battery, the charger will charge with 0.5mA
Below 0.1V the charger will not detect a battery, but will charger with about 3mA
Between 0.1A and 2.0V the charger assumes NiMH
Above 2.0V the charger assumes LiIon
Charger will not restart when voltage drops.
It will restart charging on reinsertion of the battery or power cycling.
Charger uses about 30mA from usb when idle.
Charge LiIon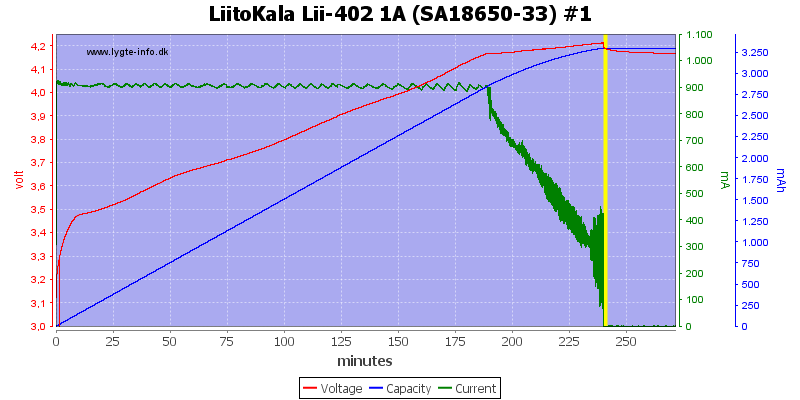 The charger uses a CC/CV charge curve, but with a fairly high termination current of about 200 to 250mA. It also looks like the electronic is slightly unstable when running in CV mode.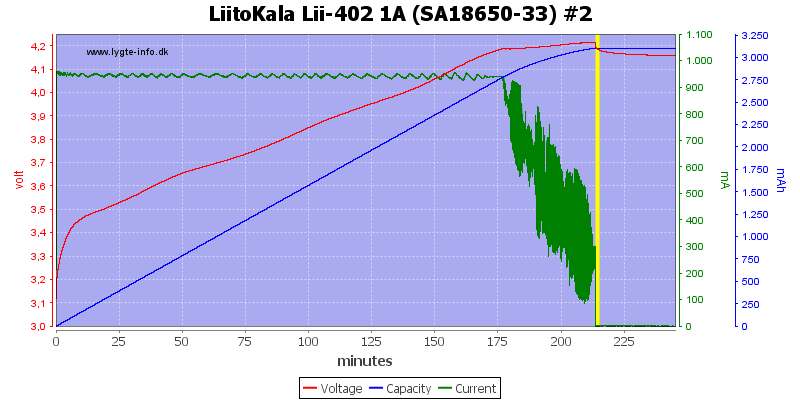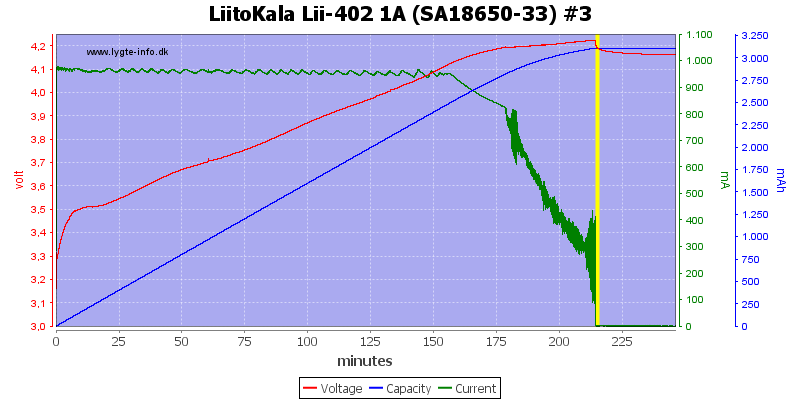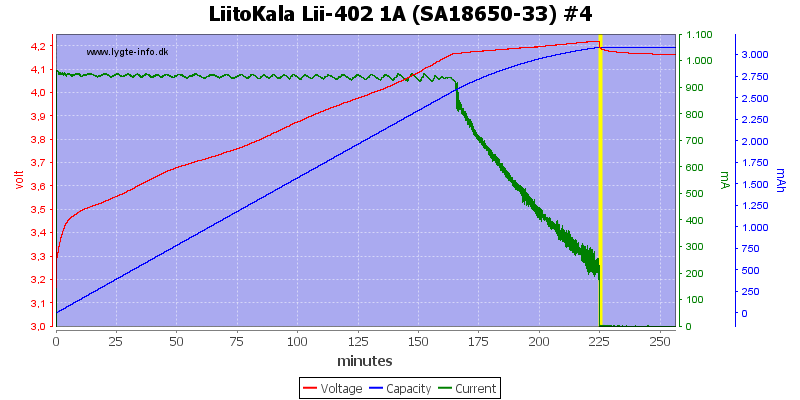 All channels works the same way, the varying amount may be due to different batteries or due to the charger electronic.




This cell is charged the same way, here I included the usb power consumption and it do also vary in CV mode.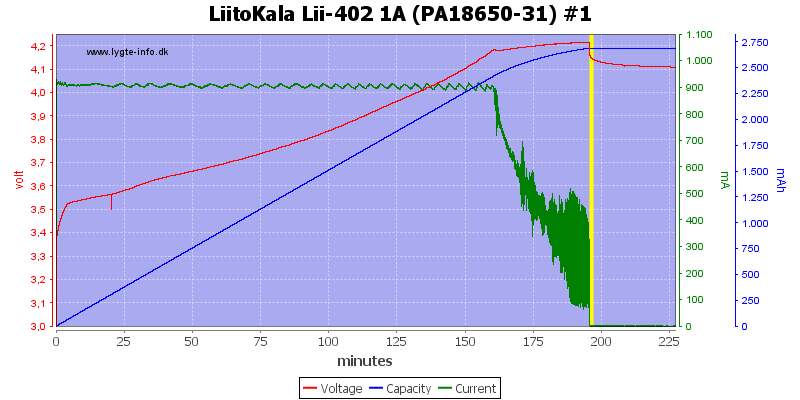 No surprise with this cell.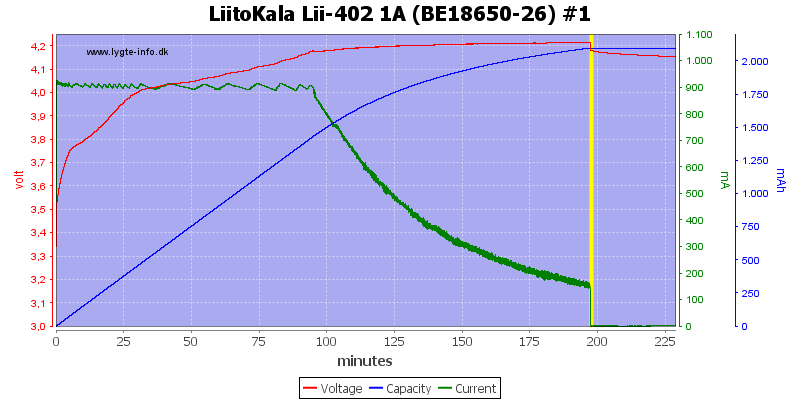 With this old cell the charger is much more stable.




With a 200mA termination current it is not possible to fill much energy in this worn down cell.




The 14500 works better, but it is a high termination current.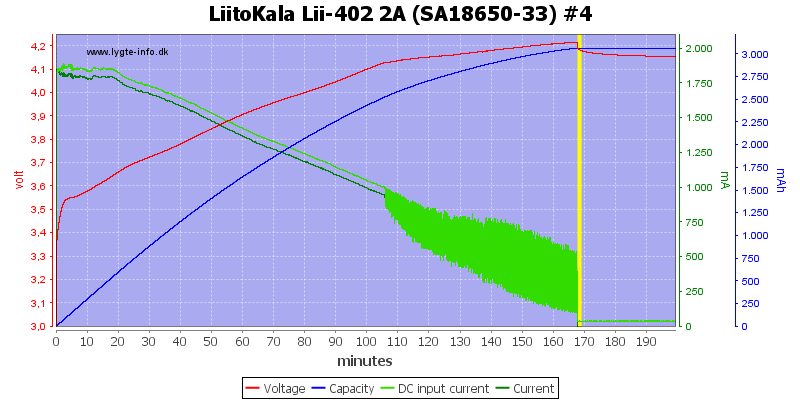 In slot #4 it is possible to charge with 2A, the charger do not handle that well, it starts reducing the current very early. The final charge is fine enough, but the time is longer than a real 2A charge would have been.




Charging 4 cells at 0.5A works fine enough.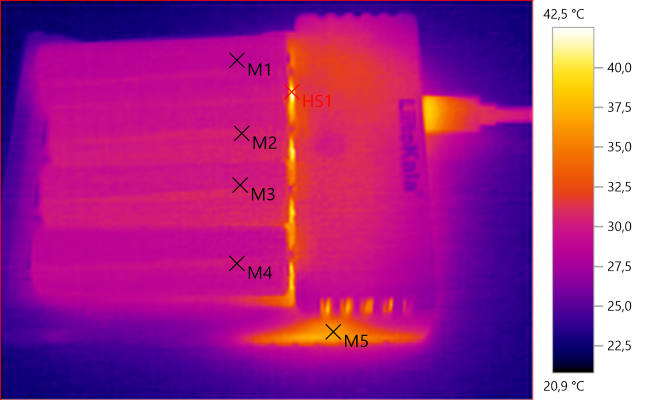 M1: 29,0°C, M2: 30,8°C, M3: 29,7°C, M4: 30,1°C, M5: 36,3°C, HS1: 42,5°C
One of the batteries is a 21700!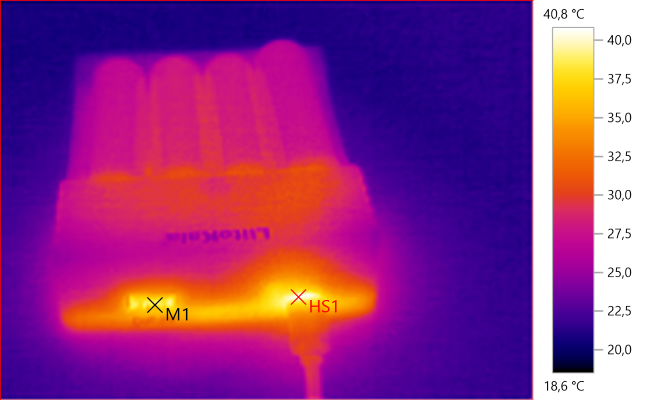 M1: 38,0°C, HS1: 40,8°C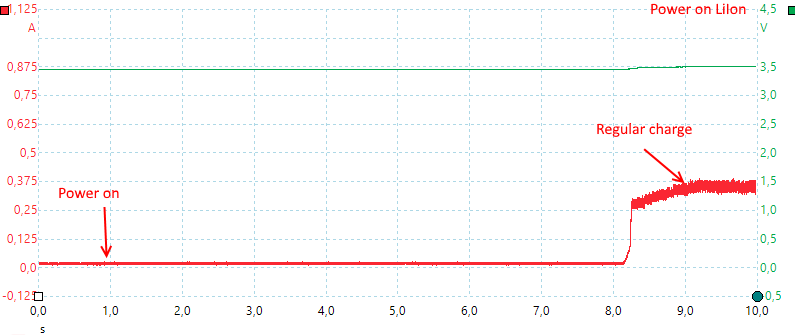 Because the charger gives the user time to select battery type, it need about 8 seconds to start.




This charger do not like unstable supply voltage, it stops charging and will not resume again.





Charge LiIon 3.6V LiFePO4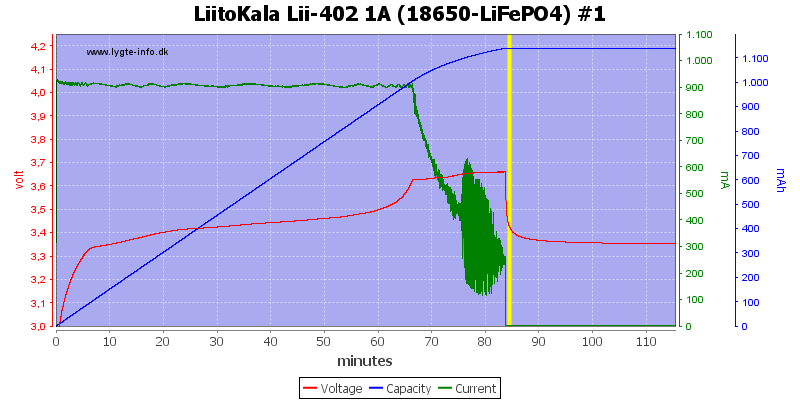 These batteries are charger to 3.65V, this is fine.





Charge LiIon 4.35V






The 4.35V also works fine.




Charge NiMH






This looks like a voltage termination without any top-off or trickle charge. I am missing the temperature raise the shows the cell is full.




And the same on the other channels.




Here it is also a voltage termination.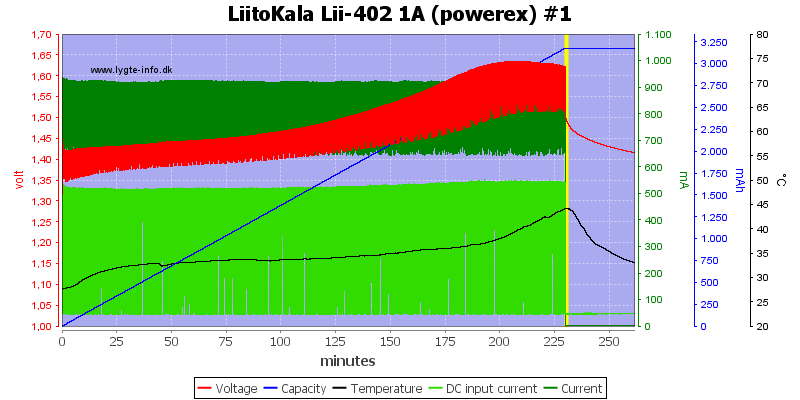 With the powerex it is a -dv/dt termination and there is a temperature raise.




Detecting a full cell is fairly fast with voltage termination, here a bit over 5 minutes.




In slot #4 the charger can charge with 2A, again it uses a voltage termination.




The AAA cell is also stopped on voltage.




Doing a AA cell at 0.5A is stops nicely due to the voltage termination.




Four NiMH AA batteries are limited to 0.5A charging. The temperature is from slot #3 and the charger probably used -dv/dt charge on that battery.




The current draw is just below 1.2A on 12V.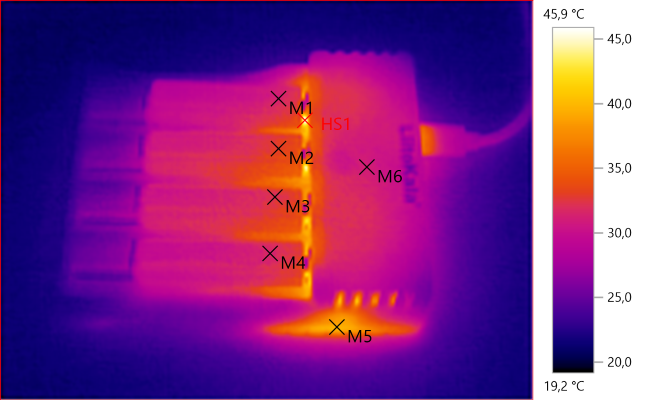 M1: 31,3°C, M2: 32,9°C, M3: 32,3°C, M4: 31,5°C, M5: 39,4°C, M6: 31,2°C, HS1: 45,9°C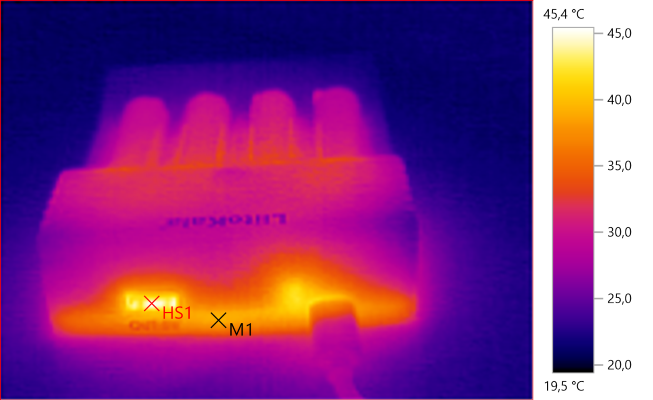 M1: 39,3°C, HS1: 45,4°C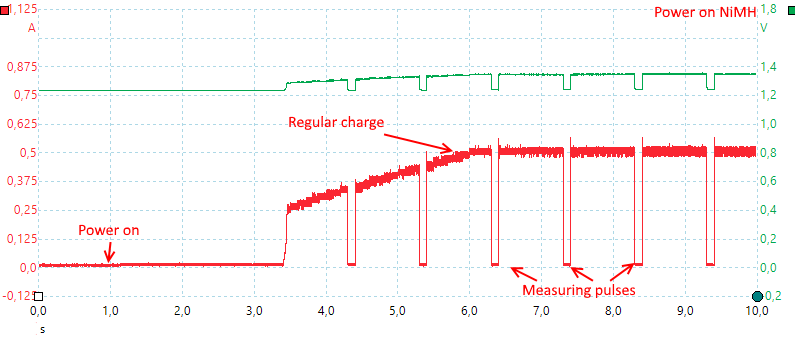 The charger starts faster with NiMH and uses the usual pauses to measure the voltage.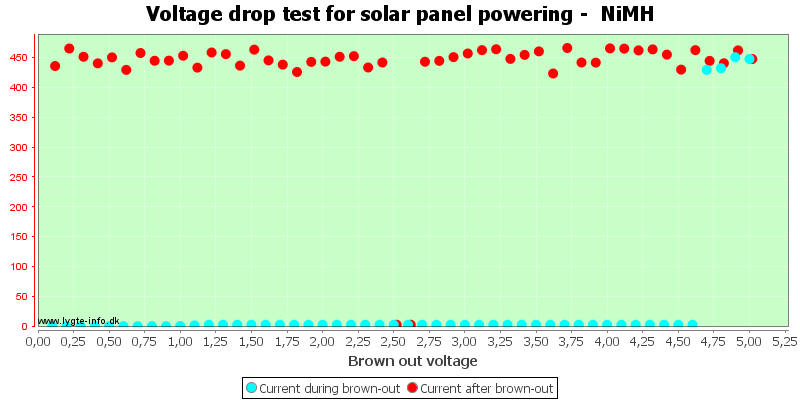 With NiMH the charger works better with unstable supply voltage, but it can lockup if the voltage drops to about 2.5V





Usb output



Usb output is coded as usb charger (DCP)
Only one battery is used for usb output.
While usb out is active the 4 leds above the battery shows remaining charge in the battery.
Usb output will turn off after 10 seconds with less than 20mA load.
The power bank will discharge batteries with about 0.6mA
Usb output will only turn on when no power is connected to the charger.
Usb output will usual turn on automatic, but can also be turned on with the button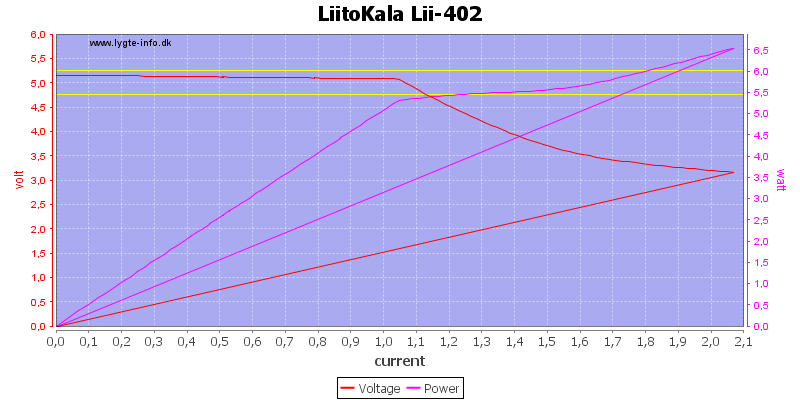 The usb output can deliver about 1A before the output drops, but it do not look like it has a real overload protection, instead it turns off when battery voltage is too low.




At 0.5A output the usb output works nicely.




But at 1A output it has trouble keep the voltage up when the battery voltage drops.





The noise is 13mV rms and 117mVpp at 0.5A, when the batteries have enough voltage.





The noise is 41mV rms and 197mVpp at 1A





Conclusion



The charger can handle 3 types of LiIon chemistry nicely and also a varity of cell sizes, but I am missing a lower charge current for 10440 cells. A lower termination current would also have been nice.
With NiMH it uses either voltage or -dv/dt termination, this is a good strategy, but I am missing a top-off charge when it do voltage termination.
The usb output only uses one battery and has trouble delivering full power when the battery is partly discharged and the full power is not that high at only 1A.

I will rate it good for LiIon and NiMH, but only acceptable for the power bank.





Notes



Here is an explanation on how I did the above charge curves: How do I test a charger
Read more about how I test USB power supplies/charger