Miboxer C4-12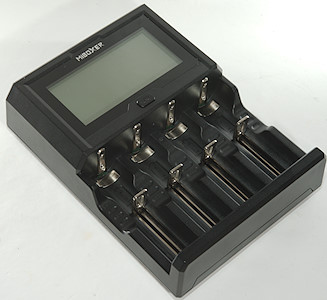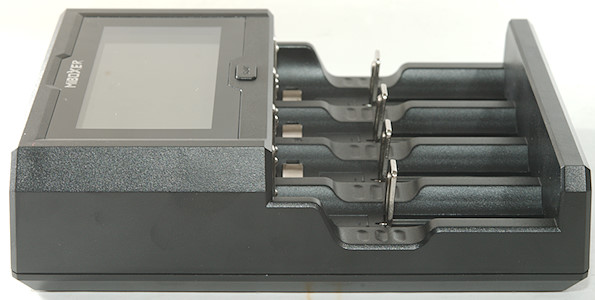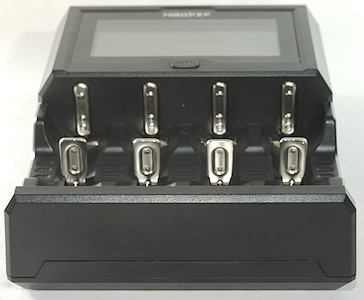 Miboxer is a new brand in chargers, this model is a four slot universal charger with automatic current selection.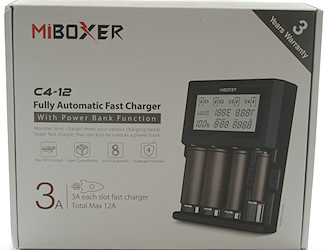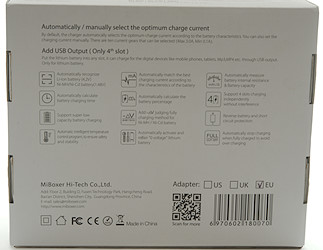 I got the charger in a cardboard box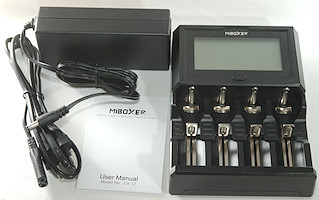 The pack included the charger, a power supply, a mains cable and a instruction sheet.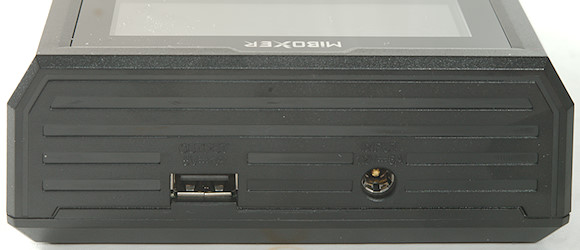 The charger requires 12V 5A power and has a usb power bank output.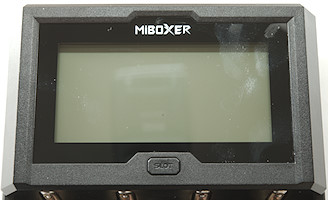 The user interface is a single button and a large display.
A short press on the button will switch between slots.
A long press on the button will allow adjustment of charge current for the selected channel (with short presses).
The interface is easy to use, but it is a lot of presses to select current for all slots.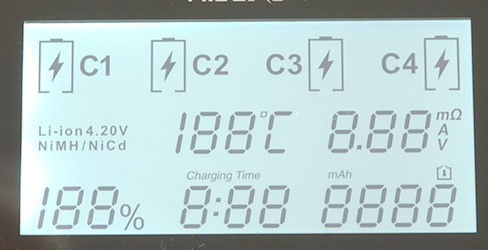 During power on all segments are shown.




Charger is idle.
The background light will turn off after a short time, the first button press will turn it on again.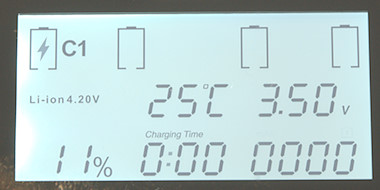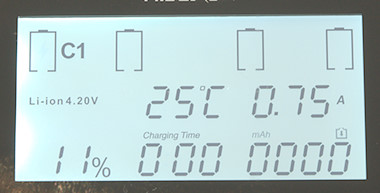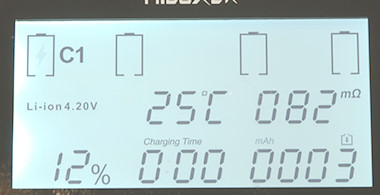 During charge the display will show voltage, charge current and internal resistance.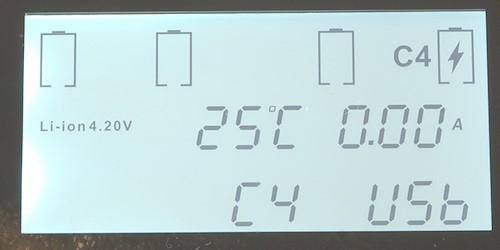 WHen using usb output the usb current is shown on the display.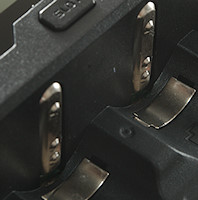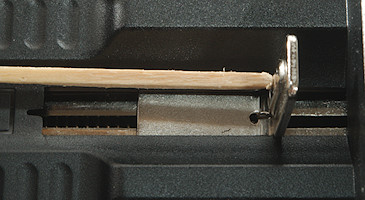 The charger has the usual slider construction. It can handle from 31mm to 73mm, this means even the longest cells. The large plus connection also means it can handle D and 32xxx cells.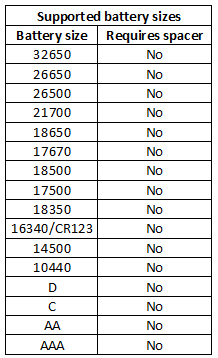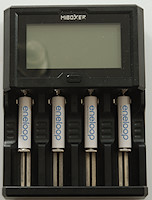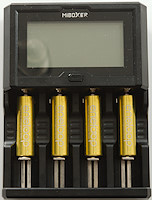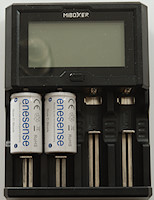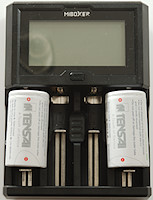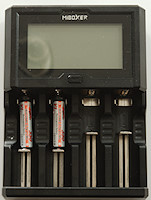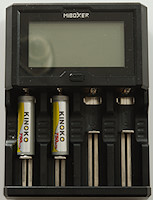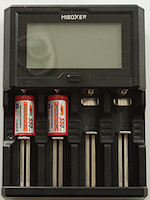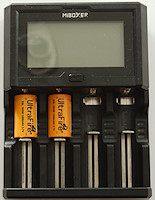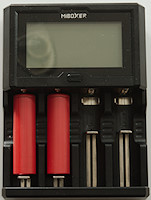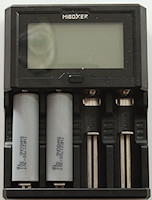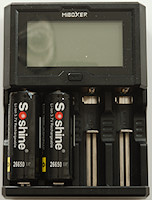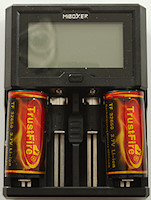 Measurements charger
Power consumption when idle is 0.26 watt (Background light off).
Without power it will discharge a LiIon battery with 1-3mA depending on voltage.
Without power it will discharge a NiMH battery with about 0.2mA
A full LiIon battery will be pulsed with a few mA.
At 0V battery voltage the charger will charge with 1.5mA.
Above 2V the charger assumes LiIon
The charger will restart when a battery is inserted or power is cycled.
The meter is within 0.01V and works from 0.02V
Charging LiIon



Charging current: Auto, 0.1A, 0.2A, 0.3A, 0.5A, 0.8A, 1A, 1.5A, 2A, 2.5A, 3A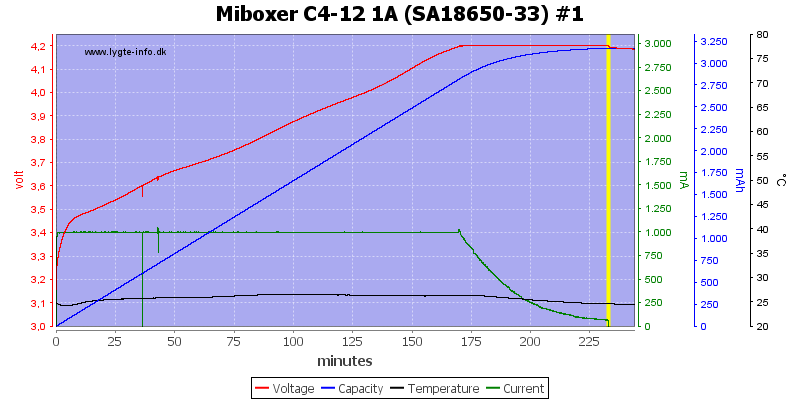 A nice CC/CV charge curve with termination around 60mA. The tick on the curve is a internal resistance check.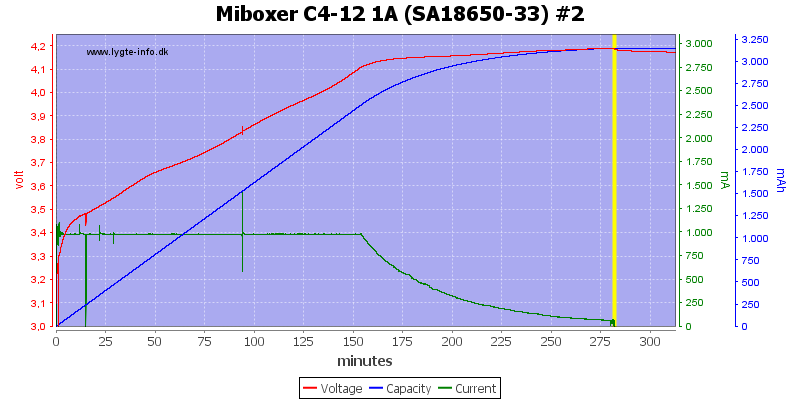 Display shows: 3181mAh, 173mohm, 4:40




Display shows: 3095mAh, 77mohm, 3:57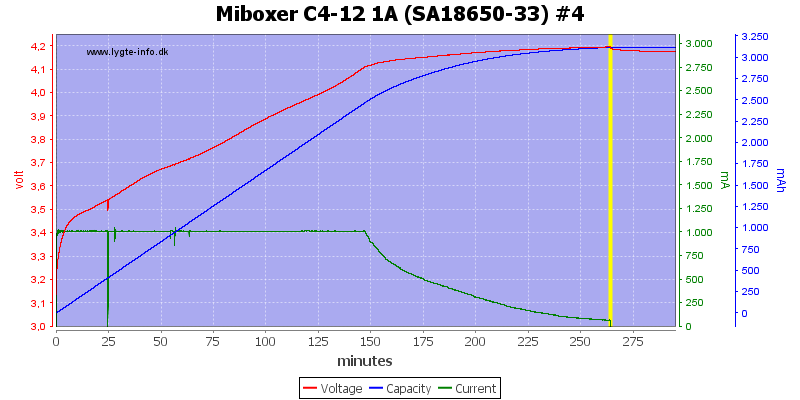 The other channels looks similar.
Display shows: 3054mAh, 111ohm, 4:22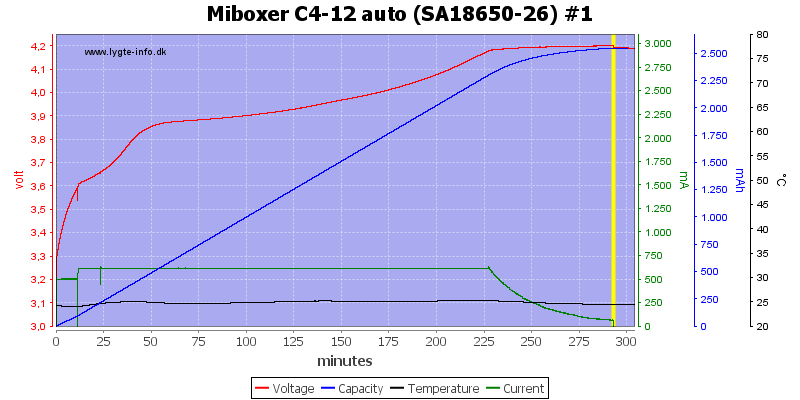 With the charger on auto it will select current depending on the internal resistance of the battery (And my measurement resistor). After about 10 minutes it do a IR check and increase the current slightly.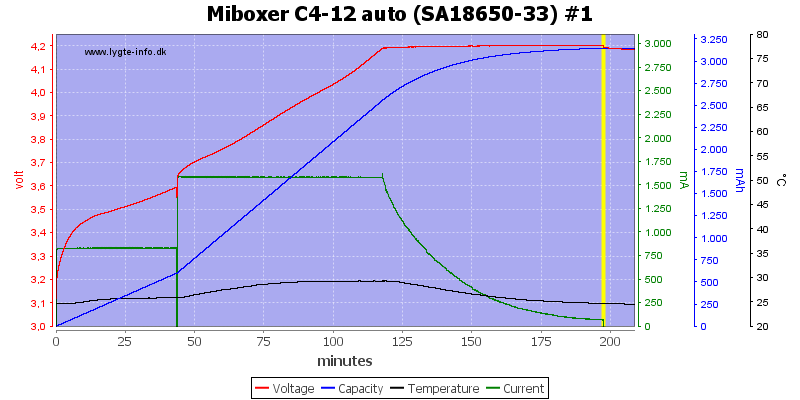 This time it increase the charge current to 1.6A after a IR check.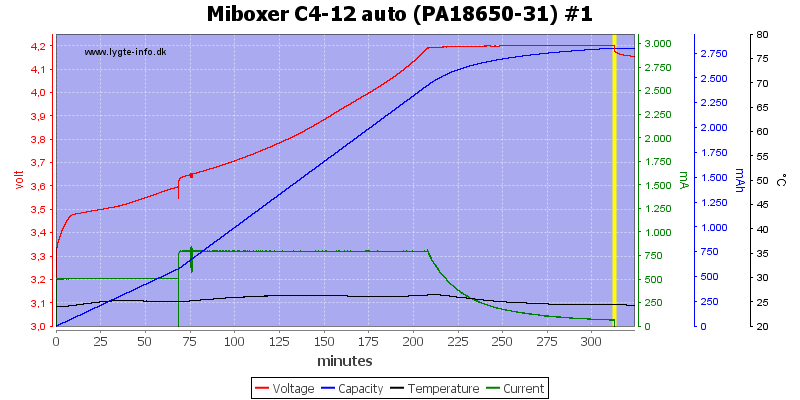 Again a nice charge curve.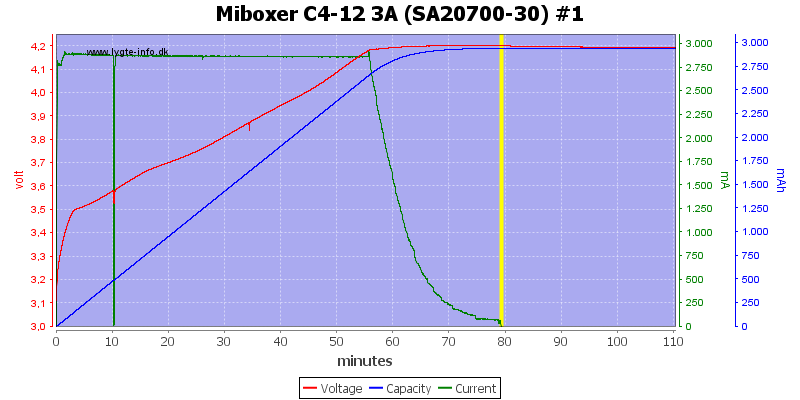 A slightly large cell that can easily hand a 3A charge current, the charger do a nice job.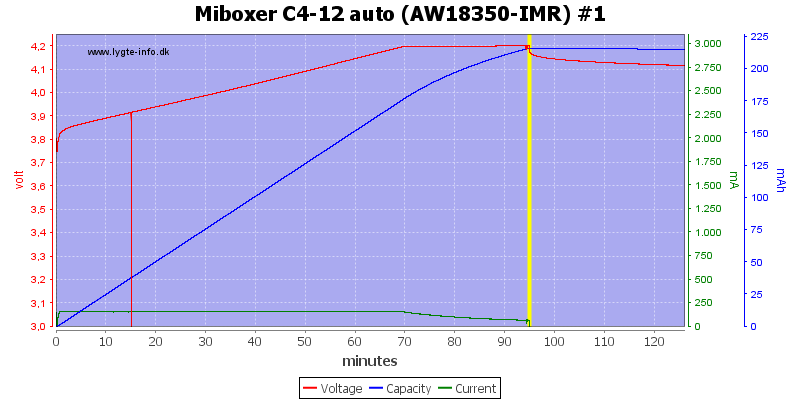 This very old and worn down cell is also handled nicely, with a very low charge current.




With the automatic selection the charger is a bit slow to charge this cell, but it do get charged nicely.
Display shows: 727mAh, 322ohm, 3:57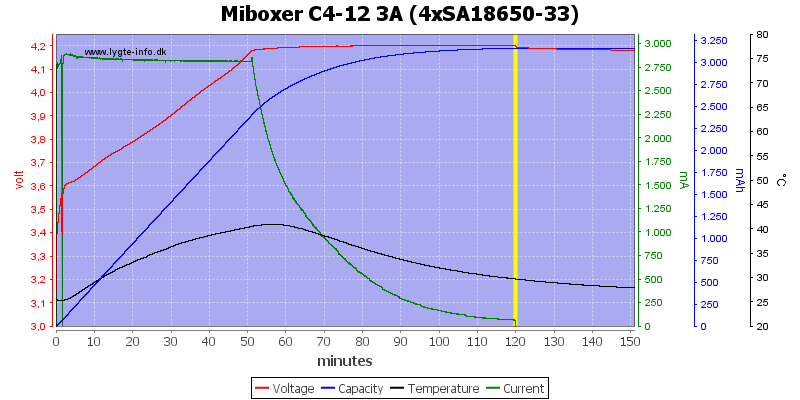 The charger can charge 4 cells at 3A, but these cells is heated significantly.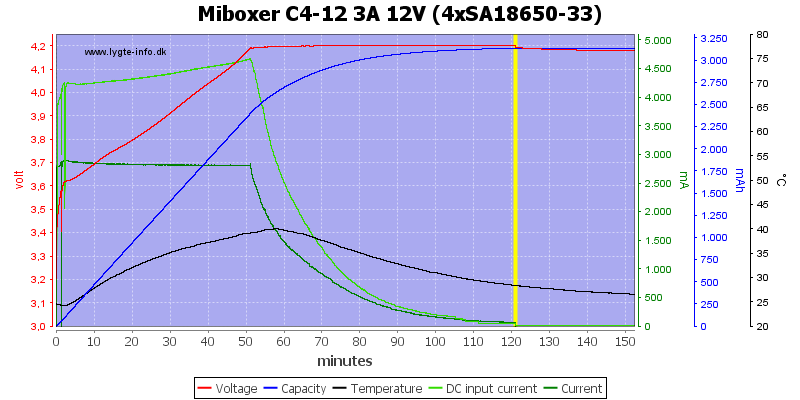 Charging four cells at 3A requires nearly 5A from 12V. For the first test I used a 4A power supply, the charger handled that very nicely by reducing the charge current a bit.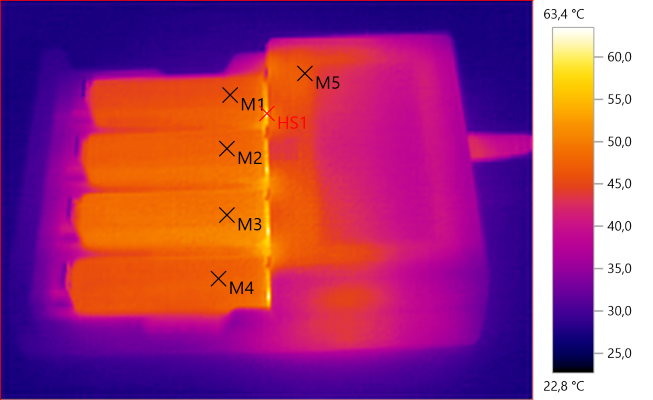 M1: 46,1°C, M2: 47,4°C, M3: 49,5°C, M4: 47,3°C, M5: 46,5°C, HS1: 63,4°C
Charging 18650 at 3A means the batteries will generate some heat.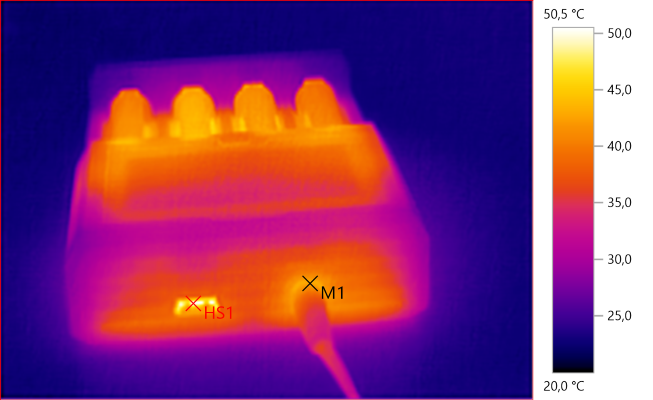 M1: 42,4°C, HS1: 50,5°C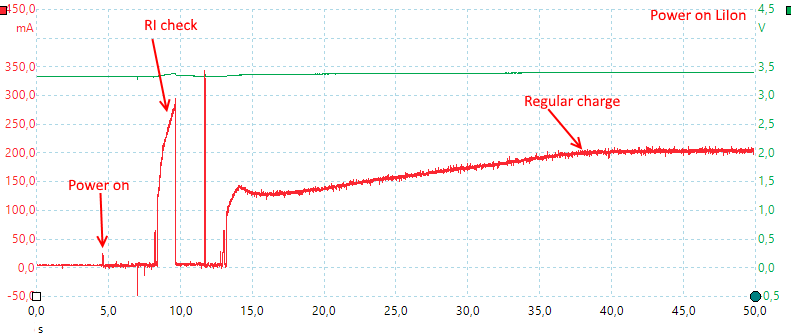 The charger uses a internal resistance check to decide the charge current and will then ramp the charge current slowly up.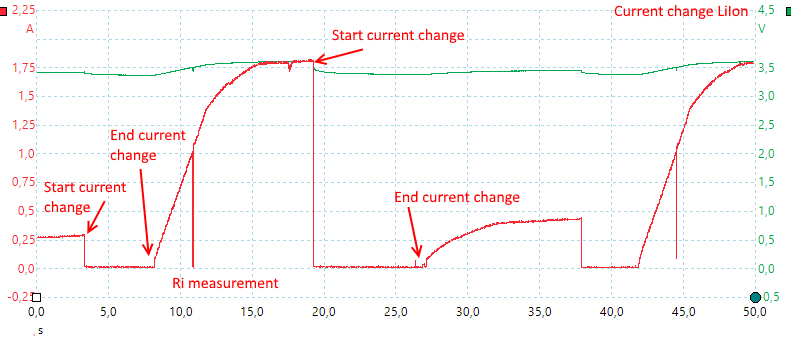 It is possible to overide the current setting at any time.






Measuring Internal Resistance LiIon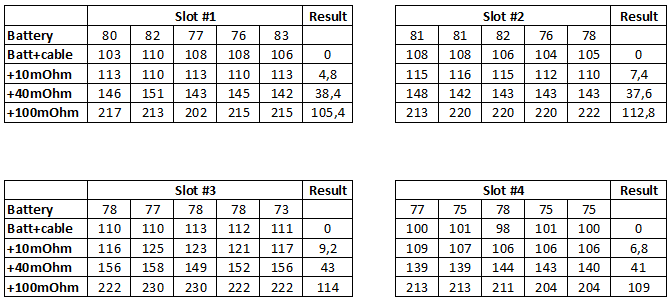 The results looks good and the consistency is also fine.





Charging NiMH



Charging current: Auto, 0.1A, 0.2A, 0.3A, 0.4A, 0.5A, 0.6A, 0.7A, 0.8A, 0.9A, 1A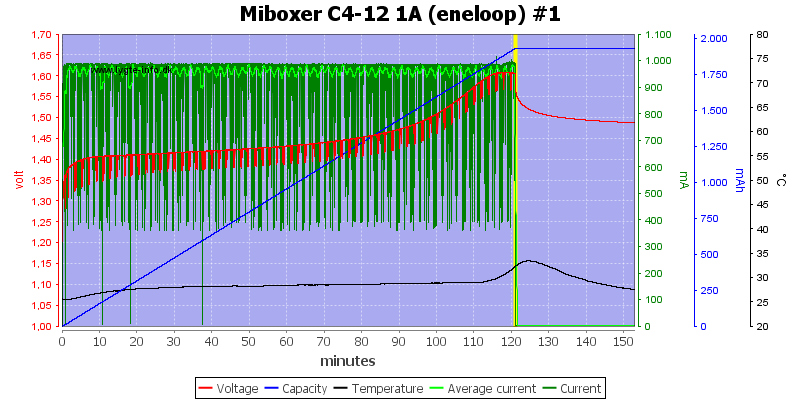 This is a nice -dv/dt termination with no top-off or trickle current.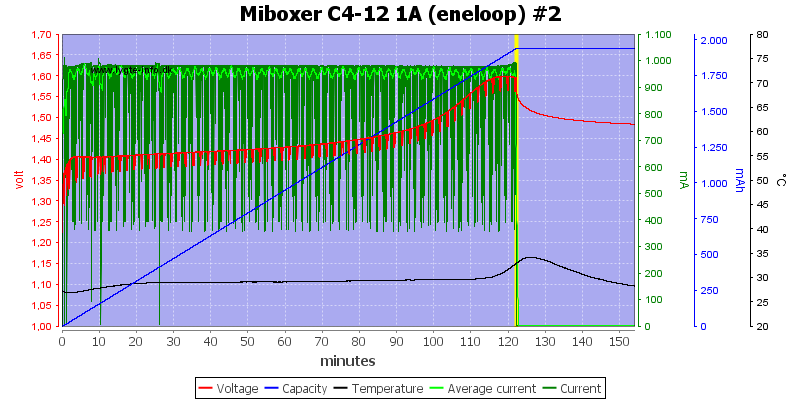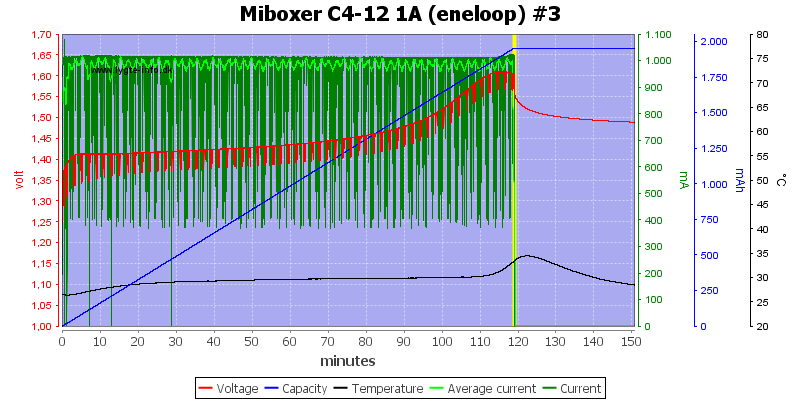 Display shows: 1641mAh, 69ohm, 1:58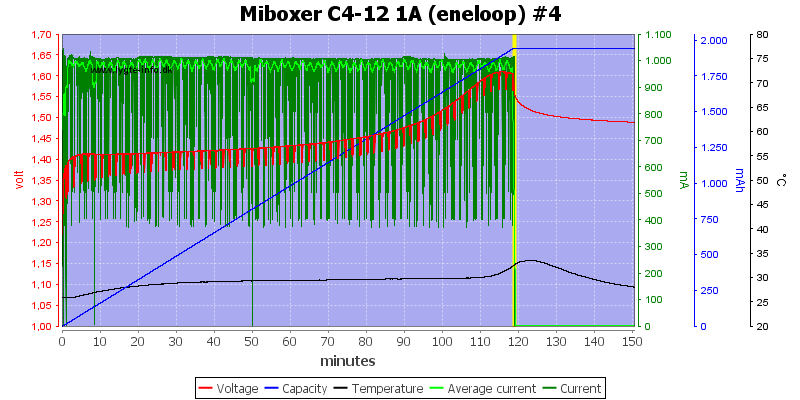 The 3 other also shows the nice -dv/dt curve.
Display shows: 1639mAh, 153ohm, 1:58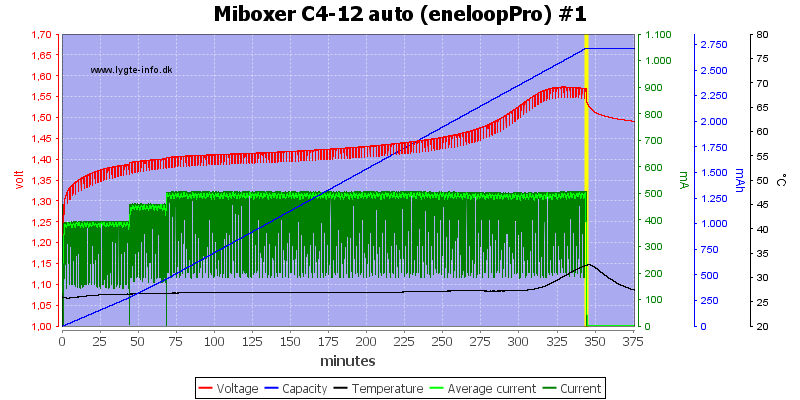 I uses auto mode for this cell, the charge current was a bit low, but the charge looks fine.
Display shows: 2252mAh, 89ohm, 5:42




A problem with using low charge current is a missing -dv/dt signal, but the charger terminates fine on this cell (I do not know if it is due to timeout or because it detects a full battery).
Display shows: 2814mAh, 171ohm, 15h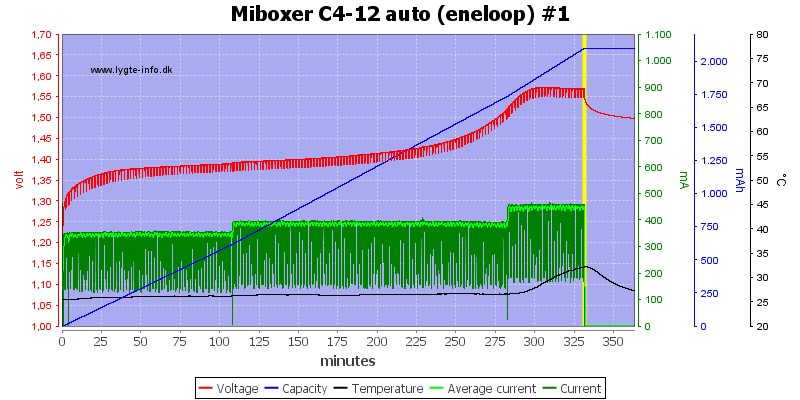 Display shows: 1686mAh, 97ohm, 5:30




I selected a very low charge current for this cell, the charger did not like it and reported error after some time.




The AA is handled nicely.
Display shows: 637mAh, 104ohm, 2:14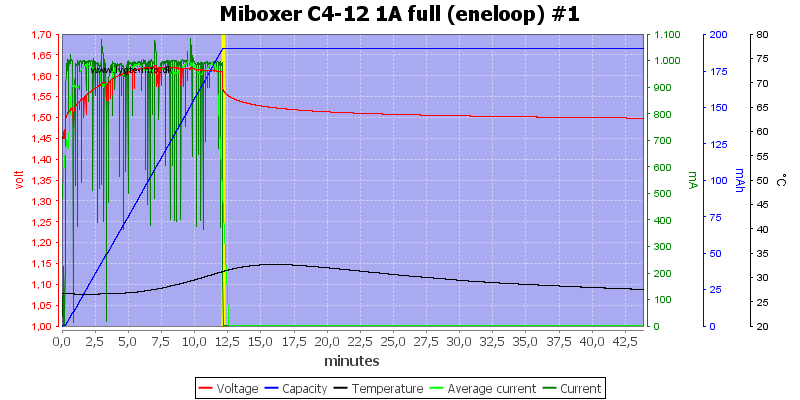 With -dv/dt it takes some time to detect a full cell.
Display shows: 54mAh, 224ohm, 0:12




No problem with 4 cells.




The charger uses about 1.5A from 12V to charge 4 cells.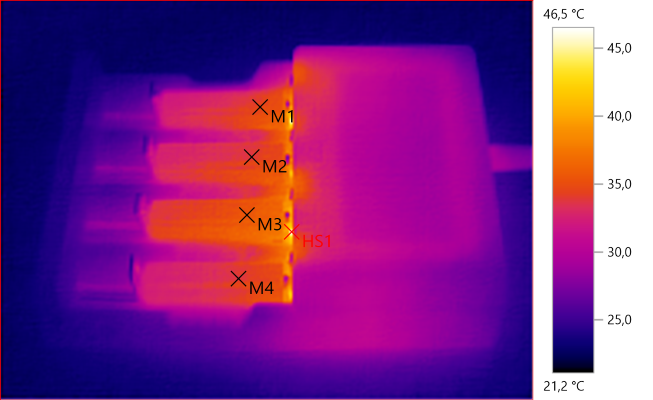 M1: 34,4°C, M2: 33,9°C, M3: 35,5°C, M4: 33,7°C, HS1: 46,5°C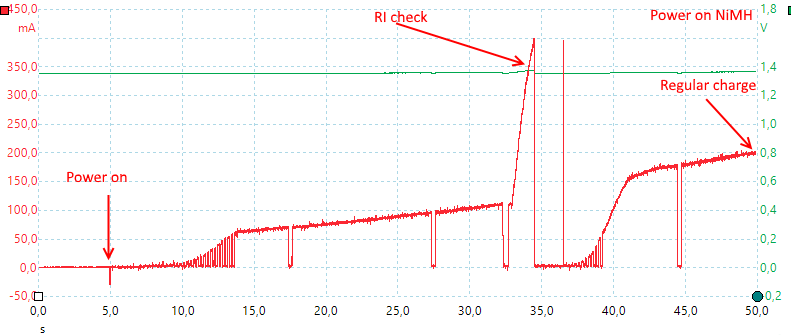 The charger starts up with low charge current and after some time change to high charge current. This makes it possible to select low current before the charger switches to high current.
The total staring time is about 25 seconds.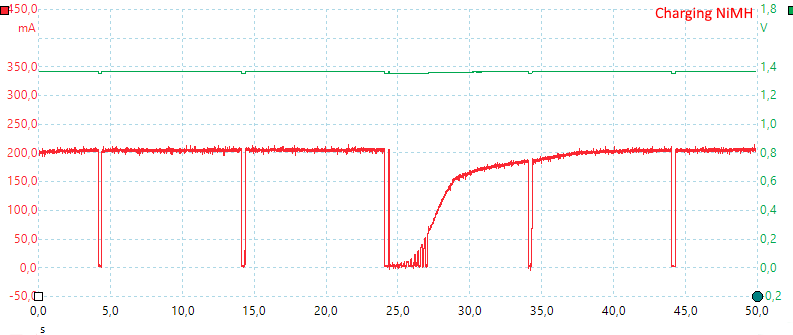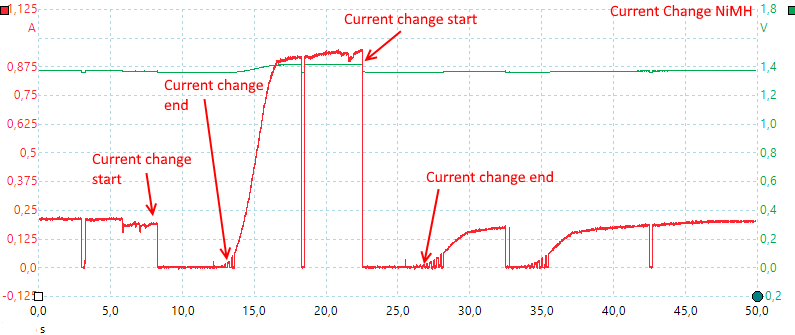 Current can be changed at any time. As is common with all NiMH chargers the current is turned off to measure the NiMH voltage.





Measuring Internal Resistance NiMH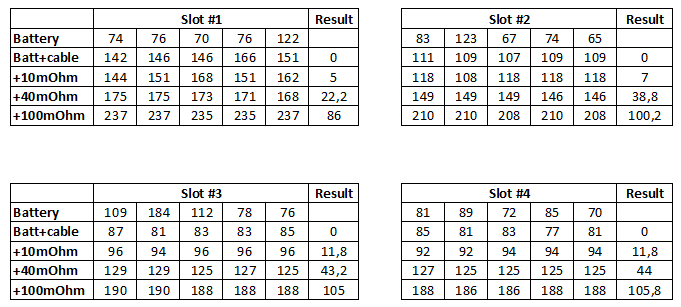 I have a bit problems with contact resistance here, especially on slot #3, but the final result looks fairly good.





USB output (Power bank)
Without power it will discharge a LiIon battery with 1-3mA depending on voltage.
Usb output is coded as DCP
Usb output uses slot #4 for power.
Usb output will turn off after 30 seconds with below 75mA load.
Usb output turns off when power is connected to the charger.
To keep display and usb power on requires about 42mA from the battery (17mA when background light is off).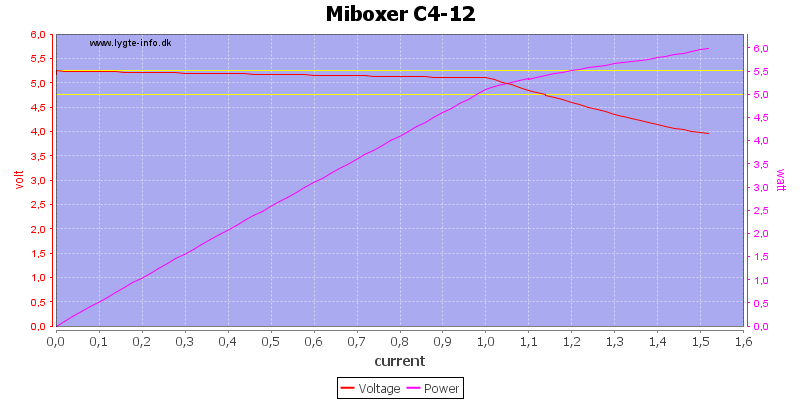 With a full battery the usb output can deliver exactly 1A, before the output voltage drops. Overload protection kicks in at 1.5A




The output voltage stays nicely at about 5.2V when I draw 0.5A




With 1A output the boost converter has problems maintaining the output voltage, this is not very impressive.




At 0.5A the noise is 106mV rms and 1244mVpp





At 1A the noise is 159mV rms and 1615mVpp, this is way to much noise.





The current display is not precise at low currents.

Testing with 2830 volt and 4242 volt between mains and low volt side, did not show any safety problems.





Conclusion



This charger can handle four 26650 LiIon cells at 3A, this is a very impressive charge current. It can either do automatic current selection based on internal resistance or current can be selected manually. For optimal charge speed manual selection must be used, automatic will use a high current for new cells and a low current for old cells.
The internal resistance measurement circuit works fairly well, especially on LiIon.
I wonder why the charger has a power bank function, the charger is too big to carry around and with only one cell feeding the power bank it cannot deliver that much output power. In fact it is a fairly weak power bank with a lot of noise.

I will give the charger a good rating.





Notes



The charger was supplied by Miboxer for review.

Here is an explanation on how I did the above charge curves: How do I test a charger