Charger NiteCore UMS2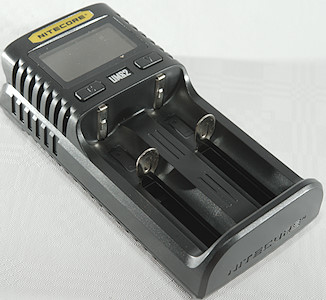 This is a USB QC powered universal charger with adjustable current.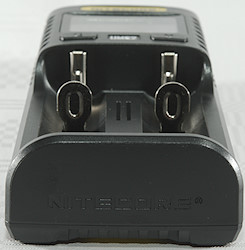 The cardboard box lists lot of specifications, battery types and features.




The box contains the charger, a USB cable, manual and a warranty card.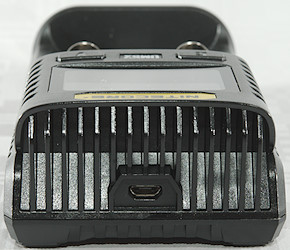 The charger has the USB connection on the back together with a plastic heat sink.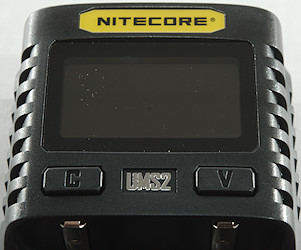 The charger has two switches:
C: A short press will change slot and longer press will enter the charge and battery menu.
V: Step between displayed values and change settings in menu.




No batteries in the charger.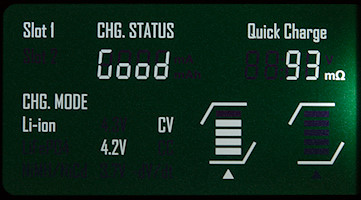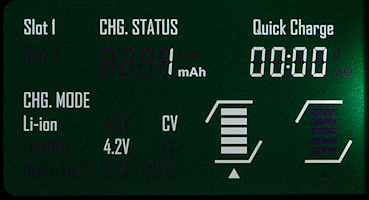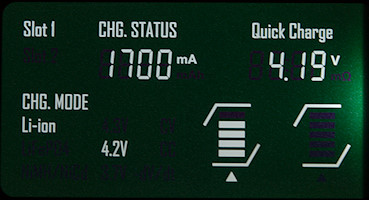 When charging it will show chemistry (Li-ion), algorithm (CV), current, charged capacity, voltage time and internal resistance.
The "Quick Charge" is present when the charger is power from a QC charger.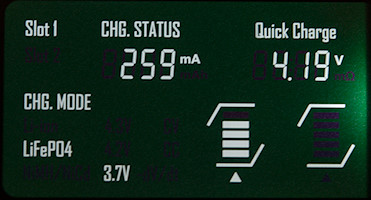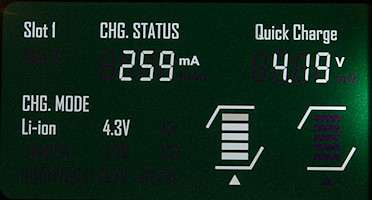 Other LiIon battery types.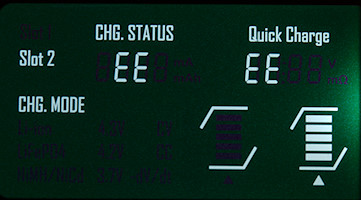 Error




NiMH batteries.




The yellow label has the important specifications and is easy to read.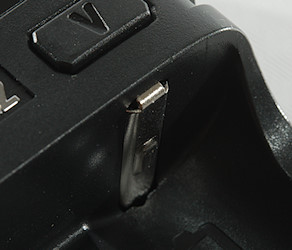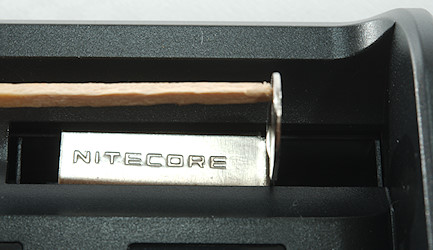 The slots uses the usual construction and works well. They can handle batteries from 30mm to 79 mm long, the new 21700 with protection will fit in the charger.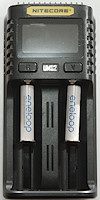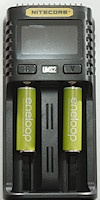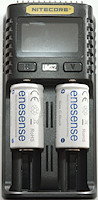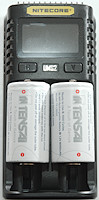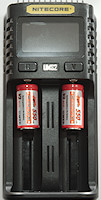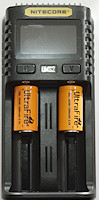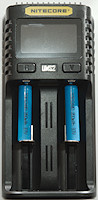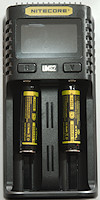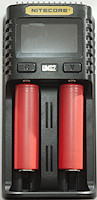 The charger can handle 79 mm long batteries, inclusive flat top cells.






Measurements



Discharges LiIon with 0.1mA and NiMH with 0.02mA when not connected to power
Below 0.7 volt the charger will show EE and charge with about 1mA, there will be no voltage readout.
At 0.7 volt the charger will assume NiMH and start charging.
The charger will assume NiMH below 2.1 volt and LiIon above 2.1 volt.
Will not restart if battery voltage drops.
Charges with 0.2mA when LiIon battery is full.
Voltmeter readout freezes when charging is finished
Voltmeter is within 0.01 volt.
Voltmeter has a max. readout of 1.48V for NiMH and 4.20 volt for normal LiIon.
Change between 0.5A and 1A is around 55mm long batteries.
Charger uses 9V in QC mode and up to 2A current.
Charge will restart charging after power loss or battery insertion.
Power consumption from USB when idle without batteries is 38mA



LiIon charging



Current can be adjusted from 0.3A to 2A in 0.1A step with USB and to 3A with QC power supply. Default is 1A with normal supply and 1.5A with QC supply and long batteries. For shorter batteries it is always 0.5A.




This is a fine CC/CV charge with a termination current around 150mA, but the charger is a bit low in voltage.
Display shows 3009mAh




The second slot is similar.
Display shows 2842mAh




These 3 batteries are handled fine, even the old cell.
Display shows 2399mAh, 2750mAh, 1762mAh




The termination current is the same with 0.5A charge current.
Display shows 2877mAh




For this old and worn down cell I used the 0.1A setting, it is 150mA and due to the fixed termination current it do not taper, this is not ideal for small cells.
Display shows 47mAh




2A charge current works fine.
Display shows 3065mAh, 2781mAh, 3055mAh




Display shows 2796mAh




This larger cell handle a 3A charge nicely and the charger also do a good job.
Display shows 3120mAh




Two cells at 1A works fine on normal USB.
Display shows 3061mAh, 2987mAh




The current draw is up to 2A.




It was possible to set the current for both cells to 2A and the charger did it, this means 4A drawn from USB.
This is not very nice to do without warning the user.
Display shows 3068mAh, 2956mAh




With QC I could also select 3A for each cell and it did it.
Display shows 3269mAh, 3086mAh




Adding a 0.5ohm resistor to simulate a long cable or weak power supply did not prevent the charger working, but slowed it down.
Display shows 2803mAh, 2980mAh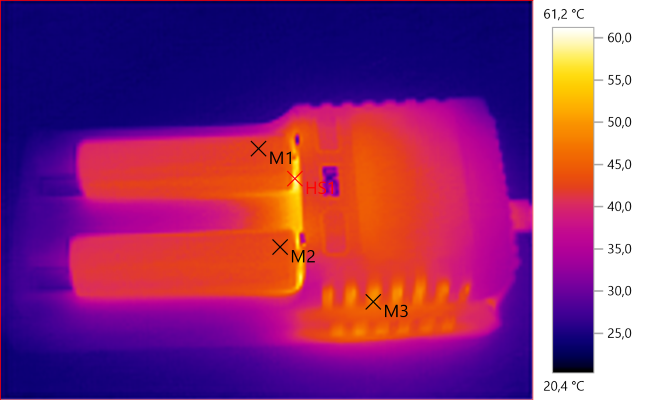 M1: 42.5°C, M2: 43.2°C, M3: 48.2°C, HS1: 61.2°C




HS1: 58.3°C




The charger need some time to start a charge. The charger measured voltage with current off.




With QC there is a current spike.




When entering the current change menu the current is turned off and first resumed when leaving the menu.




The charger has some problems with a unstable power supply.





4.35V LiIon charging






The charge curve is nice enough, but again the voltage is about 0.05V too low.
Display shows 2694mAh




IFR (LiFePO4) charging






No problem with LiFePO4 cells.
Display shows 476mAh, 1183mAh





NiMH charging



Current can be adjusted from 0.1A to 2A in 0.1A step both with USB and QC power supplies. Default is 0.5A




The charging uses -dv/dt termination in the end and then adds a 10 minute top off charge (Why?) and do not use trickle charge.
Display shows 1969mAh




Both high capacity cells are terminated on -dv/dt and with top-off charge.
Display shows 2850mAh, 2901mAh




It works the same way at 0.5A charge current.
Display shows 1807mAh




A AAA is no problem.




With -dv/dt termination it takes some time to detect a full cell, here 20 minutes and then a 10 minute top-off charge.
Display shows 289mAh




Two NiMH batteries.
Display shows 2143mAh, 2041mAh




It is also possible to charge at 2A with a normal USB supply.
Display shows 2155mAh, 2102mAh




Here I uses a QC charger for the 2A charging.
Display shows 2173mAh, 2183mAh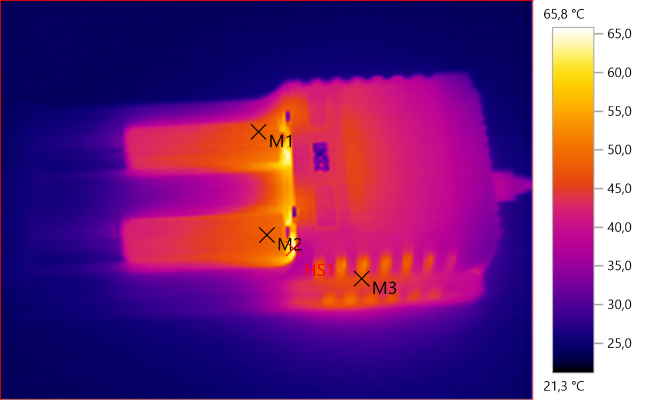 M1: 47.8°C, M2: 48.2°C, M3: 46.8°C, HS1: 65.8°C
The batteries gets fairly warm at 2A charging.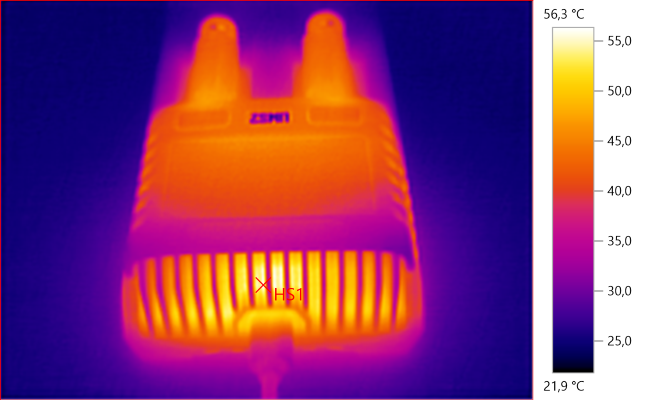 HS1: 56.3°C




The charger need some time to start and ramp up current.




With QC it was a bit longer time adjusting the current to the correct level.




When changing current the charge current is turned off, when finished it will slowly be adjusted to the new level.




Unstable power supply do not work with NiMH either.





Measuring Internal Resistance






These results looks very good, it detect my resistance fairly precise and consistently.





One slot worked fine on NiMH, but the other was completely useless, I wonder what went wrong.





Conclusion



The charger charges nicely, the default current is low enough to always work when using a normal USB charger, with QC it may be necessary to adjust the current down for smaller LiIon batteries. The mAh display is rather optimistic in its values. This charger can use a lot of usb current, because it do not limit the usb current. This high current will only happen if the user increase the charge current manually.
The user interface is fairly easy to use.

I will call it a good charger, just verify the current when charging smaller cells with a QC power supply.


My copy of the charger is at the bottom of the allowed voltage for LiIon or even a fraction below it. This will improve the lifetime of the batteries, but they will have less capacity when charged on this charger.




Notes



The charger was supplied by a Nitecore for review.

Here is an explanation on how I did the above charge curves: How do I test a charger