Charger NiteCore UMS4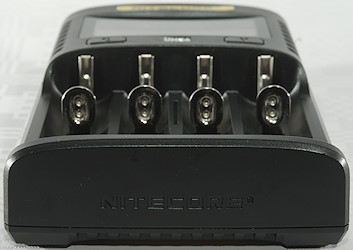 This is a USB QC powered universal charger with adjustable current.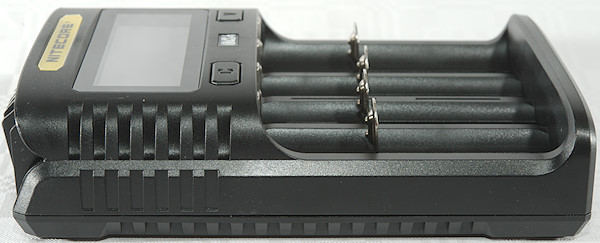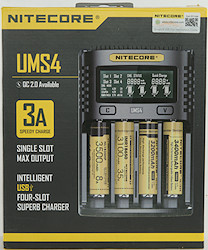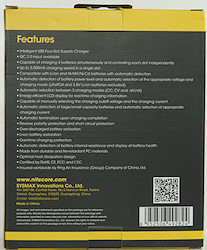 The cardboard box lists lot of specifications, battery types and features.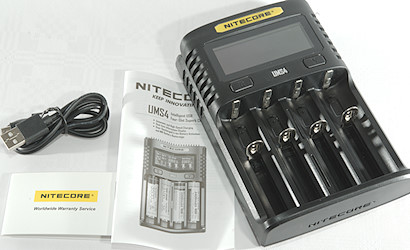 The box contains the charger, a USB cable, manual and a warranty card.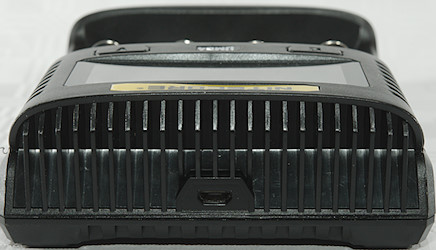 The charger has the USB connection on the back together with a plastic heat sink.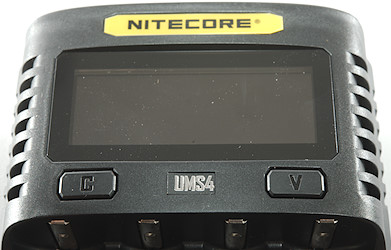 The charger has two switches:
C: A short press will change slot and longer press will enter the charge and battery menu.
V: Step between displayed values and change settings in menu.







When charging it will show chemistry (Li-ion), algorithm (CV), charged capacity, internal resistance, current, voltage and time.
The "Quick Charge" is present when the charger is power from a QC charger.




The 4.35V batteries are shown as 4.3V and LiFePO4 as 3.7V and NiMH is shown as NiMH/NiCd with -dv/dt algorithm.





Error.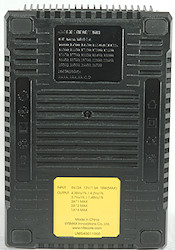 The yellow label has the important specifications and is easy to read.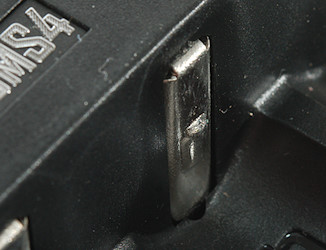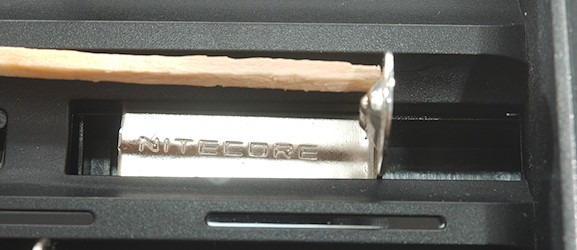 The slots uses the usual construction and works well. They can handle batteries from 29mm to 77.8 mm long, the new 21700 with protection will fit in the charger.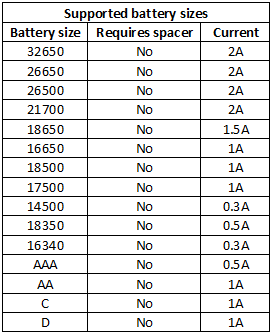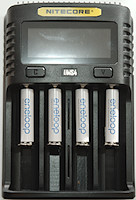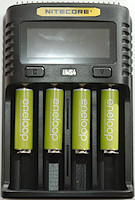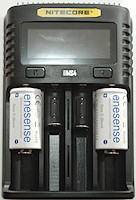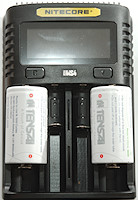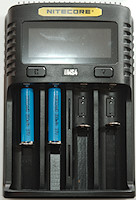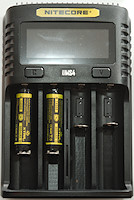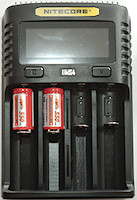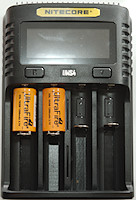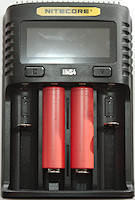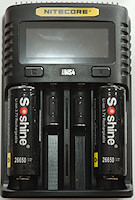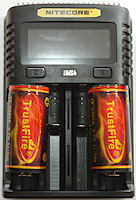 The charger can handle 77.8 mm long batteries, inclusive flat top cells.





Measurements



Discharges LiIon with 0.2mA and NiMH with 0.05mA when not connected to power
Below 0.8 volt the charger will show EEEE and charge with about 0.5mA.
At 0.8 volt the charger will assume NiMH and start charging.
The charger will assume NiMH below 1.7 volt and LiIon above 2.0 volt.
Will not restart if battery voltage drops.
Charges with 0.05mA when LiIon battery is full.
Voltmeter readout freezes when charging is finished
Voltmeter is within 0.03 volt.
Voltmeter has a max. readout of 4.20 volt when LiFePO4 or 4.3V is not selected.
Slot #1 & #3 shares a charge circuit, the same with #2 & #4, i.e. charge speed will be halved when they are used together.
Change between 1A and 2A for LiIon in QC mode is around 55mm long batteries.
Charger uses 12V in QC mode and up to 2A current.
Charge will restart charging after power loss or battery insertion.
Power consumption from USB when idle without batteries is 32mA for standard USB and 50mA from QC



LiIon charging



Current can be adjusted from 0.3A to 2 in 0.1A step. Default is 2A with long batteries and 1A with short batteries. With QC maximum is increased to 3A for long batteries.




This is a nice CC/CV charge curve with about 120mA termination current.
Display shows 3050mAh, 3:49, 157mOhm




The 3 other slots are similar, but there is a minor voltage difference.
Display shows 3221mAh, 3:53, 182mOhm for #2
Display shows 2916mAh, 4:10, 226mOhm for #3
Display shows 2997mAh, 3:45, 132mOhm for #4




The two other capacities are also charged fine.
Display shows 2493mAh, 3:13, 197mOhm and 2787mAh, 3:35, 147mOhm




Increasing charge current to 2A works without problems.
Display shows 2708mAh, 2:00, 204mOhm for SA18650
Display shows 3115mAh, 2:49, 207mOhm for SA18650
Display shows 2972mAh, 1:47, 127mOhm for SA20700





This old and worn down cell I charged at lowest setting., the charger works fine, but a lower termination current would have worked better.
Display shows 176mAh, 0:53, 500mOhm




A 14500 with 0.5A charge current works fine.
Display shows 709mAh, 1:48, 470mOhm




Boosting input voltage to the charger with QC makes it possible to charge with 3A
Display shows 2786mAh, 1:23, 133mOhm for AP18650
Display shows 3088mAh, 1:13, 130mOhm for SA20700




With four cells in the charger from normal USB the current is reduced to 0.5A for each cell.
Display shows 2949mAh, 7:27, 198mOhm for #1
Display shows 3033mAh, 6:56, 111mOhm for #2
Display shows 3258mAh, 7:11, 108mOhm for #3
Display shows 3029mAh, 6:56, 80mOhm for #4




With QC power the charge speed is faster, in this case more than two hours is saved.
Display shows 3203mAh, 5:47, 274mOhm for #1
Display shows 3158mAh, 4:22, 95mOhm for #2
Display shows 3247mAh, 4:22, 98mOhm for #3
Display shows 3230mAh, 4:22, 57mOhm for #4




Using a 0.5ohm resistor in series with the power to simulate a weak charger or long cable makes the charger real slow and it stopped before the batteries was full. It looks like a 20 hour limit on charge time.




M1: 40.4°C, M2: 41.7°C, M3: 42.0°C, M4: 40.3°C, M5: 44.9°C, HS1: 54.4°C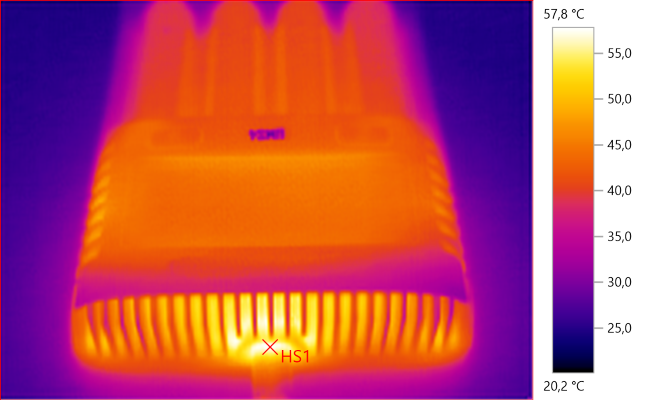 HS1: 57.8°C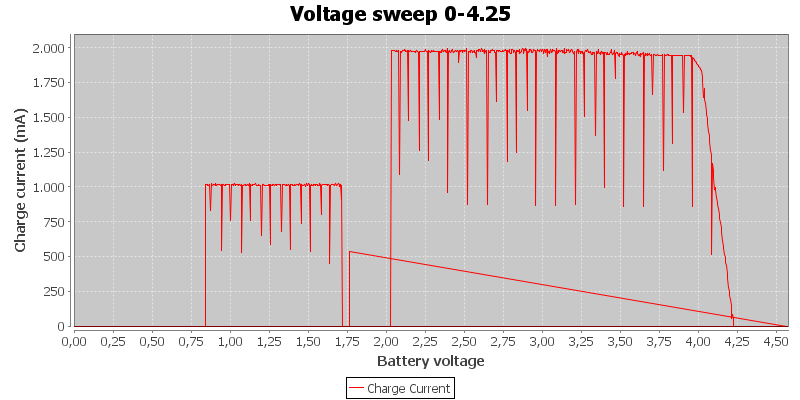 Charge profile for NiMH and LiIon, this charger only works at selected current, there is no low current at low LiIon voltage.




The charger need some time to start a charge. The charger measured voltage with current off.




Using QC do not change it.




The charger will timeshare the charging circuit when multiple slots are used, this means average charge current is halved.




When entering the current change menu the current is turned off and first resumed when leaving the menu.




The charger has some problems with a unstable power supply.





4.35V LiIon charging






This looks fine.
Display shows 2731mAh, 3:30, 167mOhm





IFR (LiFePO4) charging






Display shows 473mAh, 1:12, 364mOhm




These batteries are also charged fine.
Display shows 1129mAh, 1:29, 139mOhm





NiMH charging



Current can be adjusted from 0.3A to 2A in 0.1A step both with USB and QC power supplies. Default is 1A




This is a -dv/dt charge curve, it looks like the charger makes a short top-off at 250mA
Display shows 1765mAh, 1:50, 214mOhm




The other slots looks similar, include the top-off.
Display shows 1831mAh, 1:53, 257mOhm on #2
Display shows 1890mAh, 1:57, 205mOhm on #3
Display shows 1806mAh, 1:52, 379mOhm on #4




The two high capacity cells are also charged nicely and also get the top-off.
Display shows 2482mAh, 2:32, 262mOhm for Pro
Display shows 2857mAh, 2:57, 452mOhm for Leise




The charger has no problem stopping with 0.5A in charge current.
Display shows 1775mAh, 3:38, 307mOhm




The AAA is also charged nicely.
Display shows 740mAh, 1:31, 311mOhm




It takes about 10 minutes to detect the full cell, this is fast for a -dv/dt charger. Here the top-off looks to be around 2 minutes.
Display shows 156mAh, 0:11, 130mOhm




The charger can charge with up to 2A on NiMH cells.
Display shows 1799mAh, 0:57, 302mOhm




With four cells the charge current is 1A.
Display shows 2065mAh, 2:06, 212mOhm on #1
Display shows 1898mAh, 2:01, 196mOhm on #2
Display shows 1898mAh, 2:01, 173mOhm on #3
Display shows 1923mAh, 2:02, 191mOhm on #4




And there is no bonus for QC.
Display shows 1932mAh, 2:04, 371mOhm
Display shows 1907mAh, 2:01, 178mOhm
Display shows 1982mAh, 2:05, 187mOhm
Display shows 1974mAh, 2:03, 165mOhm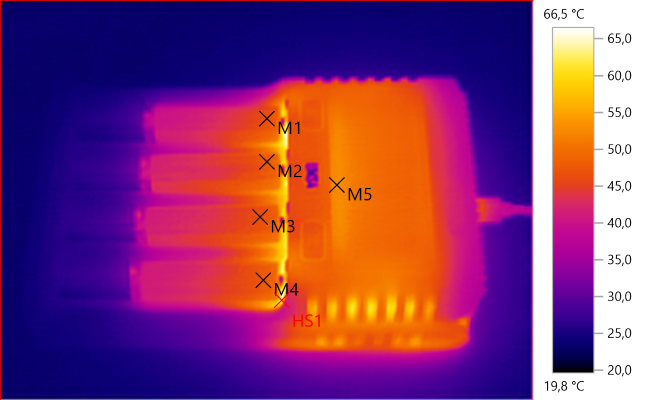 M1: 46.5°C, M2: 47.3°C, M3: 46.6°C, M4: 47.6°C, M5: 52.6°C, HS1: 66.5°C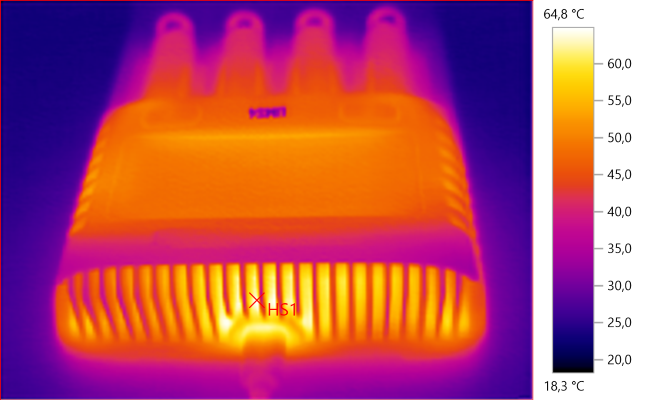 HS1: 64.8°C




The charger uses a low test current, probably to check for LiIon/NiMH, before it switches to the full charge current.




Using QC do not change it.




NiMH uses the same time sharing as LiIon.




The current is off when changing current.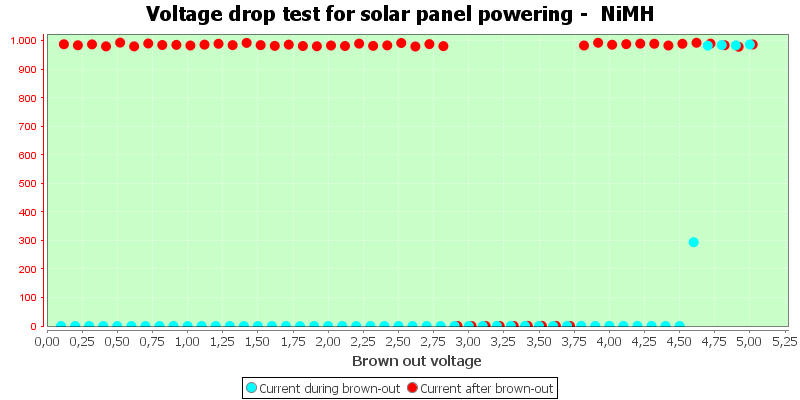 Unstable power supply do not work with NiMH either.




Internal resistance



The internal resistance measurement is not very impressive on this charger.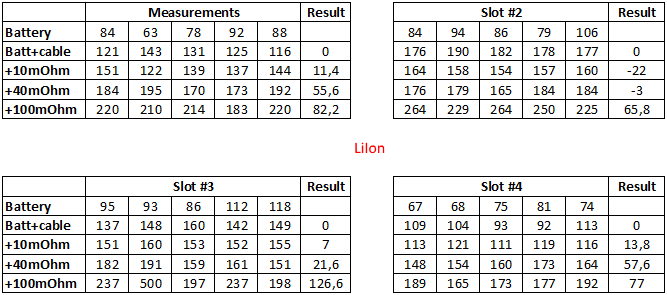 This is for LiIon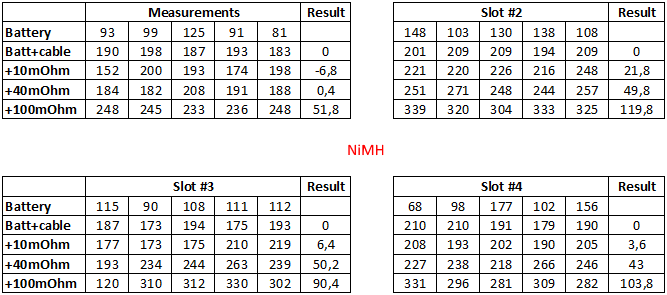 And NiMH.
Some of the readings are probably correct, but there are to many sporadic readings.




Conclusion



Generally the charger works well, but the default LiIon current (2A) is mostly for high current batteries, it is possible to select a lower current with some button presses. There is also the detail about time sharing, this means with 3 or 4 batteries in the charger the current is halved.
The internal resistance measurement do not work very well.

I will rate the charger as fairly good.





Notes



The charger was supplied by a Nitecore for review.

Here is an explanation on how I did the above charge curves: How do I test a charger