PALO C906W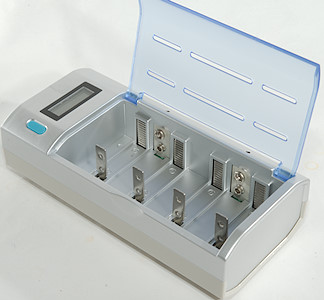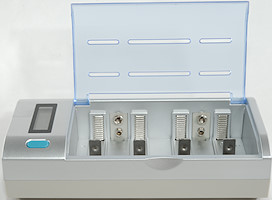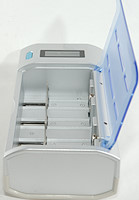 This is a fairly unknown brand of charger, it can charge and discharge up to D cells and also support 9V batteries.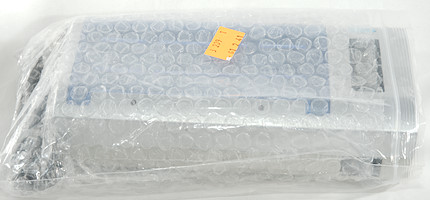 The charger did not include any box, but was only wrapped in bobble wrap.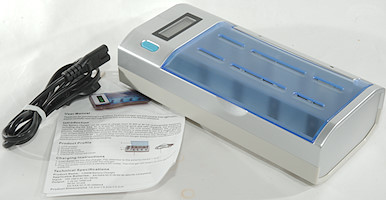 The pack included the charger, a mains cable and a instruction sheet.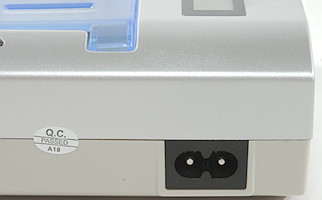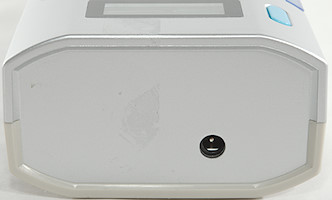 The charger is mains powered and has DC socket, but it is not marked and I have not tried it.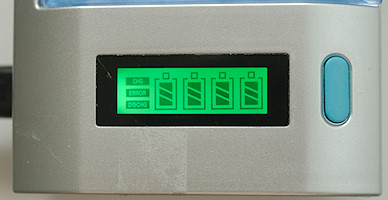 The display shows the 4 batteries and charge, error and discharge indicators.
The button is used to switch between charge and discharge.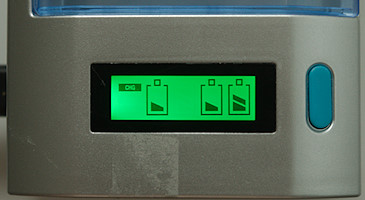 Charging display, the batteries are animated.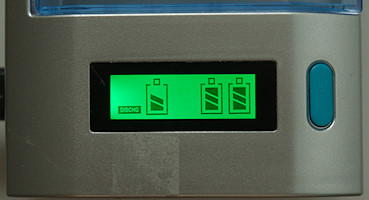 Discharging display, the battery show remaining charge.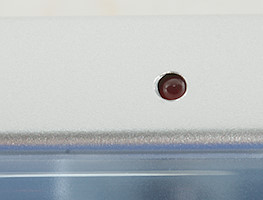 The indicator for 9V batteries is only a red led, the display is not used.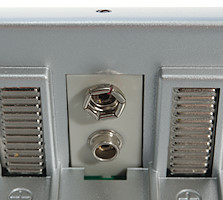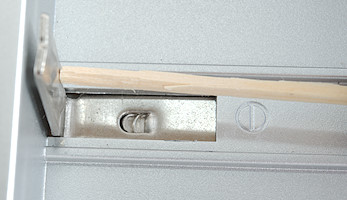 The slots are with a slider and large enough to handle from AAA to D sizes cells, between the slots are snaps for two 9V batteries.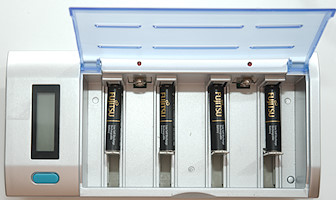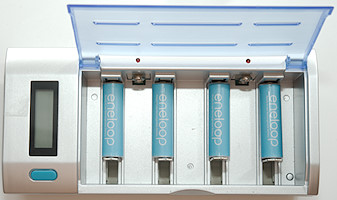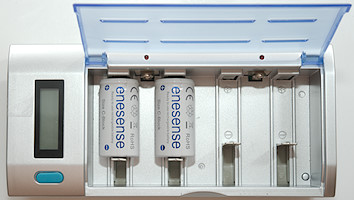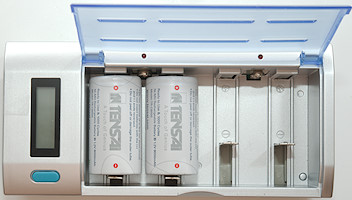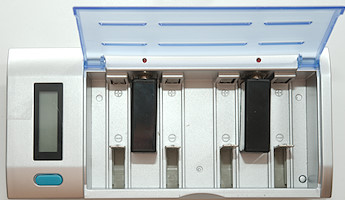 Measurements charger
Power consumption when idle is 0.5 watt
9V do not terminate
Without power it will discharge a NiMH battery with about 0.1mA
The charger will restart when a battery is inserted or power is cycled.
Charging 1.2V batteries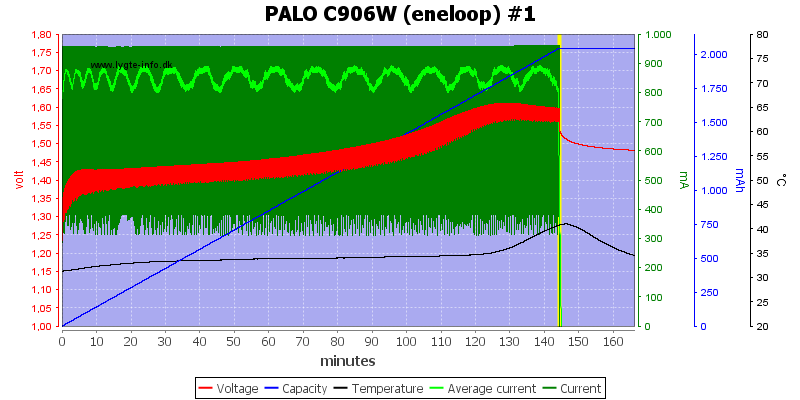 This is a -dv/dt charging and there is no top-off or trickle charge when finished, this looks good.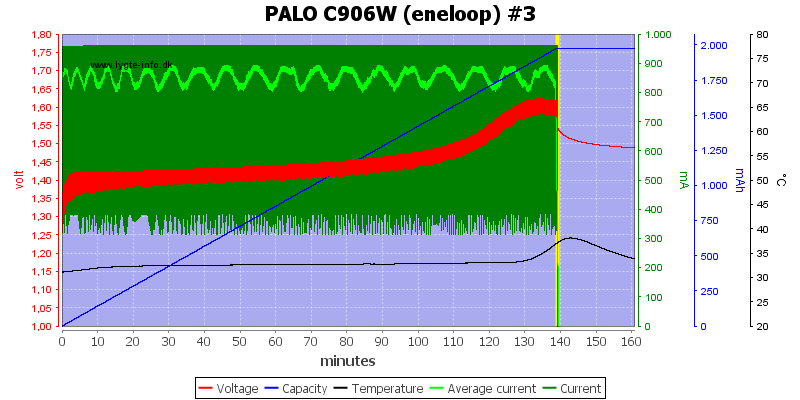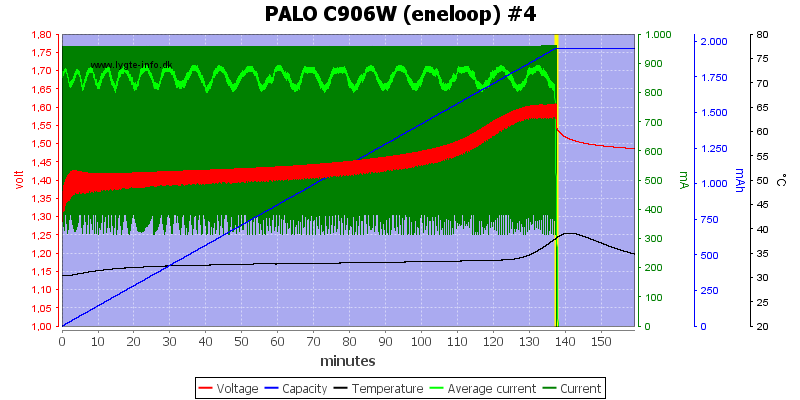 The other 3 slots are the same.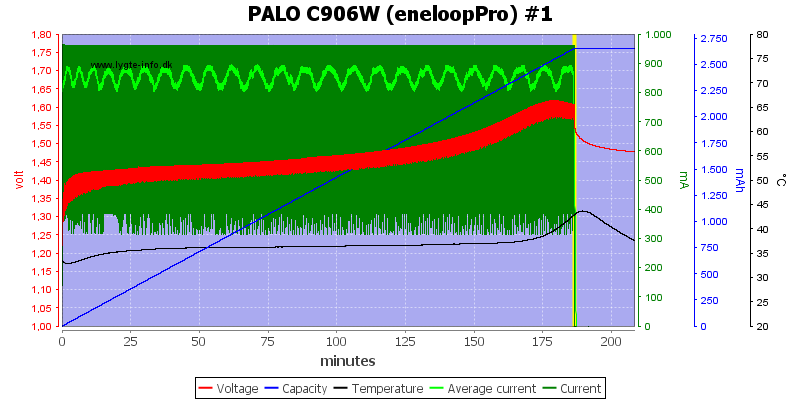 The EneloopPro also got the same nice treatment.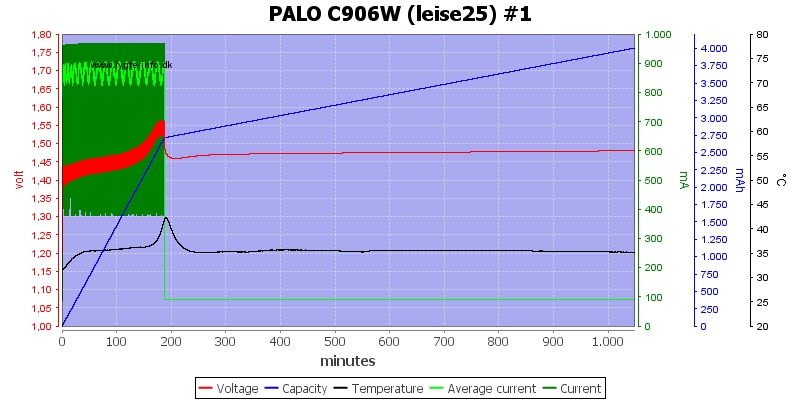 But with the Leise the charger decides to use a 90mA trickle charge.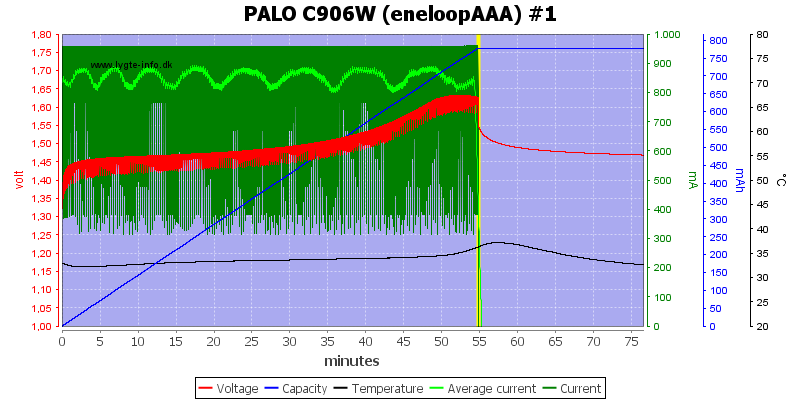 The AAA looks fine, but the current is a bit high.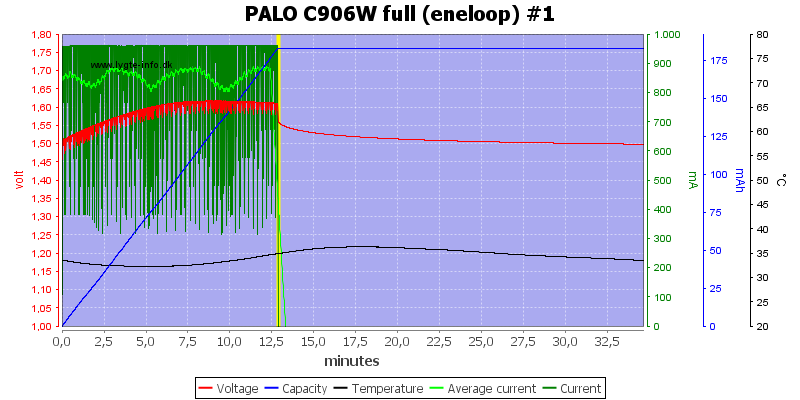 A full cell is detected in about 13 minutes, this is fast for a -dv/dt charger. There is no top-off or trickle charge.




The charger maintains the same charge current with 4 batteries in it.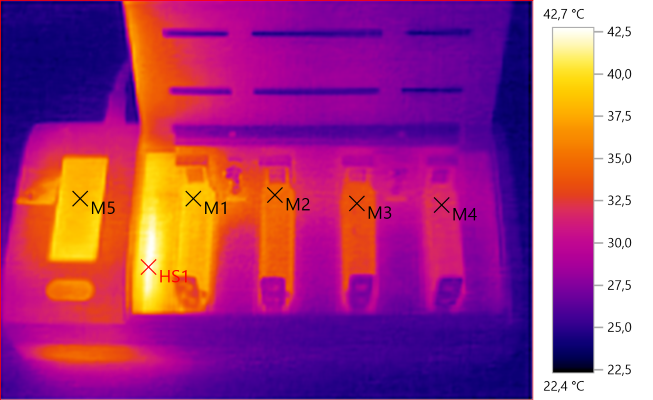 M1: 38.7°C, M2: 34.7°C, M3: 33.5°C, M4: 31.8°C, M5: 38.1°C, HS1: 42.7°C
The charger do not get very warm (I did this test with closed lid and only opened it for the photos).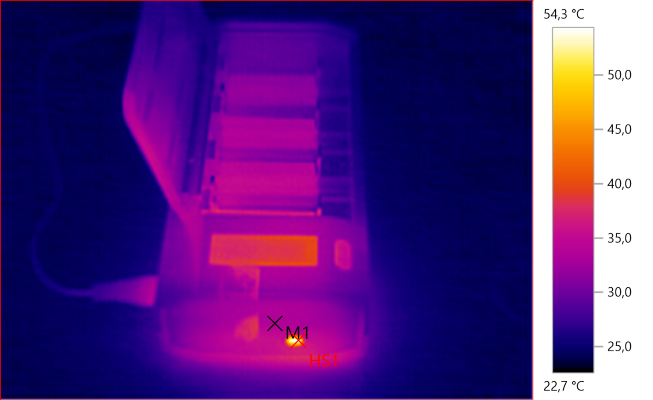 M1: 33.7°C, HS1: 54.3°C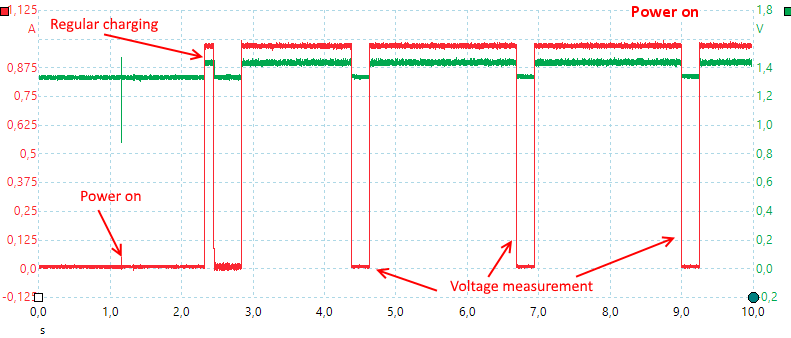 The charger starts fairly fast and uses the usual pulsing to check the voltage.





Discharge 1.2V batteries



Pressing the unmarked button on the charger will start a discharge cycle.




The discharge current is only about 350mA and the charger will charge the battery when finished.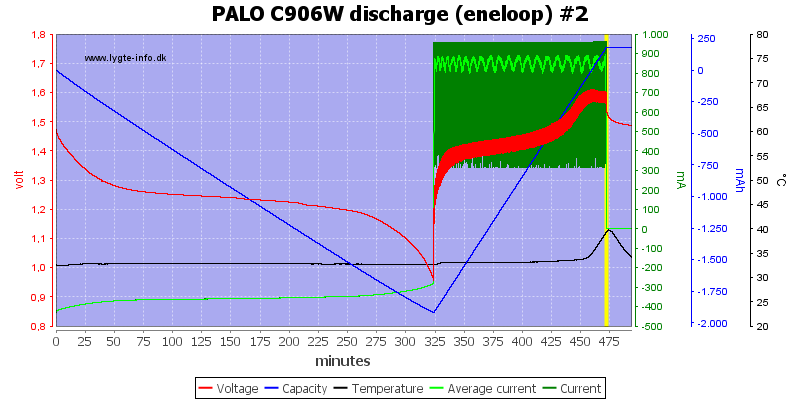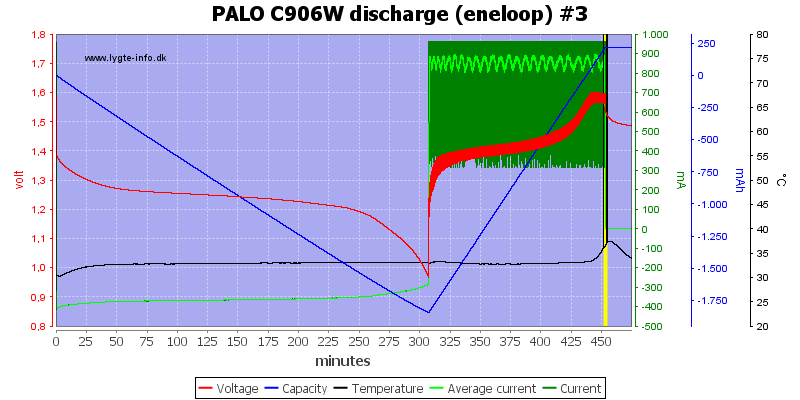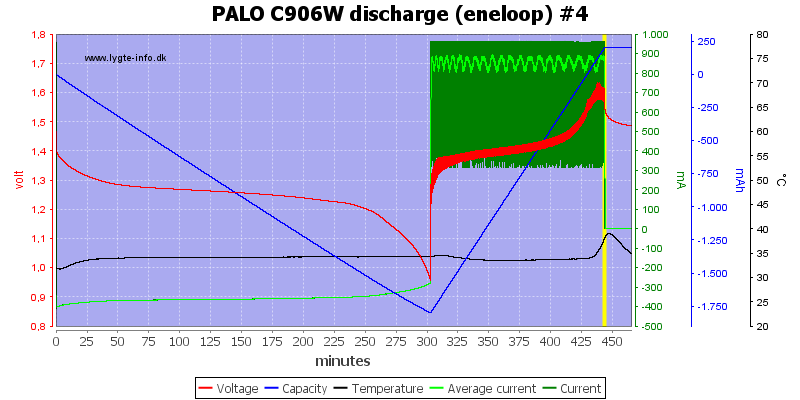 The other 3 slots looks similar.




Running all 4 slots simultaneous the discharge current is the same, but for some reason the charger do not charge when finished with discharge (It did that when I did another run, but I did not record that).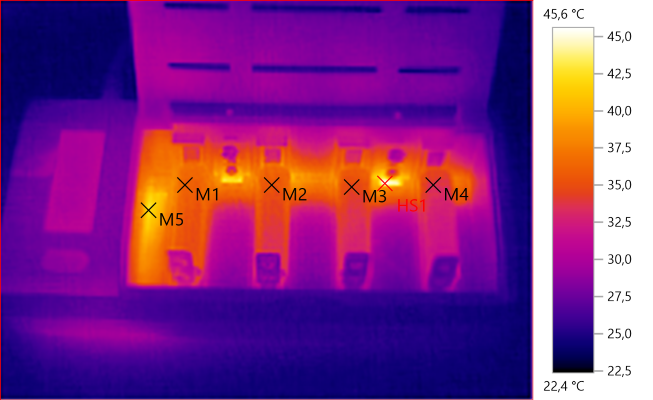 M1: 36.5°C, M2: 35.6°C, M3: 34.8°C, M4: 33.6°C, M5: 42.3°C, HS1: 45.6°C
The charger uses a low discharge current, this means there it not much heat.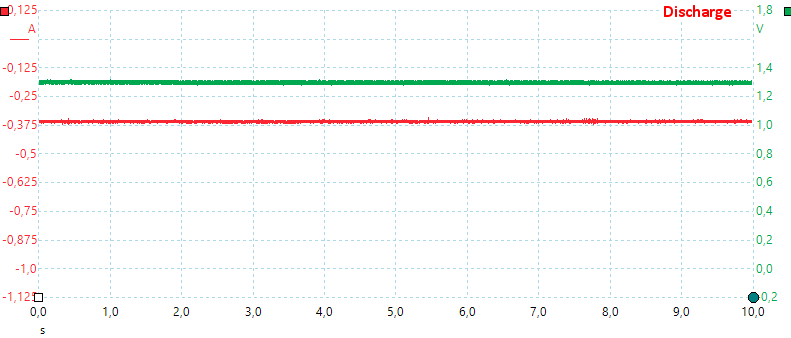 The discharge is with constant current.





Charging 9V batteries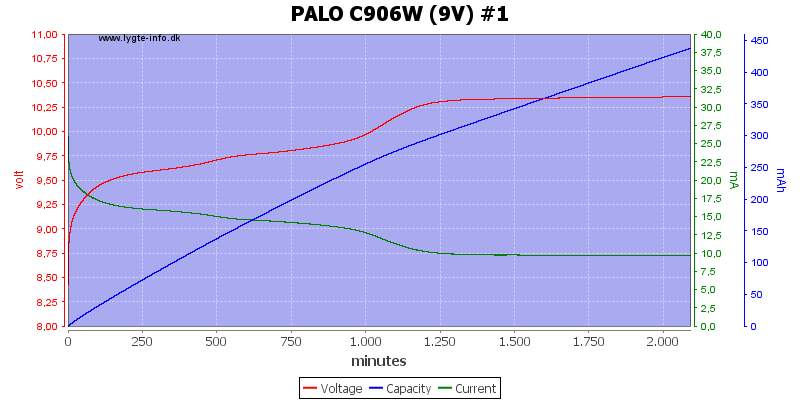 The 9V charging is a much simpler and dumber charger, it will never terminate the charge current.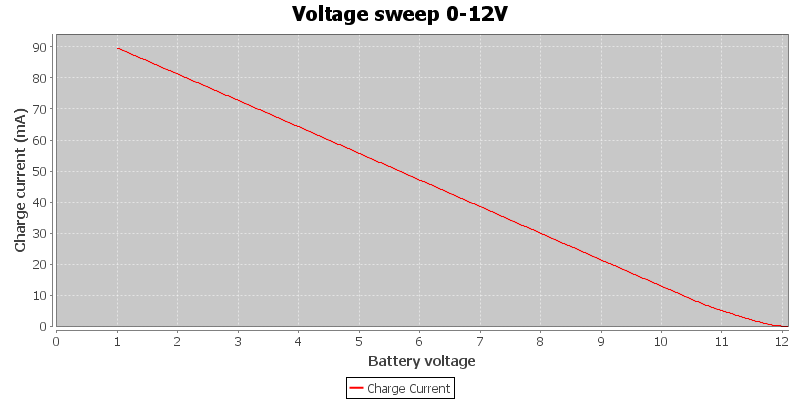 Checking the charge voltage and current shows that the charging circuit is only a resistor.



Testing with 2830 volt and 4242 volt between mains and low volt side, did not show any safety problems.





Conclusion



Nearly all the charge curves looks good, but it uses a high trickle charge once on a AA cell.
With 9V it is not a very good charge because it has no termination or indication on a full cell.

The rating for round cell is fairly good, but 9V is only usable.





Notes



The charger was supplied by Fasttech for review.

Here is an explanation on how I did the above charge curves: How do I test a charger