Charger Soshine S2 2014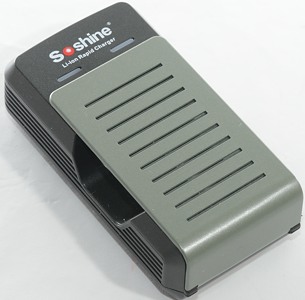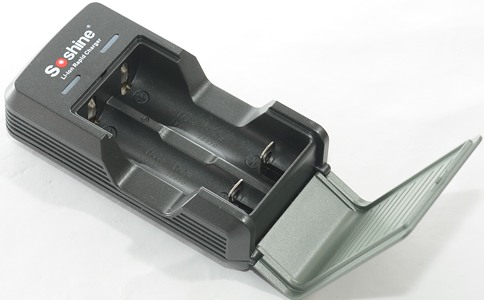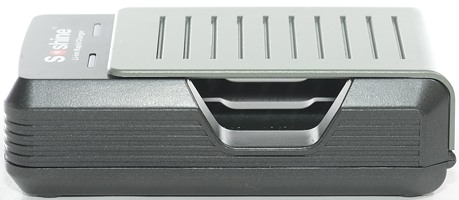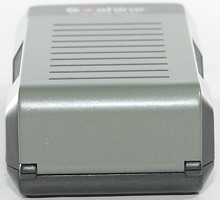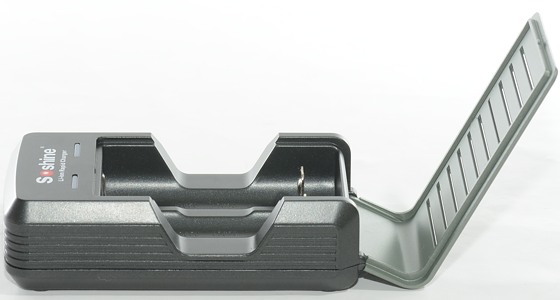 This is a update review of the S2, it looks exactly it has always done, but Soshine sent it to me and asked me to check it out.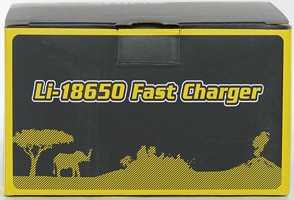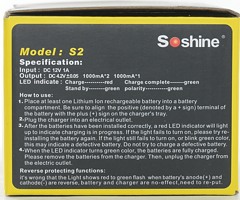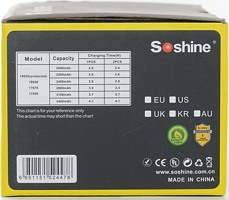 I got the charger in a cardboard box and as usual with soshoneSoshine the manual is printed on the box.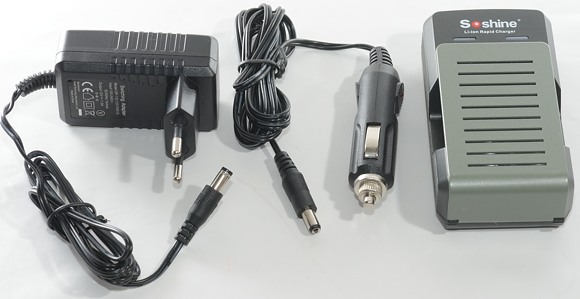 In the box was the charger, a power adapter and a car adapter.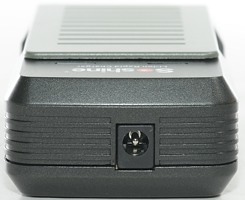 The charger has one connection, it is for 12V power, either the supplied adapter or a car adapter can be used to supply power.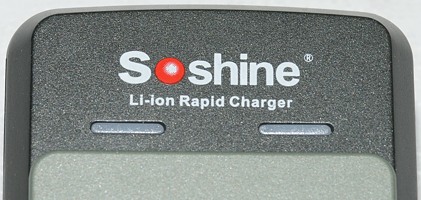 There is a two color led for each of the two charger channels:
Off: No battery in charger
Red flashing: Error.
Red/green flashing: Battery voltage to low
Steady red: Charging.
Green flashing: Charging nearly complete (Only 10-20 minutes left).
Steady green: Charging complete.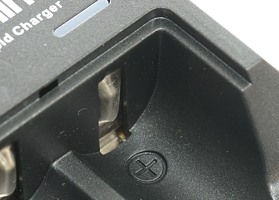 The charger uses a slider, but it only has movement enough to handle different sizes 18650 batteries with a range from 60 to 70 mm.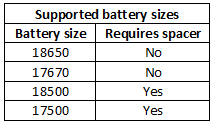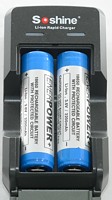 The charger can handle 70 mm long batteries, and both button and flat top cells.
The charger is only rated for xx650 batteries and can only hold that size, but adding a spacer makes it possible to charge xx500 batteries.




Measurements



When not connected to power it will discharges with up to 0.3mA.
Below 1.8 volt the charger will charge with 65mA and the led will flash red/green
Between 1.8 volt and 3.0 volt the charger will charge with 300mA.
Above 3 volt the charge will apply regular charge, see curve.
Charge will continue after power cycling or battery reinsertion, even if the green led turns on.
The channels are independent and there is small variations between them.


The charge curve is CC/CV and it works fine, until the battery is full. The charger does not turn the charging current off.
The charger will report full at about 100mA current, this is a good value for a 1A charger.




The second channel works the same.




Charging on both channels at the same time also looks fine.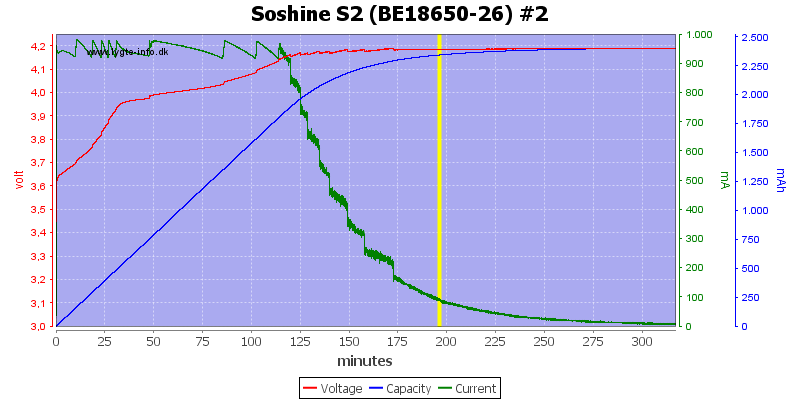 A 2600mAh battery is charged faster.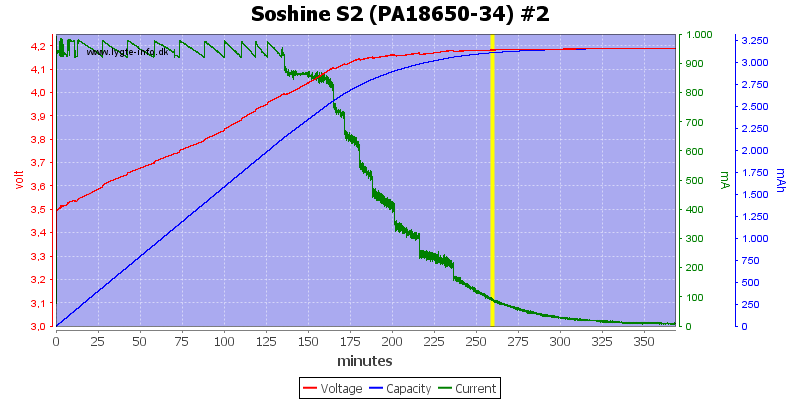 And the 3400mAh battery a bit slower.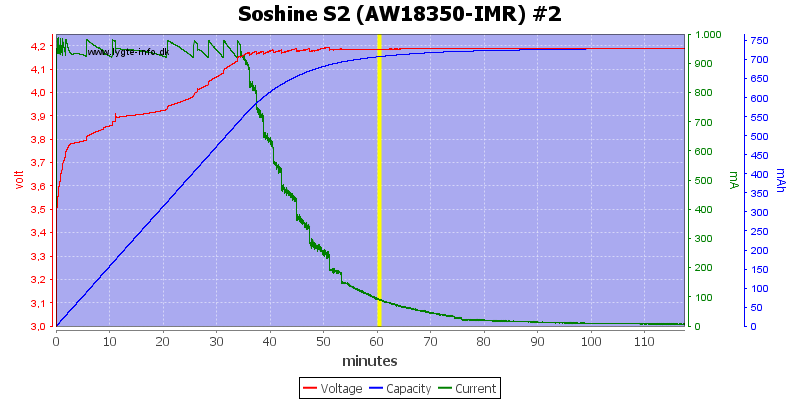 The charger handles the 18350 fine.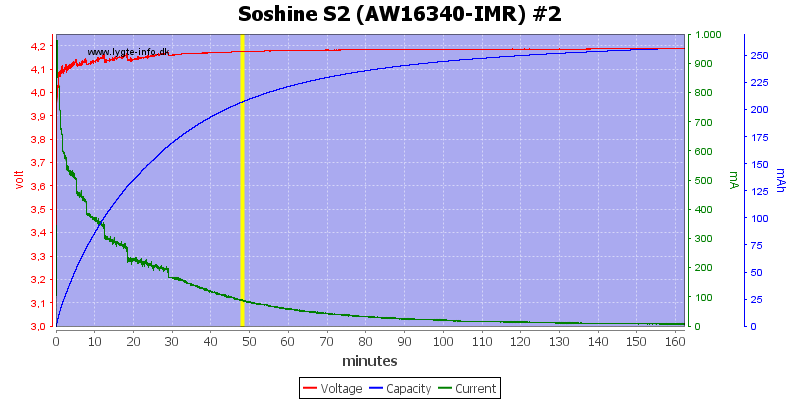 The old 16340 cell is also handled fine (Except the missing termination).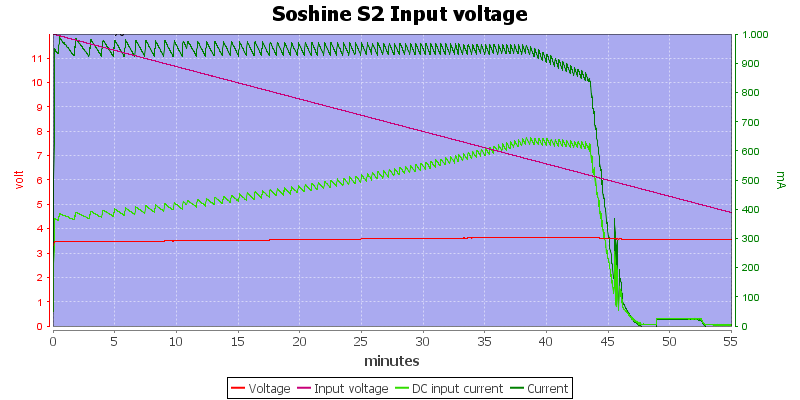 The 12 volt input works down to about 7 volt, before the charge current start to drop.




The charger uses about 0.9A when charging two batteries.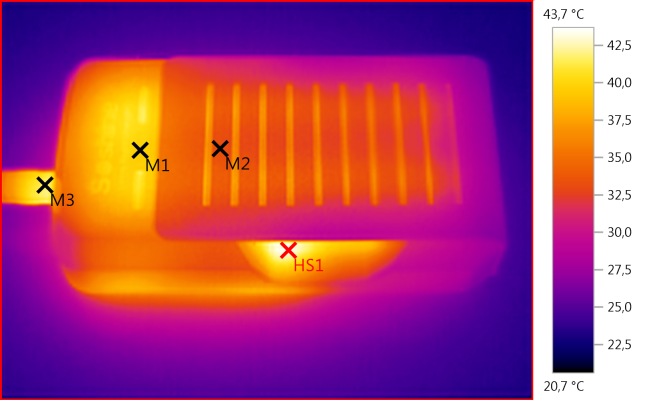 M1: 39,8°C, M2: 33,4°C, M3: 41,7°C, HS1: 43,7°C
Testing with closed lid.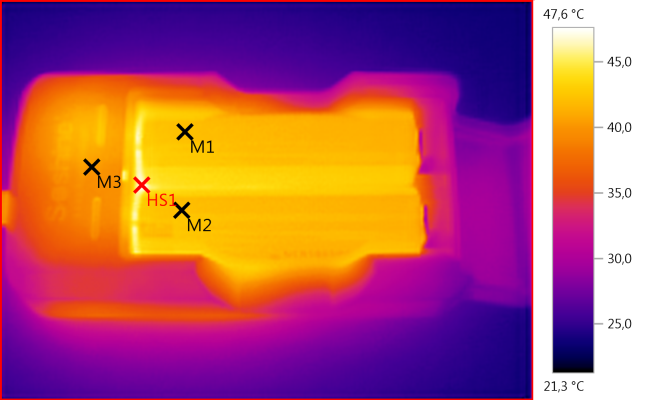 M1: 42,3°C, M2: 42,2°C, M3: 40,3°C, HS1: 47,6°C
Checking the temperature under the lid.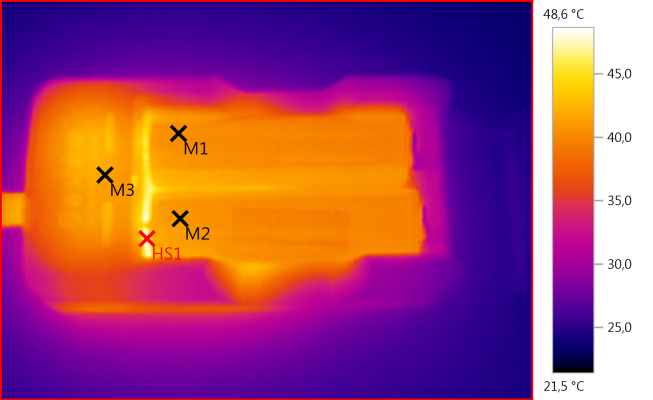 M1: 40,5°C, M2: 41,0°C, M3: 41,7°C, HS1: 48,6°C
Charging without the led, the batteries are about 2°C cooler. It looks like the lid only has a minor affect on the cooling.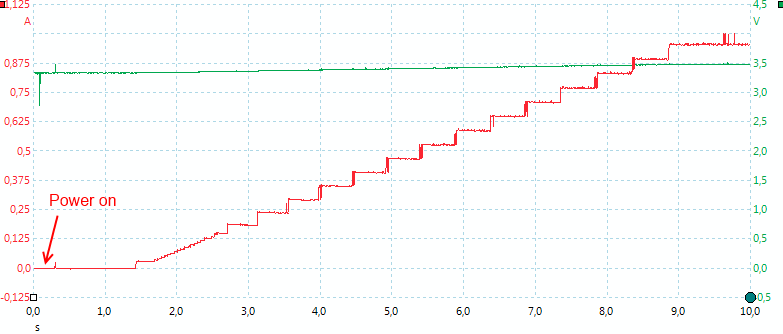 The charger uses a slow rampup when starting charging.

Testing the mains transformer with 2500 volt and 5000 volt between mains and low volt side, did not show any safety problems.





Conclusion



This charger follows a CC/CV charging profile and also supports long 18650 cells. The flashing green lamp, when the battery is nearly charged, is a smart feature.
But it does not turn off charging current, this is no problem as long as the batteries are removed within a few hours after the green led turns on, but will wear the batteries down if they stays in the charger for longer time.





Notes



The charger was supplied by Soshine for review.

Here is an explanation on how I did the above charge curves: How do I test a charger