Charger 1.5A 3.6-4.2V (TP5000)


This is a charger module from ebay, it is based on the TP5000 charge controller, depending on settings it can either charge with 4.2 volt or 3.6 volt.
The official specifications from the ebay page is:
PCB size:21.5*14.5*4.2mm
Input voltage: DC 4.5-9V(Recommended not to exceed 7V)
Output voltage: DC 4.2V/3.6V(default 4.2V)
Output current: 1A(Default max)
LED Indicator: Charging-Red/Green Flashing,Charged-Green
Features: Charging for Lithium battery(4.2V) and Lithium iron phosphate battery(3.6V)
I got it from ebay dealer: e_zealot




I got it in this bag without the led soldered in.




There is only components on one side of the circuit board. The charger is one switcher chip with inductor, diode and current sense resistor(s).




The supplied led is a 3 pin two color led that fits directly in the holes.




The charge current can be anything from 0.1A to 2A, this table shows some of the possibilities. Without a heatsink it is best to keep the current at 1A or lower.




Charging LiFePO4 works, but is not ideal.





Measurements



Power consumption when idle is 0.1 watt
Discharge with 3uA when not connected to power.
Discharge with 8uA when connected to power (5 volt supply).
Will restart if battery voltage drops to 4 volt (4.2V setting).
Will restart if battery voltage drops to 3.45 volt (3.6V setting).
From 0 to 1 volt it will charge with 0.4A (1A setting).
From 1 to 2.9 volt it will charge with 0.1A (4.2V/1A setting).
From 1 to 2.4 volt it will charge with 0.1A (3.6V/1A setting).
Charging 4.2V LiIon


This looks like a good CC/CV charging with termination a bit below 10% of charge current.
Compared to linear regulators this regulator reduces current closer to 4.2V, this will make the charging a bit faster.




M1: 52,3°C, M2: 49,2°C, M3: 39,3°C, HS1: 53,5°C
Everything on the circuit board stays fairly cool at 1A




With 9V input the charge reduces the current slightly.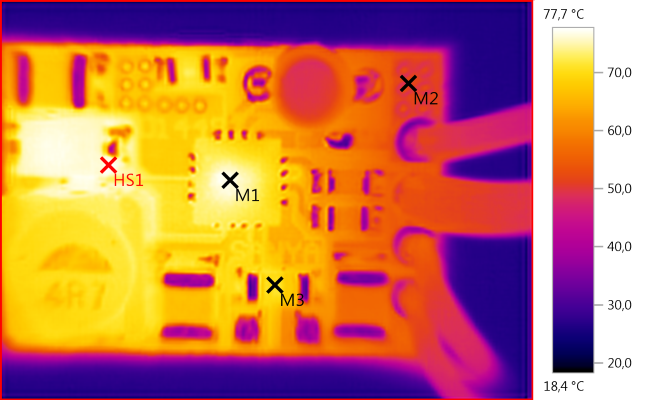 M1: 77,0°C, M2: 50,3°C, M3: 71,2°C, HS1: 77,7°C
With the higher input voltage everything gets a bit warmer.




The other capacities are charged fine.




The old cell goes into CV phase fairly early (As expected).




Changing the current sense resistor to 0.22ohm reduces the current ot about 0.45A, the termination current will also be reduced.




A 0.5ohm current sense resistor means 0.2A charge current.




Adding a 0.5ohm resistor in series with the power supply do not affect the charging.




With a 5ohm resistor the charging is slowed down, but still works correctly.





Charging 3.6V LiIon






Breaking the 3.6 volt jumper I tried charging a LiFePO4 cell. The charge voltage is fine, but I do not like the automatic restart, it is placed at too high voltage.





Conclusion



It is a nice module for charging 4.2 volt LiIon batteries, even fairly small ones, the flexibility in input voltage makes it useful for 6V unregulated solar panels.

For charging at more than 1A it is best to mount it on a small metal plate with electric isolation between.




Notes



This is the second TP5000 module I have reviewed, the first is here.

Here is an explanation on how I did the above charge curves: How do I test a charger