Vapex VTE8000 8xNiMH charger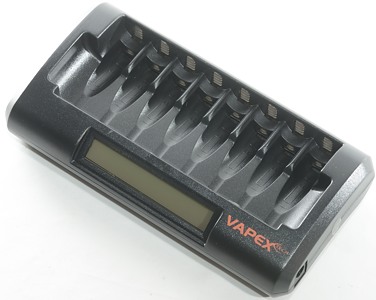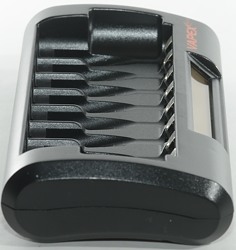 This multi charger can be used for AA and AAA and handle up to 8 at a time. It can also be used as a usb charger.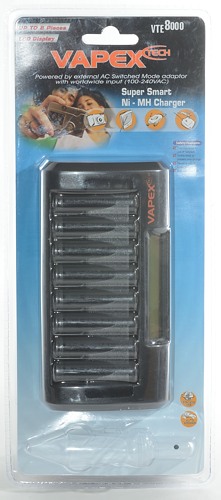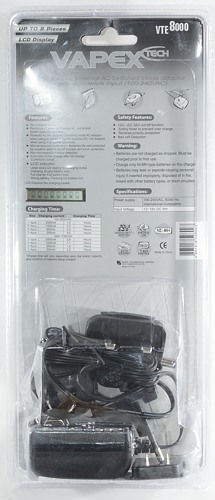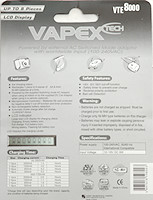 I got the charger in a blister pack. The pack has some specifications on it.





The pack contained the charger and a universal power supply with multiple plugs.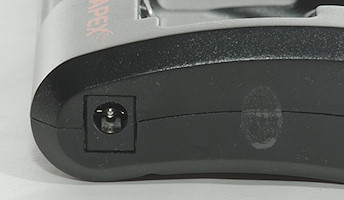 The power connector is placed on the side of the charger and will accept from 10V to 18V input.




The user interface is a LCD display with 8 batteries on it, it has a blue background light.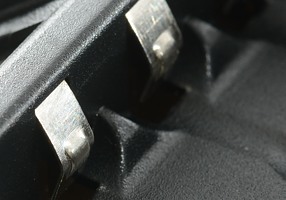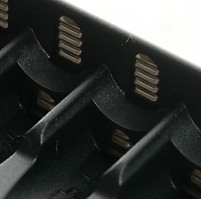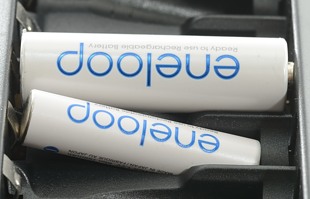 The connection are the typical two level slots.




Measurements charger
When not powered it will discharge the battery with about 0.6mA
Charge will restart charging after power loss, or battery insertion.
Power consumption when idle is 1.4 watt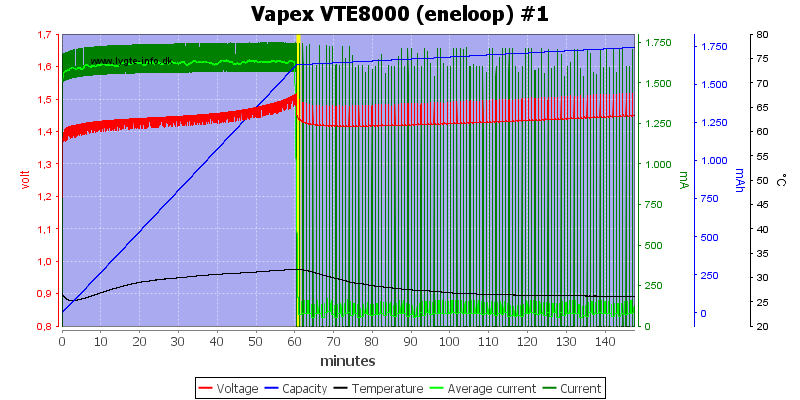 Fairly high charge current and voltage termination. The charger uses trickle charge.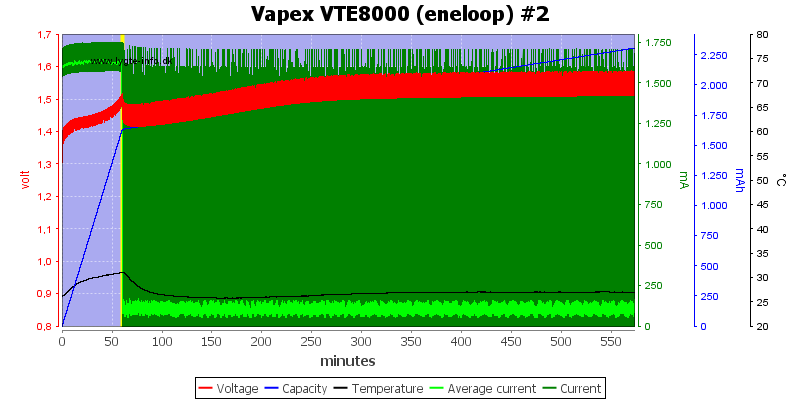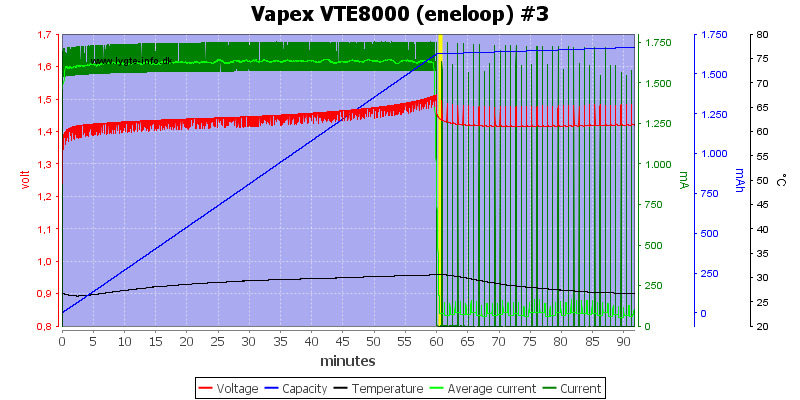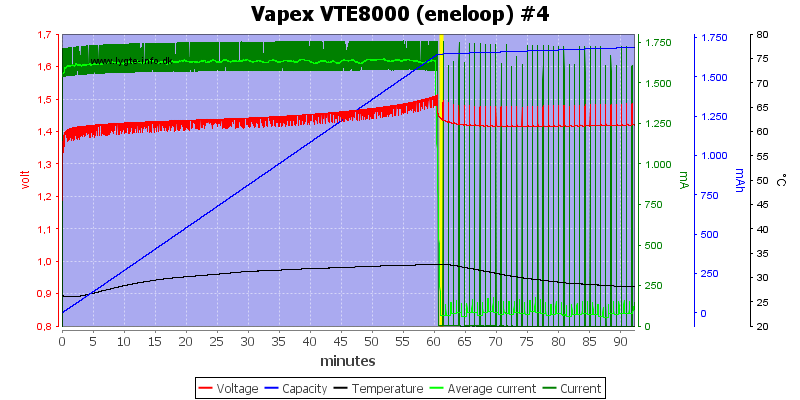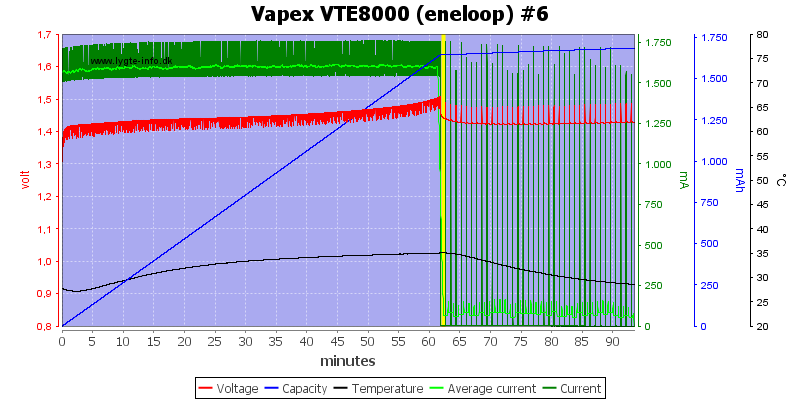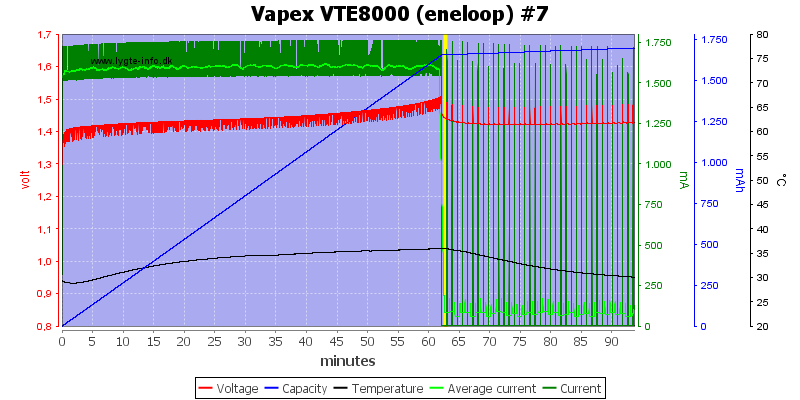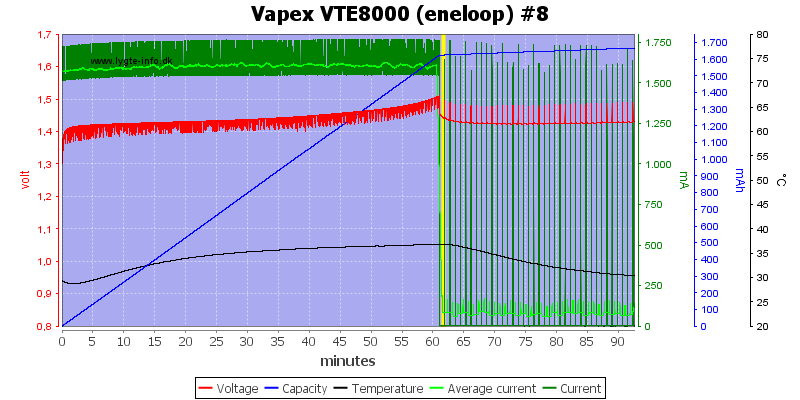 All channels looks the same.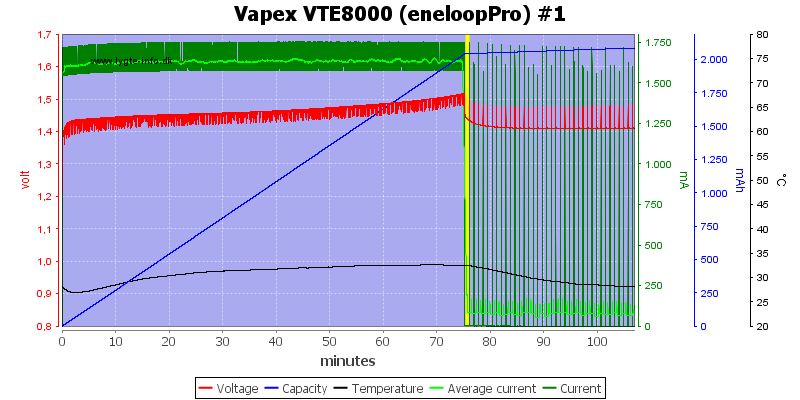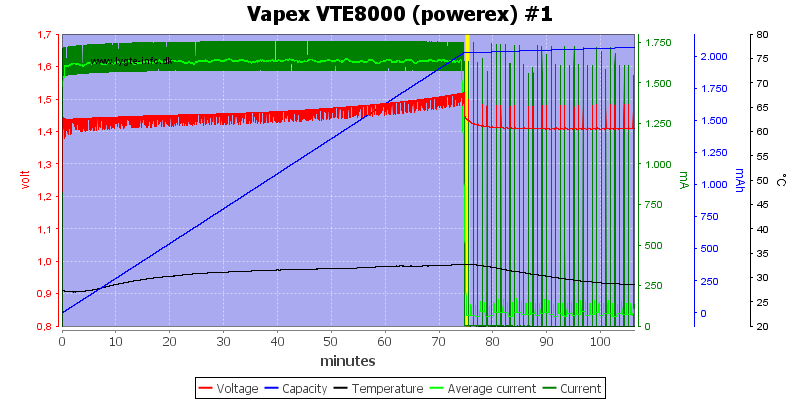 These two high capacity cells are charged the same way.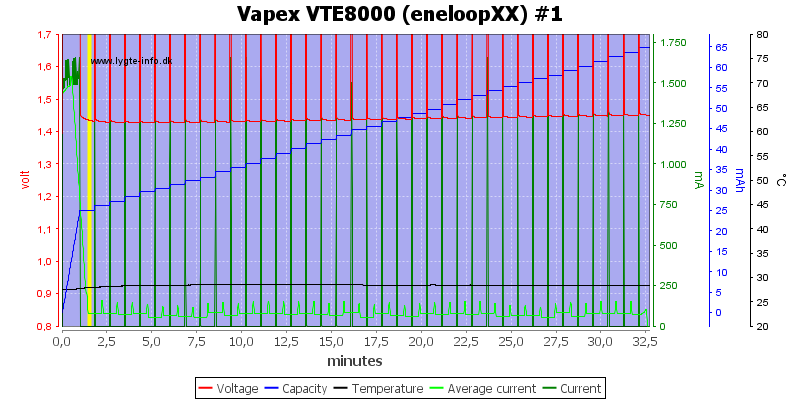 This cell is rather old with high internal resistance and the charger cannot handle it.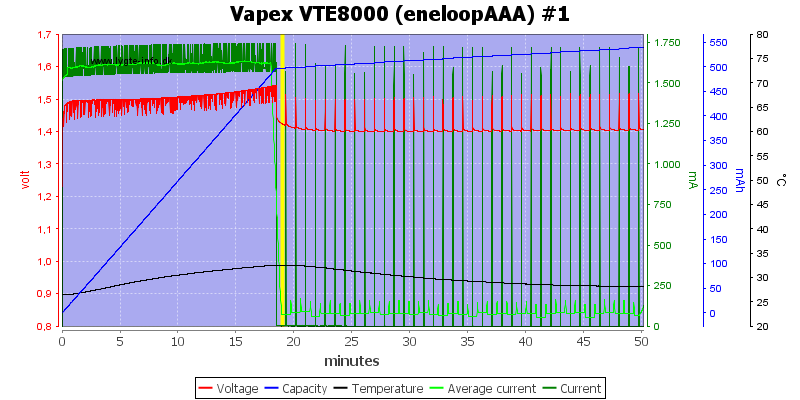 The AAA is is handled like the other cells, the charge current is very high for a single AAA cell.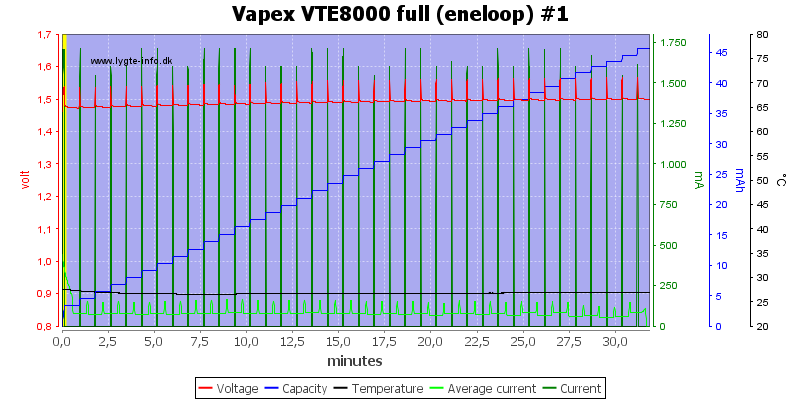 The charger is very very fast to detect a full cell.




With two cells the average current is 1/2 of one cell besides each other.




And with four cells it is 1/4 of one cell besides each other.




With eight cells the current is the same because I am using the other side of the charger.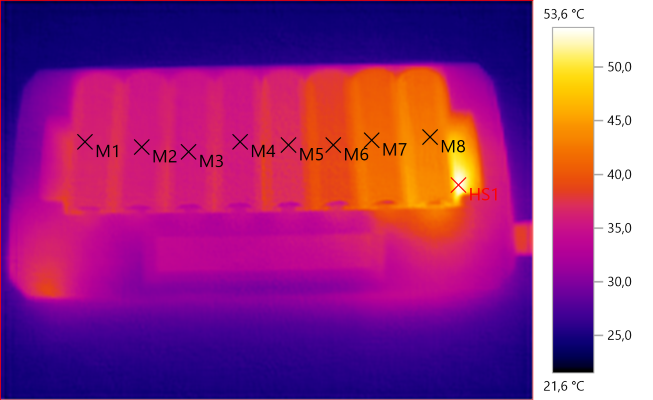 M1: 36,1°C, M2: 35,9°C, M3: 35,8°C, M4: 35,6°C, M5: 37,1°C, M6: 38,6°C, M7: 41,2°C, M8: 42,7°C, HS1: 53,6°C
It is easy to see where the power handling in the charger is placed.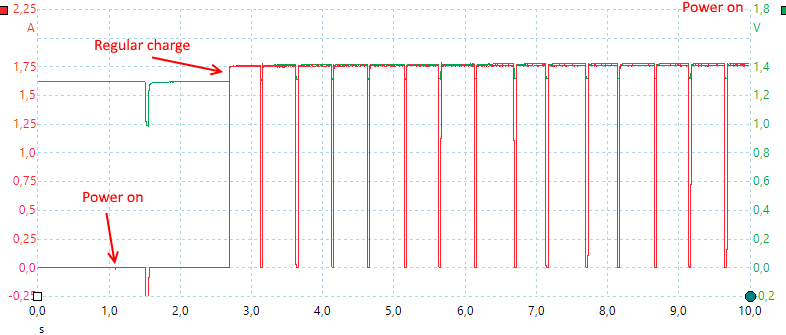 The charger is fairly fast to initialize.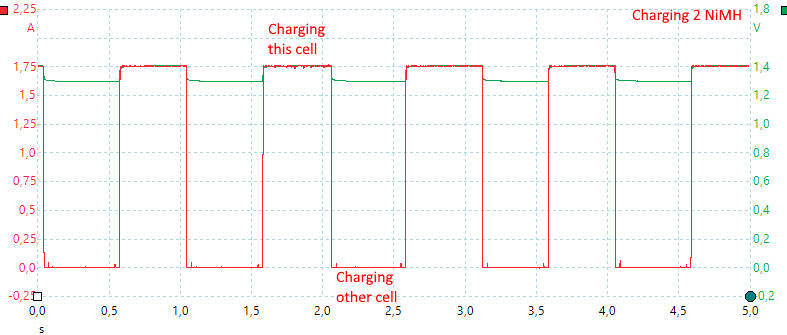 The charger has two 2A charging circuit, one for each side and will time share them between the present batteries, the above chart is with two batteries.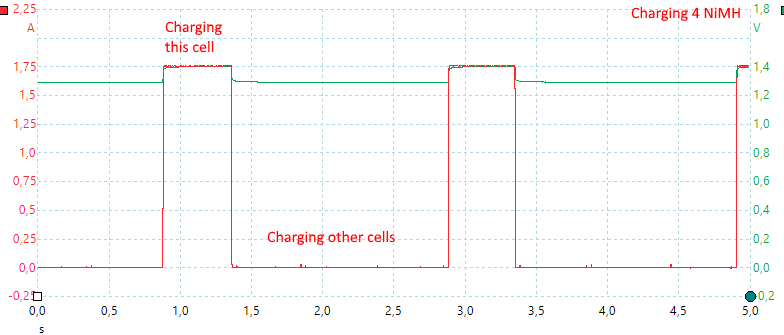 Here the time sharing for 4 batteries is shown.


Testing the transformer with 2830 volt and 4242 volt between mains and low volt side, did not show any safety problems.






Conclusion



The charger has two charge circuits, each time sharing on four slots. Using voltage termination without top-off charge means that the batteries will be charged slightly below full charge. The high charge current (2A) is acceptable for AA batteries, but problematic for AAA batteries or older AA batteries.

I will rate the charger acceptable.





Notes



Here is an explanation on how I did the above charge curves: How do I test a charger