Xtar PB2C Charger & power bank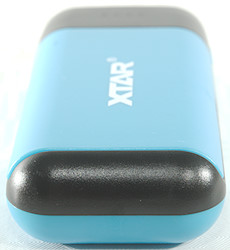 This is a 18650 charger and power bank from Xtar, it is a low cost version compared to the other PB2 models.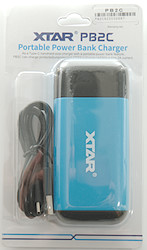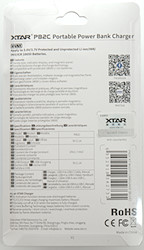 The charger is in a blister pack with specifications on the back.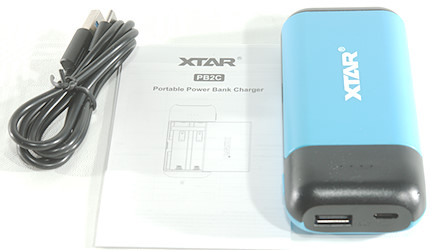 The box contained the charger, a USB-A to USB-C cable and a instruction sheet.




The charger is usb powered with a USB-C input and a USB-A output for the power bank function.





This button is used to turn the power bank on.





There is four leds behind small holes to show the power level.





The lid uses magnets, this makes it fairly easy to open when you stick you nail into a small slot. The magnets are strong enough that you can easily lift the box in the lid, when it is filled with batteries.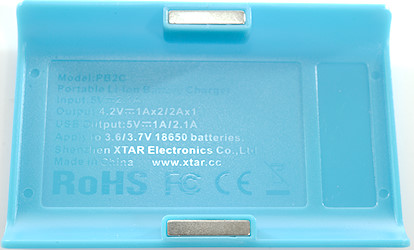 Inside the lid is embossed specifications and certifications.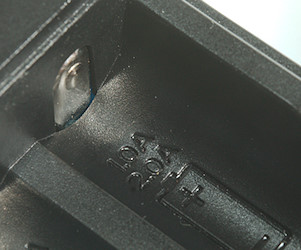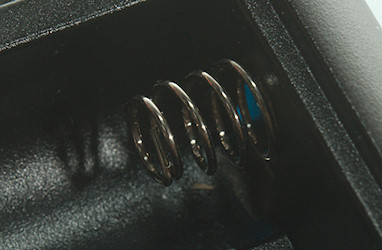 Because it is only designed for 18650 batteries it uses a spring and not a sliding holder for the batteries.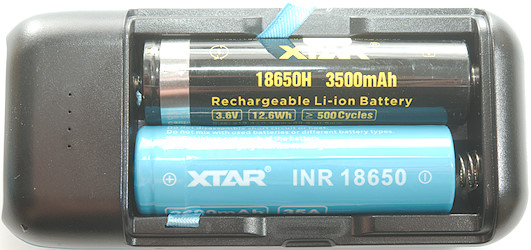 This charger only supports 18650 batteries, it can be protected or unprotected types.





Measurements



Power consumption from usb when idle with no batteries is 11mA
Will charge one battery with 2A
Will charge two batteries with down to 1A on each
USB-C input will turn a USB-C charger.
Will discharge a full battery with about 0.5mA when powered.
Will discharge a full battery with about 0.1mA when not powered.
Between 0.5 and 2.9V the charger will charge with low current (About 200mA)
Above 2.9V the charger will use full current.
Will restart charging if voltage drops below 4V.
Will restart charging if battery is inserted.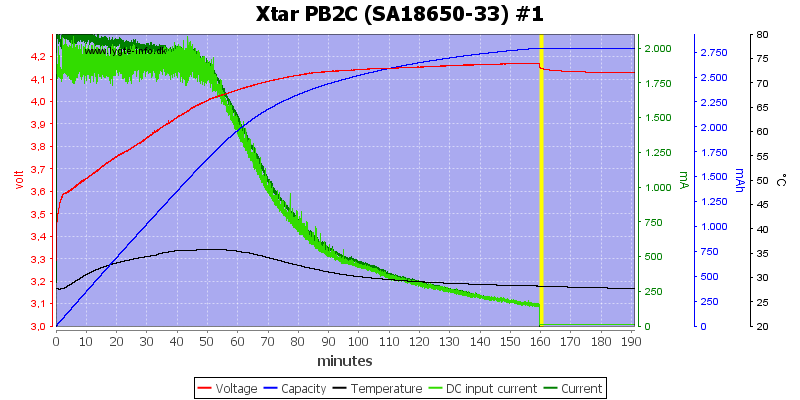 With a single battery the charge current is about 2A with about 150mA termination current.




The other slot is the same.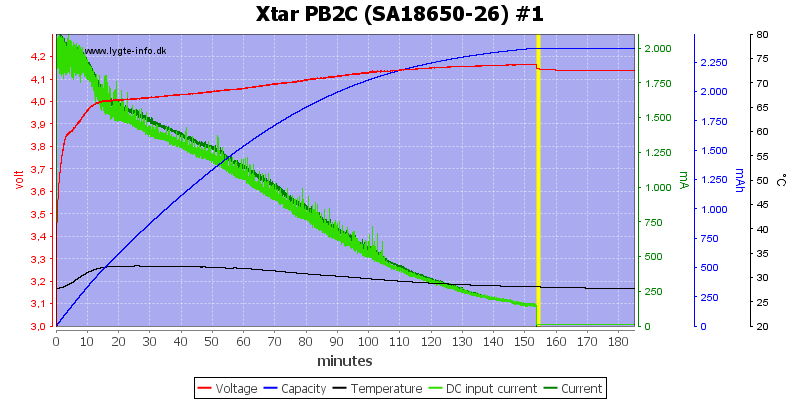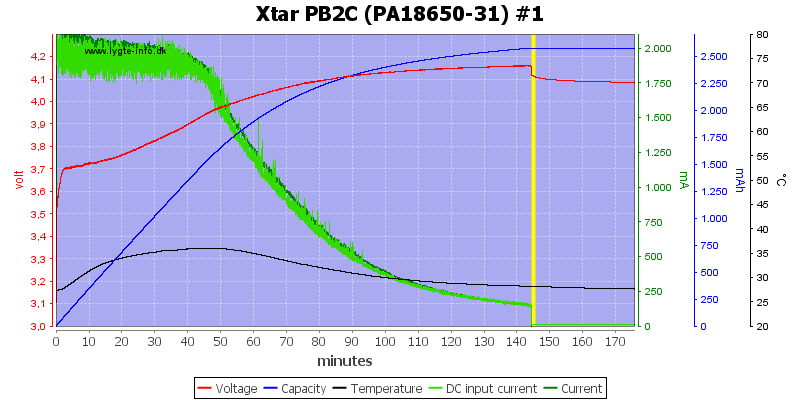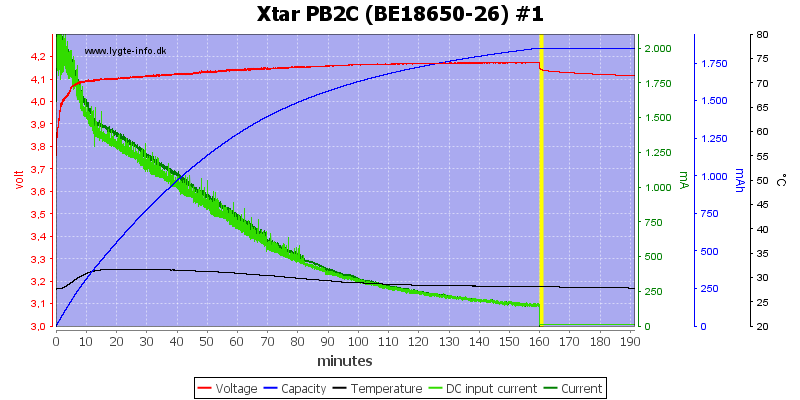 Other 18650 batteries are similar, with older batteries the current will drop fast, due to the higher internal resistance.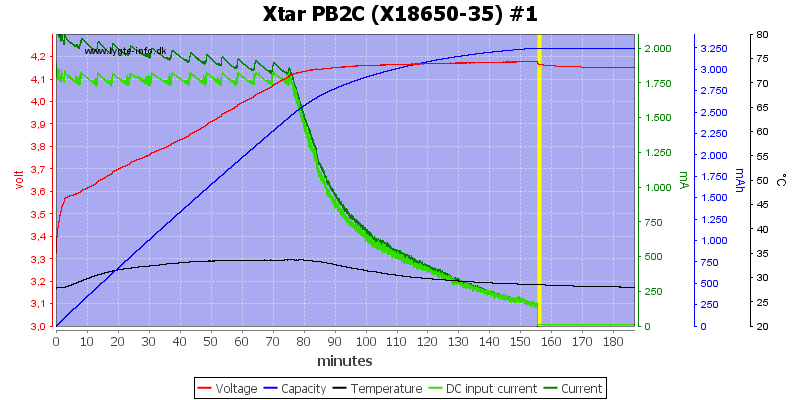 A Xtar protected battery.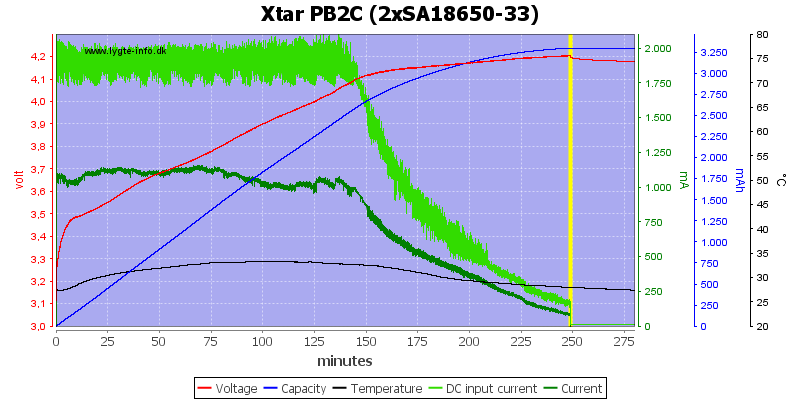 With two batteries the current will be shared between the batteries.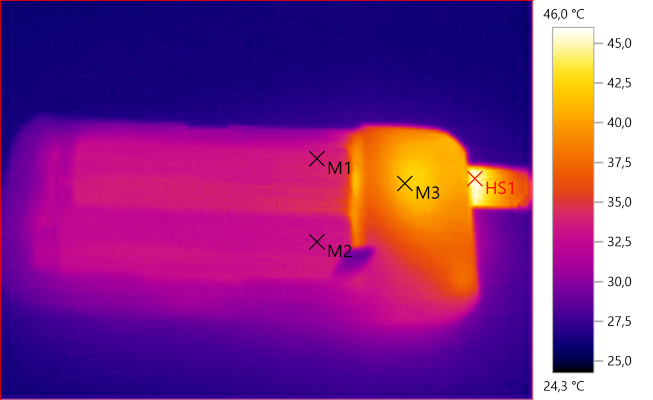 HS1: 46.0°C, M1: 33.6°C, M2: 33.0°C, M3: 42.1°C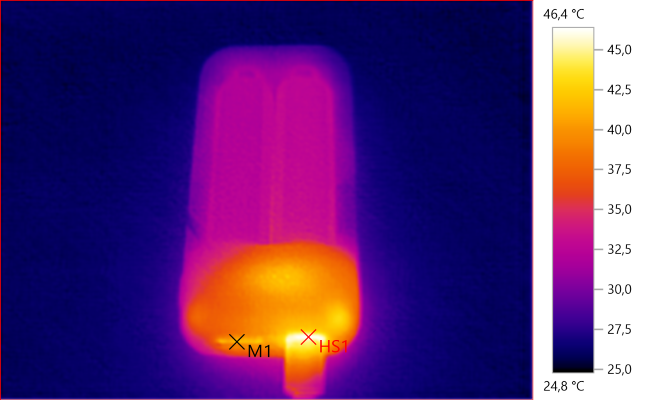 M1: 41.4°C, HS1: 46.4°C





The charger is very fast to start, it only needs about 1.5 second.





With two batteries in the charger it will sometimes show these spikes in the charger current, they are less than 10ms wide.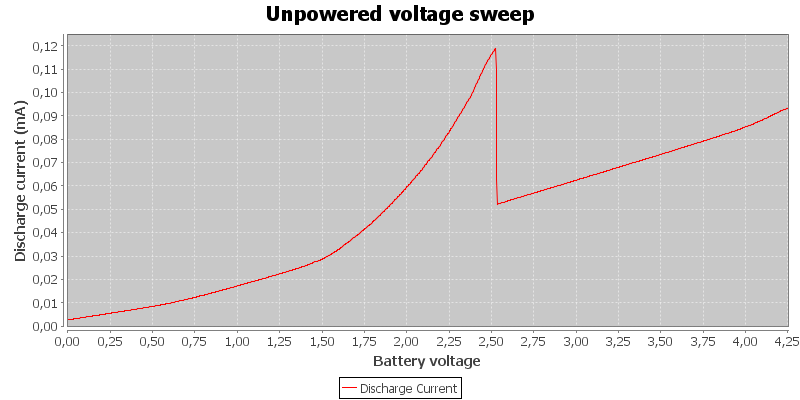 The charger draws a fairly low current from the batteries when not powered, but it is a bad idea to store it for months with empty batteries in it.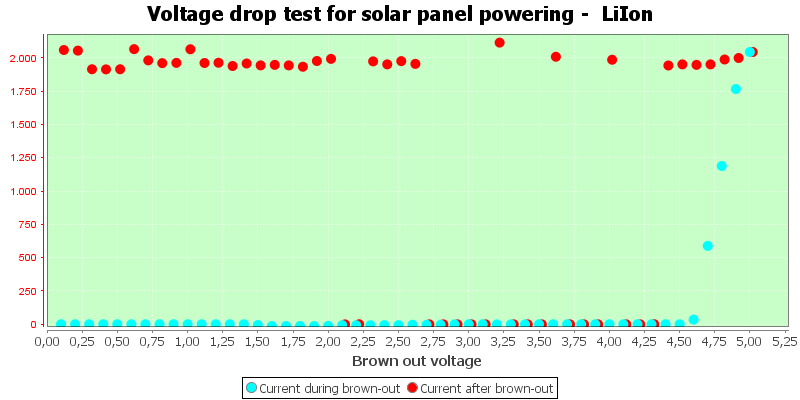 This charger do not like unstable input voltage.





Power bank
Will discharge a full battery with about 0.1mA when not powered.
Usb output turns off after 10 seconds with load below 100mA
USB output is auto coding with Apple 2.4A & DCP
Charger can supply USB output voltage (rather low) at the same time as it charges a battery
Input current is limited to about 1.8A, if possible charge current will be reduced to maintain it when USB output current is used.
Weight: 59g without batteries (Batteries will add about 90g).
Size: 110 x 51 x 24.5 mm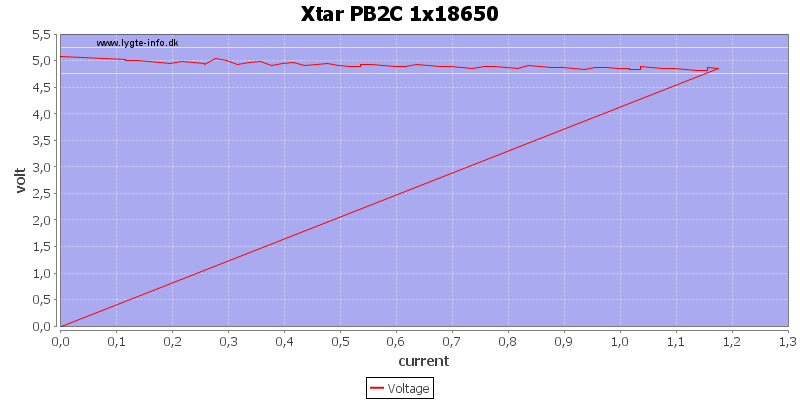 With one battery it can deliver nearly 1.2A on the USB output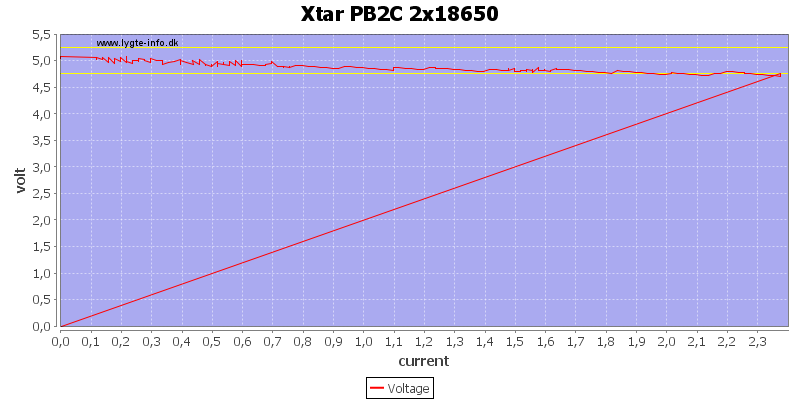 With two batteries the current is nearly 2.4A




When charger is powered it will supply USB output voltage, but the voltage is not stabilized. It is overload protected, but well above the normal USB output current level.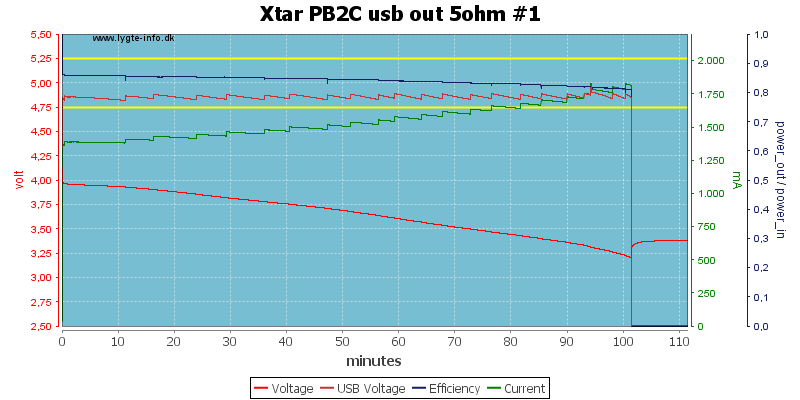 The usb output will vary slightly in voltage during discharge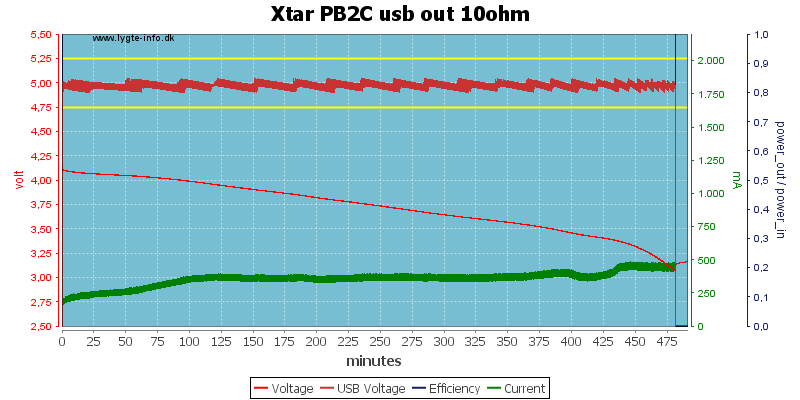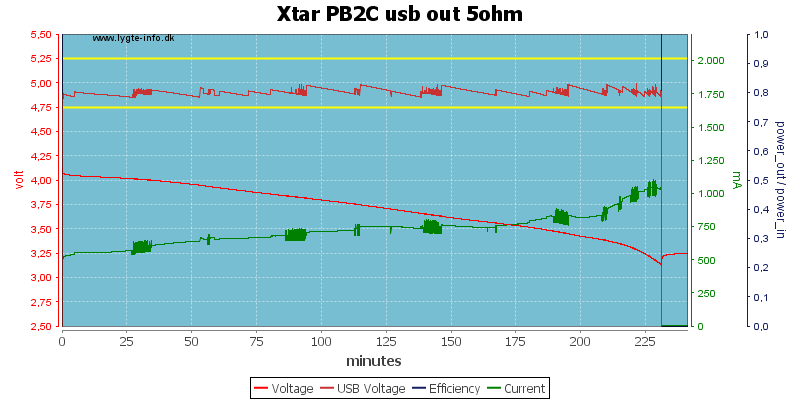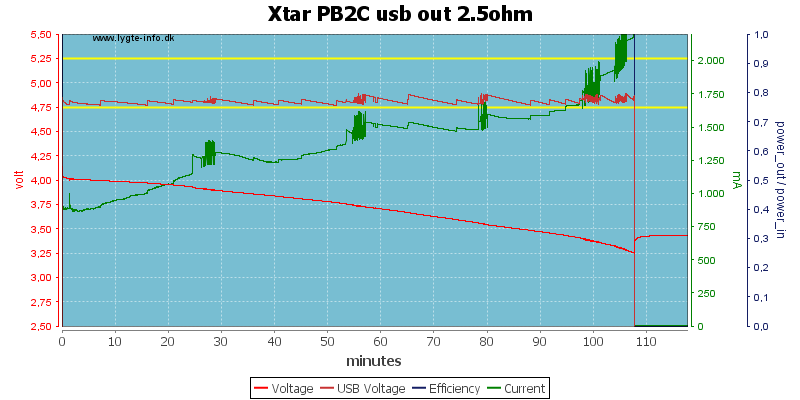 This variation is also present when using both batteries. The output has a good boost converter and can keep the voltage up until the battery is empty, but I could have wished for slightly higher voltage.





There is 30mV rms noise and 239mVpp noise.





There is 27mV rms noise and 113mVpp noise.





There is 27mV rms noise and 108mVpp noise.





Conclusion



This charger and power bank has a good size for a two battery device and the magnetic lid is easy to open. The charging looks good, but batteries must be able to handle 2A charge current.
The power bank has enough power to maintain output voltage, until the batteries are empty, the coding is also fine, but I could have wished for lower noise on the output, this jumping up/down in voltage may force some devices to a lower charger current.

I will rate is as a good power bank and charger.





Notes



The charger was supplied by XTAR for a review.

Here is an explanation on how I did the above charge curves: How do I test a charger