Charger Xtar VC2 Plus Master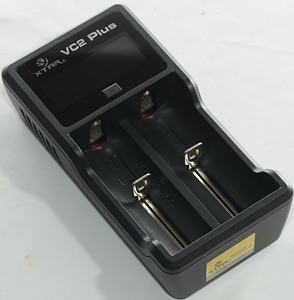 Xtar has been making good chargers for some time, this is their latest model. It can charger LiIon, NiMH and work as a power bank. It is powered from usb.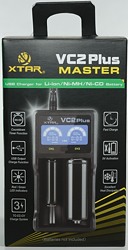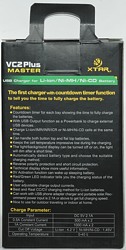 I got the charger in a retail cardboard box from. The box has a lot of specifications printed on the back.




The box contained the charger, a usb cable, a bag, a instruction sheet and a warranty card.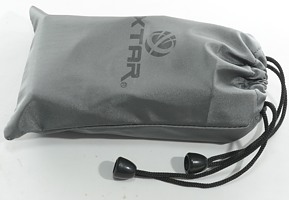 The bag can hold the charger, cable and instruction sheet, but there is not space for a usb power supply.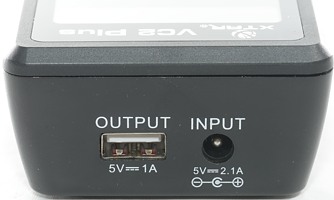 The charger has a DC input socket (5.5/2.5mm), the 12V Xtar power supplies will not fit in this socket, only the supplied usb cable will.
The usb output is rated for 1A. It will supply power when the charger is powered or from a LiIon battery. It can be used to charge a device while charging batteries or as a power bank, but it cannot be used as a UPS.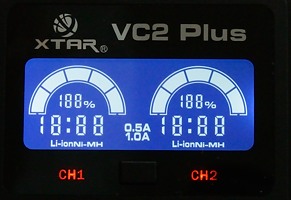 The user interface is a display, two leds and one button.
A short press on the button will change charge current, a long press will turn the display on/off.
The CH1/CH2 leds are red while charging and green at all other times.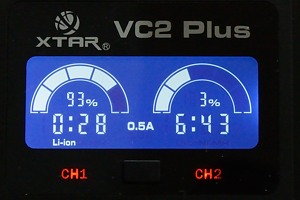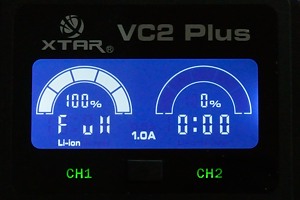 When charging the display shows a percent and a time estimate. The time estimate will start fairly high (About 7 hours for 0.5A and 3½ hours for 1A charging) time and then use the measured voltage to estimate how long time is left. In my experience the value is not very precise for smaller cells. Charging a 14500 cell it started at 6:50, then was down to 3:06 ten minutes later and 2:01 about 1 hour later, the actual charge time was about 2 hours.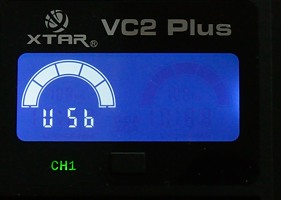 When working as a power bank the display will show a rough battery status.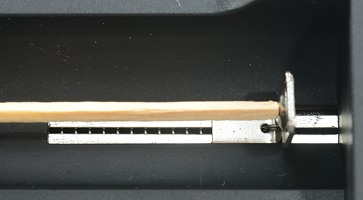 The charge uses the typical slider construction with a metal rail and works smoothly from about 31mm to 71mm, i.e. the charger can handle long protected 18650 and 26650 cell.




There is no doubt what slot is used for usb output (Some chargers is missing that marking).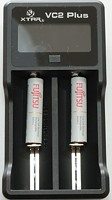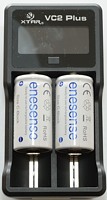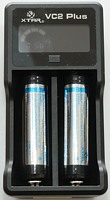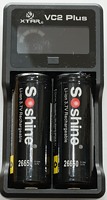 The charger can handle 71 mm long batteries, including flat top cells.
The minimum charge current is 0.5A, this is on the high side for 10440 cells. It is possible to put one 32650 or D cell into the charger, but it will not connect to the plus terminal.






Measurements



When not powered and usb display is on the usb power cell will discharge with about 70mA for 30 seconds.
When not powered and usb display is off the usb power cell will discharge with about 0.08mA.
When not powered the non-usb power cell will discharge with about 0.06mA.
When battery is full the charge will charge with 0.4mA.
The charger will restart if battery voltage drops below 3.9 volt.
Charger will restart charging after power loss, or battery insertion.
Below 2 volt charger assumes NiMH batteries, the first 10 minutes the charge current is 0.1A, then it switches to regular charge current.
Between 2.0 and 2.9 volt the charger will charge with 0.1A
Above 2.9 volt regular LiIon with selected current will be done.
Charging LiIon


This is a good looking CC/CV charge curve with 100mA termination current.




It is the same on the second channel.




Other capacity works the same way.




The older cell goes into CV phase very early, this is as it should be.




Charging with 0.5A also looks fine. I would have likes a lower termination current, but it is a minor detail.




Adding a 0.5ohm resistor in series with the power supply (To simulate long cables or weak power supply), did not present any problem. It was not possible to select 1A charge rate, only 0.5A worked.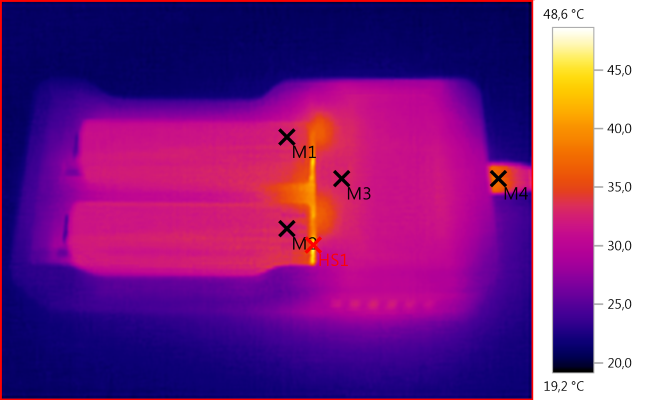 M1: 32,5°C, M2: 32,4°C, M3: 32,9°C, M4: 37,7°C, HS1: 48,6°C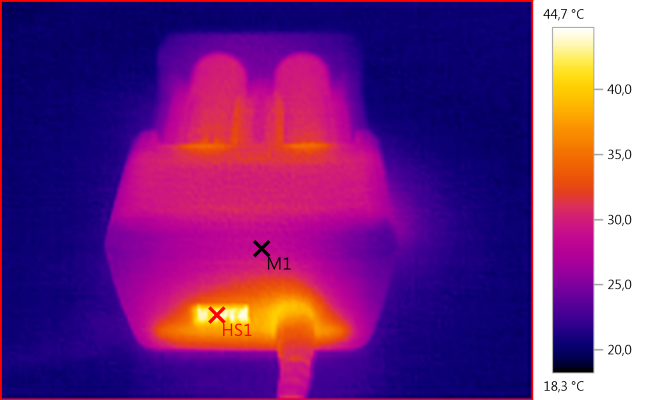 M1: 28,8°C, HS1: 44,7°C




The charger needs about 5 seconds to start.




When current is changed during charging it will increase slowly and drop fast.





Charging NiMH






It looks like the charger stops on voltage, but then it starts on a top-off charge. Charging is reported done at the yellow line, i.e. before the top-off charge.




It is the same on second channel.




With 0.5A charge current there is no pause before the top-off starts.




Again a voltage termination and a top-off charge.




Something goes wrong here and the charger misses termination. It does termination about 2 hours later and then adds a top-off charge.
The powerex is an older worn cell, but that is not a good reason to miss termination.




The AAA terminates a bit early, but again there is a top-off charge. The top-off current is lower when charging with 0.5A




Due to the 10 minutes with low charge current, it takes eleven minutes to recognize a full battery. Top-off charge is also used on a full battery.




Charging two cells is about as fast as charging one cell. The charger draws about 1A from usb when charging NiMH cells.




Same as above, but without input current. Temperature sensor is on the other battery.




The top-off charge takes two hours, then the charger stops.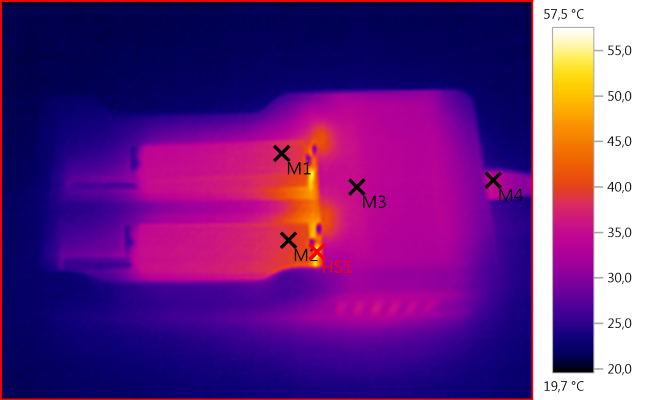 M1: 37,9°C, M2: 39,0°C, M3: 35,2°C, M4: 34,8°C, HS1: 57,5°C




M1: 32,4°C, HS1: 49,8°C




The charger needs about 5 seconds to start with low current charge and like other NiMH chargers it measures voltage with current off.




After 10 minutes it will switch to selected charge current.




The top-off charge is done with current pulses at the selected charge current.





Charging LiIon and NiMH at the same time



It is possible to charge one LiIon and one NiMH battery in the charger at the same time.




In this curve I recorded the NiMH battery, it looks the same as above.




The LiIon also looks the same as above.





USB output



When power is removed from the charger, usb output turns off. It will not switch to power bank function!
USB output is turned off for a few seconds when power is connected.
Batteries are drained to 3 volt
When nothing is connected to usb output it will drain about 70mA for 30 seconds, then 0.08mA from the battery.
USB output is coded as usb charger (DCP).
USB output is powered when the charger is powered (Voltage will be a bit low).
It is possible to charge a LiIon battery while supplying usb power, but charge rate is reduced.
USB output can be used as power bank, but only uses one cell.
To restore overloaded usb output battery/power must be removed from charger.


The usb output is rated at 1A and can deliver 1.6A. It do maintain voltage fairly well when running on a battery.




But it can also run directly from usb input power, the current limit is the same, but voltage is lower.




I also tried charging a battery while using usb output, it worked fine, but the charge current was limited to 0.5A




A 18650 battery can maintain 0.5A usb output for more than 3 hours at 0.5A load, when the battery is empty the output is turned off.




Increasing the load to 1A reduces the time to about 1½ hour.




Output has very low noise with 11mV rms and 80mVpp





Increasing the load will increase the noise, but it is still very low 16mV rms and 95mVpp





When supplied from a usb power supply the charger do not add noise to the usb output.





Conclusion



As usual Xtar chargers are very good at LiIon charging, it did also do a good job on eneloop cells, but I do not like that it missed a termination on the older powerex cell. I am not very impressed with the remaining time display, I would have preferred voltage or charged capacity.
I do like that the usb output can both be used as pass through and as power bank, this makes it possible to both charge my phone and some batteries in on go from a single usb power output.
The requirement for a special cable for the charger does prevent usage of inferior usb cables, but requires that the extra cable is lugged around (Not that hard with the supplied bag). For people that loses or damages the cable Xtar is selling spare cables.

The final result must be that it is a good charger for LiIon cells, but you have to watch out for some NiMH batteries.





Notes



The charger was supplied by Xtar for a review.

Here is an explanation on how I did the above charge curves: How do I test a charger
Read more about how I test USB power supplies/charger