Charger Xtar VP4C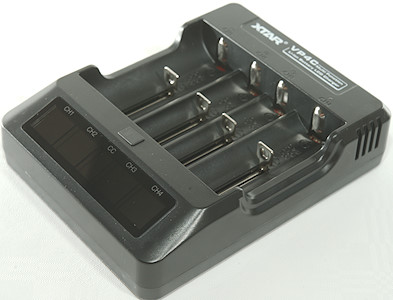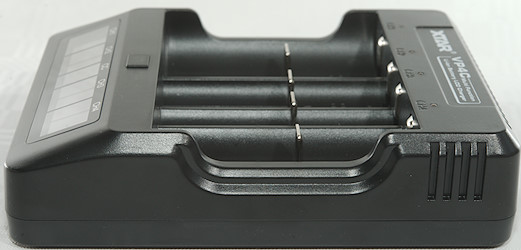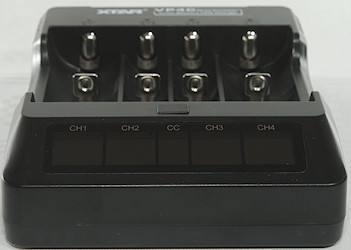 This is a LiIon only charger from Xtar, it is USB powered and has 3 selectable currents.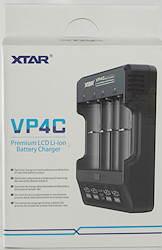 The charger comes in a cardboard box with lots of specifications on it.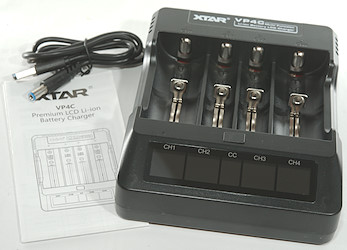 In the box is the charger, a USB to barrel connector cable and a instruction sheet.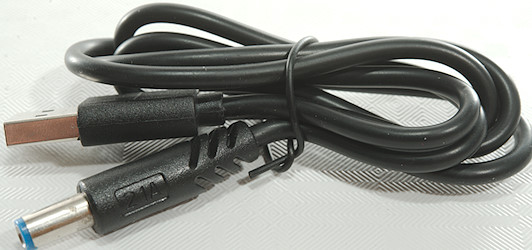 The power cable with USB and barrel connector, I am not a fan of this type cable, but prefer USB to USB.
Both the cable and the charger are 5.5mm/2.5mm connectors.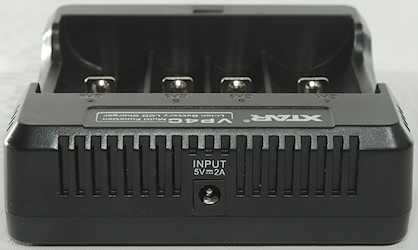 The charger has a DC connector for power input for a maximum of 2A current from USB.





There is a red/green led above each slot, they will be red while charging and green at other times.





The display and the current select button. Hold down the button to turn the display off.





The center part of the display shows current, watch out, the charger will automatic adjust it when loading batteries.





Charging two batteries at 0.5A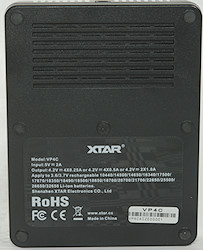 The back of the charger clearly list the specifications.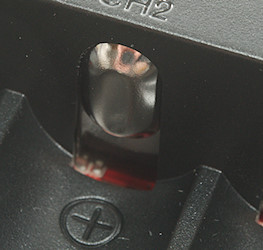 The slots have raised battery connections, i.e. flat top batteries can be used. The slider works very smooth and can take batteries from 30.5mm to 71.3mm. This is enough to handle most protected xx650 batteries, but not protected xx700 batteries.





The slots are marked with possible charge currents.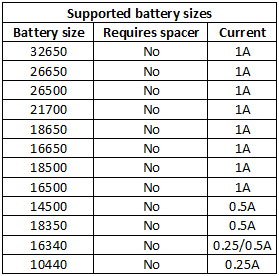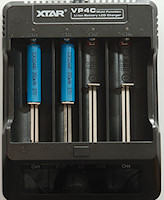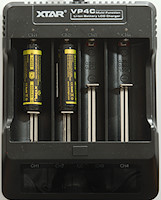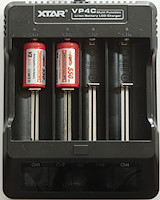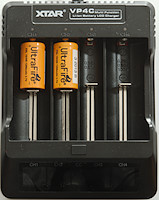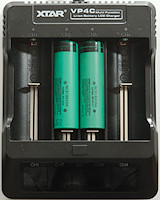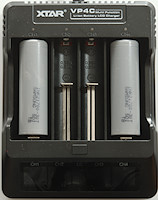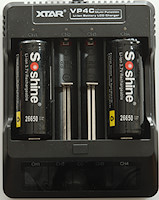 The charger can easily handle 70 mm long batteries, inclusive flat top cells.





Measurements



Discharges LiIon with 2mA when not connected to power
Charger will not charge or discharge a full battery when power is on.
Below 1 volt the charger will charge with 3mA, the display will be empty and the led green.
Between 1 and 2.9 volt the charger will charge with between 50 and 75mA, the display will show voltage and the led will flash red.
Above 2.9 volt regular charge current is used.
In the regular charge range the voltmeter is within 0.02 volt.
The meter will not show above 4.20V, but will show the voltage drop when charging terminates.
Will restart if battery voltage drops below 3.9 volt.
Charge will restart charging after power loss or battery insertion.
If any battery is placed in either of the two center slots, the maximum charge current is reduced to 0.5A (A full battery in either center slow will also reduce the current).
When charger is powered on display shows 0.5A charge current, but charger will automatic change to 1A if a battery is put in slot #1 or #4.
Charger will automatic change charge current when removing or inserting batteries, always select current when battery is in charger.
Current select button will decrease current when pressed, i.e. 1A -> 0.5A -> 0.25A -> 1A
Power consumption when idle is 46mA from USB and 35mA when display is turned off.


A nice 1A CC/CV charge curve with 100mA termination.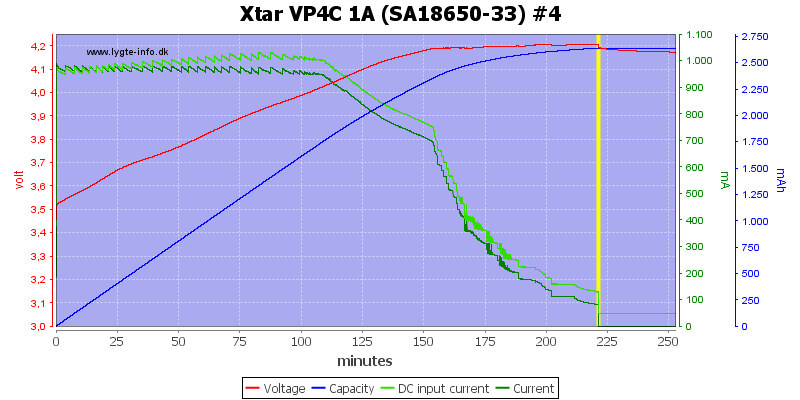 The fourth slots looks similar.




On the second slot the current is limited to 0.5A, the charging is still a nice CC/CV charge with 100mA termination.




And the same on the third slot.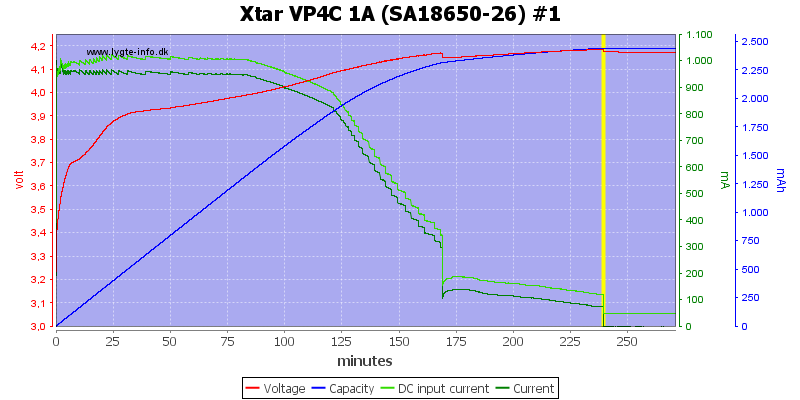 This smaller battery also has a good charge curve, the step current is probably some correction because the voltage was to high compared to some internal table.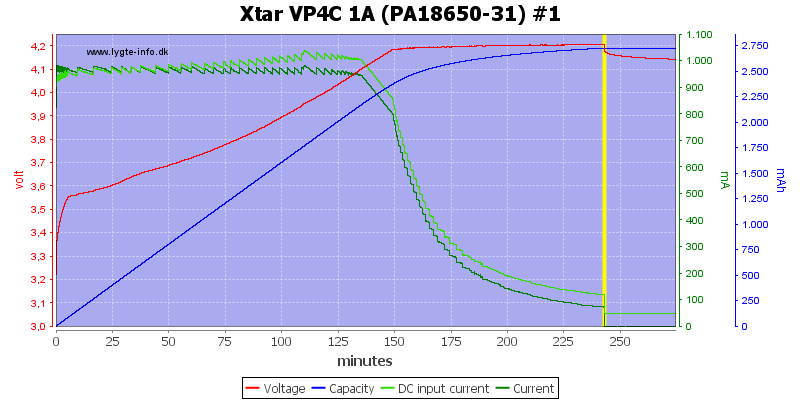 A fine looking charge curve.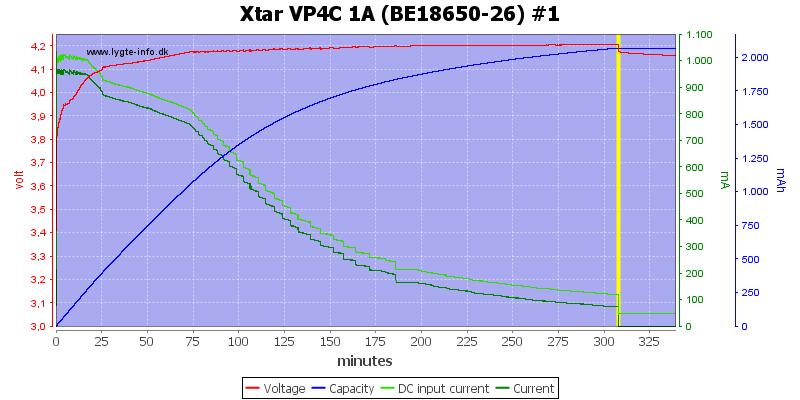 This is an old battery the most of the charge is done in CV mode.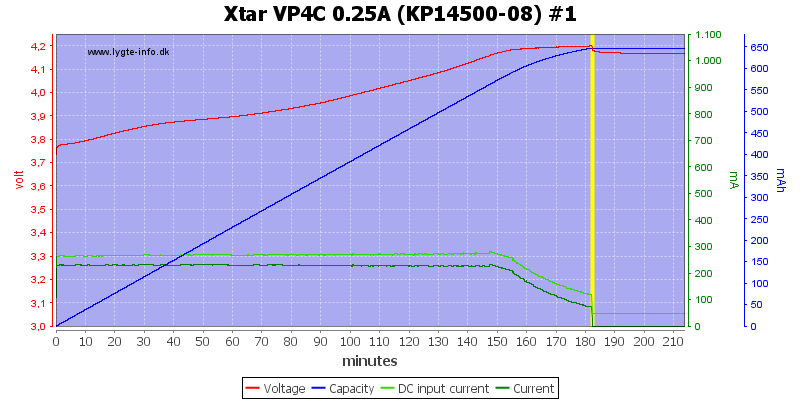 A smaller battery at 0.25A charging, again it looks fine.




My old and worn down battery is also handled nicely.




With four batteries the current is 0.5A for each and it works fine.




Simulating a long cable or weak charger with a 0.5ohm resistor in series with the 5V slowed the charger very significantly down, but did charge the batteries. This charger needs a good USB supply.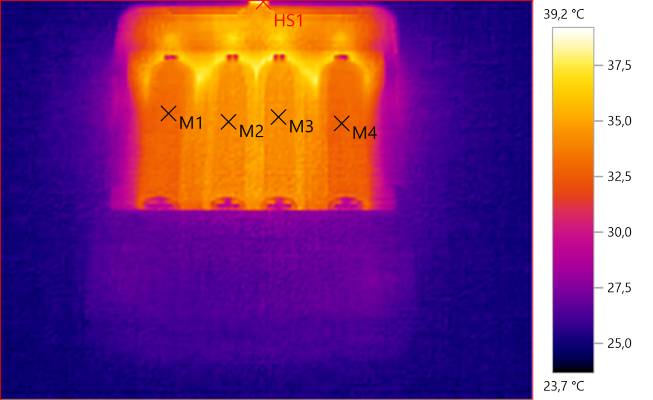 M1: 33.0°C, M2: 34.0°C, M3: 34.5°C, M4: 32.8°C, HS1: 39.2°C
The charger is fairly cool during charge.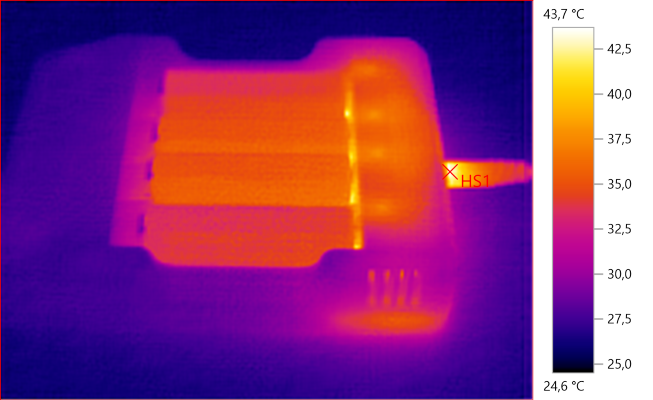 HS1: 43.7°C





The charger needs about 8 seconds to turn on and will always start charging at the highest possible current setting.





Current can be changed at any time.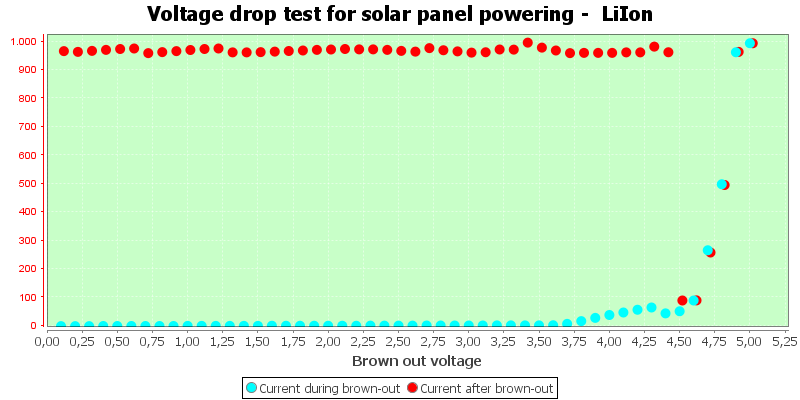 The only problem the charger has with unstable supply is that the current may stay low, this can be a serious problem for solar charging.





Conclusion



A fairly universal LiIon charger with low enough current to handle small batteries and large enough current to charge larger batteries, but for four batteries some patience is required.
It has a good display with battery voltage and selected current, but I do not like the power cable with USB-barrel connector, it may be more robust than USB-USB, but it is not as common. A weak USB supply will slow the charger significantly down!





Notes



The charger was supplied by Xtar for review.

Here is an explanation on how I did the above charge curves: How do I test a charger